With the news that the Lumia 530 will be excluded from regular Over The Air updates to Windows 10 Mobile because of limited internal storage (a suicidal 4GB, as I believe I mentioned in my review), suspicions have also been cast on the other ultra-low spec device, the Lumia 435, which has the full 8GB of internal storage and a full 1GB of RAM, but only a relatively weedy Snapdragon 200 processor, so I took this and put it through its paces with the latest Insiders Preview build (10536).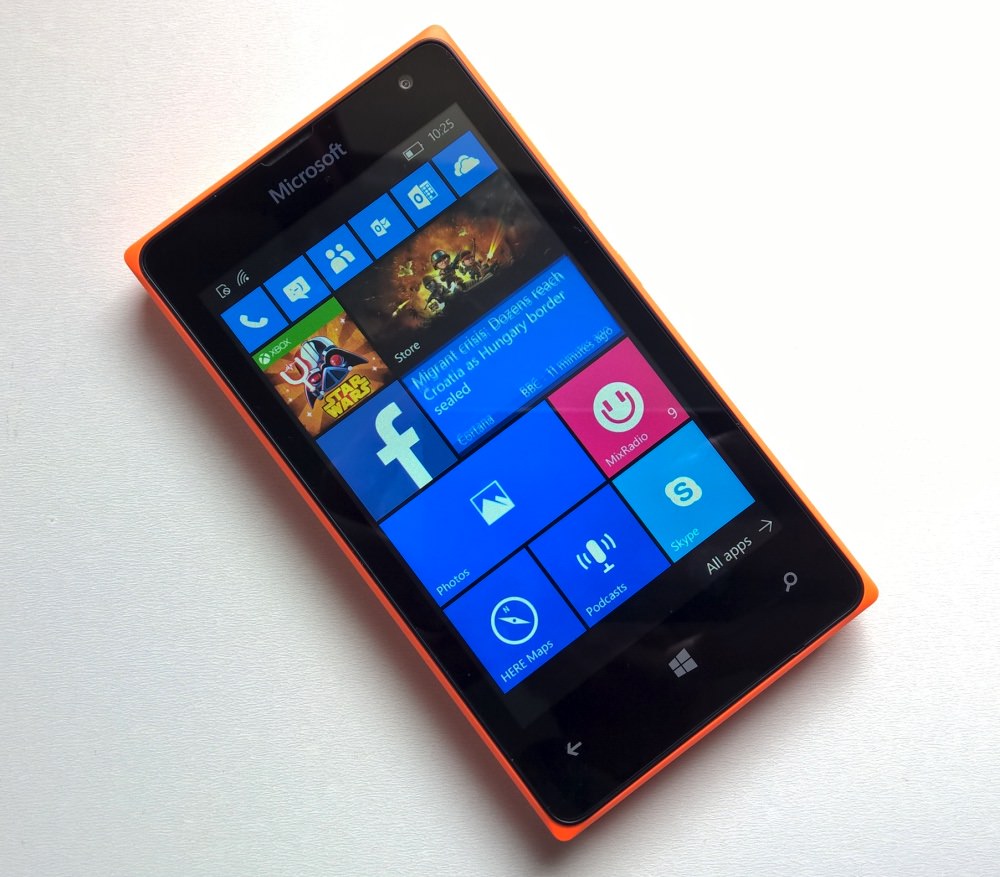 As you'll see from the table, results are generally pretty good, showing how little Windows 10 Mobile is processor-bound. In fact, overall, the increased RAM means that the ultra-cheap Lumia 435 maintains performance parity with the Snapdragon 400-powered Lumia 630:
Windows 10 Mobile 10536
benchmarking
(all times in seconds,
first time launches only)

Lumia 435
Lumia 630
Lumia 830
Lumia 930
Specification
Snapdragon 200
1GB RAM

Snapdragon 400
512MB RAM

Snapdragon 400
1GB RAM

Snapdragon 800
2GB RAM

Booting up to Start screen
58
42
40
45
Opening up Outlook Calendar
2
2
2.5
2.5
Launching MSN News to
opening graphics
8
7
8
7
Opening up Outlook Mail
3
4
2.5
1.5
Opening up Skype
i.e. signing in after boot
11
14
9
8
Opening up Cortana to the
'look at the day' vertical
panorama, after boot
12
7
8
4
Opening the full New York
Times desktop web site to
the filling in of the
right side bar content
19
17
15
12
Opening up Angry Birds
Star Wars II
23
23
20
21
'Checking for updates'
in the Store*
52
49
40
67
Number of applications
that can be kept 'open'
in the multitasking
carousel
7
7
7
14
* Factored into this will also be how many third party applications are installed, so consider the kitted-out Lumia 930 an outlier here. Though 67 seconds to check for updates is either stone cold crazy or a job best left to happen in the background! The default is to update applications automatically, so hopefully these long update checks won't affect regular users!
NB. If the timings above seem quite long to you, remember that most things in any smartphone OS work pretty fast - I was having to think hard to find intensive operations which took enough seconds to be worth timing! Most things will execute in a flash. Oh, and as usual, I've rounded to the nearest second for clarity's sake.
Looking across the timings generally, there really isn't that much difference between the various specification levels, at least considering the prices and spec levels. The Lumia 930 was generally fastest, e.g. the Cortana start up test, which seems essentially processor-intensive, but for most tasks the timings were very similar. My conclusions are a) that an awful lot in Windows 10 Mobile, as with Windows Phone before it, doesn't need that fast a processor or even that much RAM, and b) there are usually connectivity bottlenecks to allow for as well, i.e. one limiting factor will be how fast your Wi-fi or 4G connection is. The latter can be addressed to some extent by Microsoft tweaking Windows 10 Mobile to use its data pipes more efficiently and I'd expect exactly this sort of tweak as the OS nears completion.
As with the Lumia 630, even at build 10536, Microsoft doesn't seem to have coded a control panel for virtual Windows 10 Mobile navigation controls yet, so you're stuck with them, even when playing videos. This will hopefully get fixed before the official OTA release, of course. In fact, several of the items in Settings/Extras simply don't work, offering a half-hearted venture into the Store as a possible solution.
Elsewhere, everything works as advertised and with no noticeable deviations from the same things on the 630, 830 and 930, aside from raw screen size and resolution. And aside from battery life, with the OS currently not fully in control of battery drain. I'll return to this subject in a future feature.
I've said before that 1GB RAM (and 8GB of storage) were the new baseline for a working, fully kitted out Windows 10 Mobile experience, and I was then vindicated as every Microsoft hardware release this year, even at the extreme bottom end, has had that specification, so clearly Microsoft agreed. Even with the lowliest of processors, Windows 10 Mobile still runs at a very acceptable speed.