Windows 10 Mobile's big new upgrade is due to hit regular PC users on or around August 2nd, 2016, i.e. in just over 24 hours as I write this, but there's still much debate as to how fast this will be pushed out to Windows 10 Mobile users - I've been sceptical in the past and I still think that 'Redstone' isn't 'ready'. Certainly not when upgrading 'normob' phones, people who won't know where to turn if things go wrong... But hey, it's Windows 10 'as a service' these days and it's perfectly possible that Microsoft will just roll out Redstone ('Anniversary Update'), warts and all, and then fix bugs after the fact in new updates on a regular schedule. We just don't know.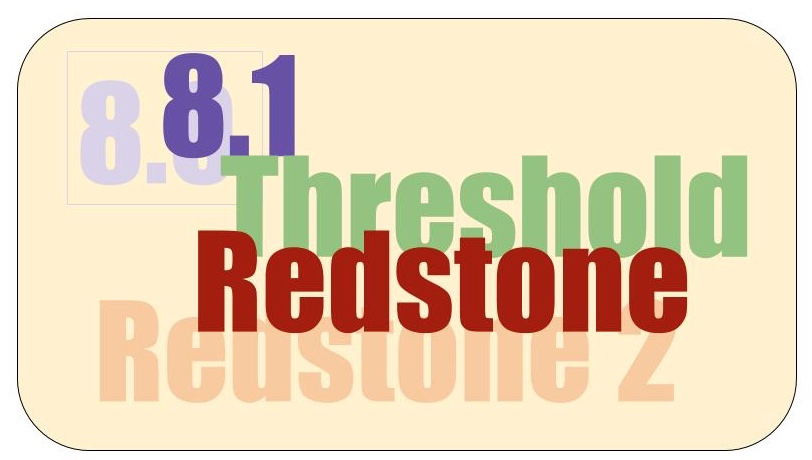 Anyway, in all the coverage we've given to the various Windows 10 Mobile Redstone Insider builds, we've never gone over the step change improvements for the new '14393' branch over the old '10586' branch, i.e. the 'Anniversary Update' over 'production' Windows 10 Mobile.
So here goes, it's quite a significant list - the changelog for PC users making the jump is even bigger, of course, and there are plenty of articles around the Web detailing these. But here's the much shorter list that's relevant to phones, i.e. Windows 10 Mobile.
Security
This is almost completely under the hood, but worth putting first. In an age where cyber-crooks are out to get you at every turn, through malformed emails, MMS, dodgy links, and so forth, having an OS and web browser (Edge) that's hardened and fully up to date is essential. Just look at the knots the Android world is tying itself into as it tries to come to grips with devices and forked or old OS branches, all with known security vulnerabilities, and with tens (if not hundreds) of millions of phones worldwide already compromised to some degree.
Just as I've encouraged everyone I know to move up from Windows Vista to 7 to 10, purely on the basis of what's improved and hardened under the hood, so I'd strongly endorse the security improvements in Redstone, in part powered by the Microsoft Intelligent Security Graph, spotting malicious URLs before you're served them up in the Edge. All of the security fixes are invisible in the interface, so they're not high profile, but they are significant.
And all of this is on top of Windows 10 Mobile (and Windows Phone before it) being the most secure OS in the first place, though admittedly some of this might be due to 'security by obscurity'.
Better browsing, period
In addition to protecting against security threats, Microsoft Edge includes 'power-saving improvements, using fewer CPU cycles, consuming less memory, and minimizing the impact of background activity and peripheral content'.
Although extensions won't be available yet on Windows 10 Mobile, they're 'coming soon'. Just in case you wondered about an ad-blocker. When browsing, you can now swipe left and right, to go forwards and backwards (respectively) in your browsing/window history.
Action Center
Notifications are better spaced and you can also now select how many messages each application can show in Action Center and you can set a priority for each, i.e. where they sit in the notifications list. So you can customise this hugely, perhaps with Facebook at a lot priority and your work Outlook email at the top, each controlled to a certain number of lines. All this is done in Settings/System/Notifications & Actions, just scroll to the bottom of this dialog and you'll see the individual application controls.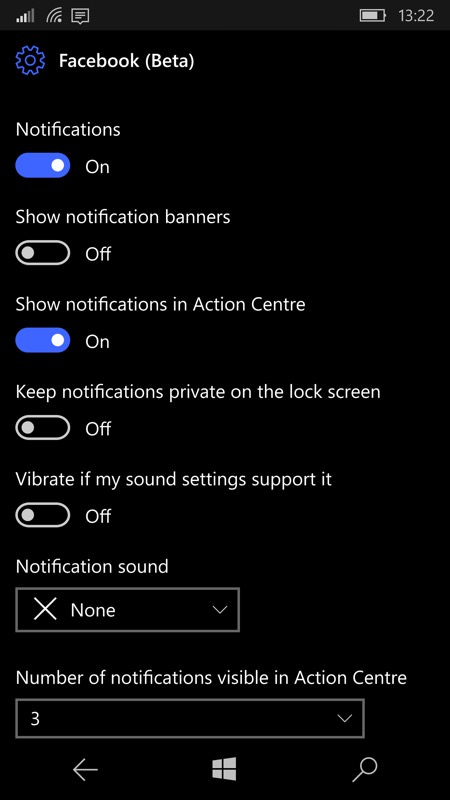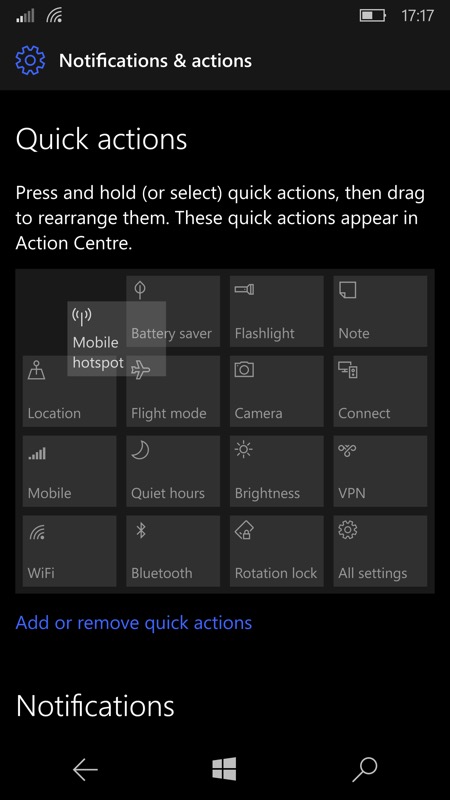 You can now also drag and drop to re-arrange the buttons (in Settings) so you can arrange them however you want (shown above, right).
Cortana improvements

You can now share items with Cortana and 'she' will create a reminder for you, based on person, place or time (and actionned by 'her' as appropriate). See the screenshot example below. It works using the built in Windows 10 Mobile sharing system, so should work with almost any application. Using the Microsoft Cloud and your account, Cortana can also push notifications to a Windows 10 PC so you get missed call alerts, low battery details and app notifications there.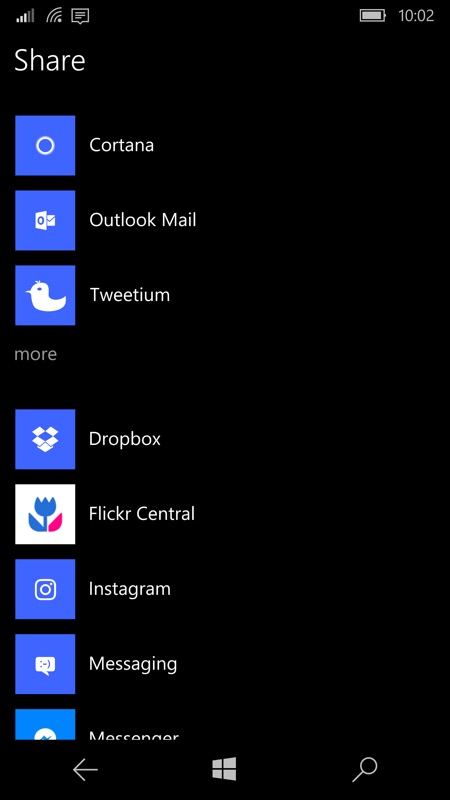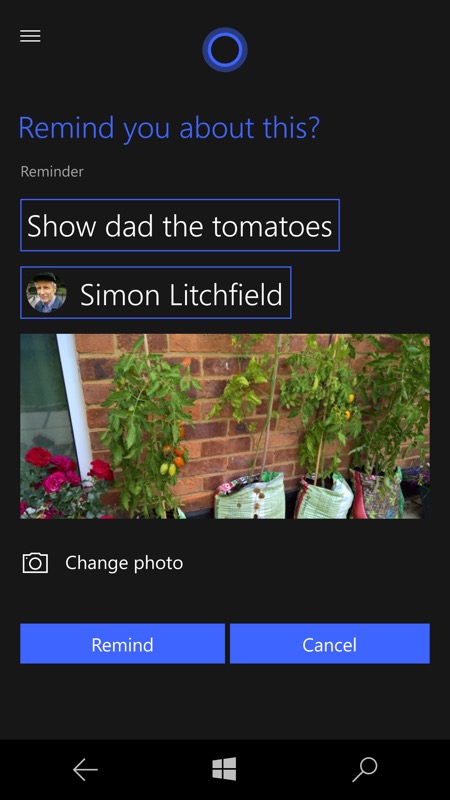 Store enhancements
The Store client has been facelifted several times, and little of this has been seen so far by 'Threshold' users. Most notably, you can now tap through an item that's installing or updating, to the original item's page and have a read through. There are also larger download/progress bars to let you know what's going on, plus information on system requirements and even (sometimes!) a 'What's new' pane.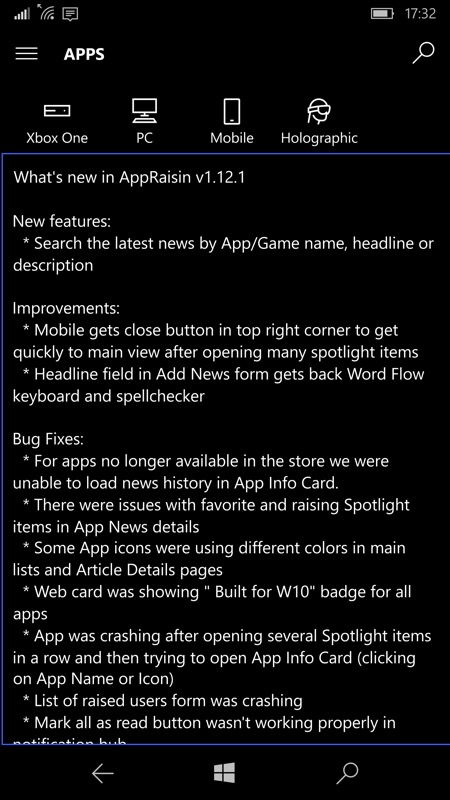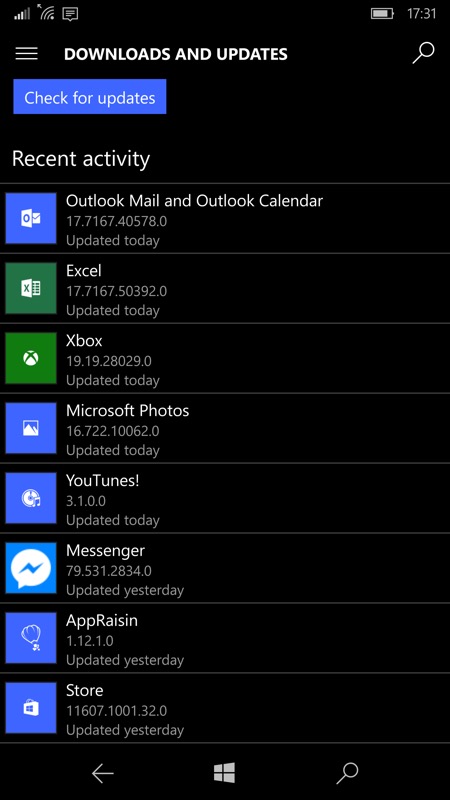 Below the famous 'Check for updates' button is now an up to date list of everything that's been installed or updated, in reverse chronological order, complete with version numbers. Very useful, especially if you have automatic app updates turned on. There's also a Store notification every time something does get installed or updated, but this is a pain and is best turned off in Windows 10 Mobile's Settings.
Reorganised Settings
There are plenty of detailed tweaks, but one of the biggest (other than double-tap-to-wake's possible appearance) is probably complete control of each application's background agent - within Settings/Battery/Battery usage, tapping on any app's name pops up a dialog letting you choose between 'Always allowed in background', 'Managed by Windows' and 'Never allowed in background'.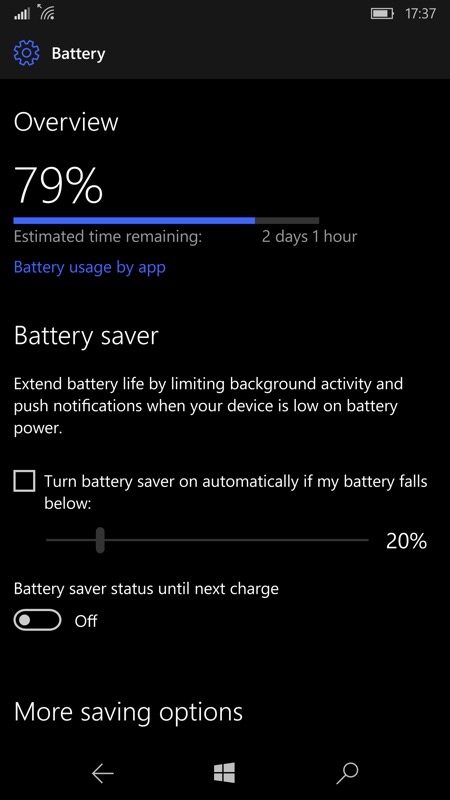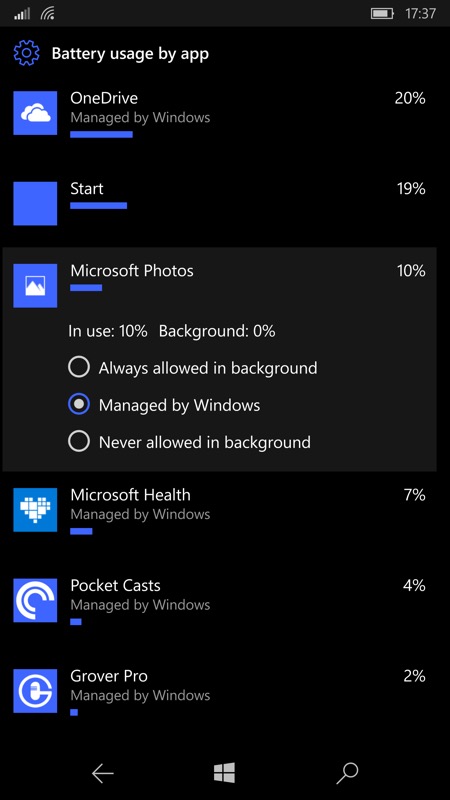 Notably, Kid's Corner has been removed, but its functionality is largely duplicated by Apps Corner, as discussed here.
Enhanced Continuum
In addition to a better Continuum experience - and which will continue to improve, compatibility has been widened to include all Miracast displays and Wi-fi-connected Windows 10 Anniversary Edition desktops and laptops. Obviously this needs more testing and an article on its own, so watch this space.
Applications, Applications
In addition to the OS changes, both under the hood and added to the interface, there's also the 'app factior'. In this case all the Microsoft and third party applications which have been based around the Redstone APIs and which require the newer version of the operating system in order to run. A good example of this is the first party Skype Preview, i.e. the UWP app that's Microsoft's flagship Skype app going forwards, which requires facilities in the Anniversary Update in order to work. And there are many more examples.
What to do to get Windows 10 Mobile Anniversary Update
Nothing. You'll be notified in Action Center when the update has been made available for your phone. This applies whether you have a 'native' Windows 10 device (think Lumia 950) or an 'upgraded' one (think Lumia 830, 930). In either case, as part of the rollout (and expect it to be slowish, with Microsoft looking for issues and tweaking builds as they go), you'll be notified - you don't need to keep checking manually, as the automatic check (in the background) runs every few hours anyway.
All this applies to the full compatibility list of Windows 10 Mobile devices, the main ones of which include:
Alcatel OneTouch Fierce XL
BLU Win HD W510U
BLU Win HD LTE X150Q
Lumia 430
Lumia 435
Lumia 532
Lumia 535
Lumia 540
Lumia 550
Lumia 635 (1GB)
Lumia 636 (1GB)
Lumia 638 (1GB)
Lumia 640
Lumia 640 XL
Lumia 650
Lumia 730
Lumia 735
Lumia 830
Lumia 930
Lumia 950
Lumia 950 XL
Lumia 1520
MCJ Madosma Q501
Though extra devices are joining this list all the time, not least the Acer Liquid Jade Primo and the HP Elite X3, both of which ship with Threshold and which will need the update.
...and older phones?
So that's most interested parties catered for then. But I have to put in my standard caveat that older phones, 2012-2013 vintage, powered by the Snapdragon S4 chip and typically with '20' at the end of their name, are not compatible at all with this release of Windows 10 Mobile. If you've upgraded any of these phones to W10M 'Threshold' via the Insiders 'Release Preview' ring then that's as far as these phones can go. So you're stranded, albeit stranded on a much more recent OS and set of UWP apps than if the phones had been left on 'ye olde' Windows Phone 8.1. So it's still a net win, arguably, even if not all the UWP apps being produced are compatible. (Note that there is a hack that can take these older phones right up to Redstone, by pretending to be a Lumia 640 or 1520 or whatever, but it's very, very, VERY tricky. And time consuming. And I still haven't succeeded. So just don't bother unless you really want to be geeking out for an entire day. Really.)
We'll thus end up with a three tier set-up in terms of which OS version phones are on. Much as shown on my original chart, there are phones officially designated to stay on Windows Phone 8.1, phones that were designated this way but which were upgraded anyway to the W10M Insiders 'Threshold' Release Preview by knowledgeable users, and officially sanctioned and upgraded phones on the 'Redstone' Anniversary Update. Microsoft will only really recognise the last of these tiers, since the first is now too old and the second unofficial, but for what it's worth, three tiers is what many of us will have to bear in mind in terms of content and applicability here.