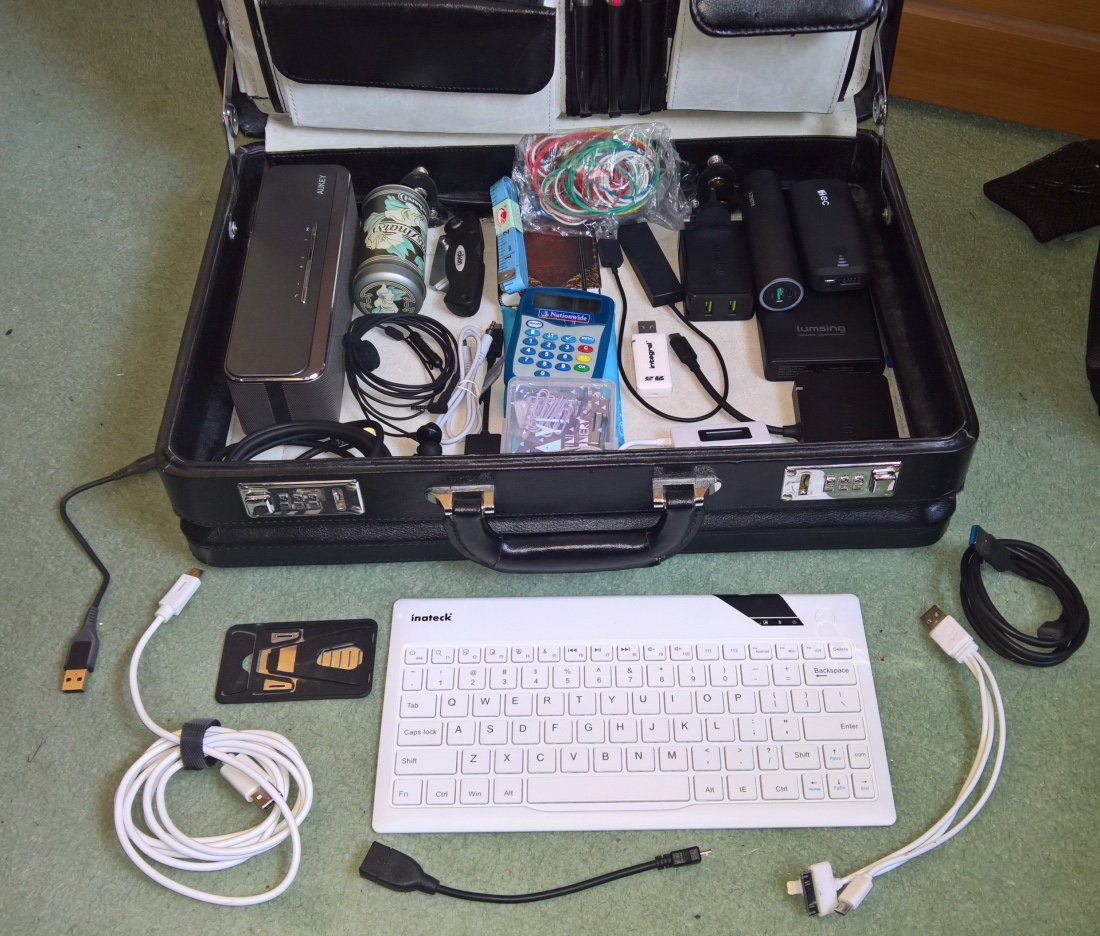 Shown above really is my kit, it's the case I take more or less everywhere with me and the only difference is that:
I've tidied it for the photo!
I've set the case code here to a dummy number to mask my real case unlock...
I also often take either my Surface Pro (and Backlit Type Cover) or my Macbook, depending on where I'm going and what I'm doing - and these fit in the top document pockets of the briefcase. And their chargers would go in the main body if I was gone for longer than a day, of course.
I've been asked numerous times what I really, truly use, so here it all is - I'll start with the stuff in front of the case - which normally goes in my wallet or in the case or in its document flaps, as appropriate. Working left to right:
A short USB Type A to microUSB cable, Nokia-branded. Has never let me down, unlike many third party cables and adapters. Nokia knew how to build cables!
A Tronsmart USB Type A to Type C cable (mainly because I lost my Microsoft ones!)
An Olixar Wallet Ultra-slim stand - so slim I forget it's there, yet saves the day at least once a week!
An Inateck Bluetooth keyboard - it's SO slim and yet SO useable. And no, I don't think you can buy them anymore, sadly.
A microUSB to USB Type A (female) adapter - for plugging in flash disks to phones 'on the go', though I can't remember when I last actually did this!
A multi-way USB Type A to microUSB/Type C/Apple 30-pin adapter. Just an extra option, and again it's small and light. Would be nice to have Apple Lightning on this too. I think this came with a power bank in the distant past!
OK look, it's one of those lost Microsoft Type A to Type C cables after all - phew!
Now for the case contents, and I'll try to work left to right again - you'll work out what's what!
The AUKEY SK-S1, the best sounding Bluetooth speaker I've ever heard, bar none. It's biggish, but when you hear the depth to the sound, it's like having a hi-fi always with me.
A Choetech USB Type C to HDMI adpter cable - not cheap, but a one-wire way to connect to Continuum (etc) displays.
An old tin that's the perfect size for tiny things. So it's chock full of microSD cards, adapters, old SIMs, SIM tools, USB flash disks, and anything else that would otherwise get lost!
My Marshall Mode in-ear headphones. Stunning bass and general fidelity, three way media controls, sturdy clip. Again, not cheap (£40?), but you get what you pay for.
My Rolson Tradesman knife - cheap and yet very well made and simply to slot in new razor blades. Perfect for unboxing things?(!)
A white 3.5mm to 3.5mm audio cable. Because you never know when Bluetooth is going to let you down and it's best to 'jack in'!
Some emergency mundane things: rubber bands, a small notebook (for ideas?), paper clips, stapler, tissues, online banking access gadget.
The Microsoft Wireless Display Adapter - because you can't always have cables trailing across living rooms and offices! Perfect for Continuum stuff as long as you don't mind a little lag here and there...
An Integral SD card reader. Especially useful for getting photos onto - and off - awkward laptops.
A Tronsmart mains-to-dual USB Type A 36W fast charger - hasn't let me down yet when there are multiple phones or tablets to charge
A cheap and nasty USB current meter - sometimes this seems invaluable, other times I'm not sure I believe its readings. But better than nothing. Shout out in the comments if you have something reliable that you can recommend.
The AUKEY USB Type C Hub - it's a hard-wired Continuum dock that only weighs 50g - hit!
And finally, in the case on the right, three power banks - hey, this is me, I like redundancy in this area. So that when a family member or friend needs a boost, I can hand over one of the smaller gadgets and know that my main charge store is untouched!
The Lumsing Glory P2 Plus - dual fast charging input, triple output, very good build, this can't be beaten.
The 'swiss army charging knife' - mine was made by EC, but branding varies according to where you get it. Old style microUSB input only, but rugged and great for handing out to a family member, and useful that it includes a torch too.
The AUKEY Halo Charger - simple, beautiful, Type C in and out, plus Type A.
So that's it. The small pockets at the bottom of the case 'top' have emergency medication, first aid stuff, biros, business cards, and so forth. And, when I'm at an event or conference, a few high energy snack bars!
Comments welcome, of course. What do you carry your 'kit' around in, and do you have any special recommendations of your own?