* Of course, even though Windows 10 Mobile OS updates will stop at the end of 2019, the phones themselves will carry on, getting Store/app updates for some time longer. But 'end 2019' is a realistic line in the sand to draw. Possibly even for AAWP itself. Watch this space.
I guess a cynic would guess that this article title was leading up to a modern Android phone, equipped to the hilt with Microsoft services, but I've done that before (most recently with a review of the Microsoft Launcher 5.0) and I'll doubtless return to that subject in due course in 2019. But I'm talking here about phones running Windows 10, whether natively (i.e. out of the box) or upgraded from Windows Phone 8.1, which widens the pool to pick from significantly.
And yet my pick here isn't a Lumia, which should be to Microsoft's embarrassment. Windows 10 Mobile isn't as lean and mean as Windows Phone 8.x was, meaning that it needed much more horsepower to ensure a smooth and fast experience - and the Lumia range got cut off at the 950 XL in late 2015 (now over three years ago!), with its Snapdragon 810 and 3GB RAM. Yes, there was the unreleased Lumia 960 (among other prototypes, no doubt) but the 950 XL was as good as first party hardware got. Sadly.
True, the Lumia 950's camera is still world class and competitive, which is why I keep coming back to it for camera phone shootouts, but away from imaging, the Lumias are some way behind the curve nowadays.
The HP Elite x3 looked like the saviour of the Windows 10 Mobile world for a while, it was and is still a useable device in terms of form factor and performance, but sadly HP priced it (and its lapdock) at 'enterprise' levels and so it never had a chance at gaining traction, even in the AAWP enthusiast community. Also, as will become clear below, I'm an audiophile and I like my phone speakers to be of good enough fidelity and my headphone audio to be perfect, and the 'B&O' system in the Elite x3 disappointed, I had the x3 for over six months on loan from HP and I sent it back in the end, it never appealed for holding my main SIM card.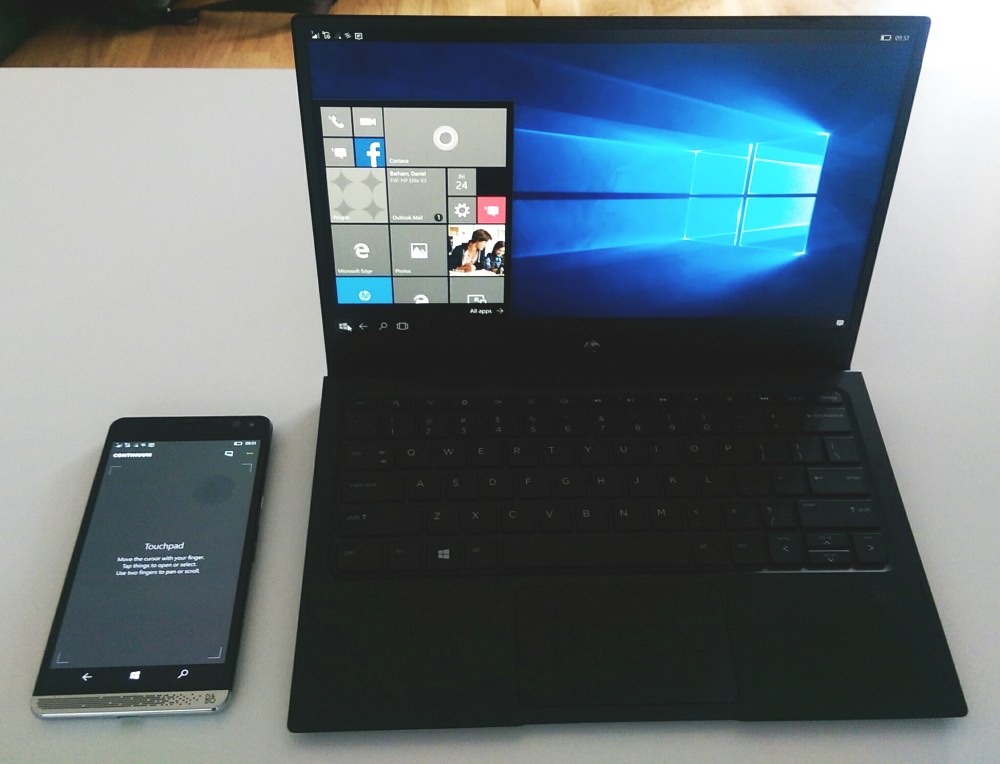 And the lapdock could have been an outright game changer, yet it was demonstrably buggy and - again - massively overpriced. All very underwhelming. To my knowledge, the Elite x3 system never really caught on in the enterprise, and it will remain a 'What if?' question as to whether the x3 and its Lapdock could have succeeded (at least matched Lumia sales) in the consumer market if properly priced.
But... launched in the wings, over in the USA at the tail end of 2016 was the Alcatel IDOL 4S 'with Windows 10', ostensibly a variant of existing Android hardware, but with a few tweaks and Windows 10 Mobile onboard. Highlights were a 'modern' glass and metal build, the use of a Snapdragon 820 and 4GB RAM (even if W10M only really uses 3.5GB), a fingerprint scanner, JBL-branded front facing stereo speakers, the Qualcomm Quick Charge support, and a high quality DAC and power-amp onboard for loud and super-clear headphone output.
It wasn't clear whether this rather tasty bit of kit was Alcatel fulfilling a commitment to a USA carrier or to Microsoft or whether this phone would make its way to the rest of the world. We were on tenterhooks for months and then came a soft launch and availability on the official Microsoft site/stores in summer 2017, and at a sensible price (just over £400 in the UK) What was not to love?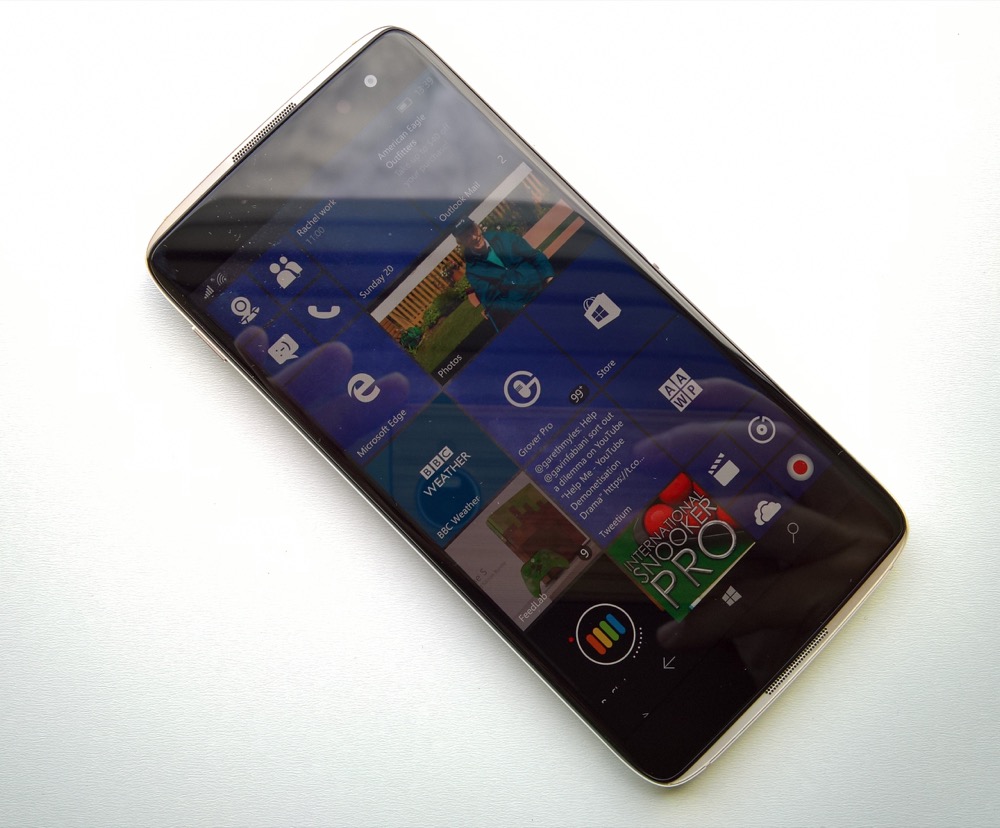 In fairness, there turned out to be several things not to love - imaging was distinctly average, Alcatel hadn't put much work into the build of Windows 10 Mobile and some of the things that we took for granted in the Lumias were absent (notably an Equaliser), there was no NFC (though as there turned out to be no Microsoft Pay in most of the world this didn't really matter), plus Alcatel's commitment to making sure Microsoft had the device covered for Windows 10 Mobile branch updates was measured (by me) to be exactly 0.0%.
This last point wasn't a total showstopper, as it turned out, because actually pushing Windows 10 updates (so 'Creators Update' and 'Fall Creators Update') is down to Microsoft alone. Except that they didn't have an IDOL 4 Pro, so yours truly worked with the right people at Microsoft to try and get the IDOL 4 Pro 'provisioned' for both updates as they happened. And now the device is bang up to date, on the January 2019 security updates, etc.
As a result of all this, I've ended up with one of my two main SIMs in the IDOL 4 Pro and I'm very happy with it. The showstoppers in terms of apps and services are common to all Windows 10 Mobile handsets, of course, so we won't go into those yet again (no Twitter DM notifications, for example).
Yes, the IDOL 4 Pro's camera isn't exactly cutting edge, but it's perfectly fine for social snaps (and for me, my other main SIM will usually be in something with a far better camera). But it's the overall experience that impresses me most about the device. True, the fingerprint scanner isn't quite as fast as on Android phones, but then much of this delay is, I suspect, down to Microsoft and Windows Hello, I don't think it's Alcatel's fault. The AMOLED display is more colourful and vibrant than those in my Lumia flagship phones, and it's wonderfully oleophobic, so fingers just glide across the UI. Which is faster and smoother here than on the Lumias, thanks to that faster processor and more free RAM.
But it's the audio that impresses, again. To be able to turn to a microSD full of my favourite music documentaries and clips, with delivery over just about the loudest and highest fidelity true stereo speakers on any phone today, while waiting in the car or family, is just a wonderful resource. And when I need to listen to music, there's one of the best DACs in any phone in the world, pushing through a traditional 3.5mm jack and I can use whatever headphones I like (currently Marshall Mode EQ).
Of course, to have had both great imaging and great audio would have been even better (cough Lumia 960), but it seems that in the Windows 10 Mobile world it's one or the other. And, on reflection, I'm picking the IDOL 4 Pro as my favourite W10M device for 2019, with the extra performance making the difference over the older Lumias.
What about you? Have you had direct experience of the Alcatel and HP phones to compare with the Lumia 950 range? Comments?
PS. Bonus link. My original IDOL 4 Pro review part 4, with links to previous review parts.