Review:
Nimbus Note UWP: a worthy contender for Evernote fans
Score:
80%
Guest writer Lloyd Moritz brings us a review of Nimbus Note UWP, a worthy replacement under Windows 10 (including Mobile) for the likes of Evernote. He reports on the background for the app's existence, how it works in practice, and tips on getting your data from Evernote itself.
Buy Link | Download / Information Link
Lloyd writes:
Evernote users on Windows 10 Mobile (and otherwise) may be disappointed with the lack of serious app support from Evernote, and therefore interested in a third-party alternative that provides the same features and benefits. If this is you, take a close look at Nimbus Note, now available as a Universal Windows Platform (UWP) app.
One of the biggest productivity cases for computing devices is note taking and organization. While there are several note systems available, the two leaders in this field are Microsoft OneNote and Evernote. Microsoft enthusiasts probably gravitate to the former since it is pre-loaded on Windows 10 devices, and part of Office. OneNote is a powerful app, one to which Microsoft is deeply committed, and provides a structured-approach to note storage. Evernote, however, is also very popular, passionately used by many, and offers its own set of advantages, one of which is a powerful tagging system for storage and retrieval.
In the end, it often comes down to personal preference as to which system you choose. Some people, myself included, actually use both daily. The structured organization of notebooks, sections (folders) and pages within OneNote is a logical environment for keeping information that you access frequently or within certain contexts. Evernote, on the other hand, with its stream of notes, is far better suited to keeping snippets, quotes, articles for future reference, especially when properly tagged.
Evernote, as with OneNote, is available on a wide range of platforms, ranging from full-featured PC programs to mobile apps and web access. Unfortunately, due to problems the company faced in 2015, they stepped back on their commitment to their various Windows applications, including the eventual discontinuation of their Windows Phone 8.1 and PC touch (8.x) versions. All that remains is their Win32 desktop app, which has been ported to the Microsoft Store via the desktop bridge. When this latest store version appeared in 2016, there was much fanfare, with the promise and hope that this would lead to a true UWP app. Unfortunately, however, there is no evidence of any progress toward UWP. In fact, updates have been few and far between.
So, if you are an Evernote fan on Windows (and especially Windows 10 Mobile) this has probably left you frustrated. And there are few options. The good news is that on Mobile the old Evernote app for Windows Phone 8.1 still works, even though it is no longer in the store (hint: check your library). On the PC, one can use the bridged app in the store or access your data via the web. One other option is to move over entirely to OneNote via Microsoft's conversion tool, but it's not perfect: large Evernote databases come up against a limit of notes in a OneNote section, and you still don't get all of Evernote's tagging power. Beyond these options, there are no third-party apps that allow you to work directly with Evernote's data and systems.
But... if you like Evernote's approach to notes, you should seriously consider Nimbus Note, a true Windows UWP app that works on all varieties of Windows 10, and is also available on Android and iOS, and more. In short, Nimbus Note allows you to transfer over your Evernote database, and work in a similar interface that includes such loved features as the note stream, and tags.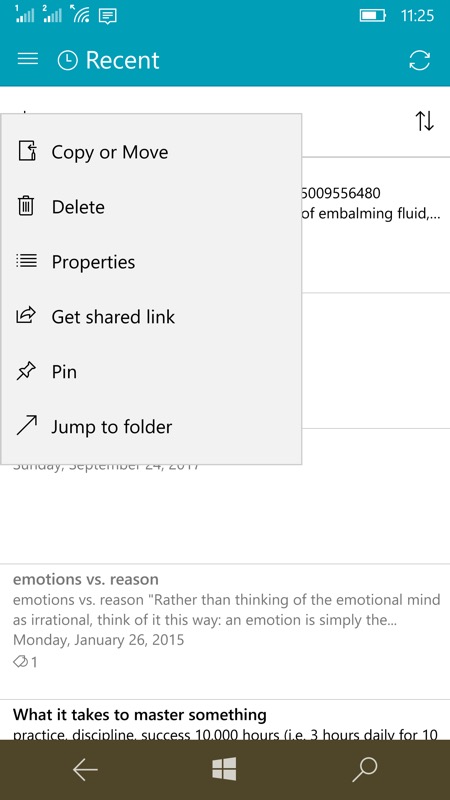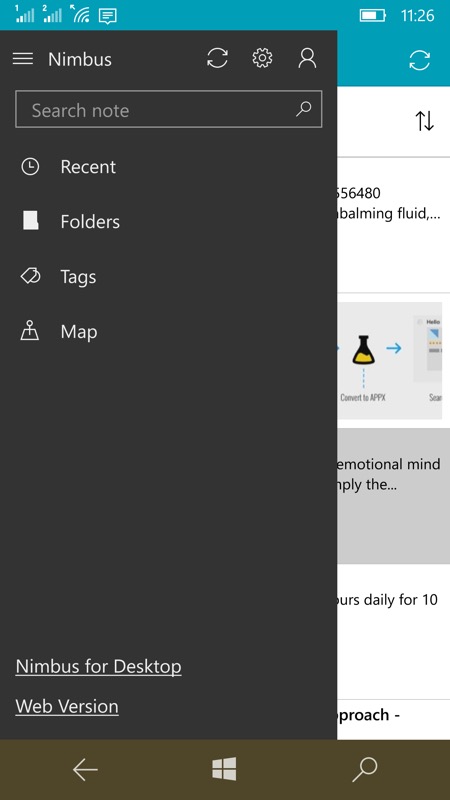 When you install and open Nimbus Note, you will detect a simple, clean UWP interface. It's not as colourful as OneNote or as polished as most Evernote apps, but it gets the work done. The default viewing mode is the Recent stream, but as with Evernote you can also view according to folders (i.e. notebooks) and tags. New notes can be added as text, images, photos, audio or video, and you can customize notes with text formatting, attachments, reminders, location, and tags. Of course, you can pin notes and folders (i.e. notebooks) to your Windows Start screen. If you are an Evernote user then you will find almost everything you have come to love. There are some exceptions. For example, at this time, Nimbus does not appear to read text found on images, and sharing is limited to custom URL's, not by account.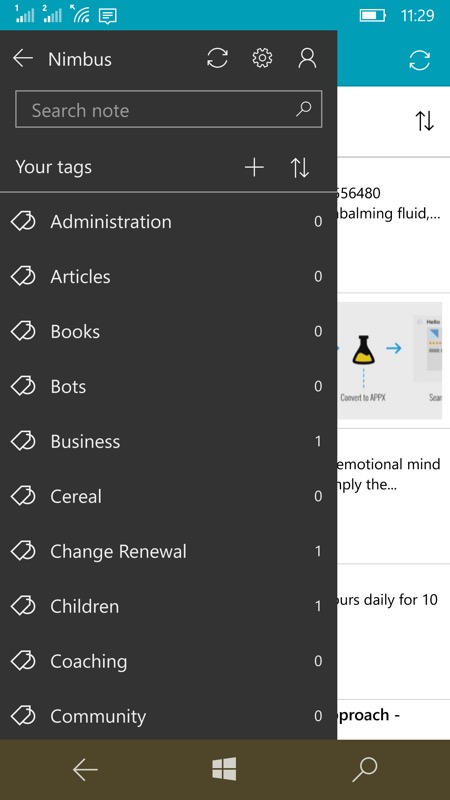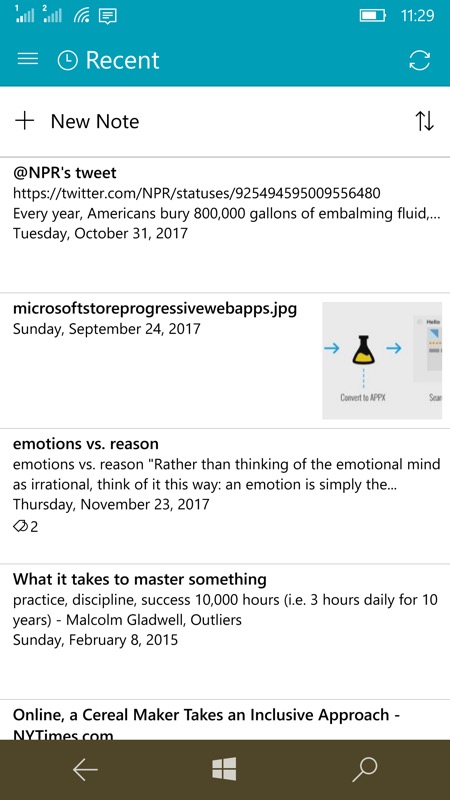 Nimbus is free to use for most casual users, but for heavy notetakers requiring large file and attachment sizes and heavy uploads, a premium package at $4.99/month or $44.99/year is available, priced between Evernote's plus and premium options.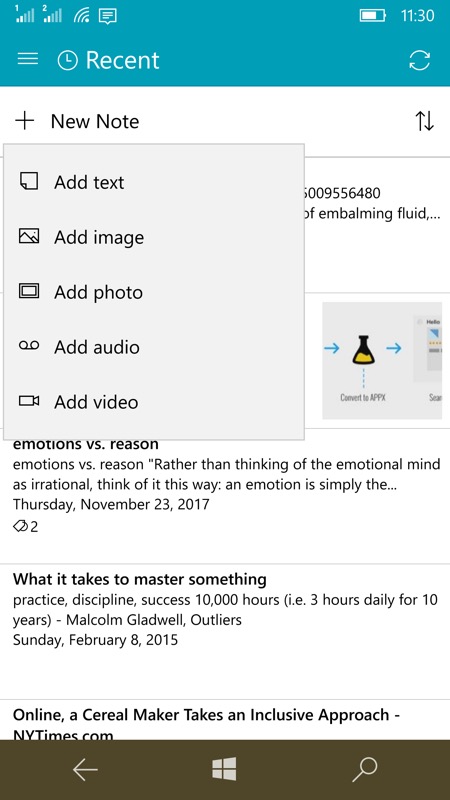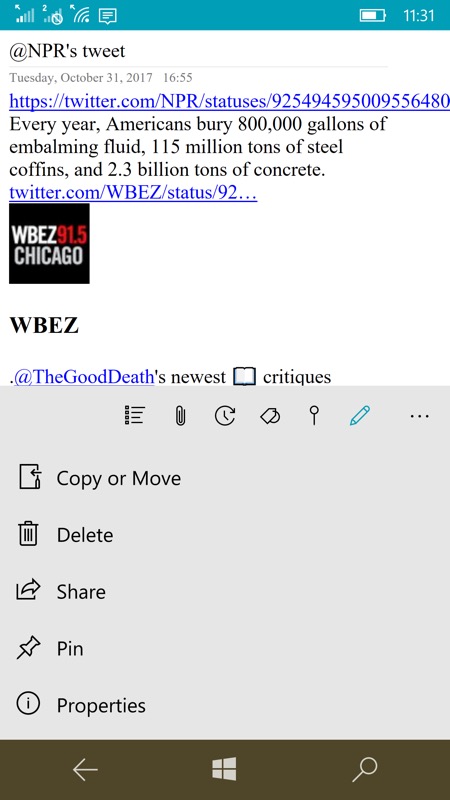 A quick word about moving from Evernote to Nimbus Note: It's not elegant, but fairly straightforward. Essentially, to make the conversion happen you have to work with a PC on which you are running Evernote. For this process, you have to also install the Nimbus Note desktop app, as it contains the conversion utility. The Evernote data is then converted to Nimbus' JSON file format and synced to the cloud. Once your data is synced, you can then run Nimbus Note on whatever devices you want or access it from the web. Be aware, however, that if you have a significant amount of data to convert (over 100MB) then you will need to sign-up for Nimbus Pro, at least for one month, in order for all the data to be processed.
All-in-all, in my testing, Nimbus Note has proven to be a worthy alternative to Evernote. Most notes have transferred across very well, and the overall experience has been excellent. Usability is enhanced with its functionality within Window's share system. Browser extensions are also available, although not yet for Edge (however, when I contacted them they said one was being developed).
In conclusion, if you want an Evernote experience on your Windows 10 Mobile phone (and your future Surface mobile device) then give Nimbus Note UWP a close look!
_______
Thanks, Lloyd!
Reviewed by Steve Litchfield at