If there's been a flawed jewel in the crown of Windows Phone, it's been the Xbox Live branding. Putting one of the most popular and successful gaming brands into a smartphone was a strong statement of intent all those years ago, but only now is it starting to deliver the quality and named titles that are expected. So what can you do with a standard Windows Phone to give it a bit of a gaming and multimedia twist and have something that feels unique, and focussed on fun?
That's what I'm going to look at now. No SIM required (just a Wi-fi connection), and a basic Windows Phone handset. With the Lumia 520 costing less than a Nintendo 3DS, you could forget about treating this as a phone, and use it purely for entertainment.
Which is the goal here (and, in a subtle way, it's a look at how close I can replicate the experience of my Zune HD on the modern 'don't call it Metro' hardware from Microsoft).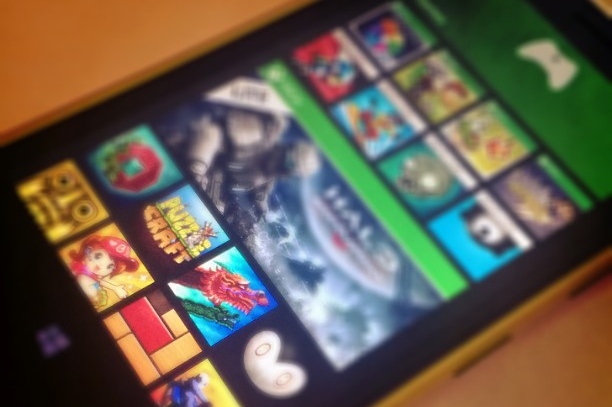 What I don't want to do here is wax lyrical about the capabilities of the low-end Lumia range. We've already spoken quite a bit about the value proposition that the Lumia 520 and 620 handsets offer, and ever since spending two weeks at SXSW with nothing more than a 620 for my internet connection I've been a believer.
No, what I want to talk about here is taking the 'general purpose' low end Lumia platform, ripping out what's not needed, and turning the handset into a portable media machine. Remember the 520, 521, 620 and 720 are essentially identical hardware, specs wise (albeit with differing screens and physical construction), so our new portable device is going to sport 8GB of internal storage, a 1GHz dual core CPU, and 512MB of RAM.
Starting out
Probably the best place to start out with this exercise is a 'clean' phone, either one that is fresh out of the box, or has been reset to factory conditions. There's nothing wrong in starting with a phone in regular use, but there will be a lot of cruft to clear out, both of apps, user data, and temporary files. I'm going to be using a Lumia 620 after a factory reset.
Storage and capacity
The limiting factor in all of this is going to be the internal storage. Downloaded applications must be stored on the internal disk, as opposed to the optional microSD card. That means keeping as much data as possible away from the internal storage.
I would say that a memory card is vital. So pop one in, make sure that you've set up your phone to save music, photos and video, to the SD Card. Here's another good reason to start with a clean phone, moving all these media files over manually is a pain, especially if you have DRM music downloaded with an Xbox Music Pass.
The other thing to realise is that, unlike many Android handsets, almost every 'extra' application added by the network and the manufacturer can be uninstalled from the handset. Given the focus on games and music, do you really need to have turn by turn directions in your car? A long press on the majority of apps in your app list will show the 'uninstall' option. Use it with extreme prejudice.
Not everything will come out, there are a number of core apps that simply have to be there (according to Microsoft). Apps such as the People hub, the Camera, and Internet Explorer, all remain. You'll still have a smartphone experience after a vicious pruning, but it will be just the basics - mind you, Windows Phone does the basics of calling, mailing, texting, browsing, and sharing oh so well!
I managed to reclaim over 250 MB of storage taking out the extra apps on the 620, and I would be comfortable taking out more, but I can guess the corporate thinking why Office and OneNote are missing the uninstall option. Let me lose the word processor for another Angry Birds title - it's a fair swap!
The games
The majority of this exercise is of course based around the games available for Windows Phone, and for the majority of users that means the Xbox Live Arcade. Compare the titles on offer here to the Xbox 360 console and it doesn't quite match up, and there are a number of 'A list' titles that are only available on Android and iOS... but Windows Phone is improving, especially since the launch of Windows Phone 8 allows developers to have low level code access and cross platform tools such as Unity.
Once you start popping in some flagship titles into the handset and populate the live screen, you'll start to have a solid selection of modern mobile gaming. Angry Birds, Plants vs Zombies, Real Racing, Temple Run, FIFA, Tiger Woods, Rayman, Jetpack Joyride, Cut The Rope... Some of these might not be the exact same versions as on other platforms, but all of them are entertaining, challenging, and worthwhile titles to play.

You also have an increasingly busy collection of indie gaming titles that offer just as much challenge (Tower Defense), just as much addiction (The Treasures of Montezuma), just as much in the way of cute graphics (Bonnie's Brunch), and just as much smart gameplay (Dragon Portals, Puzzle Craft, and countless more).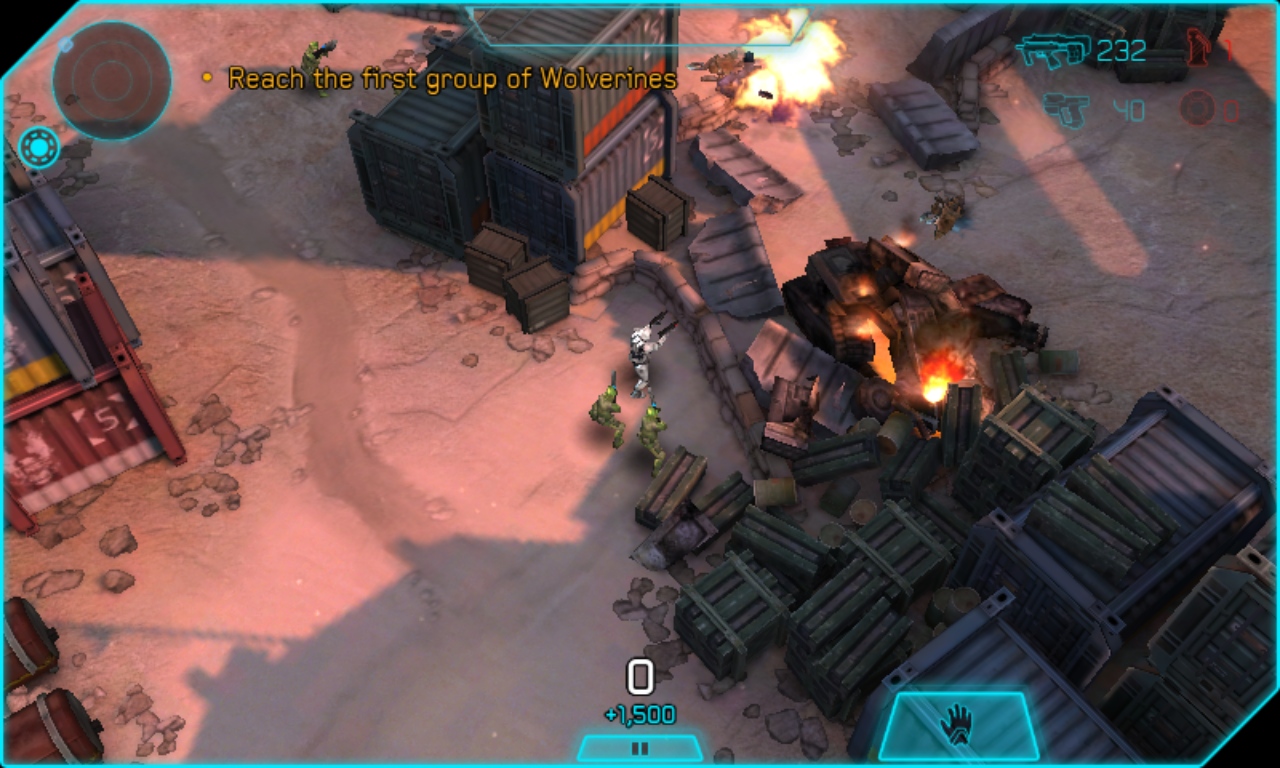 And you cannot discount the power of having 'Halo' in your smartphone. That, more than anything, turns Windows Phone from a nice gaming platform into Xbox Portable in everything but the name.
Windows Phone is a solid gaming platform, and if you focus on that element, you will find untold joy and happiness. But we're building a media machine here, so let's add in a bit of music.

The music
I've long maintained that Microsoft's Zune HD is the finest standalone media player, with a smart interface, a decent PC based companion, and a built in 'all you can eat' subscription service. Windows Phone 8 builds on that user interface, it doesn't need the PC companion, thanks to the 'Store' app, and the Zune Music Pass, renamed to the Xbox Music Pass, is baked into the OS.
For £8.99 a month it's 'download and listen as much and as often as I want'. Other options, such as Spotify, are available, but the Xbox Music Pass continues to work on my PC, my Zune, and a number of Windows Phone devices, so I've no need to change to another system. If I want an album, 99 times out of 100 it's just a search box away - even the obscure Italian artists that I've fallen in love with.
I've added one of my three non-game applications here, and that's Nokia Music. While there is a subscription component to this, I'm not a great one for streaming auto-curated 'radio lite' stations, but Nokia Music is a nice one to keep around when I need something to run in the background.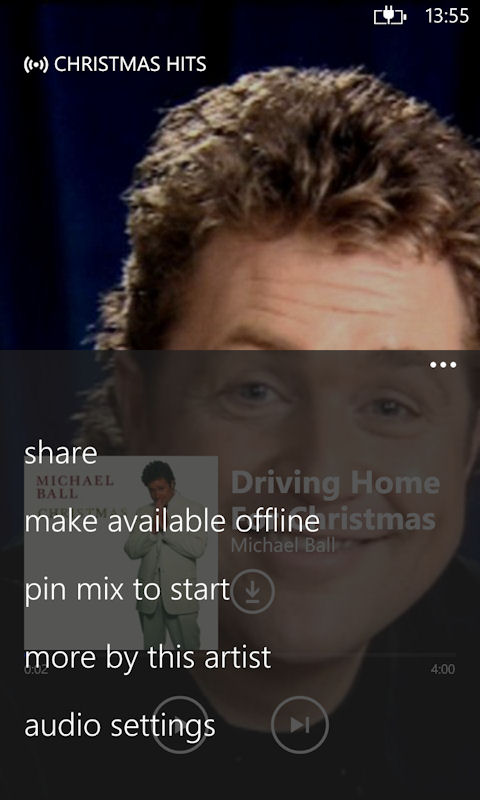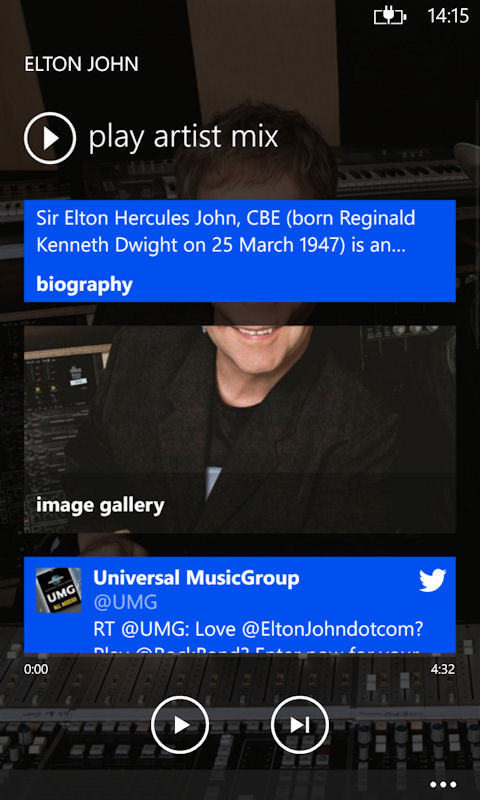 Video goes the way of Betamax
Honestly, I'm not a huge fan of video on the go - YouTube is available through Internet Explorer if I must, and with a decent sized SD card I could load up on some films, but I know from experience that the Lumia 620 is not going to be my video playing device of choice - so no extra storage is being taken up by any video files.
Finding a good book
What I do like doing is reading. A good eBook reader on any device is a must for me, and I'm going to make sure my 'Xbox Portable' has one. While there are many choices open on Windows Phone, the simplest option is going to win out. Amazon's Kindle app, while it still has a number of flaws and missing features (such as personal document support), is going to be downloaded. The majority of my library can stay in the cloud, and I just need to download the book I am currently reading (and the next one, so I'm not caught short when out of coverage).
I can get far more time out of a 200K book than the edited 'film of the book' that takes up 200MB.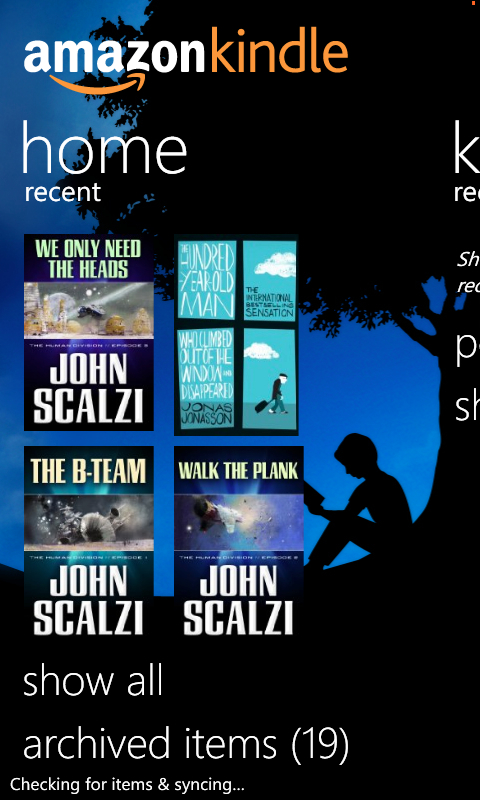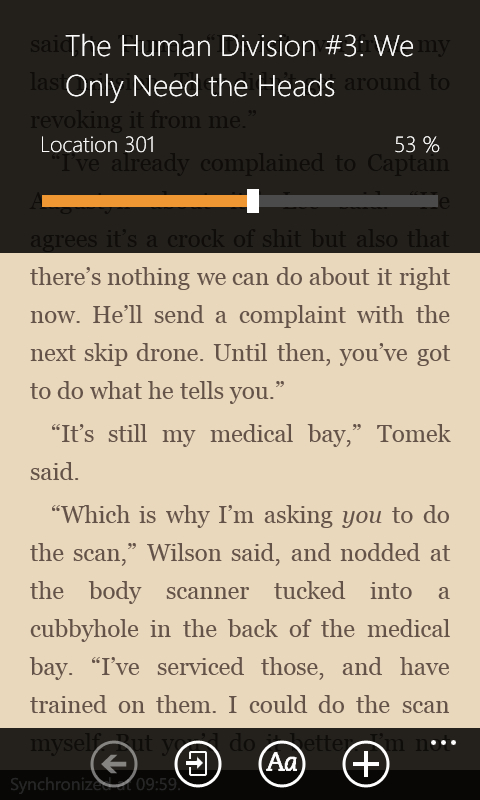 The 25 cents experience
The easiest way to show off this gaming smartphone is to have a look at my live tiles. It's radically different to the tile layout and preferences on my regular Windows Phone, with double width tiles breaking up the sections, and the smallest tiles linking to apps and music. Music is at the top, mostly because with one handed operation and lifting the handset out of my pocket I wanted to get to the music app as quickly as possible. Four quick links to albums are underneath.
Next is the Xbox tile, which takes me to the full list of games installed on the handset. Xbox Live tiles come next, and Halo gets pride of place with its double width arty tile. Indie games come next, followed by the double width Kindle tile, and a final grab bag of my favourite games comes next.
Nokia Music's big tile is the final double width tile, and I have some of the built in apps give a splash of the theme colour to backstop the tiles.
It's also worth noting that the smaller Lumia handsets are best suited to this portable gaming hack for two physical reasons. The first is that they have SD card support, which is missing on the larger handsets (albeit they have far more internal storage than 8GB). The second, which makes this an attractive option for the long distance traveller, is that many of them have a user-replacable battery. With the cellular connection switched off, and careful use of Wi-fi, the smaller battery does go a long way, but carrying a second battery is such an easy decision to make, and for all the talk of USB chargers, Qi enabled tables at airports, and plug in power in your aircraft seat, this is by far the easiest and most flexible option.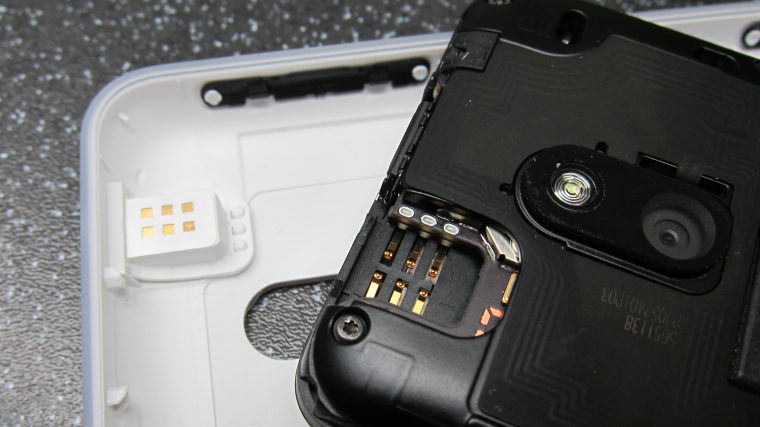 The Third App
Anyone with eagle eyes, or who understands how a gamer truly lives, will have spotted the third application that I have installed. Tucked away, at the bottom of my live tiles, is the Dominos Pizza app. There's a certain joy in being able to open an app on your phone, and have fresh food delivered twenty minutes later, in the middle of a gaming session!
Over To You
Right, that's my rig sorted. The question is, what's missing, and what would you add? Remember the goal here is focus and minimalism, so bear those in mind and lets tweak the 'Xbox Portable' to be even better in the comments.