Review:
Tiger Woods 12 (Xbox Live)
Score:
80%
I'm torn really - Tiger Woods 12 brings the maturity of EA's golf engine and its general expertise to Windows Phone (or at least, the higher specified Nokias), and I'm very glad to see it on my smartphone, fully paid up and always available. The depth of gameplay is all here, the skill required is high and I feel churlish in complaining. Yet somehow there's not quite the same satisfaction here as there should be, with the graphics distinctly closer to 'workmanlike' than 'stunning'. Don't be too put off though, there's a lot of golf here for a pocket money price and Tiger Woods 12 still gets a hearty 'recommended' from us.
Buy Link | Download / Information Link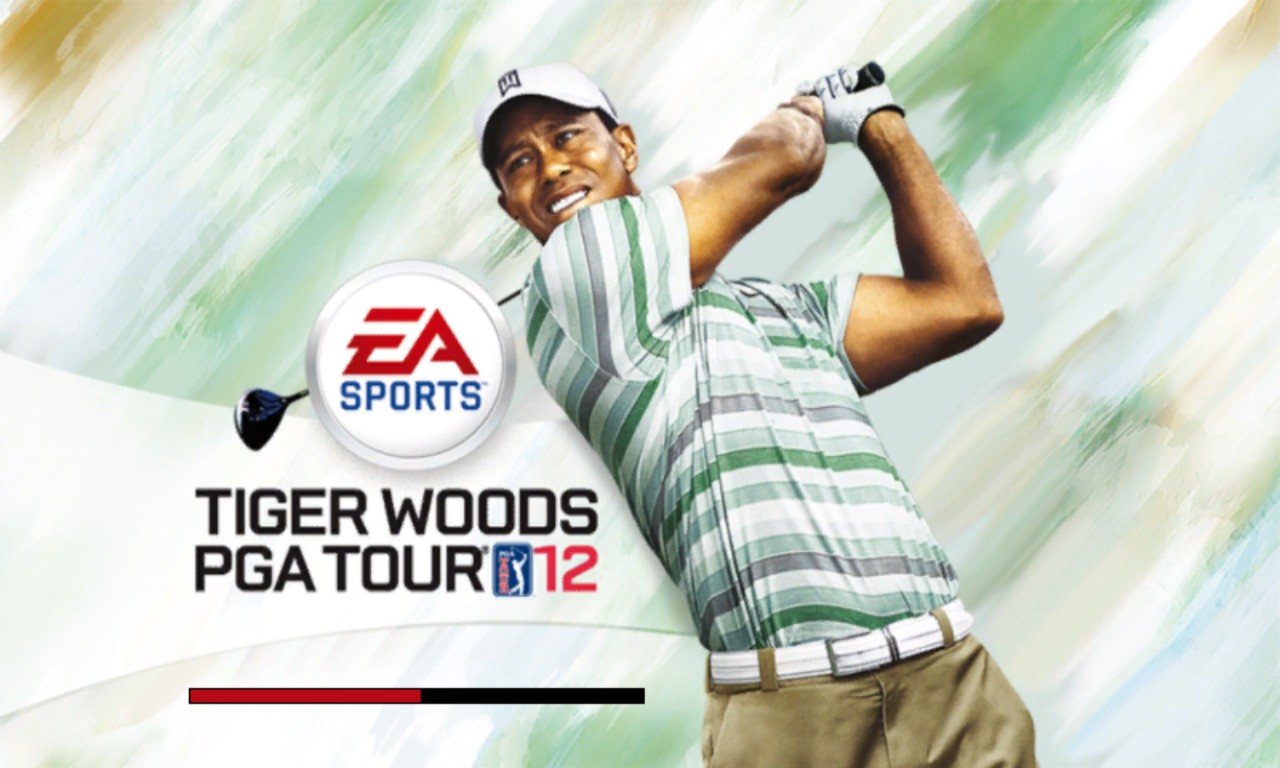 Starting with PGA Tour Golf all those years ago (1990), Electronic Arts has had this golf series as its flagship for what seems an eternity, with the core gameplay essentially unchanged. It's golf, pure and simple, pitting genuine golf skills against virtual or human players and battling bad lies, the elements and obstructions at every hole. Of course, since the early DOS days for the game, the presentation and hole modelling have both come in leaps and bounds, as you'll see from the screenshots here. Whether they've come on enough is my main concern.
The core of Tiger Woods 12 is playing against virtual PGA Tour pros and this career mode is hidden inside 'Game modes' on the menu, with the default being 'Play now' and a quick round of your choice. It's tempting to complain about this balance, but it does make sense, since you can hand your phone to someone to try the game without them finding and ruining your saved (finely pitched) tournament in your virtual career.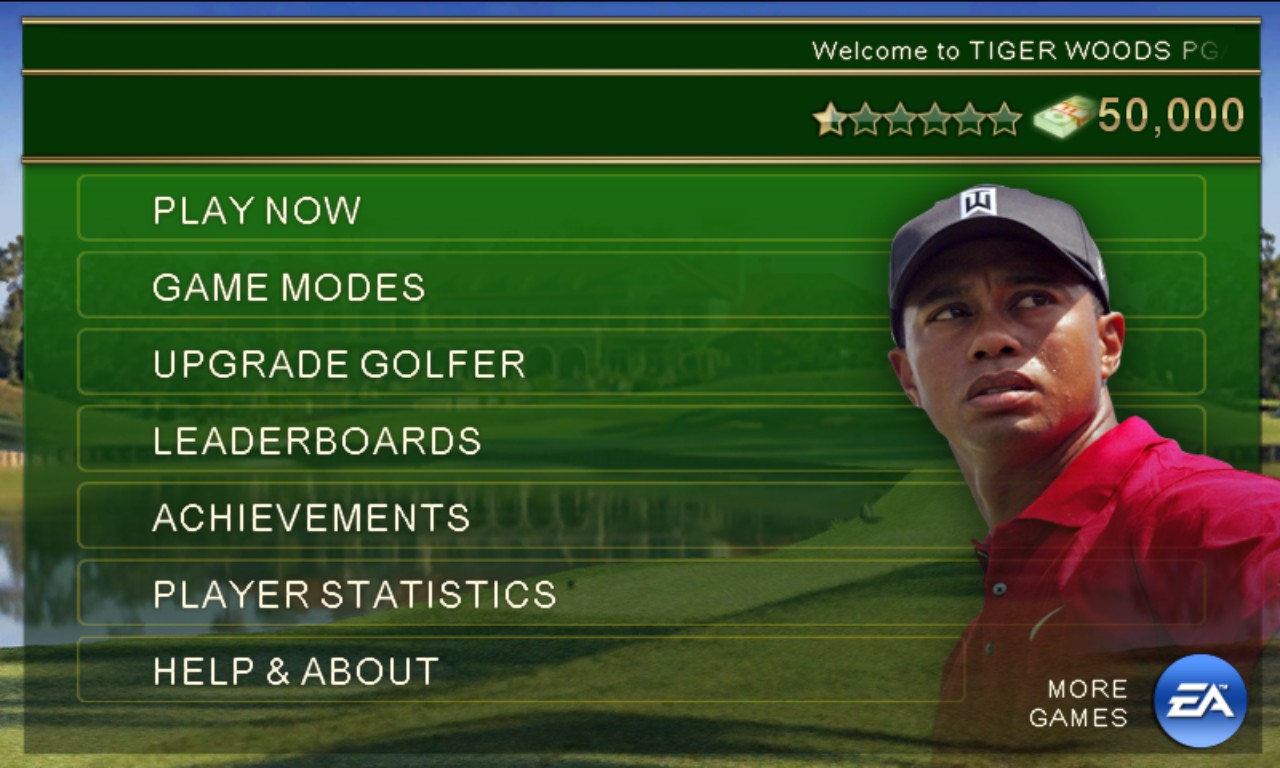 As with all modern incarnations of 'PGA Tour', in licensed 'Tiger Woods' guise, there are the usual customisation options - because all the 3D graphics are rendered in real time, your golfer avatar can be textured/coloured however you like: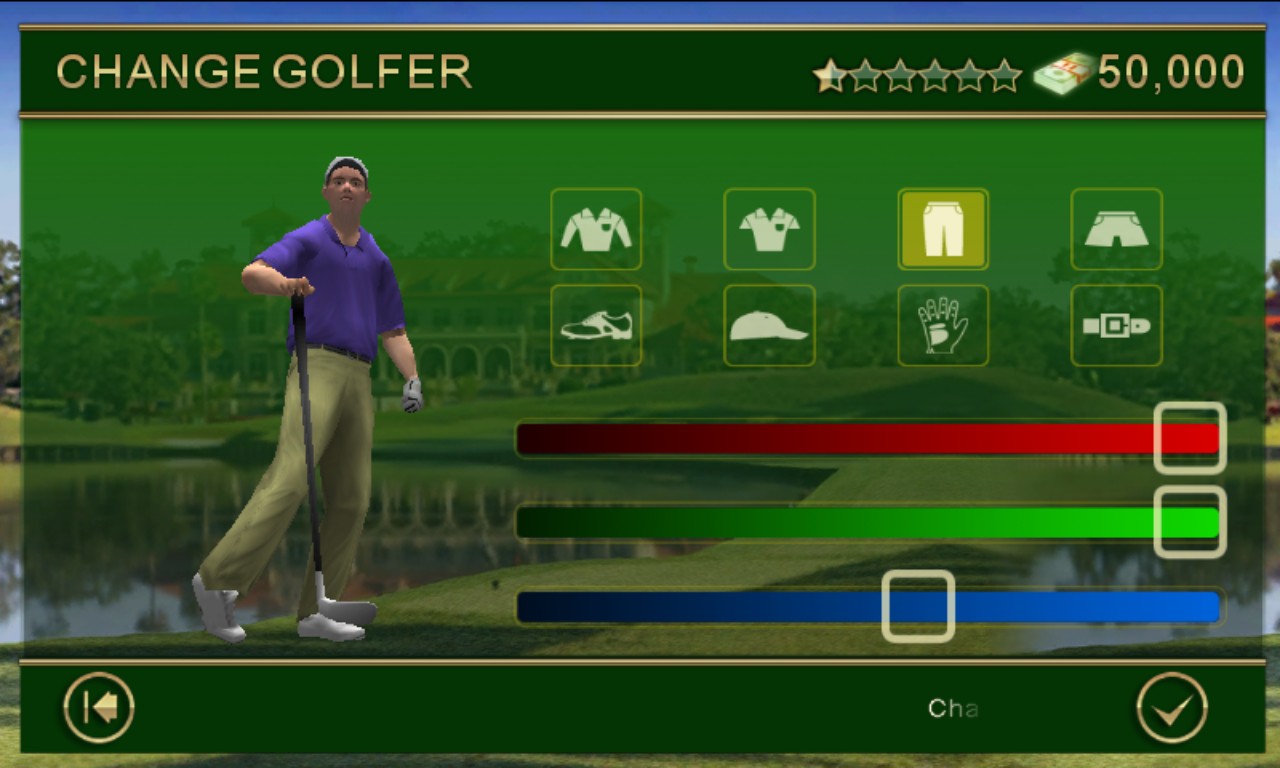 As with most games these days, there are in-game purchases, but don't worry, we're only talking about virtual money here - Tiger Woods 12's purchase price is the only real money you'll need to part with. As you progress through the game, you'll win prize money, which you can later trade to upgrade your golfer's core attributes: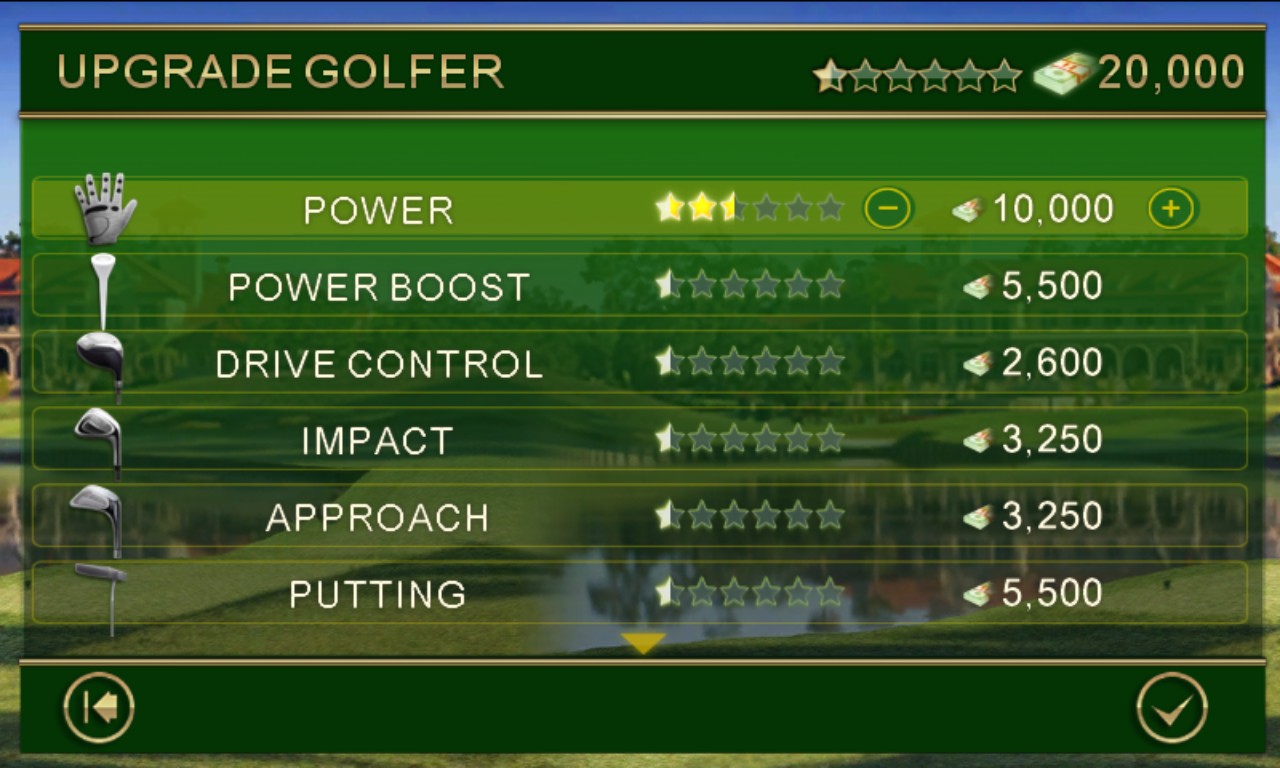 The central golfing interface isn't that different to days gone by, with a 'behind the golfer' camera view, control and status icons, plus helicopter-style hole previews where appropriate. For any shot, you can change the club used (see the carousel, below), the shot type (normal, punch, chip, etc.) and your aim (by simply dragging left or right). Central to your aim will be the prevailing wind, shown by the icon ("8", below), though the actual direction is hard to see against the sky - I usually had to tap the 'shot preview' icon, bottom right, to change the camera viewpoint in order to see the wind direction more clearly. A case of a few drop-shadow pixels being sorely needed, I think...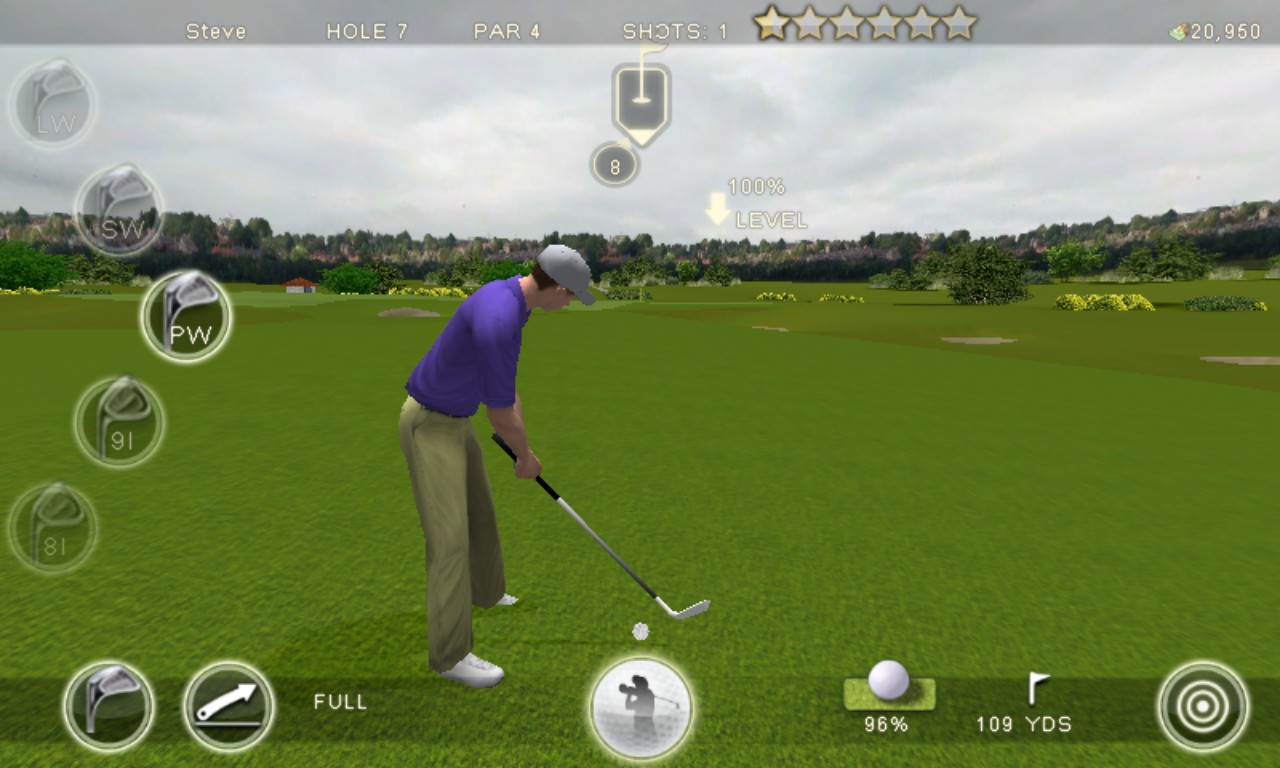 For years, the swing mechanic in PGA Tour Golf was a three-click system and a linear 'power bar' (with slice/hook timing area), but in the last decade or so, a more analogue 'natural' system has prevailed. Here, you swipe down and then up on an on-screen 'funnel', with the depth of the down-swipe controlling power and the accuracy of the up swipe controlling how straight the shot goes. It's a system that was first seen on the Nintendo DS version (2008) and it's one that works well on the Windows Phone touchscreen.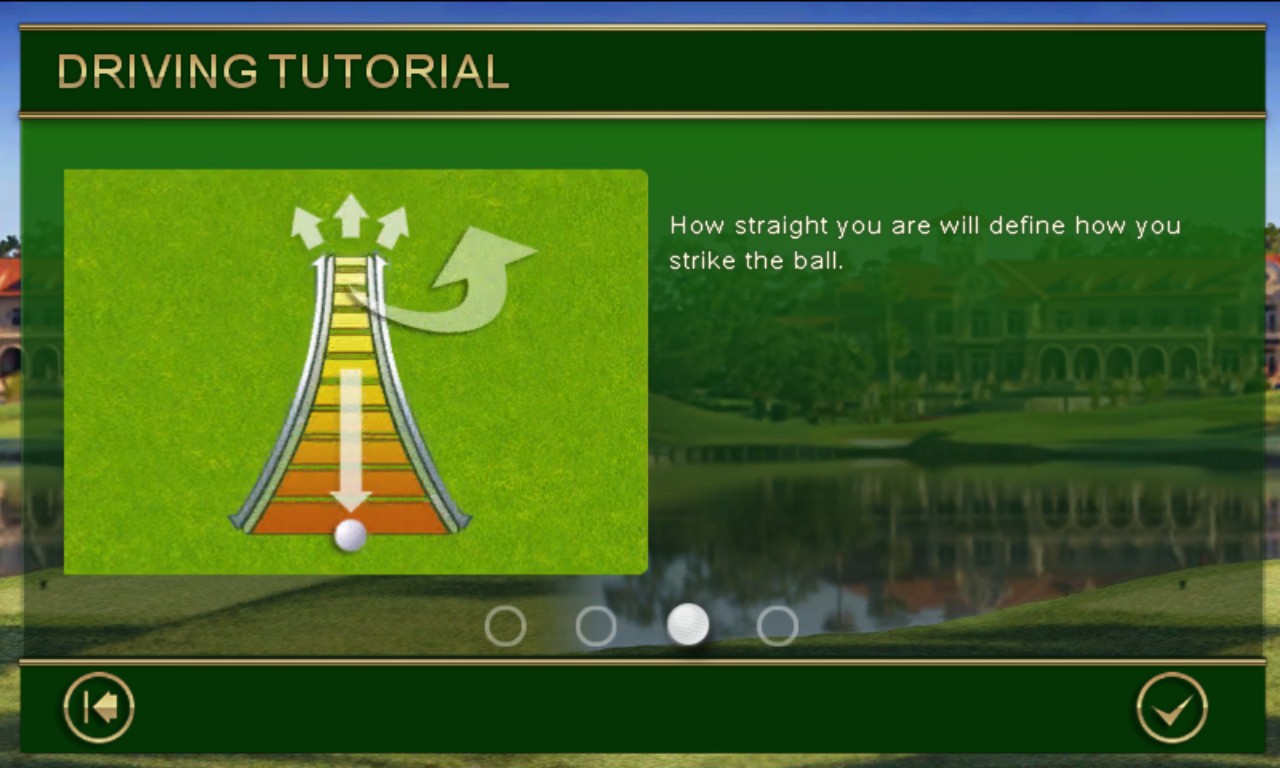 Factoring into how hard you whack the ball will be your own estimations of what percentage of full power is needed for the current club to get the point you want the ball to bounce, taking into account wind and ball lie, and hopefully most shots can get despatched fairly accurately. However, many shots will see you grimacing as you realise that you underhit or overhit it slightly. Happily, even after hitting the shot (and with the ball in the air) you can do something about this, by applying spin with your finger (swipe up for topspin, swipe down for backspin, etc.) When the ball lands it will then either leap forward a little more or hold/spin back, as needed. It's a subtle (and, technically, unrealistic) tweak to the gameplay, but it's one which is established, expected and which works.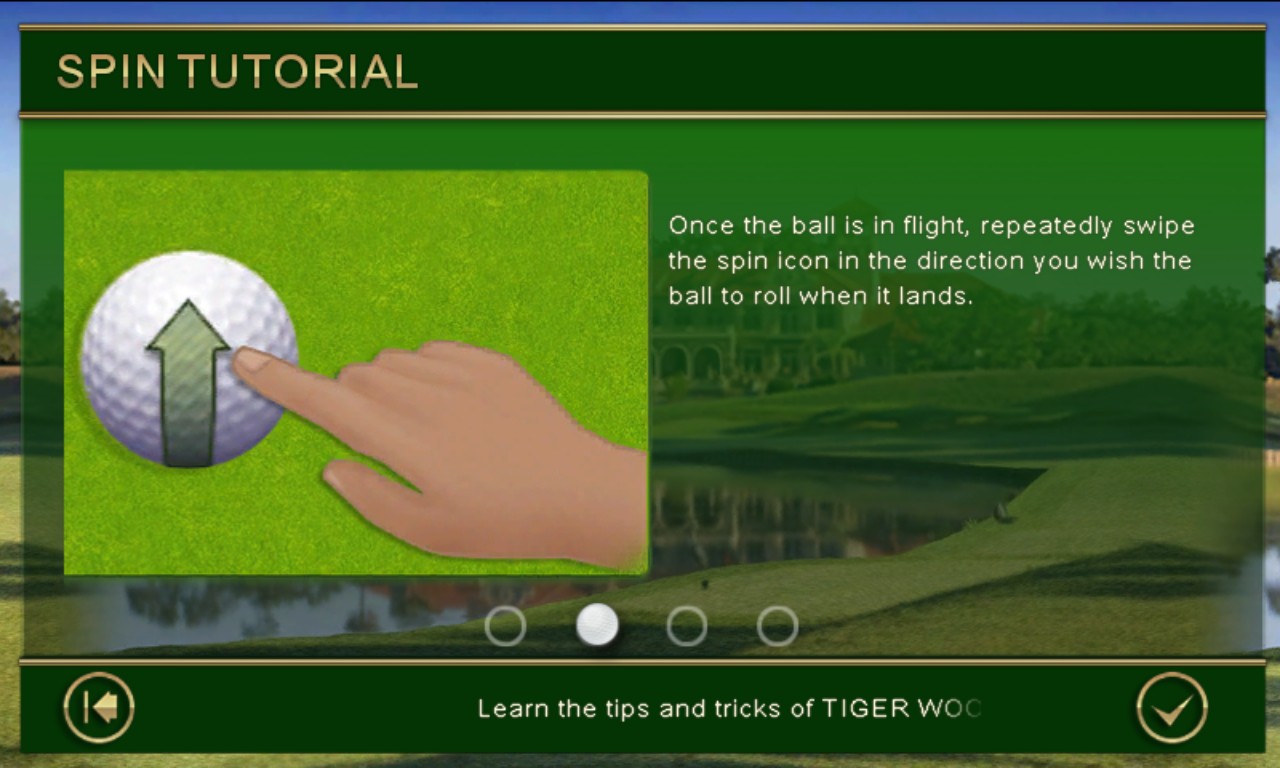 The courses you'll play are fairly flat, but small contours are modelled, as indeed are the likes of sand traps, showing below the 3D nature of the graphics after ending up in the face of a particularly nasty bunker: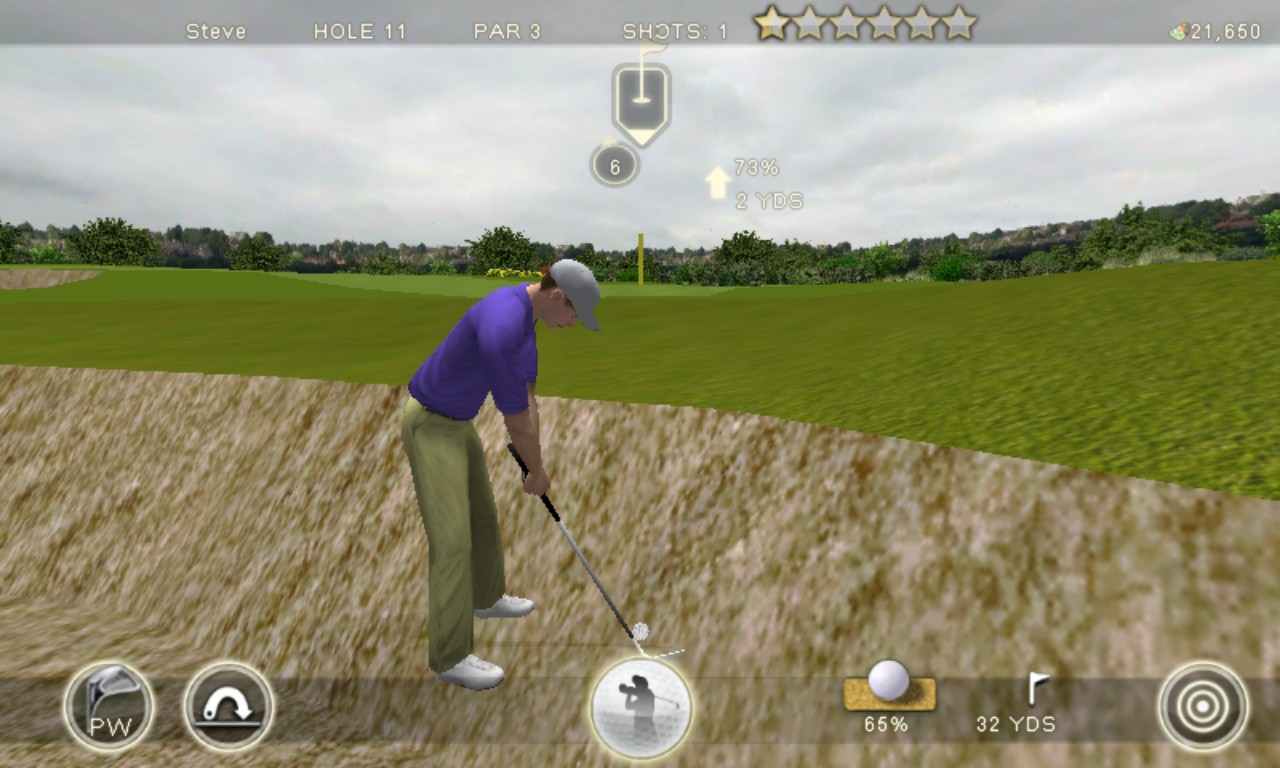 At every stage, shots are followed by TV-style footage of your golfer acknowledging applause (though, curiously, no spectators are ever seen), celebrating or looking despondent - these are nicely done and can be tapped to skip ahead without watching the whole real-time-rendered animation: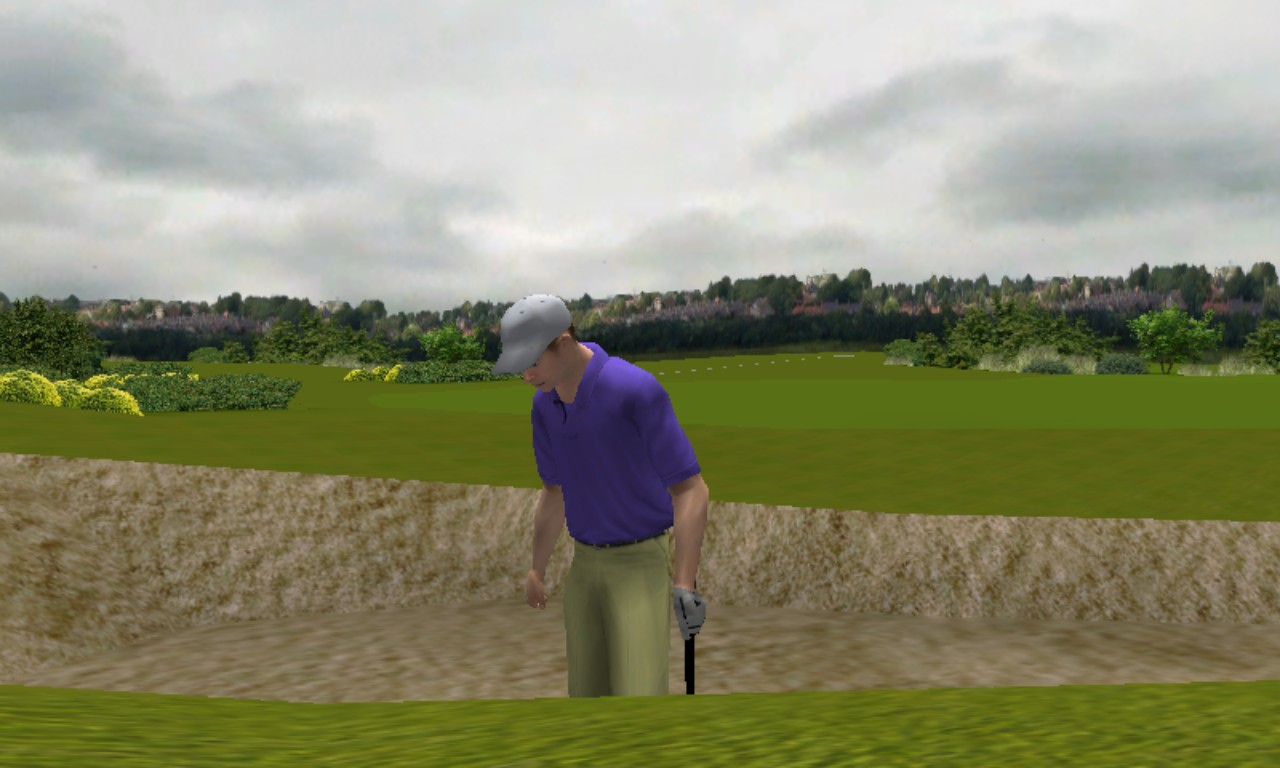 Once on the green, there's the usual PGA/Tiger Woods coloured (and animated) grid to represent contours. The system has worked well in he past, but you only get the grid for part of any green, plus the grid lines can be very hard to see on the high resolution Windows Phone display - a little more colour and bolder lines would be appreciated here. Happily, there's an alternative way of lining up your shot - your virtual caddy (also never seen) always offers a suggestion in terms of length and line. He'll also (one time per shot, only) project the expected line of the ball, to give you a feel for how it will roll. You can then make any necessary aim adjustments (again by dragging the view) and play your putt with a little extra (or less) power, as needed.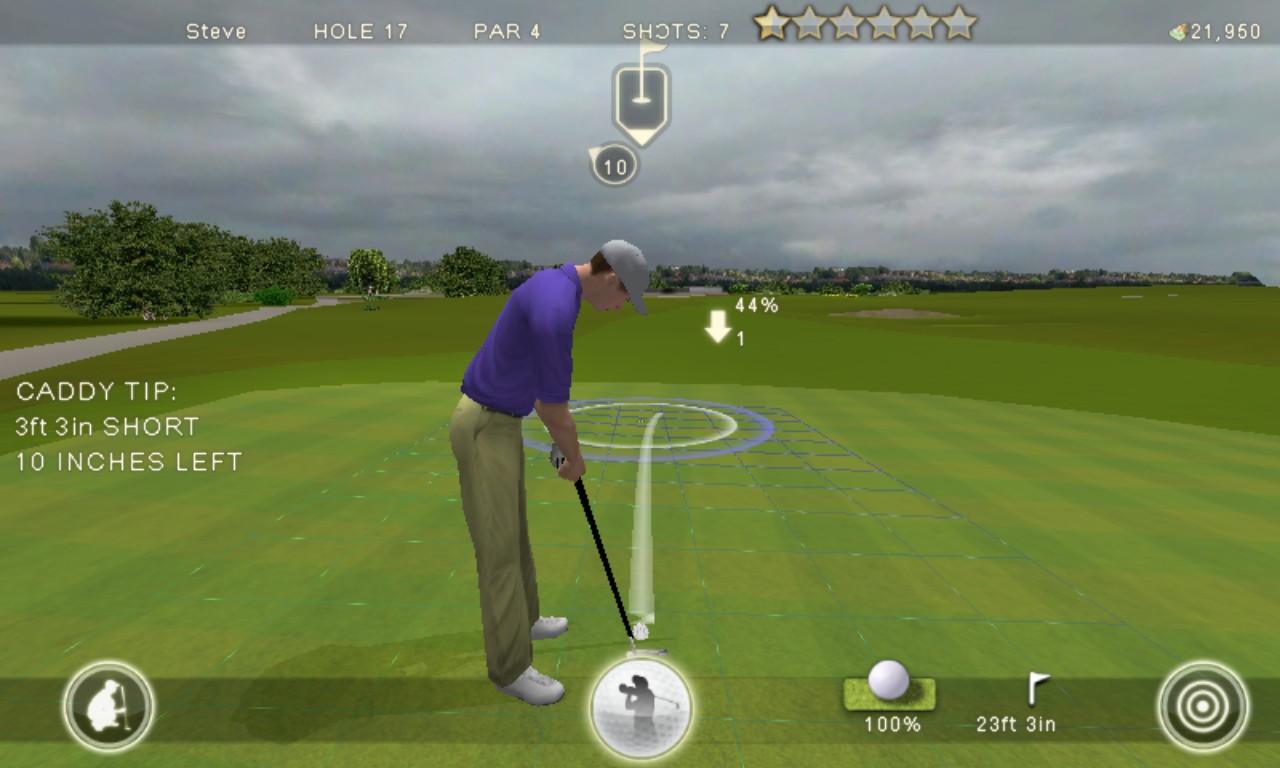 As with most computer golf games, putting is the hardest part to perfect, but then that's probably true of the real sport too! Particularly dramatic are the TV style camera angles around the green - way to add drama!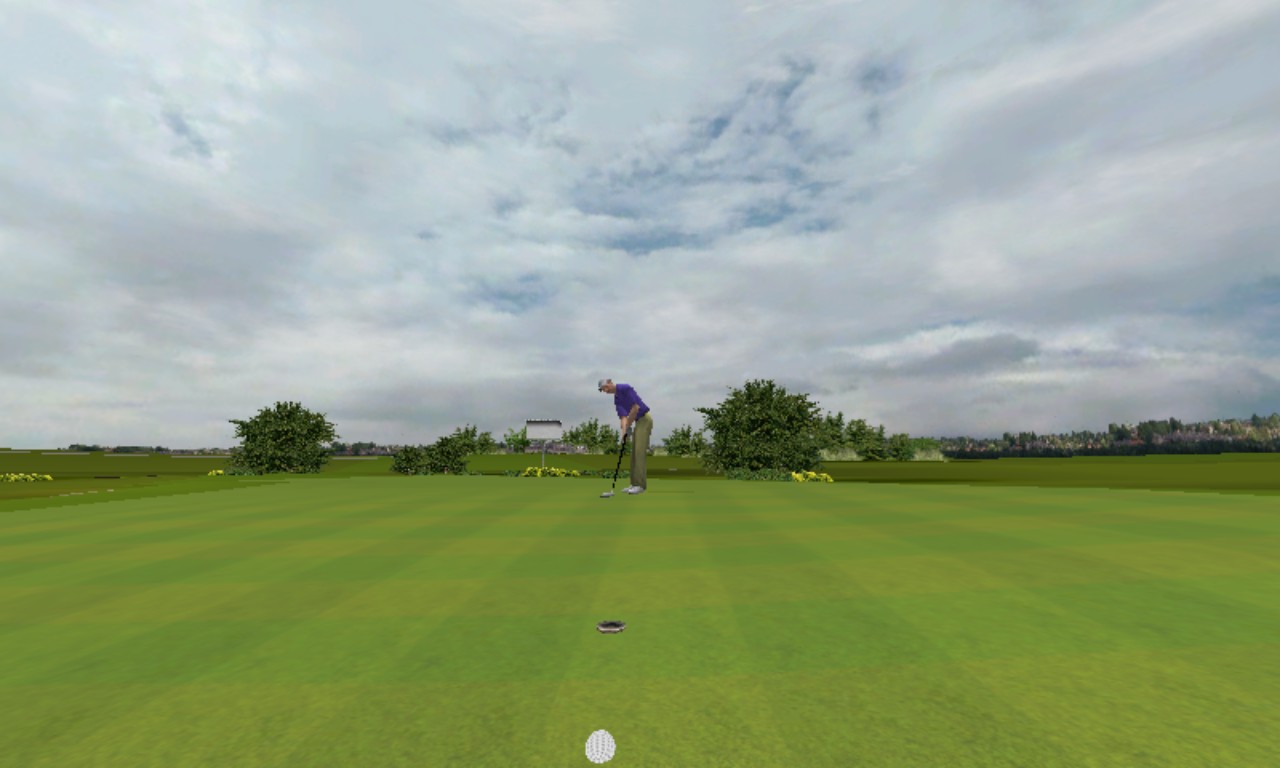 The basic course modelling is excellent here, with (lack of spectators, players, caddies apart!) a fairly accurate representation of each, right down to club houses, fences and outbuildings, as shown here at the end of a round: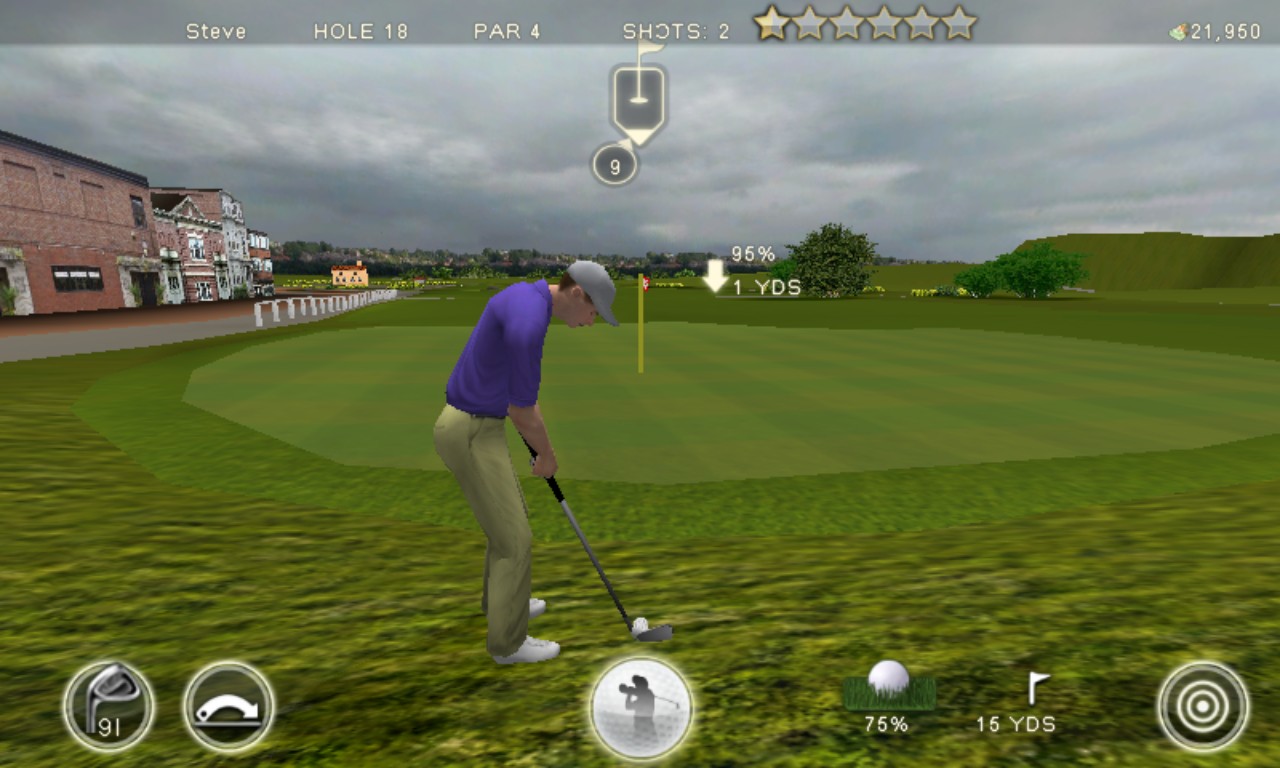 This being an Xbox Live game, there are G points on offer at each stage of the game/career, pitched well enough that you'll be earning both at the start of playing and when finishing a season in the full (virtual) Tour: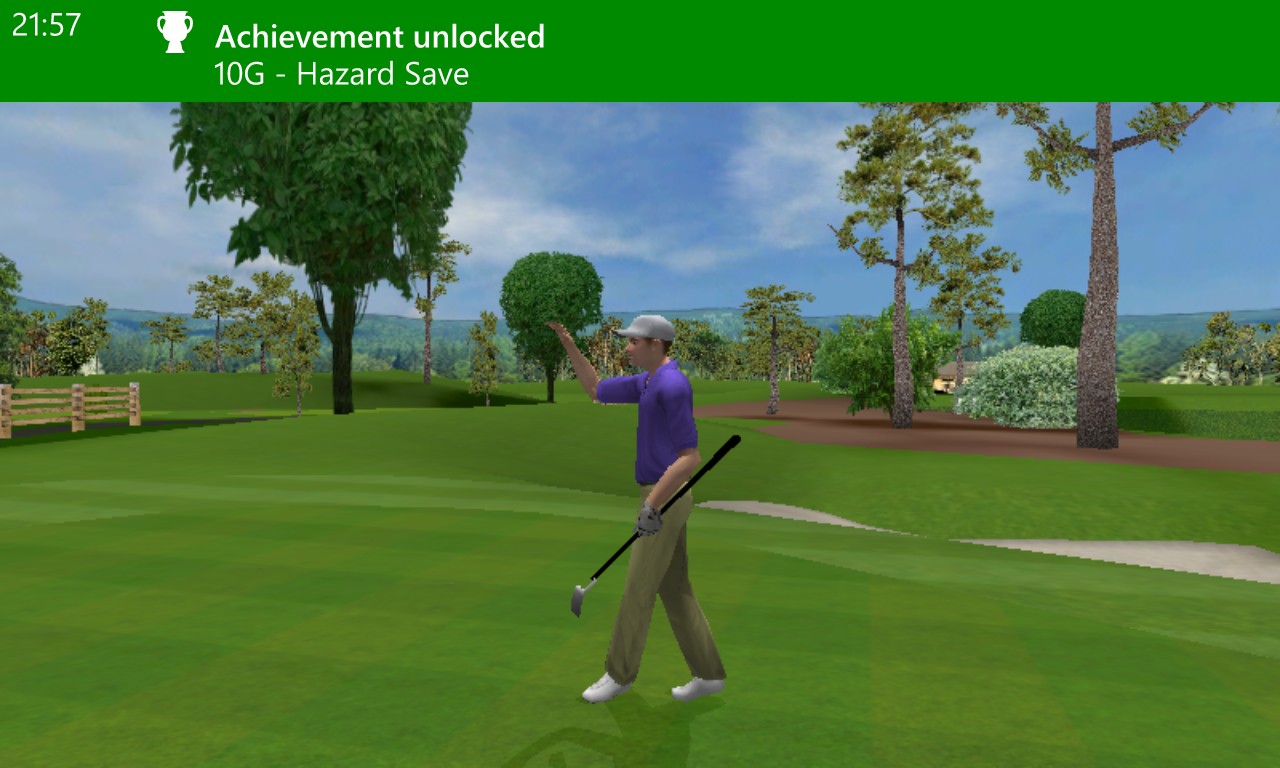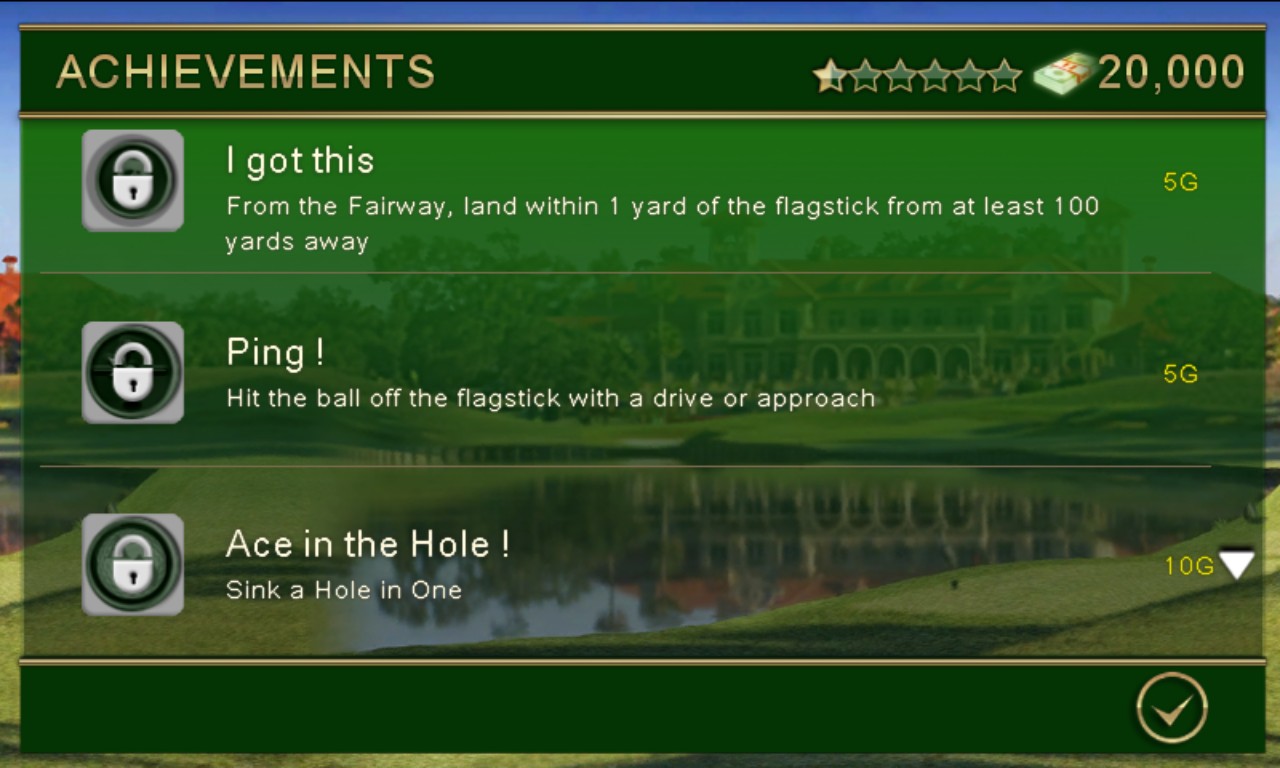 There's a decent, colour coded translucent scorecard to keep track of your round so far, though when playing virtual opponents don't get your hopes up too high - breaking par over a whole round is hard and it can be a little dispiriting to see virtual players finishing in 8 under par!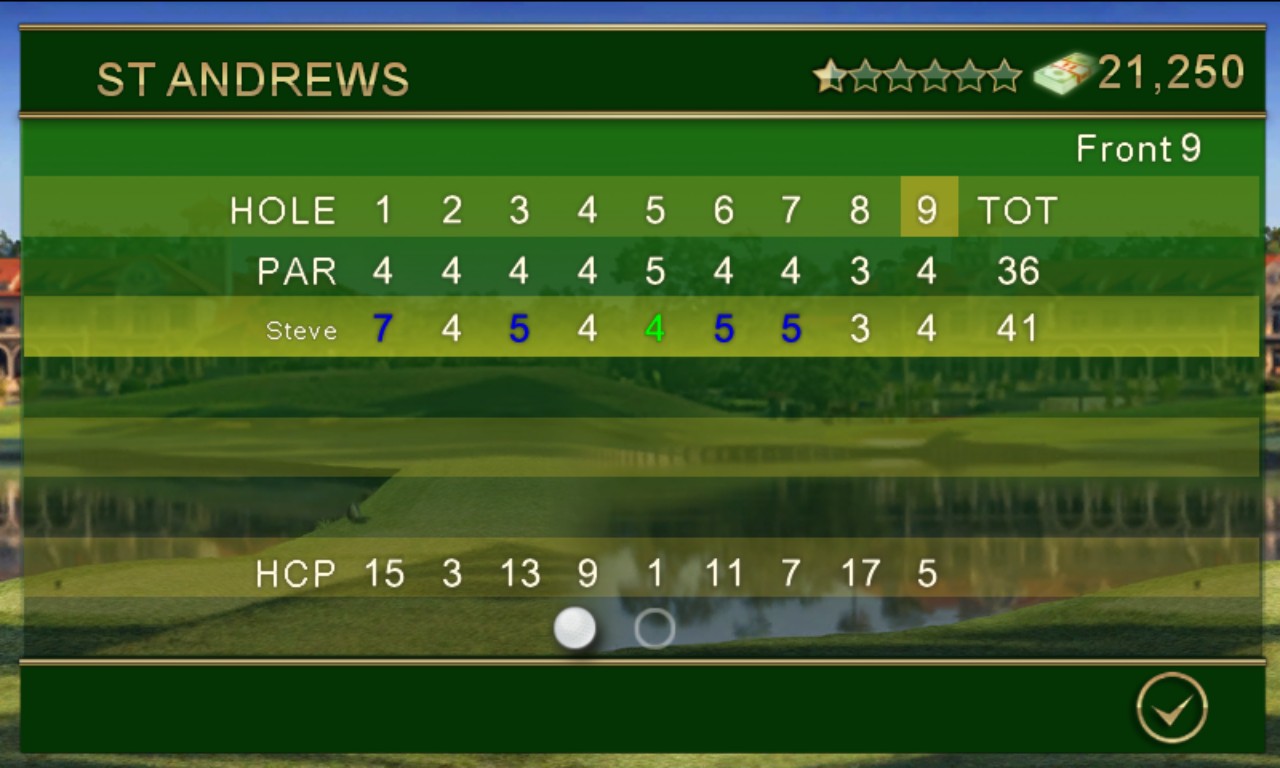 Tutorials pop up when you first encounter each game UI element (though you can opt to try all of these in one block from the main menu, if you like), plus you also get 'pro' game tips between holes, helping to cover up the (eight seconds or so) load time for each new hole's graphics: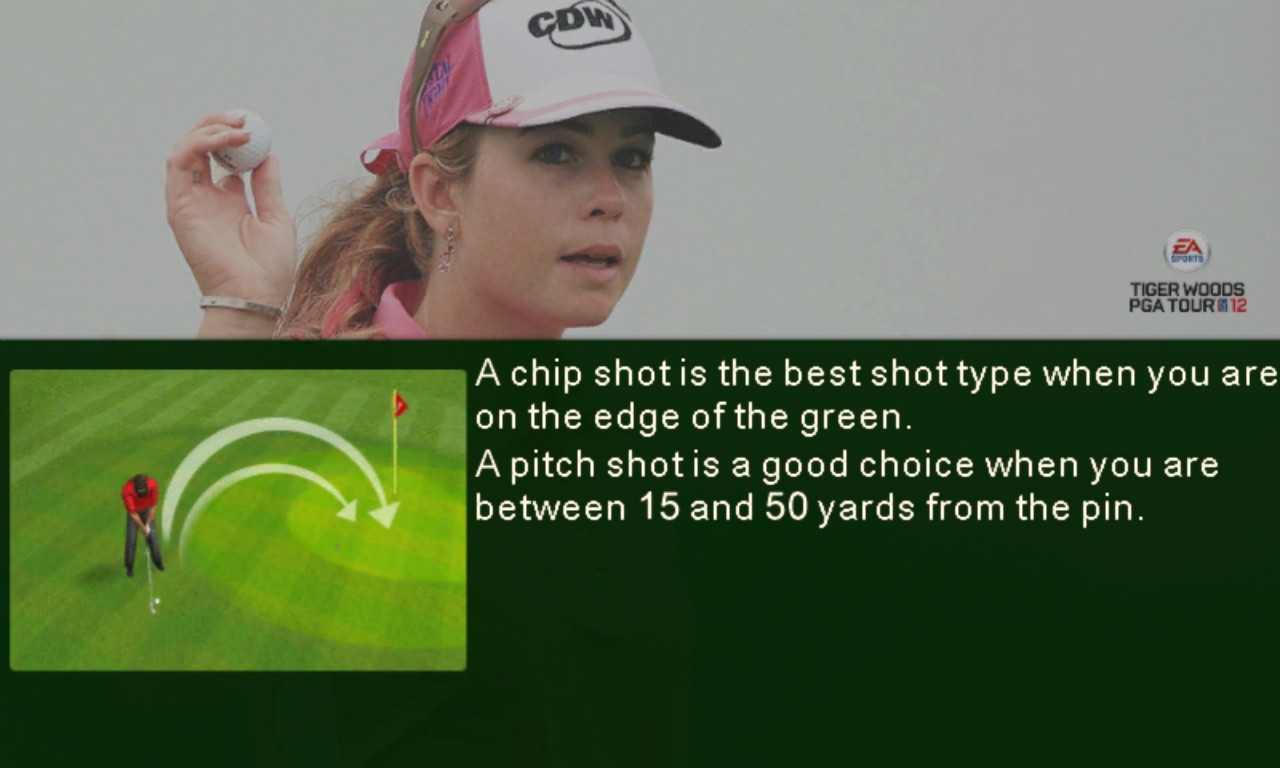 If you opt to 'Play now' rather than go through the career mode, there are still benefits to completing a good round, since your virtual 'handicap' gradually comes down. So err.... well done you!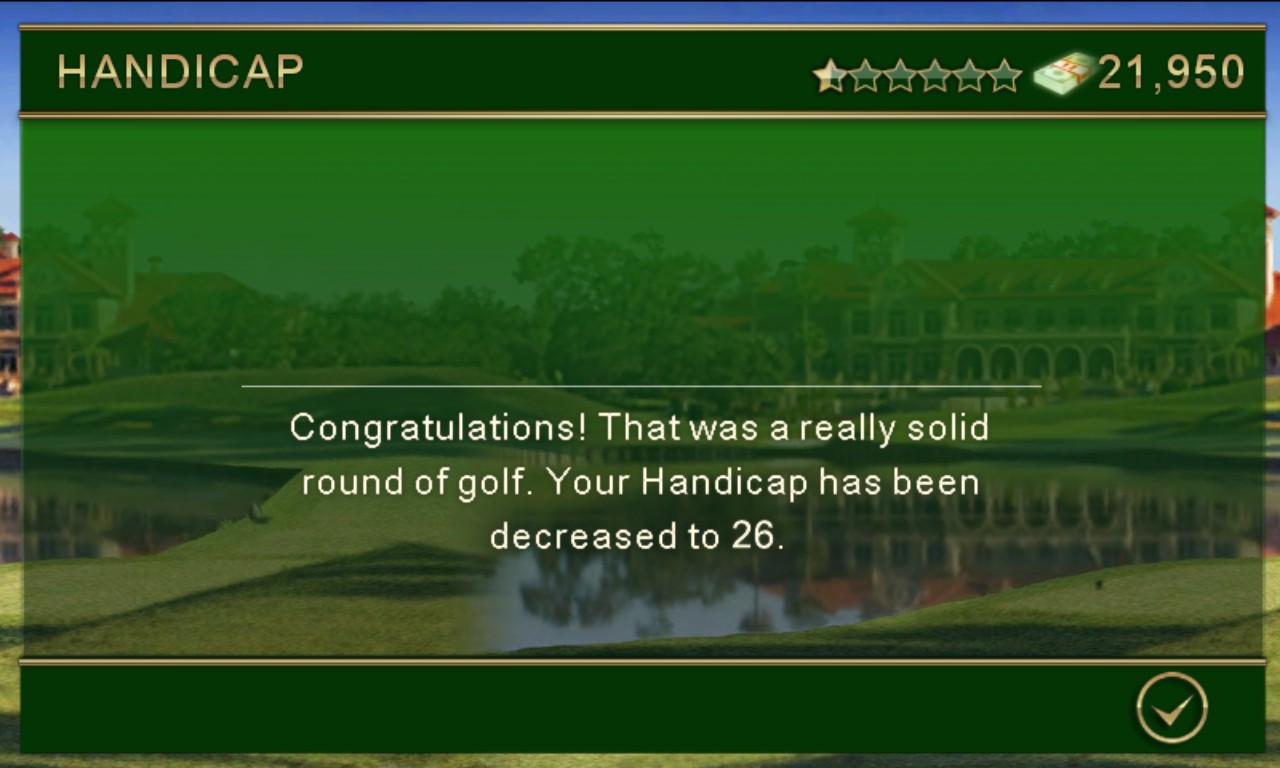 Taken as a golf game and challenge, I have nothing but respect for the integrity of EA here - the battle of wits, balancing lie, wind, terrain, hole layout, obstructions, and swing imperfections is terrific and as addictive as ever.
As hinted above though, my main complaint here (and it's a small one, admittedly) is that not enough effort has been put into the graphics. It's true that everything essential is here, with appropriate textures applied to the fairway, to the rough, to concrete, to water and to sand, with occasional trees thrown in, but I want more. Take a look at these three screenshots: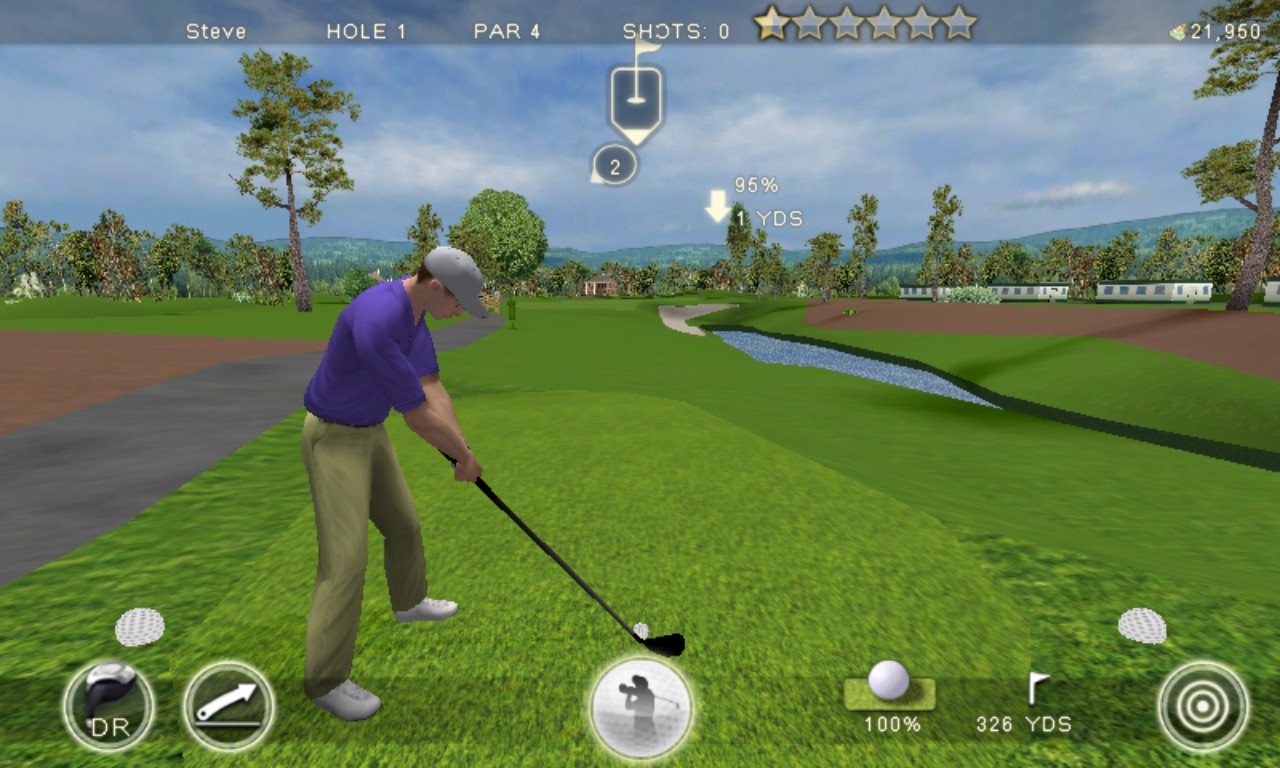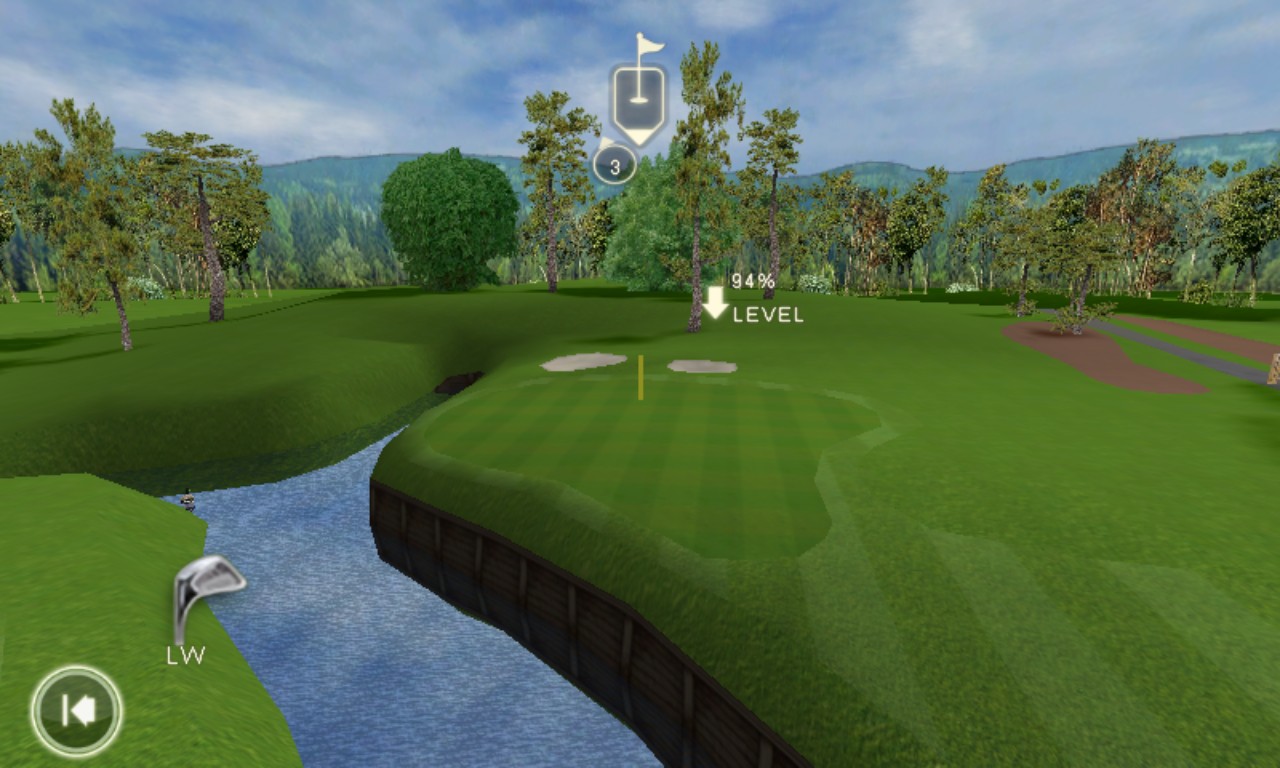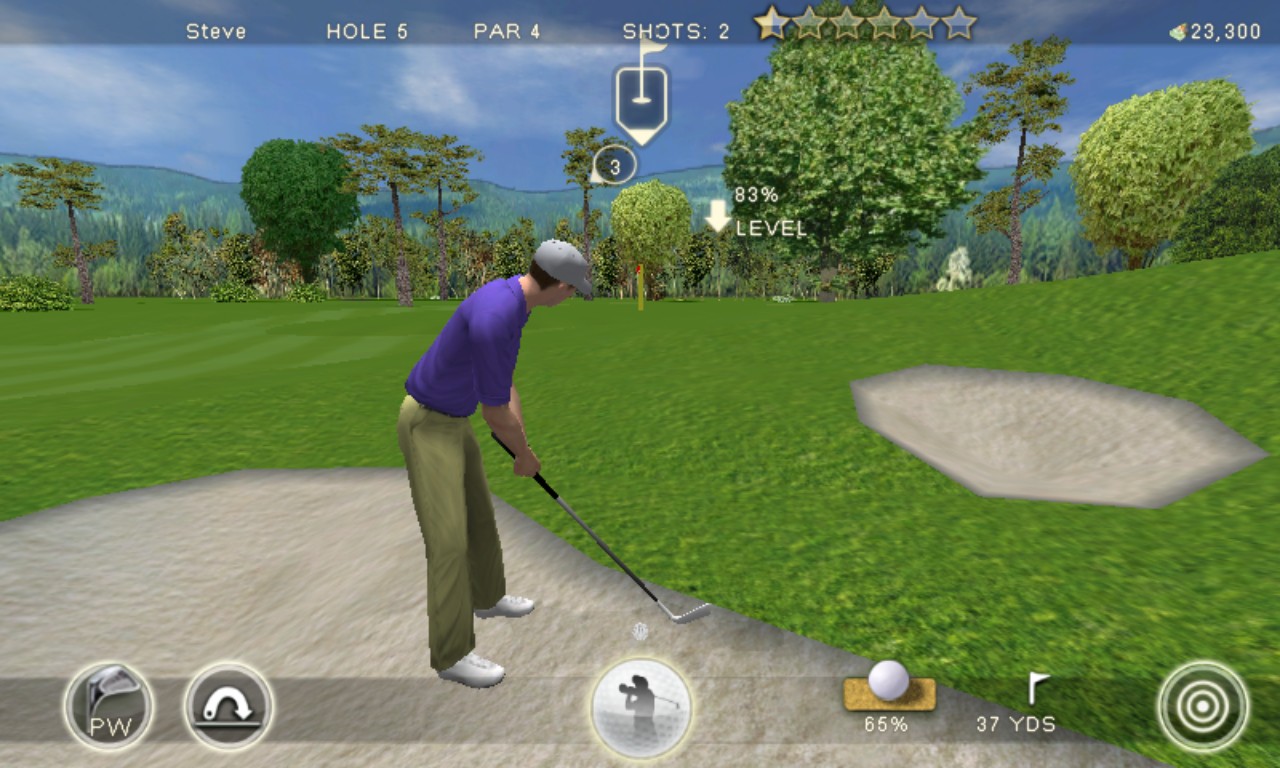 Not too shabby, I'll admit. As a 3D world in which to play virtual golf, this is colourful and clear enough. But I remember my first sight of Links LS 97 on a DOS PC, with a healthy degree of photo realism to its graphics - you could almost be watching TV coverage of the game. And that was 16 years ago. Today, where the developers aim for it, it's possible to render scenes that are very realistic indeed. Here's a screenshot from World Golf Tour, for example: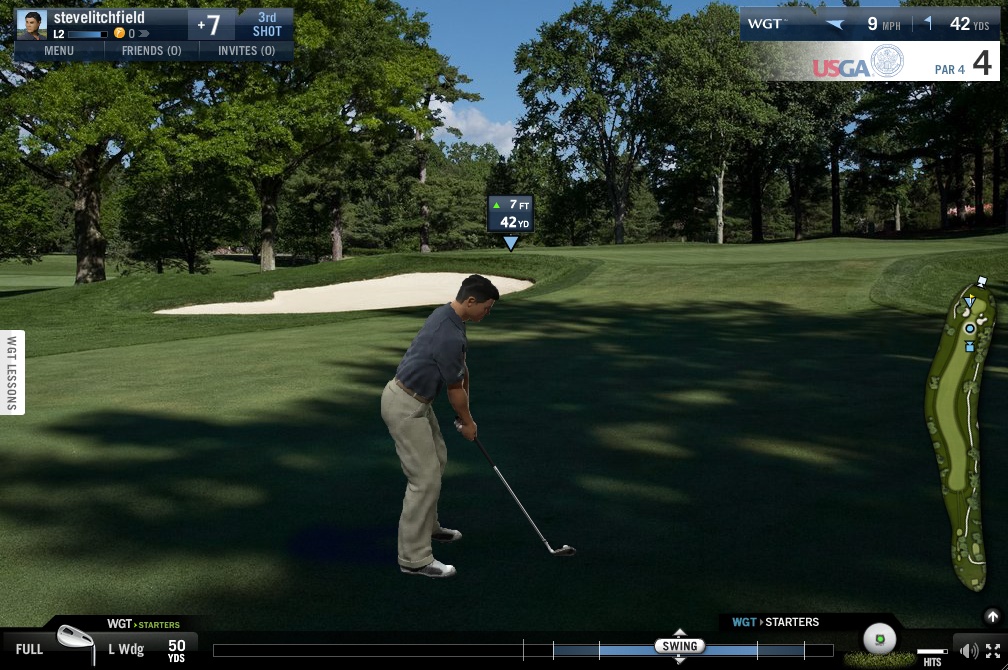 From the comparison, it's very clear that EA's game designers have deliberately stayed away from photo realism - this doesn't affect the core gameplay but I do feel that better use of bitmaps and photo samples could have been used throughout. The textures in the game are appropriate but there's no real variation, as there would be in the real world. In addition there's almost no use of light or shadow (again, compare to the WGT screenshot above), again giving Tiger Woods 12 something of a 'flat' feel.
Things are compounded by careless 3D rendering, with objects superimposed (e.g. the golfer's legs within the wall below) and with the ball sometimes appearing to dip underground while rolling: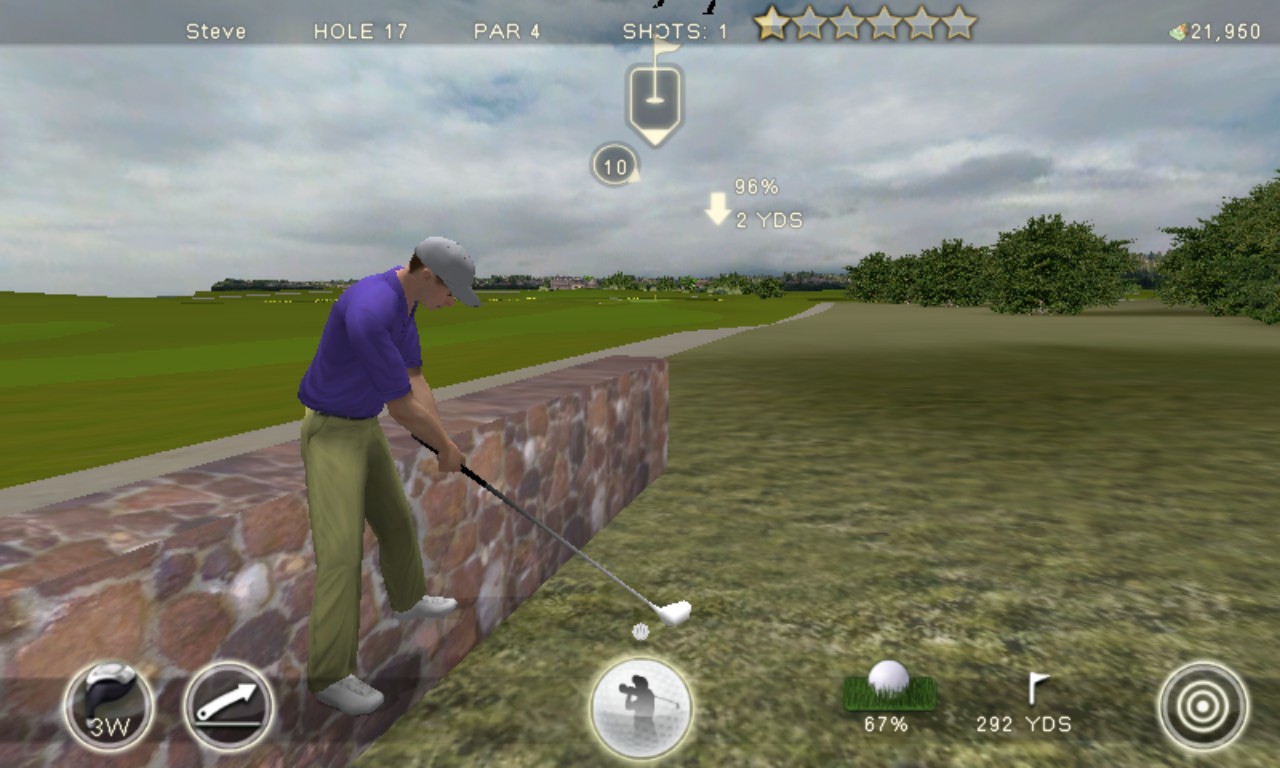 Am I being too harsh on what is, after all, just a golf game on a phone? I don't think so. I'm still going to score this at 80% because the core game is so faultless, but the lack of graphical flair and the small quirks mean that I can go no higher.
In EA's defense, more real world bitmaps, photo fragments and textures would mean longer hole loading times. Eight seconds here already feels too long, given what actually gets loaded, so perhaps there are platform limitations here, with the developers having to be very careful about what gets loaded into RAM? In which case a more ambitious graphical scheme would probably push Windows Phone over the edge. Comments welcome from anyone with insight here.
On the audio side of things, there's bird song, plane noise, a healthy 'thwack' as you hit the ball, plus occasional crowd cheers and commentator voice samples. The latter two end up sticking out like a sore thumb because of the lack of crowd feel in the game as a whole - you're effectively the. Only. Player. On. The. Course! At least we're spared the bunnies and other assorted wildlife from the gimmicky Let's Golf 2...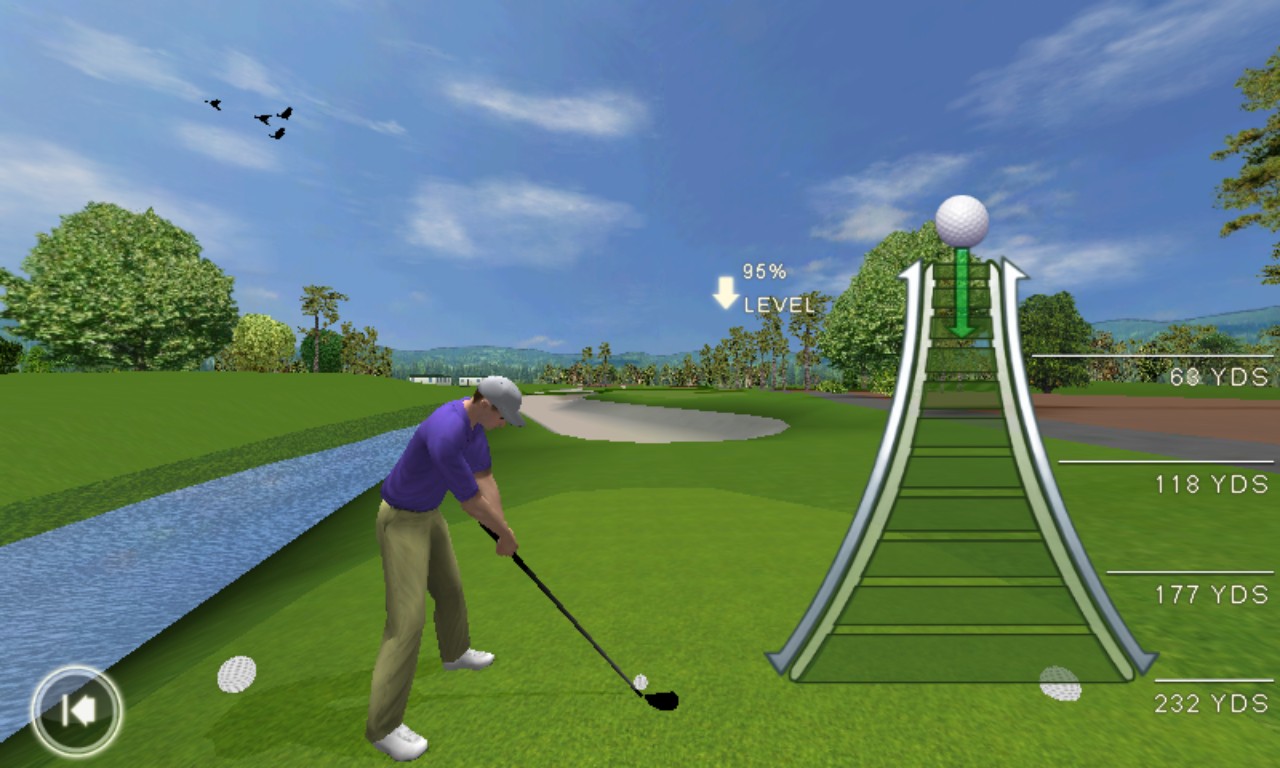 But don't be too put off by my complaints about graphics. For just over £2 in the Windows Phone Store, this is still a lot of golf game for your pocket money and terrific value. I had no hesitation in skipping the trial version and going straight to 'buy'. Yes, I was grabbing it to review, but I've also got a feeling that I'll be putting in quite a few rounds in my own Windows Phone leisure time in the future...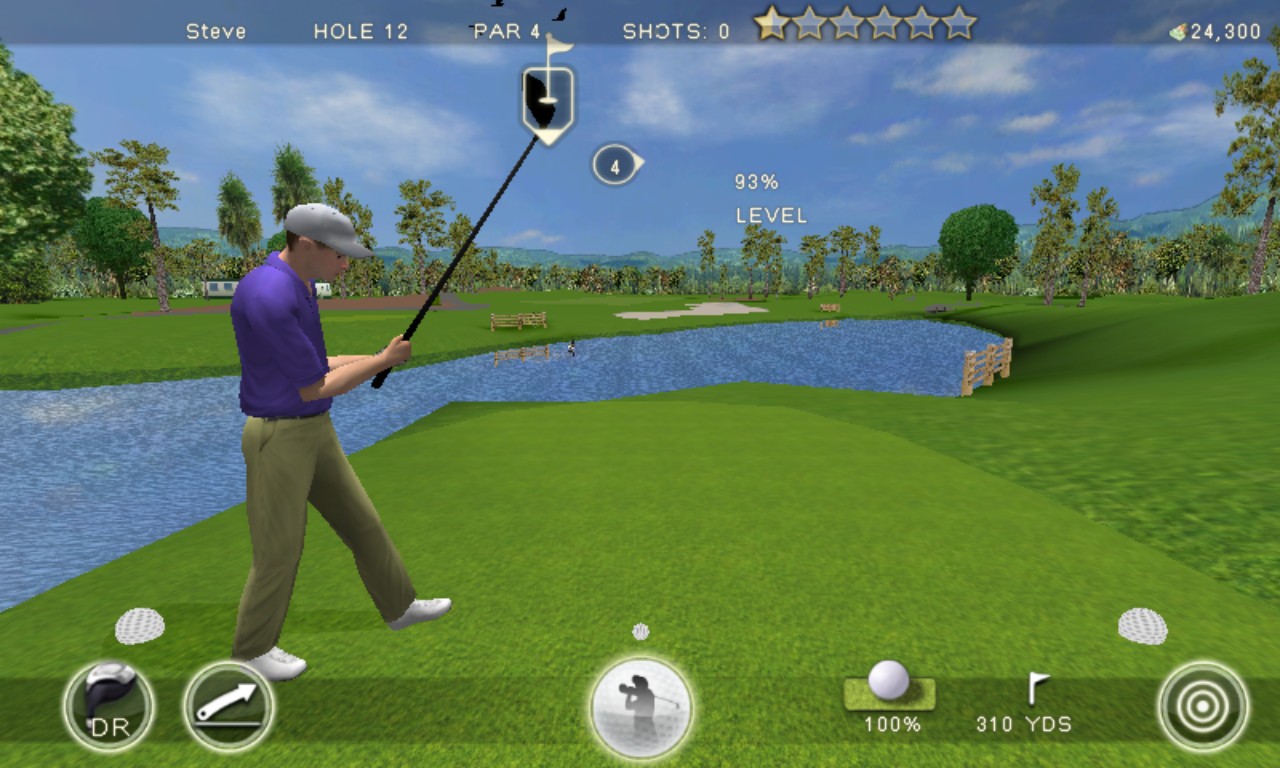 As you'd expect from a top 2013 Windows Phone 8 game, there's impeccable handling of multitasking (or lack thereof, in Windows Phone), with the game resuming after only a brief pause when brought 'back' after running some other application, and with your progress never accidentally lost. The 'back' control icon is intentionally handled, acting as 'back' in the interface/views, though there the usual danger of hitting the Windows or Bing Search keys - happily, the main on-screen icons and swing control are far enough away from these that I didn't have an issue while playing.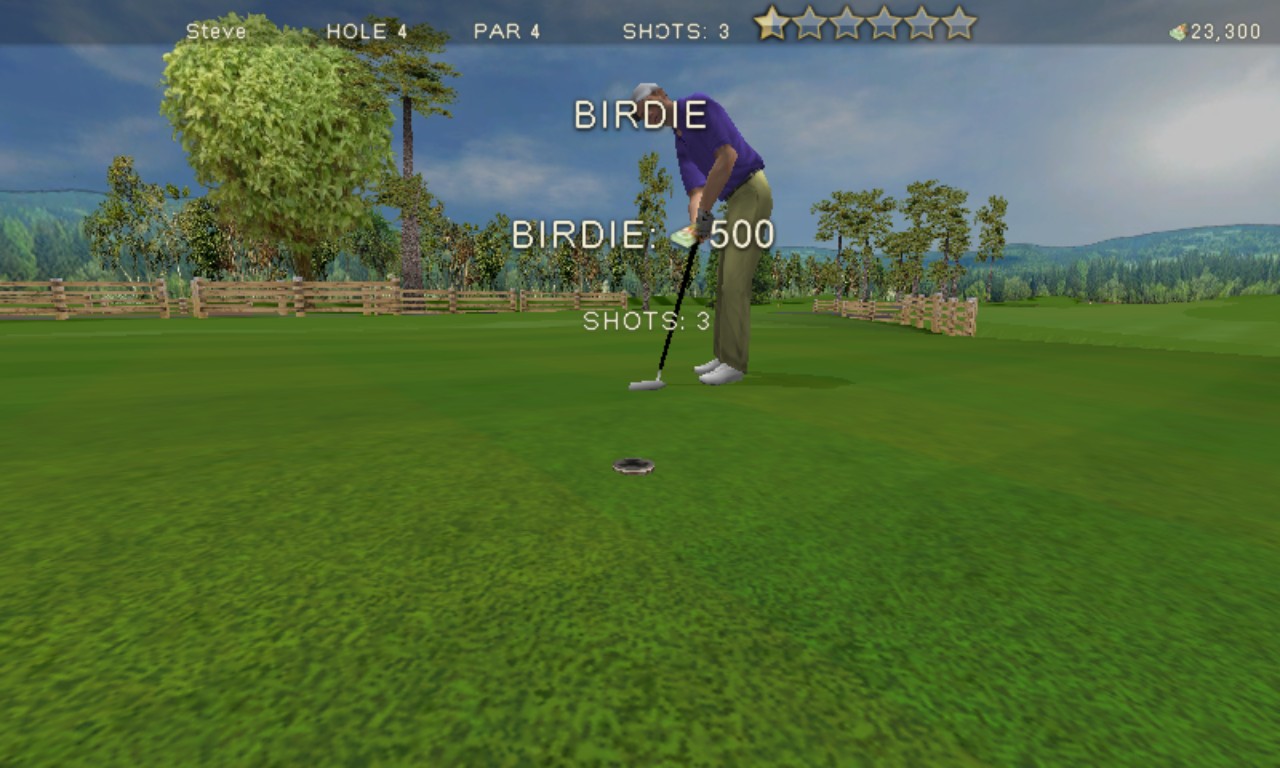 A very solid effort here, then. Fans of previous EA golf games on other platforms will be delighted, while new gamers are treated gently and rewarded quickly. Ignore the graphics whinges from this geek over in the corner...!
Note: Tiger Woods 12 is currently a Lumia exclusive and is available for both Windows Phone 7.5 (512MB devices only) and Windows Phone 8 (1GB RAM devices only) and costs £2.29 / $2.99 / €2.99.
Reviewed by Steve Litchfield at