Review:
Bonnie's Brunch
Score:
87%
How do you fancy seeing the world through the window of a food truck? For some reason that's the dream of Bonnie, the titular character in Bonnie's Brunch, now available for Windows Phone. Preparing and serving food has never been as colourful or fun, as this time management game from Funny Lab Studios proves.
Version Reviewed: 1.1.0.0
Buy Link | Download / Information Link
Already established on iOS, Bonnie's Brunch has made the jump to Windows Phone ahead of an Android version. I'd love to see the reasoning behind that, and I suspect it's down to the title having more visibility and potential to become a 'big' game in Windows Phone rather than the cluttered Android marketplace. No matter the reason, it's here on Windows Phone.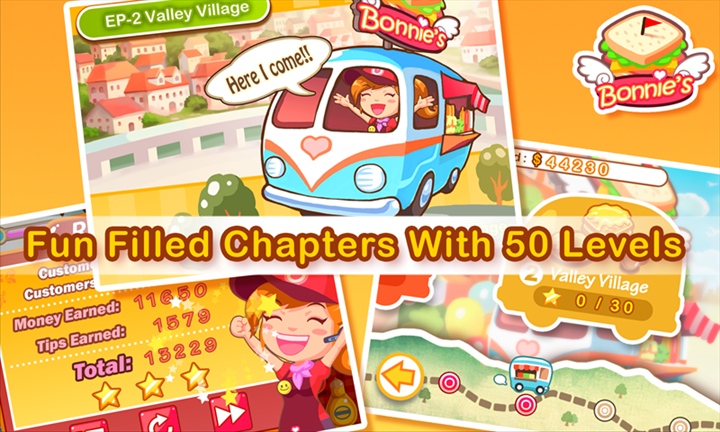 While Bonnie's Brunch is not an original concept, it's implemented the 'make and serve a lot of food to a lot of customers' style very well. Starting out with a very small food truck gifted to her by her grandfather, Bonnie dreams of travelling round the world, serving food, making money, and eventually getting herself to Paris. And that means lots of levels of people wanting snacks, and the snacks they want get more complicated as the levels progress.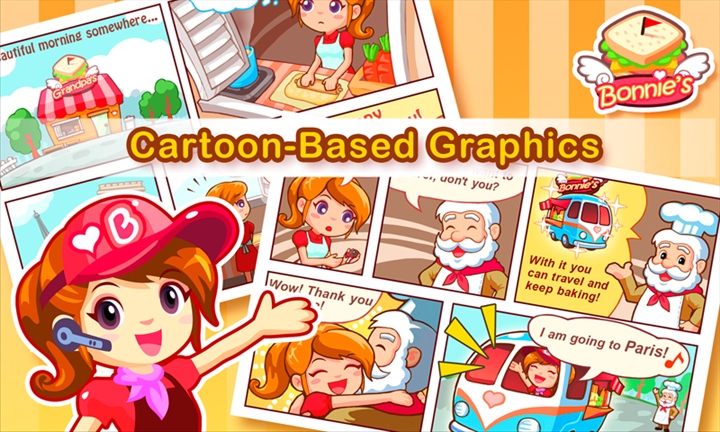 Thankfully there's a very smart learning curve here, teaching you how to make one or two new snacks per level, either as a brand new menu item, or as an adaption of a previous item. For example you might be taught how to use the waffle maker in one level, then in the next level how to make waffles with syrup or cream cheese. Each of these steps takes a little longer than the last, as you need to tap the ingredients on screen to bring them to the food preparation area, and once the order is all there, pass it to the customer. Once you pass the training levels you'll find the customers come thick and fast, and while handing out a glass of milk to a kid is a quick order, it's going to take a lot longer to make an order that involves some honey waffles, cream cheese bagels, and a decent coffee.
And that's where Bonnie's Brunch as a game suddenly excels itself. It is down to time management over very short periods of time, but it's still time management. For a game to use this and still be fun requires a very careful balance to keep you on the right side of frustration. Bonnie's Brunch manages this part of the game wonderfully.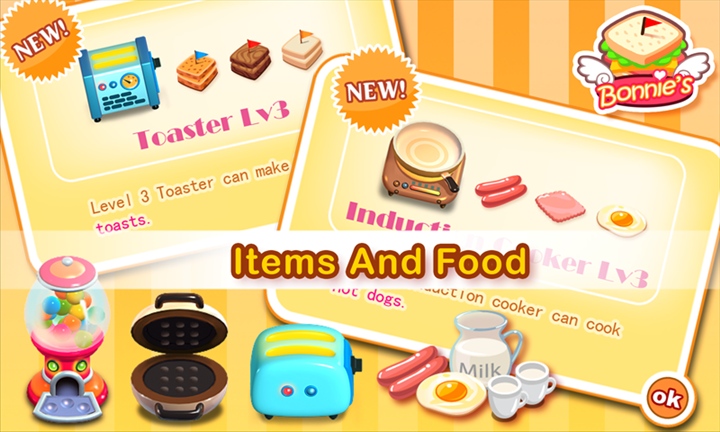 It also needs to have clear information while you are playing - what the different ingredients are in your truck, keeping track of all the orders being made by customers walking up to the truck, etc. With the fast moving gameplay, keeping this clear and understandable is vital. Again, Bonnie's Brunch manages this with cartoon-like graphics and going for bold colours, rather than a look that is more realistic.
Finally, there's very little lag in the interface, which is to the benefit of the game because there is a lot of tapping and sliding of your fingers as you shuffle everything around. Having to wait for the app to catch up with you would have killed the flow of the game. Thankfully I've never experienced this while playing.
With all the design passing muster, it shouldn't be a surprise that Bonnie's Brunch provides a great challenge to gamers. It's a very casual game, with each level taking only a minute or two to play through (and you can repeat them as often as you like to build up your score). The sound effects keep themselves in the same cartoon mould as the graphics with lots of whistles, dings, buzzers, and comedy food noises going on that keep everything feeling light and breezy while you panic on the harder levels.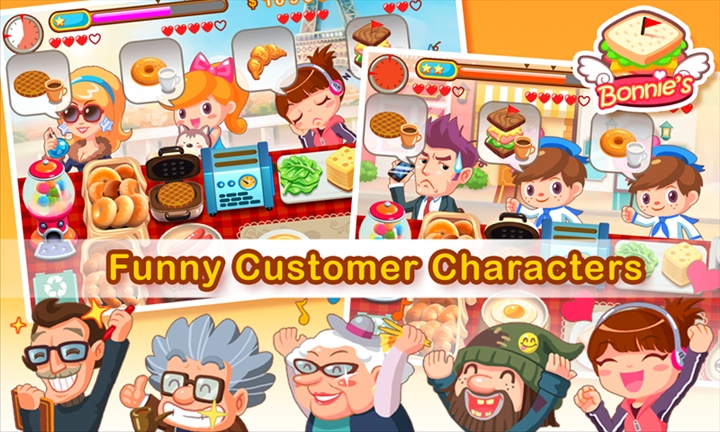 Bonnie's Brunch is a cherry pie of a damn fine gaming title. Yes it has similarities to other games, but nowadays that's not the big issue. The issue is that if you can make everything work well together to provide a fun and challenging experience for the player. Bonnie's Brunch delivers all that, and it's a worthy download. Let's hope for more from Funny Lab Studios in the future.

Gameplay trailer (iOS version)

Reviewed by Ewan Spence at