That's not to say that the hardware solution is locked. There will always be slightly faster chips for memory, CPU, and GPU duties. These will need software optimisations to work, but in terms of user experience, there are no major improvements left to be made.
Connectivity options and speed continues to increase, but again, areas such as 4G for cellular connections, MIMO wi-fi tools, these are small tweaks - the fundamental answer on how to connect has already been answered. Wi-fi at home, and 4G LTE while out and about to keep you connected at a comparable speed.
Of course, we're still seeing a race for bigger numbers. Faster processors and more memory comes down to economies of scale as similar chips drop in price over the year, and provides a marketable 'this is better' reason for people to buy the next handset.
I think this explains why many manufacturers have embraced the larger screened models, as witnessed by the Lumia 1520's six inch screen, and the rise of the 'phablet' from Android manufacturers. It's why the camera 'megapixel' race has returned to prominence with a huge amount of time and research being spent on smaller lenses and sensor technology to improve the optics. There are some gains to be made here, but I'd argue that for the majority of consumers the cameras are now 'more than good enough' and manufacturers are looking at small gains, but the laws of physics have been reached.
[This is the point where Steve would mention Xenon Flash and the development of flat capacitors, by the way!]
Other areas where manufacturers are looking to stand out are incidental technologies. Wireless charging is being heavily pushed by Nokia with the Qi charging standard, but the accoutrements are still expensive. That may change over time, but while wireless charging is not yet for the masses, it's well understood and is simply waiting for economies of scale to kick in. Tricks such as waterproofing (Sony), customised back plates (Motorola), and inductive stylii (Samsung) are all cute, but they're not fundamental changes to the smartphone - although in all of those I'd argue Sony's waterproofing, while requiring fiddly gurney flaps on the edges, is the most practical thing I'd like to see on my Windows Phone.
Speaking of physics, battery power. Batteries can only hold a certain amount of power for their size, and with the fashion for thinner and lighter devices, power is an ever more finite and limited resource, with just over 2000mAh being the 'average' battery in the popular smartphones. Look back to the days when PDAs ruled and the first Psion PDA's were powered (for a month) by two AA batteries, which delivered between 1800mAh and 2400mAh. How times have changed...
At least you could change the batteries on your Psion. Sealed batteries are the norm now, potentially allowing for awkward shapes to be made and filled, and by reducing the plastic and retaining mechanism that extra space can be turned over to the battery chemistry. The technology of batteries is again an area where only very small gains can be made. The real value here is power management, and that's an issue that is down to software.
And here is the area where gains can be made - software.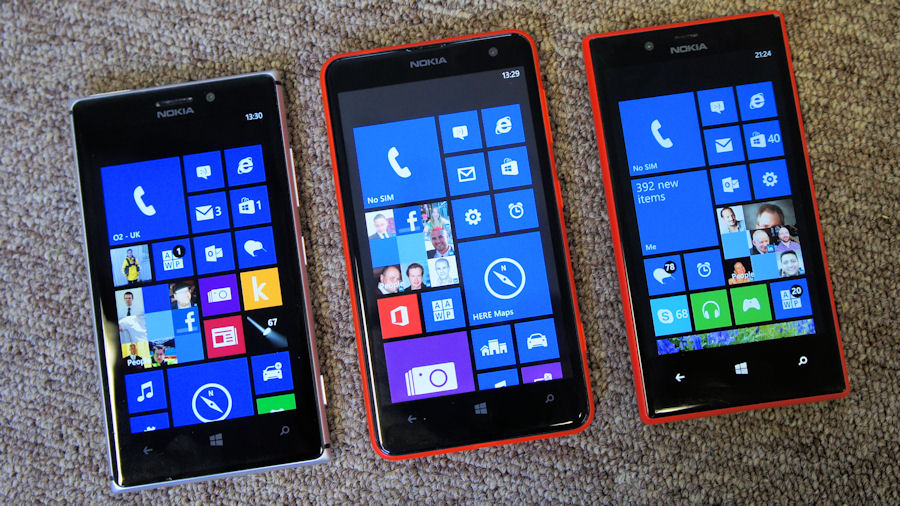 Nokia Lumia 925, 625 and 720
The days when you had to decide between two significant hardware features have long since passed. Every handset has a camera, GPS, stereo music, and it looks like Nokia are now ensuring that MicroSD is becoming standard across the range of Lumia handsets. The differences for 2013 and beyond are all going to be in the software.
While the operating system has a huge impact on the experience, so too does the third party software scene. Many users are still choosing their mobile platform of choice based on the availability of software. Instagram is the obvious target here, but other choices will have an impact - Candy Crush Saga is an obvious omission on Windows Phone that the consumer may look for.
Hardware has reached a consistent level. The next big thing will have to come from software. The basics (email, web, social media) are covered well by the major operating systems, so the focus will be on the nice frilly edges and third party catalogues. Windows Phone, by virtue of using a different paradigm for addressing apps and information, has to be doing it with very little fuss or friction.
If Microsoft are looking for an area to concentrate on, this is where the biggest visible improvements can be made that will have an impact on the consumer perception of Windows Phone 8. An easy to understand interface, a strong story about third party apps, and an air of confidence that the platform is in it for the long haul. Confidently own all three of these, and you have a winning platform.
Editor's (Steve's) comments: I agree that about software being the next big area of change, though I'm not sure it's just the third party applications. My take is that intelligent assist modes, such as Google Now on Android, are on the rise, whether accessed by voice or touch, and will define the next wave of smartphone use. Your phone knows who you are, what you like, where you are, what you're supposed to be doing, who you communicate with, and a lot more - the dots just need to be joined in a useful way on each mobile platform.