It's the first time we can recall seeing such an advert from a service provider, rather than Microsoft, Nokia, or one of the network operators. While it's important not to read too much into a single advert, it is, perhaps, a sign of the changing times, as Windows Phone sustains its gains in market share and cements itself firmly as the third place ecosystem.
It certainly adds a degree of validation to Microsoft and Nokia's oft stated argument that the impact of Windows Phone's app gap would be lessened over time. The underlying idea here is that Windows Phone has, in the last few quarters, gain enough volume to get past the chicken and egg phase, at least in terms of some major apps and, just as importantly, app awareness.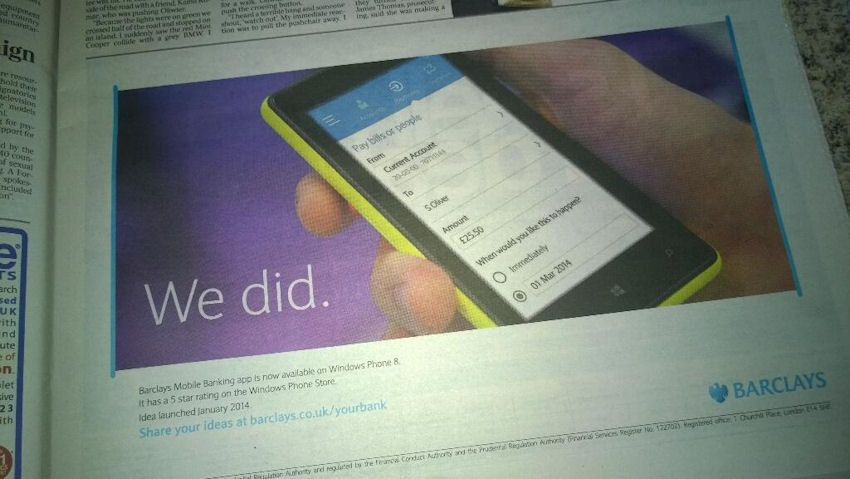 The UK may well be a bell weather country for this kind of promotion because, in sales terms, it is one of the most successful markets for the Lumia range. Incidentally, the UK is often seen as a good guide for future trends in smartphone sales in general because of the relatively open regulatory environment and the highly competitive operator environment.
According to Kantar data, Windows Phone's sale share figure has been well over 10% since the late summer of last year. Last week, at MWC, we talked to Conor Pierce, Nokia's VP for UK & Ireland, who confirmed a figure of over 10% for consumers sales for the Lumia range in the UK, but also noted that the figures were even more encouraging in the business to business (enterprise) segment where Nokia has a sales share of around 17% (and rising).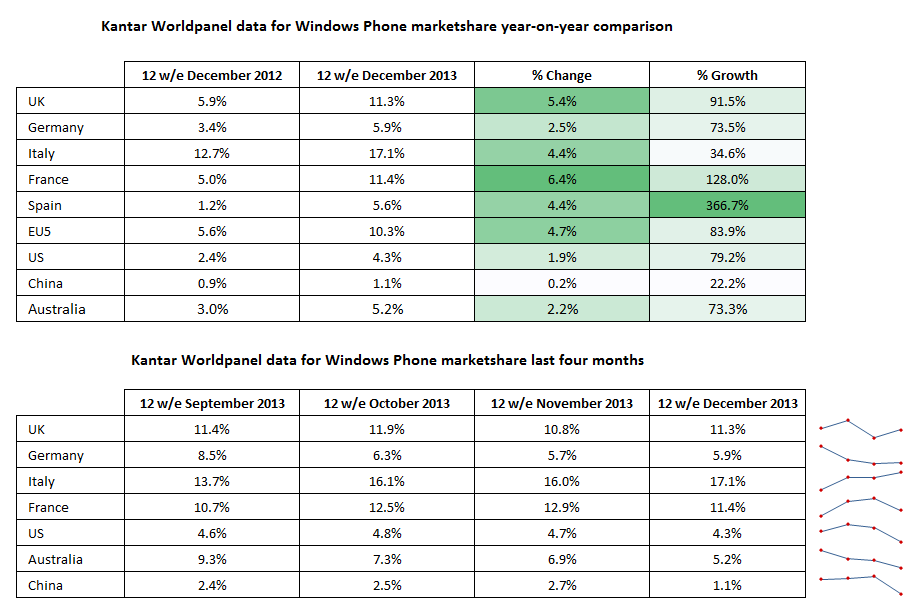 The Barclays Windows Phone app advert is part of a wider campaign in which Barclays is seeking to positioning itself as listening to its customers. Along side the advert, which ran in a number of UK newspaper, Barclays' social team also tweeted a message that indicates the app was published in response to user feedback. Being social there's even an inclusion of a specific user, Joyce_can_fly, who is no doubt receiving the thanks of Windows Phone wielding Barclays customers.
Joyce_can_fly used Your Bank to ask us to build a Barclays banking app for Windows. So we did. http://t.co/PztLdNFK4b pic.twitter.com/FjnZbu7y2H

— Barclays UK (@BarclaysOnline) March 5, 2014
Windows Phone still has an app gap of course. For example, in the UK high street banking space there may well be apps from Natwest, Lloyds TSB, RBS, Barclays, and Halifax, but HSBC, Santander, and The Co-operative bank are noticeable omissions. You'll find a similar situation in other service sectors and in other countries.
However, it is fair to say this gap, at least for the top end of apps, is narrowing all the time. Today's release of Facebook Messenger for Windows Phone and the forthcoming arrival of BBM and Adobe Photoshop are good examples of this. We would suggest there's still an area of weakness in the games category, with a number of very high profile games (e.g. Candy Crush and Clash of Clans) not available on Windows Phone, or only arriving after a significant delay. We're also sure that the majority of users would be able to name at least one app that they would like to see on their Lumia device that is not currently available. Nonetheless, the situation, even in the gaming category, is obviously much improved over a year ago, which makes us wonder what the situation will look like in another 12 months.
Or put another way, in the app realm, there's good news for Windows Phone, but there's very definitely still an element of hurry up and wait too.