Windows Phone share of units sales is up year on year in all markets, but there remains clear contrast between Europe and the US, and China, one of the biggest single country smartphone markets, is a weak spot, with an increase of just 0.2% unit share in the last year.
Windows Phone exceeded the 10% sales unit share figure in the EU5 (Germany, UK, France, Italy, Spain) for the third time in December 2013, setting a new high of 10.3%, up from 10.0% last month. Italy was once again the leading market (17%), followed by France (11.4%), the UK (11.3%), Germany (5.9%) and Spain (5.6%). Spain has the highest year on year growth figure at 366%, mostly achieved in the last six months, albeit from a low starting position. Year on year growth has also been strong in France (128%, up 6.4%) and the UK (91.5%, up 5.4% share).
There has been some slowdown in the rate of growth in the EU5 in fourth quarter of 2013 with unit share increasing by 0.5% (9.8% to 10.3%) compared to 2.9% (6.9% to 9.8%) in the third quarter of 2013. This would tie with recent figures from Nokia, which indicated Lumia unit shipments were slightly down in the fourth quarter of the year (i.e. flat-ish growth, plus sell in factors could explain lower shipment numbers).
The Kantar figures for the US show a year on year increase from 2.4% to 4.3%, but growth in the second half of the year has been non-existent, with Windows Phone achieving its highest unit share in the US (5.6%) in April. China has been similarly sluggish, falling from 2.4% in April to 1.1% in the December numbers.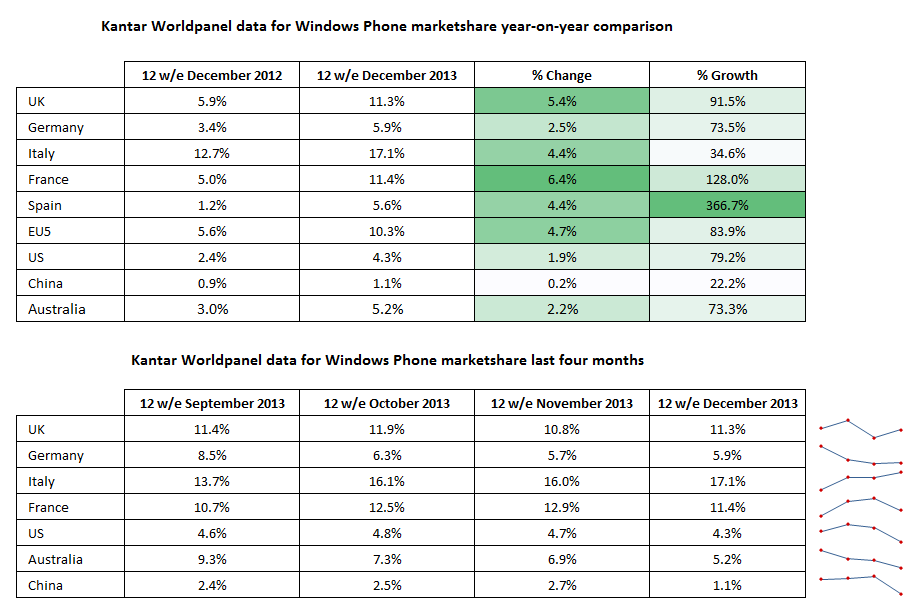 In the overall market context, Windows Phone sales share remains relatively modest, but looking at the year as a while, it is the platform, along with Google's Android, that has enjoyed the strongest growth, a reflection of the two platforms' presence in the low end of the smartphone market, which has been the main engine for overall smartphone sales growth in the last twelve months.
Windows Phone sales performance varies significantly from country to country, even within a region. Italy is in a group of its own (15 out of every 100 smartphones sold run Windows Phone), with the UK and France (1 in 10 smartphones sold are Windows Phone devices), and Germany and Spain (1 in 20 smartphone sold are Windows Phone devices) in separate groupings.
The same is true of Latin America, where Windows Phone sales are stronger in Mexico that in Brazil. Part of these country-by-country differences are down to different market dynamics, culture and historical customer loyalties, but a major factor remains the level of operator support.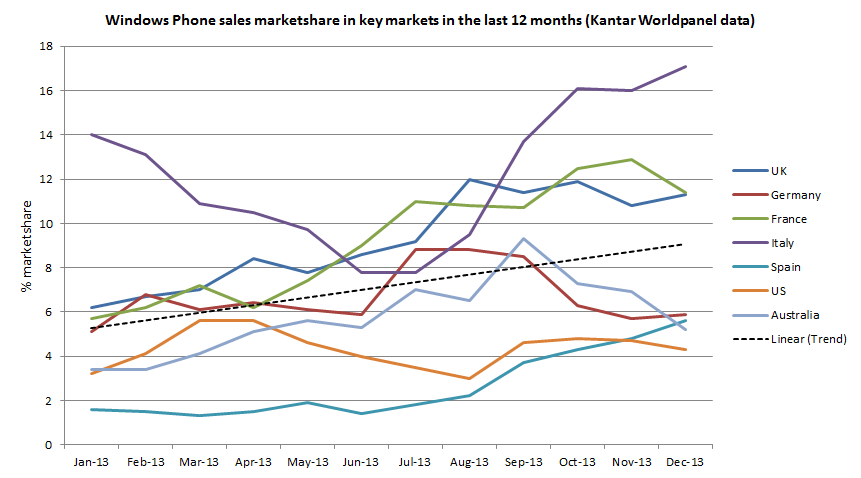 In its press release, Kantar stresses that Windows Phone's high point continues to be Europe, but contrasts this with disappointing results in growth markets:
Windows Phone has now held double digit share across Europe for three consecutive months. Unfortunately for Nokia the European smartphone market is only growing at 3% year on year so success in this market has not been enough to turn around its fortunes – reflected in its recent disappointing results. Its performance also deteriorated toward the end of 2013 in the important growth markets of China, USA and Latin America."

The overall context for Windows Phone is illustrated in the charts below, which as we've noted before, show a clear difference between the US and Europe, possibly reflecting both Nokia's dominance in the Windows Phone ecosystem and its traditional market strengths.
There are clear differences between the two markets. The US is seemingly more of a duopoly, split between iOS and Android. In Europe, Android is dominant, but the market structure is more of a three-way race, with the difference between iOS and Windows Phone being smaller than many might assume.
Italy is the high point example for Windows Phone, typically quoted by both Nokia and Microsoft executives. If Microsoft could replicate the 17% share it enjoys in its most successful European market on a global basis there would be very few questions about the viability of the Windows Phone platform.
That ambition remains out of reach for the time being, but the figures do demonstrate there's growth potential both in other European and select emerging markets. The US and China may be more difficult to crack, especially with the latter increasingly dominated by home grown manufacturers (e.g. Xiaomi).