Tempting though it was to go back to the last official Nokia running Symbian (the 808 PureView) or Windows Phone (the Lumia 930, probably), it's getting a little awkward (even for me) to compare a phone which you haven't been able to buy for ages and for which even repairs are now almost impossible. The same even applies to the Lumia 950, arguably still a 'Nokia' since it was a Nokia design that was implemented by Microsoft. So in the end, reluctantly, I plumped for the only decently-specced Windows 10 Mobile-running smartphone that's still actively sold, the Alcatel IDOL 4 Pro (a world version of the USA-only IDOL 4S).
Don't worry though, since there's some Nokia-retro comparison editorial coming soon here on AAS and AAWP. Watch this space.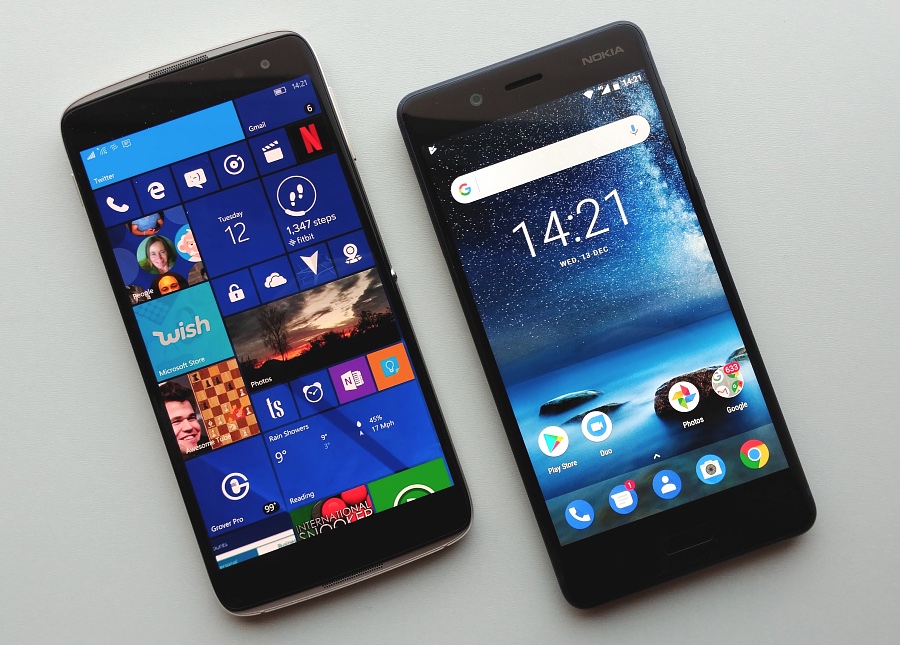 As usual, I've shaded in green an obvious 'win' for either device, I honestly have no idea which way this one's going to go (as I start to compile the feature)... Any row where a winner would be totally subjective is left uncoloured. Or, where both devices are utterly excellent but in different ways, I've given both a 'green'(!)
Alcatel IDOL 4 Pro
Nokia 8
Date first available
August 2017

September 2017

Current price, availability
£420 (SIM-free in the UK, inc VAT), from the Microsoft online Store. See your local version for pricing.
Typical price (+/- £50, it varies a lot!) £400, SIM-free, inc VAT
Dimensions, form factor, weight, design

154 x 75 x 7mm, aluminium frame with toughened glass front and back, 152g

152 x 74 x 8mm, aluminium partly curved 'bucket' back, 160g, slightly shorter, thicker and denser, but very similar form factors overall

Durability
No specific durability metrics, plus the dual sided glass design means a case is a must. If water gets in then you're pretty much out of luck. Sadly.


Minimal waterproofing, just IP54, but better than nothing, plus the metal back should be more durable than then all-glass of the Alcatel.

Operating system, interface
Windows 10 Mobile (now running Fall Creators Update), (dismissable) virtual controls


Android 7.1 (8.0 is imminent), capacitive controls (back, home, recent apps)

Display
Samsung-made 5.5" AMOLED 1080p panel, Dragontrail Glass, excellent colour balance, contrast and viewing angles. Screen area is approximately 84 cm2

5.3" LCD 1440p screen, Gorilla Glass 5, always on time date and notification icons. Decent display in most light conditions, but despite the higher resolution it can't match the IDOL 4 Pro's contrast and colours. Screen area is smaller at approximately 78cm2

Connectivity

LTE up to 300Mbps (all bands),

Wi-Fi b/g/n/ac, integral wifi tethering, Bluetooth 4.1, Continuum connectivity to use external displays as secondary screen, independent of the phone display. Note that there's no NFC, though there's also no Microsoft contactless payment tech in the platform worldwide yet either, so the omission is moot!

LTE, NFC (all uses, including Android Pay),

Wi-Fi b/g/n/ac, integral wifi tethering, Bluetooth 5.0 (all uses). NFC should win the day here, but the IDOL 4 Pro's wired and wireless Continuum compatibility appeals to me.

Processor, performance
Snapdragon 820 chipset, 4GB RAM (of which 3.5GB are used directly), the fastest Windows phone I've tested so far, despite the lack of TLC from Microsoft or Alcatel in terms of tuning

Snapdragon 835 with 4GB RAM. Very fast at everything.



Capacity

64GB internal storage, expandable via microSD

64GB internal storage,

expandable via microSD



Imaging (stills)

21MP f/2.2 1/2.4" BSI sensor, dual LED flash, HDR shots, PDAF, very decent shots in most light conditions, but capture is relatively slow and it all falls down in really low light, as you'd expect (with no OIS). See my review part 2.

8MP front camera

Dual 13MP (colour/monochrome), f/2.0, OIS in colour camera, PDAF and laser auto-focus, dual LED flash. Lower resolution than the IDOL 4 Pro's camera, but innately better quality. Still, it falls a long way short of the best in the world.

13MP front camera, f/2.0

Imaging (video)
4K, optionally digitally stabilised, with 'Best photo' 8MP grabbing built-in, plus high amplitude stereo audio recording (though left and right channels are randomly(?) switched in current firmware). See my review part 3.

Up to 4K video capture, with OIS, very high quality stereo audio, thanks to tech from Nokia's Ozo division.



Music and Multimedia
Terrific front-facing 3.6W stereo speakers, arguably the best in the current smartphone world - in any ecosystem. 3.5mm headphone jack, A2DP

3.5mm headphone jack, plus a fairly weedy mono speaker on the bottom edge. A2DP



Navigation
Windows 10 Maps is comprehensive, has a degree of live traffic awareness (see the latest workaround), Includes full offline maps with automatic updates.

Google Maps is now the gold standard in phone navigation, tied in with many other Google services and offering true real time navigation around traffic issues. Some degree of offline capability, thanks to user-selectable cached areas.


Cortana/Voice
Cortana is now mature and well integrated, and with a surprising degree of 'assistance'.

Google Assistant is baked in, though it's no more mature than Siri or Cortana in my opinion, plus it was temperamental (refusing to work with any kind of ambient noise, e.g. fan or heater) on the Nokia 8.

Battery, life
Sealed 3000mAh battery, plus USB Type C fast charging (up to 2A) and compatibility with Qualcomm's Quickcharge 3.0.

Sealed 3090 mAh battery. Charging is again up to Quick Charge 3.0 standards via the USB Type C port.



Cloud aids
Windows Photos syncs across all signed-in devices, subject to your OneDrive tariff, should you have thousands of images in the system. Plus Windows 10 backs all your media, application data and settings to a separate backup folder system, tariff-free on OneDrive.

Google Photos, once installed, does a great job of organising photos and syncing them across all signed-in phones and tablets. You do lose some quality unless you pay, but this is comparable to the Microsoft tariffs for OneDrive, etc.

Biometrics
The fingerprint sensor is slower than most in the industry, and it's not clear why! Plus the 'Hello' animation takes a second. On the positive side, it's a lot faster than PIN entry or iris recognition. On the (other) negative side, there's no Microsoft Wallet/Pay (even if there was NFC, which there isn't!) So that side of things is a no go.

The fingerprint sensor on the front works well once you get the hang of its location (it's almost invisibly blended with the front glass), and fast. Works well with Android Pay.

Applications and ecosystem
Windows 10 Mobile now has just about every mainstream app covered, aside from Snapchat and Tinder. And anything to do with Google services! Most things can be done via Edge, though 'not quite' as slickly as with dedicated applications.

The might of Google and Android's app ecosystem - everything is available and almost always in first party form.

Upgrades and future

Windows 10 Mobile will be updated through 2017, 2018, and the whole of 2019, of course, as part of the global Windows 10 ecosystem and the regular patching and fixing process. Production devices can expect updates every month. Would love to give the IDOL 4 Pro the win here on this technicality, but suspect I'd get shouted at!

Android 8.0 is promised soon and Nokia/HMD Global has been pretty good at timely security fixes so far, though I doubt it'll get the mandatory longevity of the Windows 10 phone here.

Verdict
Adding up the green 'wins' gives a resounding 7-2 victory to the Nokia Android flagship, but as ever, this doesn't tell the whole story. There are a more than usual number of rows left white, where I couldn't pick a winner, either for equality or subjectivity reasons, meaning that the Alcatel Windows phone was at least (arguably) holding its own. Moreover, there's massive competition in the Android world for this new Nokia, whereas the Alcatel IDOL 4 Pro is more or less the only game in town for someone happy with Windows 10 Mobile.
Of the IDOL 4 Pro's 'wins' above, the most significant is that for multimedia, with the genuinely incredible speakers and fabulous display giving the phone something of a class-leading USP. The IDOL 4 Pro's not a perfect handset, of course - not even close, but it's not bad and I for one am glad that it exists at all. Kind of a 'last hurrah' for Windows 10 Mobile?
PS. If you do pick the IDOL 4 Pro up then you'll need a case. See my IDOL 4 Pro case round-up here, recently added to.