UPDATE: February 23rd, 2018: The Insiders route from AU is now withdrawn by Microsoft. I'm afraid you've left it too late to do all this now. Sorry! An alternative route/tutorial will be published here on March 5th 2018.
[orginal article follows:]
______________________
Some reading then:
Windows 10 Mobile - January 2018 status for all compatible phones

Don't panic! Why missing out on FCU is NOT a big deal...

In short, the status of 2013-2015 Windows phones hasn't changed since last April. You'd have thought that with Fall Creators Update long since out and with the cessation of the Insiders programme in terms of new builds that enough would have been turned off behind the scenes that the 'workaround' below wouldn't work. Yet it still does, as I've been proving over the last 24 hours by completely reverting and then rebuilding my beloved Lumia 930.
And yes, it took most of 24 hours to do it!
Taking one for the team then, since this could very well not have worked. But don't worry, everything's still in place. And I've updated my instructions as appropriate for the latest state of the Insiders programme.
Microsoft's official stance hasn't changed, of course - the Lumia 735/830/930/Icon/1520 are all supposed to stay on the 2016 Anniversary Update. Itself a big jump over Windows Phone 8.1 from three years before, but there's still a long way forward to Creators Update - there were a lot of under the hood improvements in terms of jumping forward to Spring 2017 status.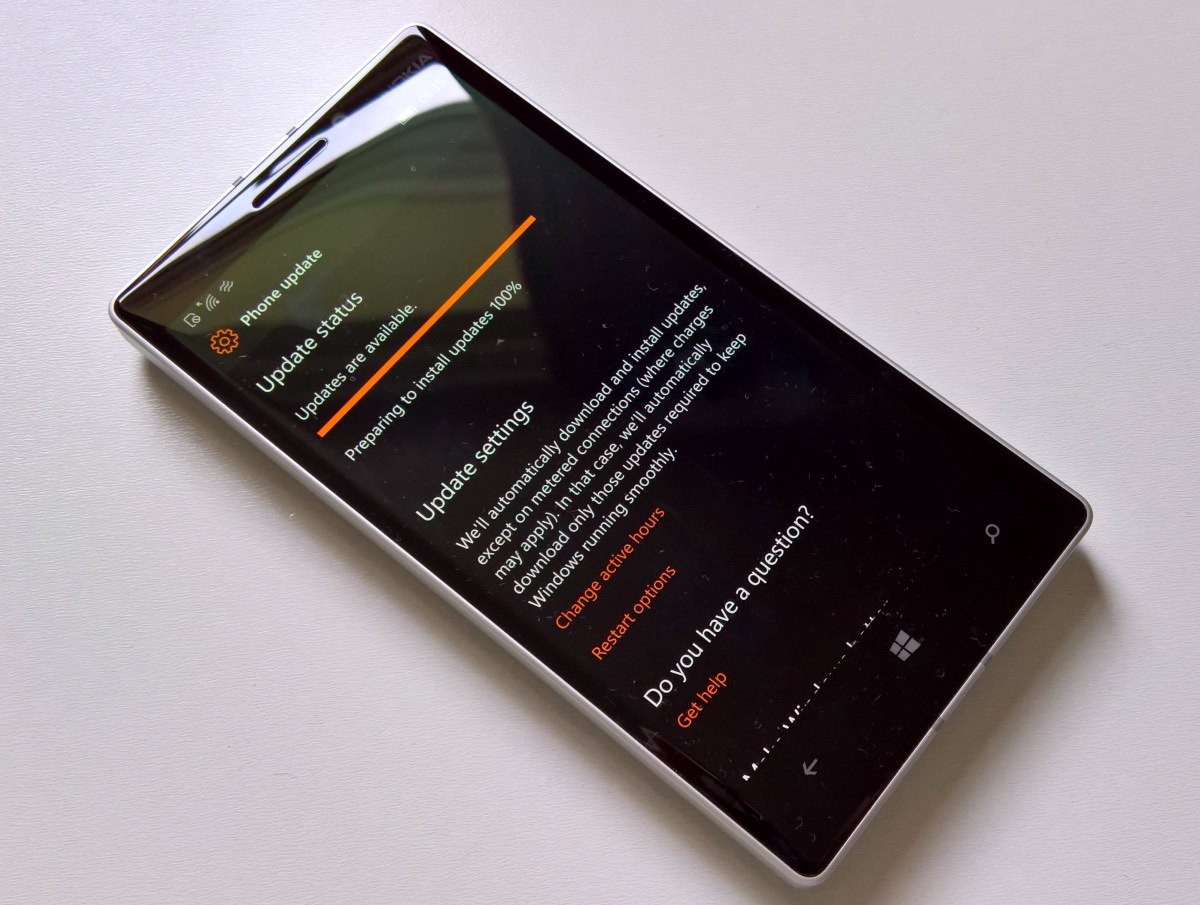 In addition to bug fixes and UI improvements, there's an extra big reason for these classic Lumias to be on Creators Update - application compatibility. We're just starting to see apps in the Microsoft Store now say that they require 'Windows 10 15063.0 or higher' in order to run. That's the Creators Update right there (and also known as branch 1703, by the way - yes, I know it's confusing!)
So, all in all, being stuck on Anniversary Update (builds 14393.xxx) is no joke and now means that such devices are missing out on newer applications and games.
As is usual with Windows 10, a branch is a branch, and once your phone is on it then you should get up to 28 months of security updates and patches. So getting these phones onto the Creators Update automatically extends their life until Autumn 2019.
So there's lots of incentive for making sure this procedure still works then!
[I'm assuming in what follows that your Lumia 930 or 1520 is already on Windows 10 Mobile, of course. If it's not then see my guide here.]
1. Jump to the 'Slow' Insiders ring
Head into Settings > Update & security > Windows Insider Program and 'Get started'. Then 'Next', follow the configuration prompts (including a restart), and finally navigate back and choose 'Slow' as your 'Insider level'.
It's true that Microsoft is never going to use these Insider rings again for new Windows 10 Mobile builds, but they're proving useful to us in the meantime as this vital stepping stone. So don't worry too much about being on the 'Slow' ring - we're going to hop off it again very shortly, below.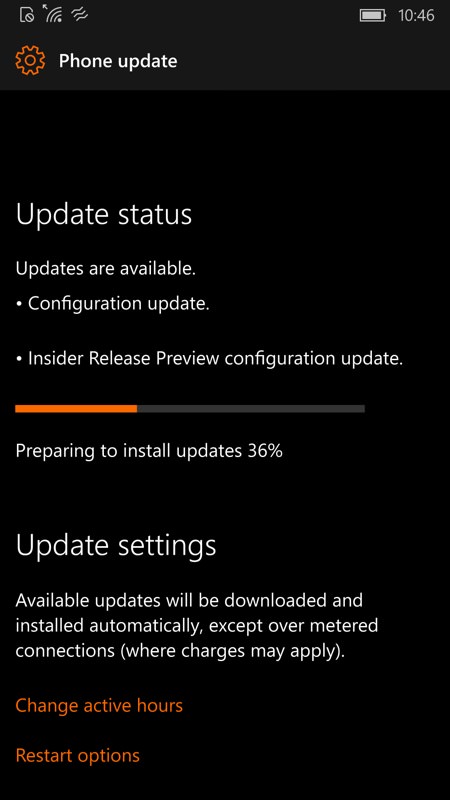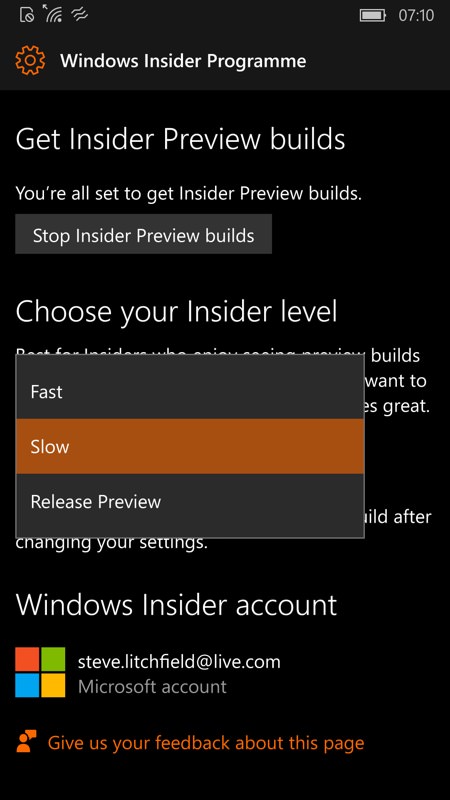 2. Install the Creators Update baseline
Check for updates as usual and you should be offered build 15063.2 - the Creators Update! Accept it and install in the way. This will take about half an hour - with spinning cogs, 'migrating', and the usual steps.
You'll also (probably) get an interim 'April 2017 Update for ARM-based Phone Devices' (build 15063.138, confusingly!) - so do check for this and allow installation before proceeding to step 3. Patience!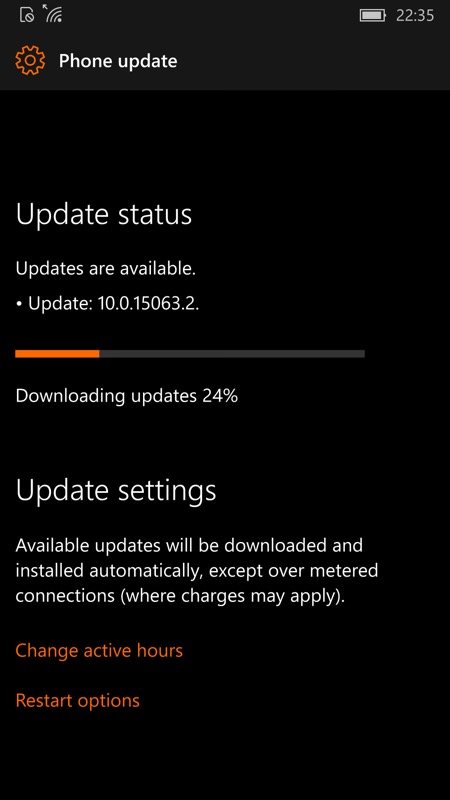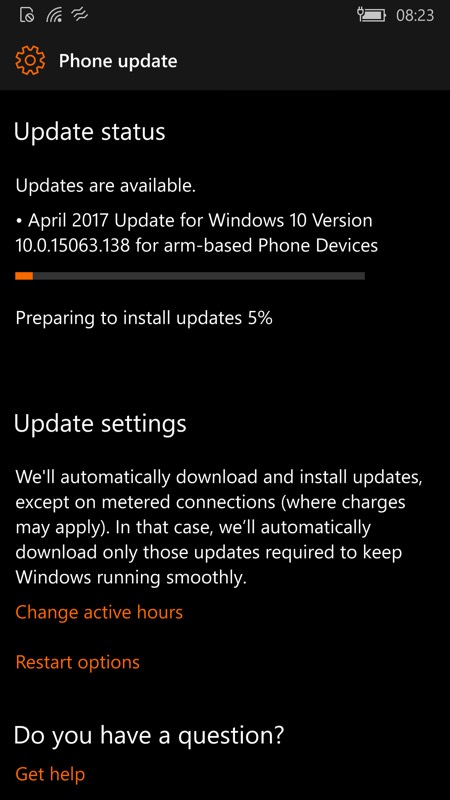 3. Jump 'back' to production status
Now that Insider builds have finished, the production builds of Windows 10 Mobile are higher numbered and the ones to go for.
Head into Settings > Update & security > Windows Insider Program and choose 'Stop Insider Preview builds'. You're asked to pick from a menu of options - you want 'Keep giving me builds until the next Windows release'. You'll be prompted to restart the phone again.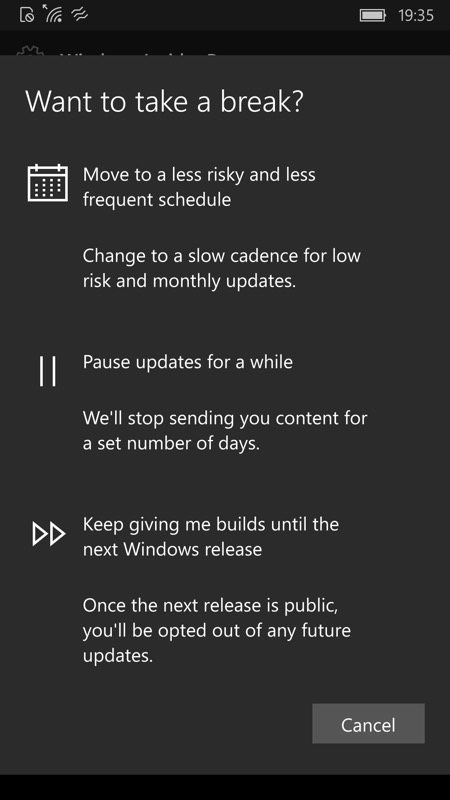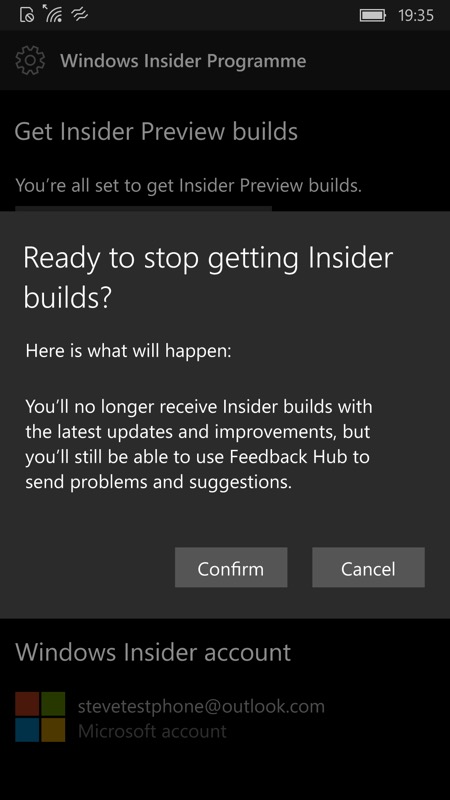 4. Update the Creators Update to the latest build
Check for updates again and this should net you build 15063.850 (covered here) and you're then officially bang up to date and on the Creators Update for the long haul. Which isn't bad for phones released in 2013 and 2014!!!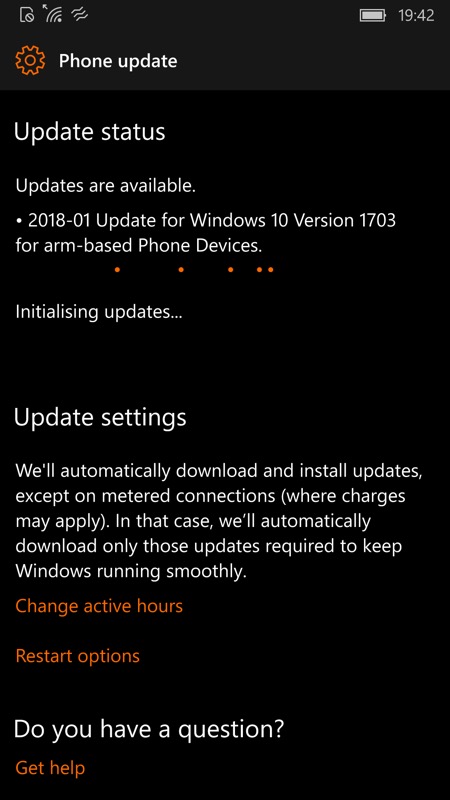 5. (optional) Refresh your phone
This isn't strictly necessary, but consider it if things aren't working properly.
If you want to refresh your phone and have a clearout then see here for my step by step suggestions on how to 'refresh' your Windows 10 Mobile smartphone (essentially resetting and restoring).
Comments and questions welcome.