For anyone steeped in the likes of Windows 10 Mobile and Continuum, i.e. extending a phone to act as if it was a desktop, and the vagaries of Microsoft's cross-device strategy over the last decade, there's a certain air of 'technically cool, but will it get used in real life?'
Imagine a user on his shiny Surface Pro 6, working away when their phone chimes and there's a message they need to look at. What would you do?
a) Switch over to the Your Phone application on the Surface Pro, click on the appropriate notifications or start the appropriate application, hope it all works and then finally see the message concerned. Even on a good day, I'd think that this will take about five seconds before the message is actually read (I mocked it out).
b) Pick up the phone and read the message directly.
Now, obviously, if an action on the smartphone required more than about a dozen words in reply, then there's a use case for the Surface Pro (or similar) with the Your Phone mirroring to quickly catch up, speed wise, because of the big physical keyboard. But colour me slightly sceptical.
Of course, I've been covering the way Microsoft has been extending its Windows applications, services and even its UI into Android for a year now, so none of this should be too surprising. We've seen all the core Microsoft applications created for Android and available in the Google Play Store, we've seen the 'Microsoft Launcher' move from experimental side project to a mainstream, fully supported and regularly updated replacement app launcher for Android.
Then the current new branch for Windows 10, the 'October 2018 Update', includes 'Your Phone', pitched as:
No need to dig for your phone to text. And you can finally stop emailing yourself photos. With the new Your Phone app you get instant access to your Android phone's photos and texts on your computer. Snap a pic on your Android phone, see it on your PC. You can also drag and drop photos from your phone onto your PC. And you can copy, edit or ink that photo, right from your PC. Text your friends, group message and type with a keyboard — Your Phone app allows you to view, send and receive the SMS from your Android, on your PC. Android 7.0+ are compatible with Your Phone app, which also helps link iPhones to your PC.

This OS branch formally gets pushed in a few days time, but you can get it now for your Windows PC by checking for updates manually.
The 'phone mirroring' is another step (or two) away but will apparently come to Insiders soon, should you be itching to try it. My guess is that this might not appear in production Windows 10 until Autumn 2019, since it's not a straightforward thing to implement and may end up on the same timescale as Windows 10 'sets', which has taken a full year to get right.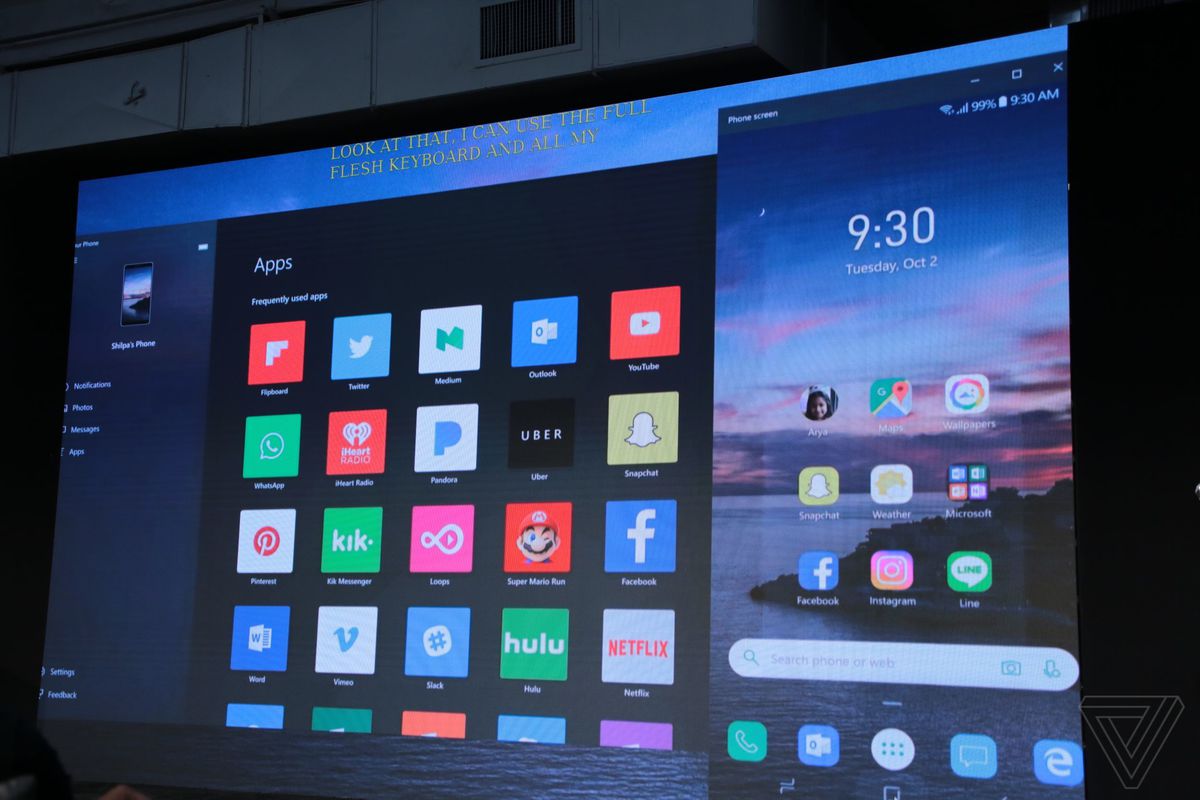 (photo credit Tom Warren)
All of this comes on the back of musings from the AAWP editorial desk about which platform and phone to move to in the absence of any new Windows 10 Mobile hardware and in light of the ultimate failure of Microsoft's own mobile OS. Rafe uses an iPhone because that's what fits in best with his work, and many Microsoft properties are also available on iOS, but it's clear that Microsoft is finding it much easier to work with Google's Android, which is far, far more open and extensible.
I use a Samsung Galaxy S9+ with my main mobile SIM and am pretty happy with it - my second SIM is in the Windows-powered IDOL 4 Pro still. But there are loads of other Android options, not least some new Google Pixels being announced on Tuesday (and yes, I'll be at the event). I'm not sure I'm ready to commit the S9+ to Microsoft's launcher and ideas (and beta/Insiders builds on the Desktop), but I have several test Android phones and I'll be experimenting with these in the coming months and reporting back on what can be done.
Is any of this 'better' than real Windows 10 running on phone hardware and with UWP compatibility and Continuum? Not really, at least conceptually, since the whole 'Your Phone' thing is something of a hack, not to mention the use of multiple OS (Android and Windows), but you can't deny the attractiveness for Microsoft of piggybacking on the dominant smartphone OS of the age (88% world market share and counting), along with an utter mountain of the latest applications.
And what of AAWP generally? We'll continue to bring you news of Windows 10 Mobile OS and application updates, reviews, new PWAs and yes, probably a camera phone comparison or two. But expect a little more cross-platform interoperability along the way, covering Microsoft's developments in Windows-Android integration.
Comments? Would you use such a hybrid solution? Would it solve any problems for you?