Cole Brodman, chief marketing officer, T-Mobile USA, said:

"We're excited to team with Nokia in bringing its first Windows Phone to the U.S. with the elegantly designed Nokia Lumia 710. Windows Phone offers a compelling mobile OS choice for people who want a smartphone built around them, their family and friends. We expect it to play a more prominent role in our lineup and marketing efforts in 2012."
Chris Weber, president, Nokia Americas, said:

"The Nokia Lumia 710 is the perfect first-time smartphone: a well-designed product that delivers the most compelling Windows Phone experience in its price range and with access to great content and thousands of applications. This is the perfect first Nokia Lumia experience and the start of our re-entry into the U.S. smartphone market."
T-Mobile and Nokia say they are hoping to attract first time smartphone buyers from among the 150 million people in the US who have yet to upgrade to a smartphone. The press release quotes research that says "everyone wants a smartphone, but many believe they can't afford it" and indicates the companies believe they can attract customers with a combination of the easy to use Windows Phone experience and competitive monthly price plans.
T-Mobile Nokia 710's will be preloaded with US specific content and services including Nokia Drive for turn-by-turn GPS navigation, ESPN for sports content, Netflix and T-Mobile TV with mobile HD. T-Mobile refer to the Lumia 710 as a 4G device; this is based on the device's support for HSDPA+ (generally referred to as 3.5G in Europe).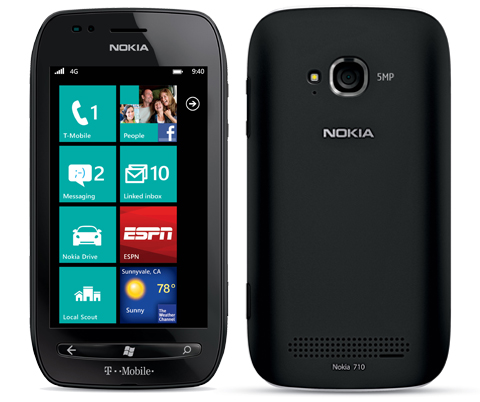 CNET notes that T-Mobile considers the Lumia 710 a hero device and will be displaying it prominently in its retail stores:
Andrew Sherrard, senior vice president of handset marketing for T-Mobile, said the Lumia 710 would be prominently displayed in its stores, and that Windows Phone smartphones would become a larger share of the carrier's overall portfolio.

The Nokia Lumia 710 on T-Mobile is part of a wider US strategy for Nokia, which is referred to internally as 'Operation Rolling Thunder'. In an interview with Bloomberg Chris Weber, President Nokia Americas, is quoted as saying that:
"[Nokia] will be launching a portfolio of devices in the U.S. across a range of price points, user experience and operators."
The likelihood is that CES, which starts in Las Vegas on January 10th, will see further announcements from Nokia, with a US specific version of the Nokia Lumia 800 on AT&T or Verizon being a very likely scenario.