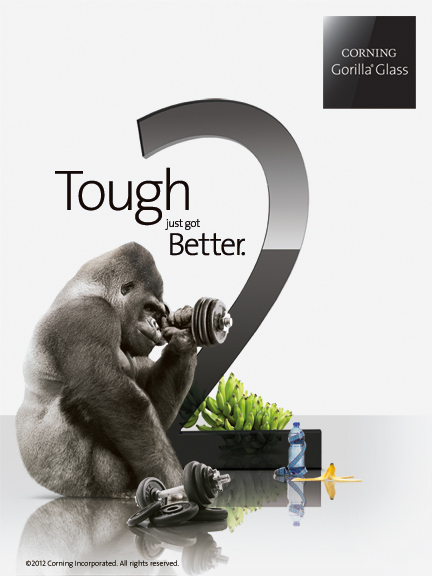 From the press release:
Corning Gorilla Glass 2 enables up to a 20 percent reduction in glass thickness, while maintaining the industry-leading damage resistance, toughness, and scratch resistance customers have come to expect from the world's most widely deployed cover glass. The thinner Gorilla Glass 2 enables slimmer and sleeker devices, brighter images, and greater touch sensitivity. These benefits can provide electronics manufacturers with superior design flexibility as they address consumer demand for increasingly high-performing, touch-sensitive, and durable mobile devices.

Product qualification and design implementation for Corning Gorilla Glass 2 are underway with Corning's global customers, a number of whom are expected to unveil new devices using Corning Gorilla Glass 2 during the coming months.

First introduced in 2007, Corning Gorilla Glass set the industry standard for damage-resistant cover glass. Today it is the most widely deployed cover glass, used by more than 30 major brands and designed into more than 575 product models, spanning more than 500 million units worldwide.
Great to hear, I'm a huge fan of Gorilla Glass, even though it has its critics, usually in the "my phone has Gorilla Glass and I dropped it and the glass shattered. That shouldn't happen!" camp. The critics miss the point: it's still glass and will shatter if given a hard enough end-on shock. But Gorilla Glass is extremely resistant to face-on impacts and implements that might otherwise scratch a traditional glass or plastic surface.
We'll mention the technology again when we see a product announced that features it.