Bing Maps will now offer the same traffic information that is already being used in Nokia Maps on the Symbian and Windows Phone platforms. This currently covers 24 countries: Austria, Belgium, Brazil, Canada, Denmark, Finland, France, Germany, Greece, India, Indonesia, Ireland, Italy, Luxembourg, Mexico, Netherlands, Norway, Poland, Portugal, Russia, Saudi Arabia, South Africa, Spain, Sweden, Switzerland, UAE, and the UK. Data for the USA, which was already available, has been improved and coverage widened to include selected side streets.
Below is an example of traffic information being displayed on the web version of Bing Maps. The overlaid colour indicates the traffic level: green for flowing traffic, orange for moderate flow, red for congestion and black for stationary traffic.

The changes also apply to the Maps app on Windows Phone, as shown in the screenshots below. Unfortunately the "show traffic" menu entry is only displayed when your phone's region+language setting is set to English (United States). You can switch the region setting to United States, activate traffic, and then switch the region setting back, but in this case traffic will be stuck to on (with no way to clear the map). Microsoft would be well advised to provide a silent background update, or software update, for those markets where traffic information is now available, to rectify this issue as soon as possible.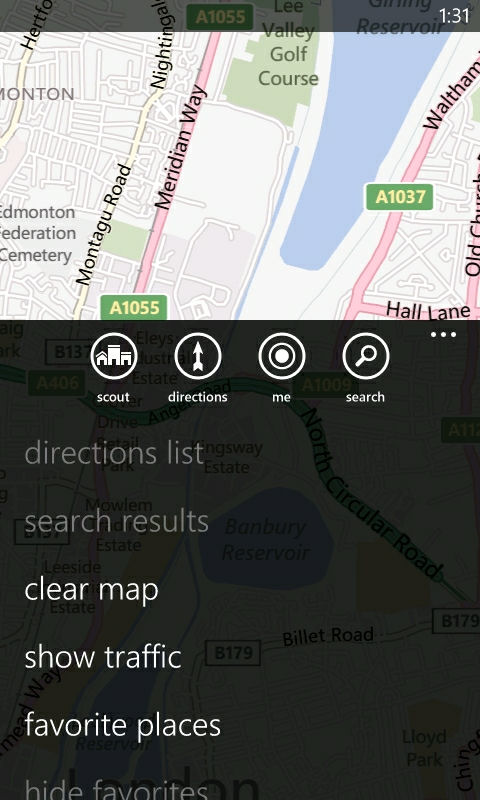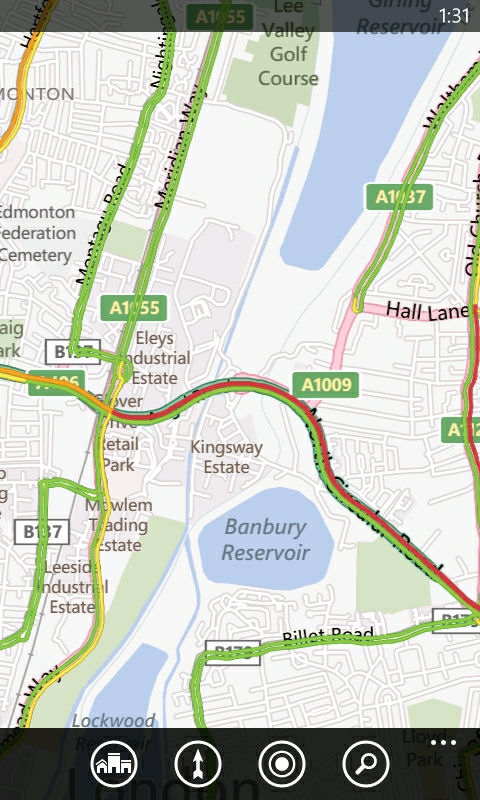 In addition to traffic information Bing Maps will now used the Nokia backend for geocoding (and reverse geocoding) in a number of countries. Geocoding is the process of finding geographic co-ordinates from other data (e.g. place name, or street name). While there's no obvious visual difference using the Nokia backend will improve Bing Map's accuracy, resulting in better search results and improved route navigation information.

Going forward we can expect to see closer collaboration between the two companies across location services on all platforms. The plans for the next version of Windows Phone have not been disclosed, but its is clear that the Nokia Where will be deeply integrated into the platform. What's less clear is how the consumer branding, and associated apps (i.e. Bing Maps versus Nokia Maps), will be reconciled.
Nokia Where Platform
The traffic information and geocoding algorithms are part of Nokia's Where Platform (previously the NAVTEQ platform). The Nokia Where Platform is the service that underlies Nokia's own location apps, such as Nokia Maps, Nokia Public Transport and Nokia City Lens. It is used by application and web services running on mobile phones, smartphones, tablets and computers. Access to the the Nokia Where Platform is also availble to third parties, allowing them to create their own location based apps and services on top of the Nokia platform.
At the heart of the Nokia Where Platform is a collection of geodatabases that describes the world. They include information about roads, junctions, places and other spatial features. Many of these spatial features have additional metadata, or attributes, that provide further information (e.g. speed limit of road, lane information at a junction, the phone number of a restaurant). It is these core geodatabases that provide the rich maps and place information we traditionally associate with mapping platforms.
But the Nokia Where Platform goes further because, on top of this core, Nokia also provides a number of services such as navigation (car, pedestrian, public-transport, multi-modal), geocoding (and other look-up / search queries types), traffic information, weather information and more.
The Nokia Where Platform is more widely used than many may realise. It is used in 90% of in-car navigation systems and powers the web based maps services of Yahoo, Bing, Facebook and many others. The platform is currently serving an average of 24 million route requests and 147 million map tiles per day.