The software update is delivered though the Zune Desktop client. When the update is available for your device you will receive notification via an on-screen pop up message. You can also perform a manual check for updates in the Zune Desktop client (phone > settings > update).
While the update is now widely available, it is not universally available. This is because software updates must go through an approval process (testing and certification) before being released. Nokia's software update page has information on availability by country and product code. It is the product code that determines whether an update will be available; you can find your phone's product code on a sticker underneath the battery (Nokia Lumia 710), or under the SIM card caddy (Nokia Lumia 800).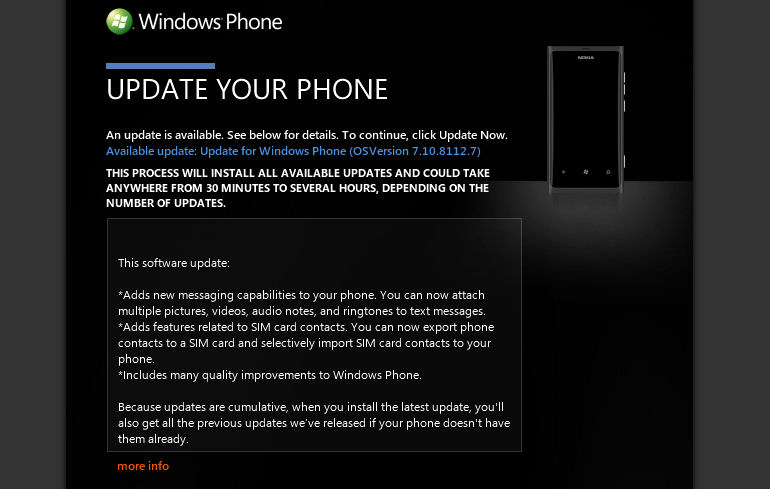 We'll publish a detailed article, introducing and explaining the new features in this update, later today. Below is a summary of the updates for both devices.

Nokia Lumia 710 (Windows Phone 7.5 Refresh "Tango" update, plus Nokia updates)
Version numbers:

OS version: 7.10.8773.98
Firmware version 1600.3031.8773.12121
Nokia updates:
Internet sharing (Wi-Fi Hotspot) - share your phone's Internet connection over Wi-Fi with up to five other devices - uses WPA2 encryption.
Enablers for certain apps / app updates - required to install certain apps (e.g. Camera Extras).
Flip to silence - silence incoming calls by turning your phone face down.
Updated Marketplace icon - Nokia branding replaces generic Windows branding (visible after first use of Marketplace app)

Additional wallpapers - generic wallpapers from Nokia

Windows Phone platform updates:

MMS improvements - add multiple pictures, videos, voice notes to messages.
SIM contacts - export phone contacts to SIM card and support for selective import of SIM card contacts .
Additional wallpapers - nature themed wallpapers from Microsoft and some additional wallpapers from Nokia
Quality improvements - generic low level updates improving performance.

Nokia Lumia 800 (Windows Phone 7.5 Refresh "Tango" update, plus Nokia updates):
Version numbers:

OS version: 7.10.8773.98
Firmware version 1750.0805.8773.12220
Nokia updates:
Internet sharing (Wi-Fi Hotspot) - share your phone's Internet connection over Wi-Fi with up to five other devices - uses WPA2 encryption
Enablers for certain apps / app updates - required to install certain apps (e.g. Camera Extras)
Flip to silence - silence incoming calls by turning your phone face down.
Updated Marketplace icon - Nokia branding replaces generic Windows branding (visible after first use of Marketplace app)
Additional wallpapers - generic wallpapers from Nokia

Windows Phone platform updates:

MMS improvements - add multiple pictures, videos, voice notes to messages.
SIM contacts - export phone contacts to SIM card and support for selective import of SIM card contacts
Additional wallpapers - nature themed wallpapers from Microsoft
Quality improvements - generic low level updates improving performance