HTC describe the 8X as being designed "in way to blend the virtual and the physical, utilising a 3D pillow-like design based on the Windows Phone Live Tiles". A slim-line, unibody, polycarbonate casing, with gently tapered edges, encloses a Gorilla Glass protected screen to create an eye-catching design and superbly sleek design. The screen uses HTC's lamination technology to minimise the air gap between the screen and protective glass, giving superior sharpness and clarity, together with reduced light reflection.
HTC are highlighting "spectacular sound" and "incredible camera capabilities" as two of the key user experiences on the 8X. Beats Audio technology, which is exclusive to HTC smartphones, is delivered on a Windows Phone device for the first time. Together with secondary amplifiers for the 3.5mm audio jack and integrated loudspeaker, it will "boost the audio signal for even better sound, no matter if you're listening to music, playing a game or watching a video".
A new HTC innovation for the 8X is a 2.1 megapixel, f2.0 aperture, 88 degree ultra-wide angle front facing camera, aimed at improving the quality of self shots (phone held at arm's length), which HTC's consumer research indicates are becoming increasing popular. This is complemented by the rear 8 megapixel camera, which uses the same BSI sensor, f2.0 aperture, 28mm lens, and HTC ImageChip technology found in the Android powered HTC One X.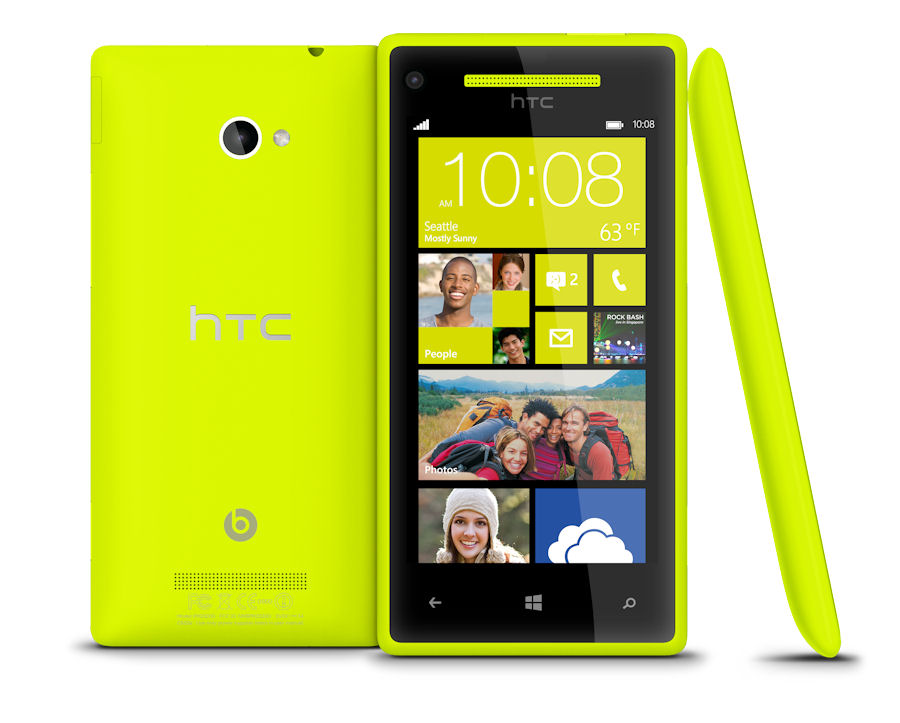 The 8X is powered by a 1.5GHz dual-core Snapdragon S4 processor, together with 1GB of RAM and an 1800 mAh integral battery. There's 16GB of internal storage, but no microSD card slot for expandable memory. Communications are covered by Bluetooth, NFC and WiFi and HSDPA/WCDMA (3G) cellular connectivity.
As with other Windows Phone 8 device launches, software details are thin on the ground; Microsoft is expected to formally launch the software side of the latest revision to Windows Phone in late October, at which time a complete picture will be available for all handsets, ahead of retail availability.
Microsoft and HTC have worked closely together to create what HTC describes as "the first signature Windows Phones", which will be used as both a showcase and cheerleader for the latest version of Microsoft's mobile operating system. HTC has been one of the strongest supporters of Windows Phone, releasing more devices than any other manufacturer. Despite the addition of Nokia to the manufacturer line-up, and its dominance of Windows Phone device sales over the summer, the 8X makes it clear that HTC remains strongly committed to Windows Phone and is planning a big Windows Phone 8 push.
Steve Ballmer, CEO of Microsoft, said:

"Pairing these beautiful new HTC phones with our Windows Phone brand is a big milestone for both of our companies and our partnership. Together we are offering customers a simple choice and a truly unique experience."
Peter Chou, CEO of HTC Corporation, said:

"We've been inspired by Windows Phone 8 to create new smartphones that give the platform the iconic design and personality it deserves. Windows Phone has clearly emerged as one of the top mobile ecosystems and is competitive against any other smartphone platform in the world."
The 8X, which will be available in early November, will have the widest launch of any Windows Phone device to date. It will be available in 50 countries with 126 mobile operators.

Key hardware features

132.35 x 66.2 x 10.12mm, 130g in weight; monoblock touch form factor

Unibody design, with a combination of polycarbonate casing (single piece) and Gorilla Glass materials

HSDPA and GSM connectivity: WCDMA (850/1900/2100), GSM (850/900/1800/1900).

Processor: Dual-core 1.5GHz with GPU co-processor (Qualcomm Snapdragon S4), RAM: 1GB

4.3" Super LCD 2 touchscreen; 720 x 1280 pixels resolution (341 pixel per inch)

8 megapixel auto-focus camera (with LED flash); BSI sensor; f2.0 aperature and 28mm lens; video capture at 1280 x 720p with stereo sound.

GPS, Compass (magnetometer), accelerometer, gyroscope, proximity and ambient light sensors

microUSB (USB 2.0) for PC connectivity and charging

3.5mm audio out; integrated Beats Audio; additional amplifiers in 3.5mm out and loudspeaker circuitry

1800mAh integral battery

WiFi: WLAN IEEE 802.11 b/g/n; Bluetooth 2.1; NFC

16GB mass memory

Key software features
Runs Windows Phone 8

HTC will include a number of exclusive HTC apps

See Also
Windows Phone HTC 8X hands-on preview
Gallery: Windows Phone HTC 8X and 8S