As with the Lumia 920 and 820 Nokia is highlighting the sleek unibody design; and imaging, location and entertainment experiences as being key differentiating features. The location experience is divided into three pieces: Nokia City Lens (augmented reality, describes as heads-up display for life), Nokia Drive (voice guided, turn-by-turn navigation) and Nokia Transit (public transport directions).
Imaging highlights include a 1.2 megapixel, Skype certified, front-facing camera, and the inclusion of new camera features such as Cinemagraph, Group Shot and panorama mode. Entertainment highlights are focused around the Nokia Music app, which provides free music streaming, with no advertisements of registration required.
The key hardware features touted in the press release include the 4.3 inch OLED ClearBlack display, the 8-megapixel camera with Carl Zeiss optics, and the exchangeable back covers (available in black and cyan for the Lumia 810).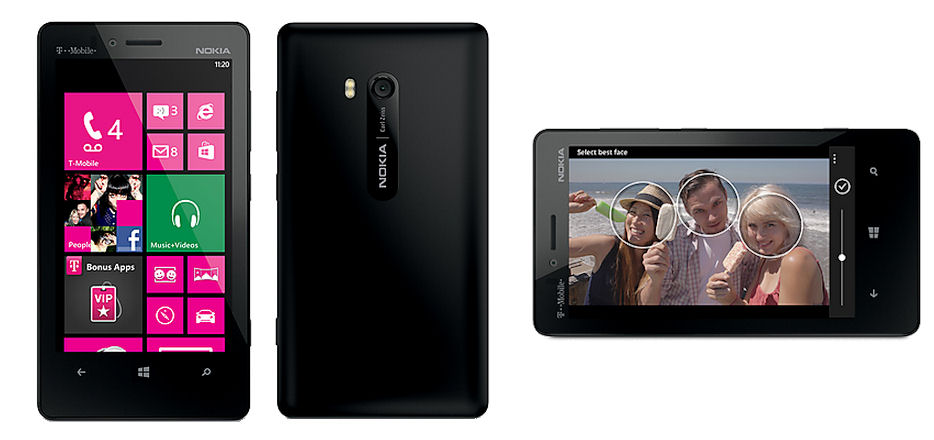 Differences between the Lumia 810 and the Lumia 820
In addition to the cellular connectivity differences noted above, there are also a number of cosmetic differences between the the Nokia Lumia 810 and the Lumia 820. The devices are slightly difference in size (10.9 x 127.8 x 68.4mm versus 9.9 x 123.8 x 68.5mm) and weight (145g versus 160g).
The front-side edges are flat, rather than rounded, and there are speaker grilles on both sides of the microUSB slot, rather than a single slot to the right of the microUSB port. On the rear of the device the camera housing (largely cosmetic) is orientated vertically, rather than horizontally. The front of the Lumia 810 is protected by Gorilla Glass, whereas on the Lumia 820 it is scratch resistant glass (non-branded). In addition the top, front face, of the device has a different layout, with the ear piece and front facing camera in different positions.
More importantly there are also other minor specification differences. The Lumia 810's front facing camera is 1.2 megapixels in resolution and has a wide angle lens, compared to the VGA front facing camera (0.3 megapixel) found in the Lumia 820. It also appears that the Lumia 810 will ship with wireless charging included as standard, whereas on the Lumia 820 wireless charging is available only via an additional exchangeable cover (not out of the box). The battery inside the Lumia 810 is also has a slightly higher capacity (1800 mAh), than the Lumia 820 (1650 mAh).
These differences will help distinguish the Lumia 810 from the Lumia 820, which is important for operators looking for exclusive devices. However, the differences can also be the result of varying operator requirements (e.g. front facing camera). T-Mobile USA will carry the Nokia Lumia 810, while AT&T will carry the Nokia Lumia 820.

Key hardware features

10.9 x 127.8 x 68.4mm in size, 145g in weight; monoblock touch form factor

Unibody design, with a combination of polycarbonate casing (single piece) and Gorilla Glass materials

HSDPA and GSM connectivity: WCDMA (1700/1900/2100), GSM (850/900/1800/1900).

Processor: Dual-core 1.5GHz with GPU co-processor (Qualcomm Snapdragon S4), RAM: 1GB

4.3" Super LCD 2 touchscreen; 480 x 800 pixels resolution

8 megapixel auto-focus camera (with LED flash); video capture at 1280 x 720p at 30 frames per second.

GPS, Compass (magnetometer), accelerometer, gyroscope, proximity and ambient light sensors

microUSB (USB 2.0) for PC connectivity and charging

1800 mAh battery and support for Qi wireless charging

3.5mm audio out

WiFi: WLAN IEEE 802.11 a/b/g/n; Bluetooth 3.0; NFC

8GB mass memory

Key software features
Runs Windows Phone 8

Nokia Drive, Nokia City Lens, Nokia Transit, Nokia Music, and more

Camera customisation including Cinemagraph and Group Shot