Microsoft describes the service as combing the best of free-streaming radio services (e.g. Spotify and Pandora), music subscription options and music purchasing (e.g. iTunes, Amazon) into a single "elegant package", so that consumers will no longer "to rely on service hopping to get the music they love".
The roll out of Xbox Music starts tomorrow with the Xbox, followed by Windows 8 on October 26th, and Windows Phone 8 in 'late October or early November'. Xbox Music is pre-installed, and is the default music player, on both Windows 8 and Windows Phone 8 devices.
The renewed Microsoft music service can be broken down into four main elements:
Free streaming music, similar to Spotify, for Windows 8 and Windows RT devices. Streaming will require an Internet connection, is ad-supported, and streaming hours are limited to 10 hours per month, after the first six months. Streaming is not available on Windows Phone 8 at launch, but the implication is that it will be added in the future.

Xbox Music pass, a re-brand of the current Zune Music Pass, allowing unlimited access to songs and artists, including offline access, on Windows 8, Windows RT, Windows Phone 8 and Xbox. In the US, the Xbox Music pass will cost $9.99, in the UK it will cost £8.99.

Xbox Music Store, an a la carte music store where music can be purchased as a single track or an entire album on Windows 8, Windows RT, Windows Phone 8 and Xbox.

Smart DJ provides an artist-based radio "instant mix" service, similar to Pandora, effectively creating instant playlists. Smart DJ allows for unlimited skips and a full vew of the recommended music stream. The full implementation of Smart DJ will only be present where streaming music is available and/or an Xbox Music pass is active. In other cases, Smart DJ will pull music from the local music library.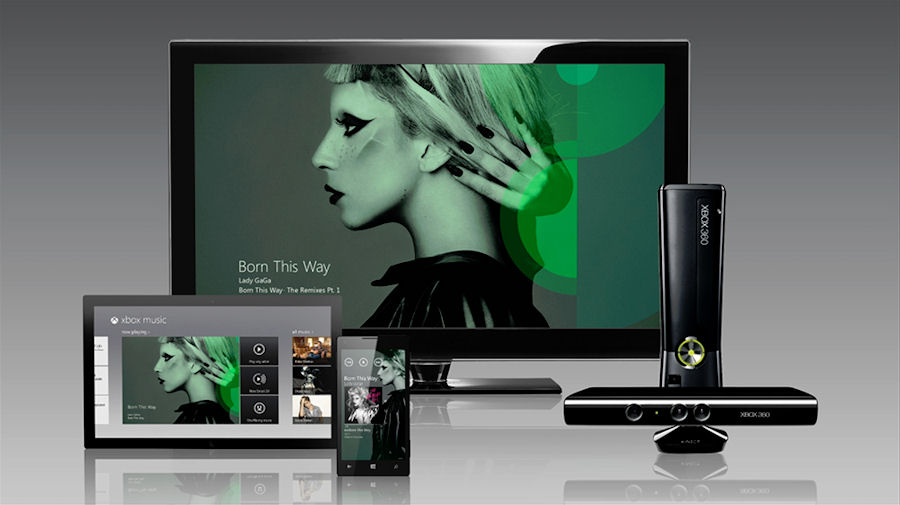 The Xbox Music application on Windows 8 effectively replaces both Zune and Windows Media Player from Windows 7. The same applies on Windows Phone 8, where Xbox Music will replace the Zune Music experience (Music + video app). The Xbox Music application interface has a common look and feel across all devices, with a heavy emphasis on tiles and typography, drawing on the Modern UI (Metro) pioneered by the original Zune device, evolved by the Windows Phone platform, and which is the mainstay of new Windows 8 UI.
The integration element comes in the form of "Cloud Connected" that Microsoft say will automatically sync your Xbox Music Pass collections and playlists "across your tablet, PC, phone and Xbox 360". Xbox Music is tied to a consumer's Microsoft Account (previously known as Live ID), acting as an enabler for identity and integration across devices. The sync feature includes playback, which means it will be possible to pause a song on one device, and then resume playback on another device, and is part of the Xbox SmartGlass experience that Microsoft announced earlier in the year.
Don Mattrick, president of the Interactive Entertainment Business at Microsoft, said:
"The launch of Xbox Music is a milestone in simplifying digital music on every type of device and on a global scale. We're breaking down the walls that fracture your music experiences today to ensure that music is better and integrated across the screens that you care about most — your tablet, PC, phone and TV."

At launch, the free music streaming functionality will be available in 15 markets, while the Xbox Music pass and Xbox Music Store will be available in 22 markets. Microsoft will roll out the service to additional regions throughout 2013. The company also plans to add Web, Android and iOS clients, but Xbox Music will not be available on Windows 7 or Windows Phone 7, where the Zune service will remain the primary music experience.
Microsoft intends to add a number of features to the service in 2013. A scan-and-match, similar to the functionality provided by Apple's iTunes and Amazon Cloud Player, will allow users to add music you already own, whether purchased on CD or from another music service, to their "Xbox Music cloud catalog". This catalog is accessible from any device than supports Xbox Music. Social features will also be added that will "let you share your music experiences with friends and family".