Photos can be captured by tapping on the screen, or pressing the camera capture button. There's an optional self-time mode, which is useful when you want to get the positioning exactly right. Once a photo has been captured it is automatically enhanced and saved to the saved picture album in the Photos Hub.
Once this process is complete, after just a second or two, you can opt to manually adjust the enhancements made. There are four types of enhancements: eyes (adjust eye size), soften (soften skin), toning (adjust skin tone), and teeth (brighten teeth). The clever bit is that the app automatically picks up on your eyes / teeth / skin and only enhances that part of the image.
The level of each of these enhancements can be adjusted via an on screen slider, with the end-result shown live on screen. There's also a handy split-screen before and after split-screen view that can be activated from the app's toolbar.
At first glance these enhancements appear to be relatively simple to achieve, but there's some sophisticated image processing technology involved in the automatic recognition of teeth, skin, and eyes. That's why Nokia describes Glam Me as a "beautiful, simple to use application with intelligence inside", a phrasing that could also be used to describe the frame alignment technology that powers Nokia's Cinemagraph app.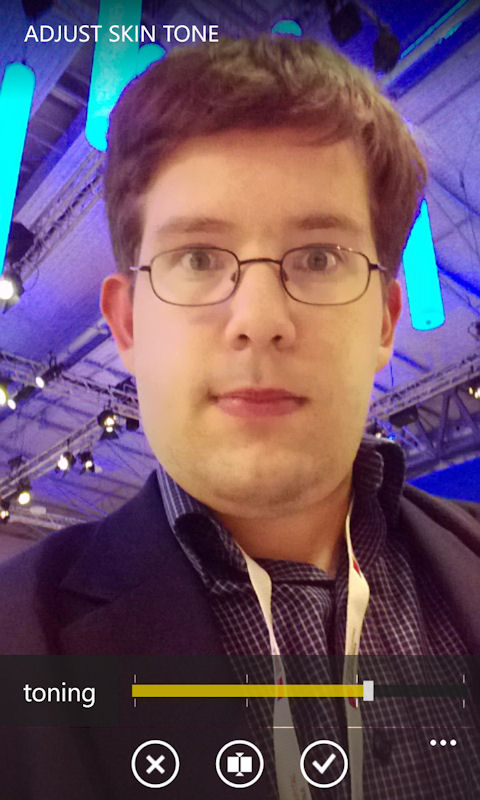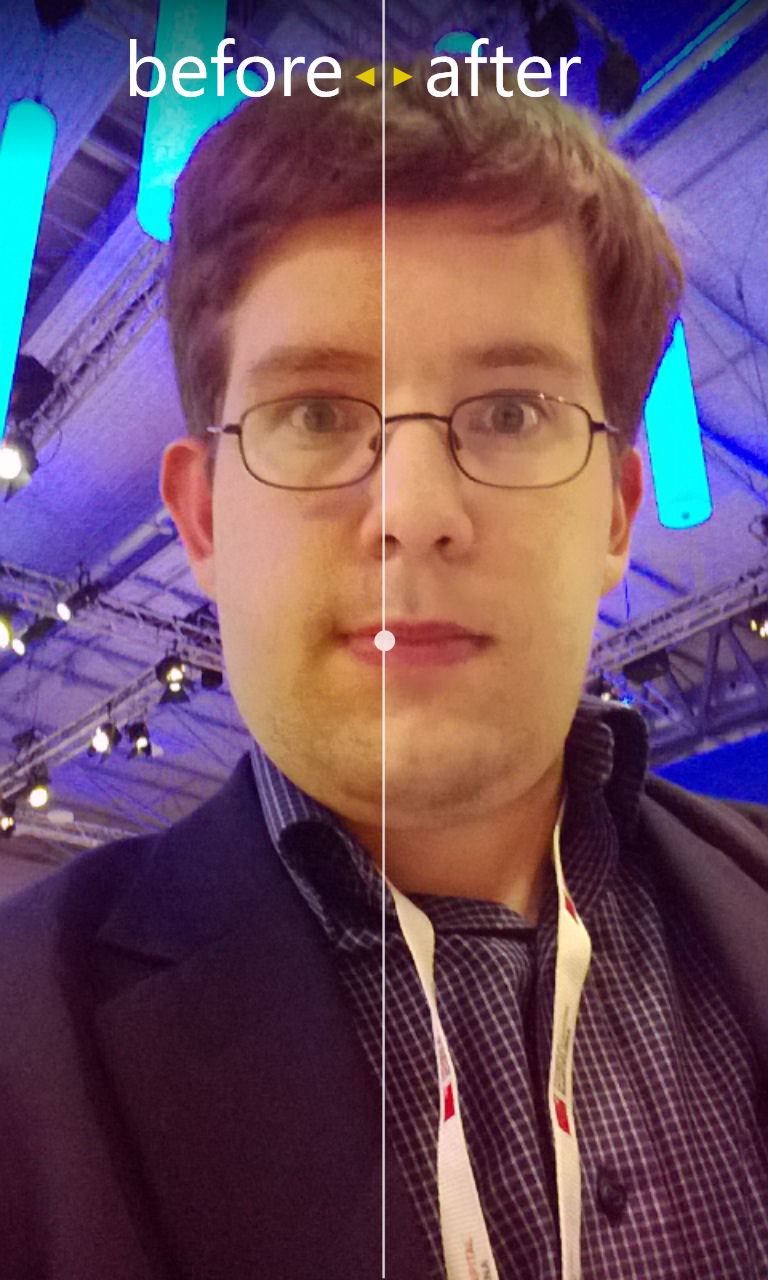 The second half of Glam Me's functionality, allowing you to optionally apply a filter to a captured photo, is more standard. In the current version of the app there are 14 filters to choose from (magazine, LOMO, sketch, elegant, poster, mint, watercolour, magical, B&W, fresh, oil paint, violet, raindrop, and reflective).
Once you've applied a filter a photo can be saved to our phone (saved picture album) or shared via the standard Windows Phone interface (i.e. via Bluetooth, NFC, email, social networks, and any other sharing enabled app).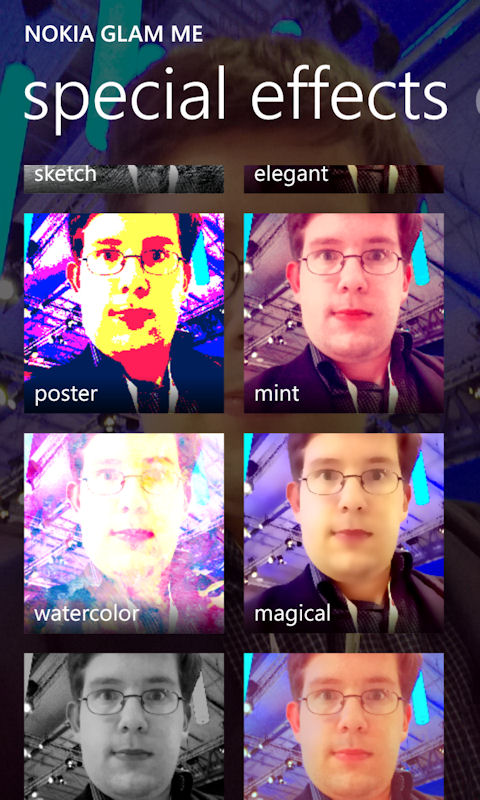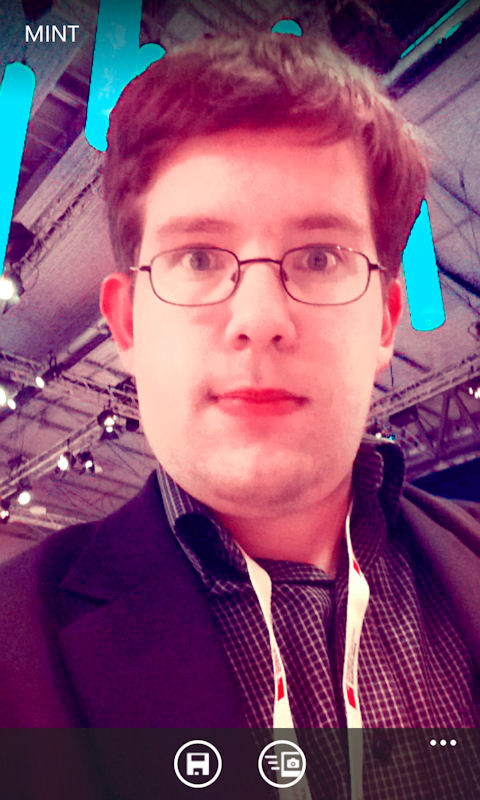 Nokia Glam Me is a fun addition to the Nokia exclusive software line up and is one of the first apps we've seen that dedicated solely to getting "better" results out of the front facing camera. As the screenshots above demonstrate, it's definitely possible to improve your looks with Glam Me, although inevitably, depending on the degree of enhancement, the results do have a somewhat artificial feel.
But that rather misses the point, Nokia Glam Me is about adding a little bit of fun to the Lumia line up, and that's an objective it achieves admirably even in the version 1.0 of the app.
Windows Phone Store description:
Nokia Glam Me is a self-portrait enhancement application specifically designed to take advantage of the great front-facing cameras on Nokia Lumia products. Whether you want to lighten up that minor blemish, or just lighten up your day, one click on the shutter gives you a great portrait of yourself, automatically enhanced, ready to be shared.You can make manual adjustments for facial details or apply cool artistic effects optimized for self-portrait.
Nokia Glam Me, which is exclusive to Lumia devices can be downloaded for free from the Nokia Collection in the Windows Phone Store. It is currently only available for Windows Phone 8.