Office Remote can perhaps best be described as the productivity equivalent of Microsoft's Xbox SmartGlass app, essentially using Windows Phone as both a companion screen to display relevant information and as a way of providing an alternative control mechanism.
Here's how Microsoft describe the app:
Office Remote turns your Windows Phone into a smart remote for Microsoft Office, providing convenient touch-based control of Word, Excel, and PowerPoint documents projected from your PC. It lets you show what you want, when you want, with all the freedom you need to walk around and connect with your audience.
The app works by using a Bluetooth connection between your phone and PC. After installing the necessary add-in for Microsoft Office on the PC and ensuring there's a Bluetooth connection between your phone and PC, Office Remote will, with a single click, connect to your PC and automatically list the documents that are currently open in Microsoft Office on your PC (i.e. documents must be open on your PC before you can control them). Tapping on any listed document will activate the remote control features for that document, with the functionality available varying according to the type of document (PowerPoint, Word, and Excel).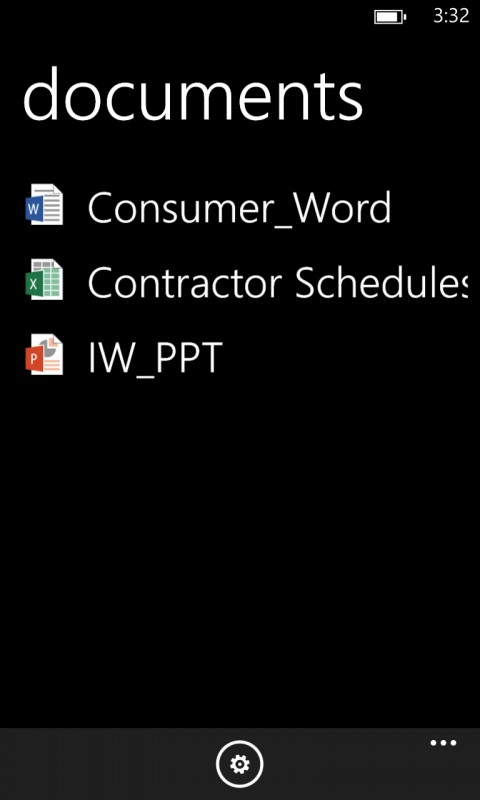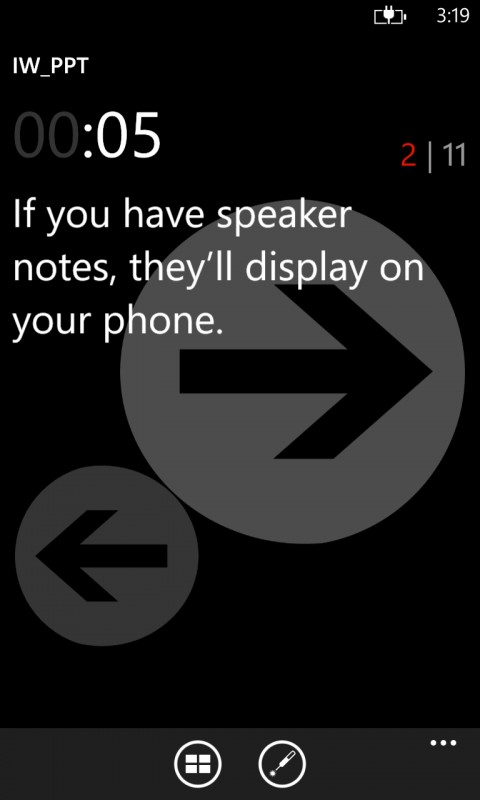 For PowerPoint, the features include the ability to jump to the next, previous, and last slide (i.e. the equivalent of a presentation clicker). However, it is also possible to view a list of slide thumbnails, and to use this to jump to a specific slide (i.e. making slide navigation much easier than with a traditional clicker). Office Remote can also be used to view speaker notes, a presentation timer, and slide numbers. One of the most innovative features is a virtual laser pointer. When activated (and viewing a slide on your phone), this lets you use your finger and phone's touchscreen to control the position of a virtual laser pointer.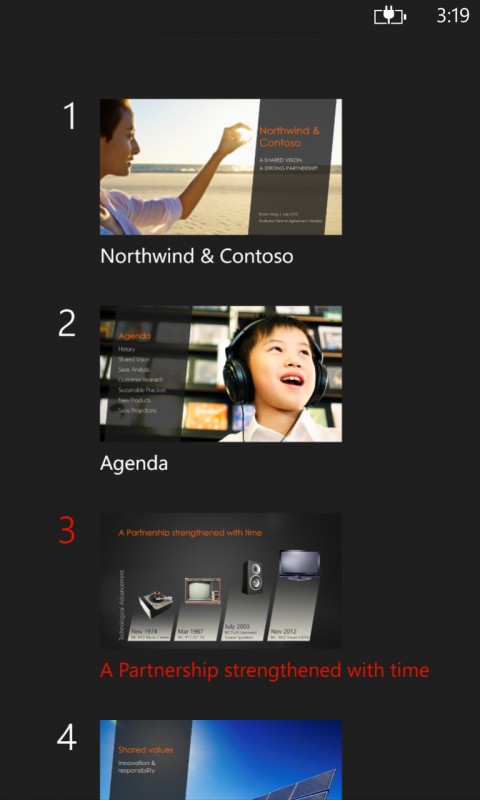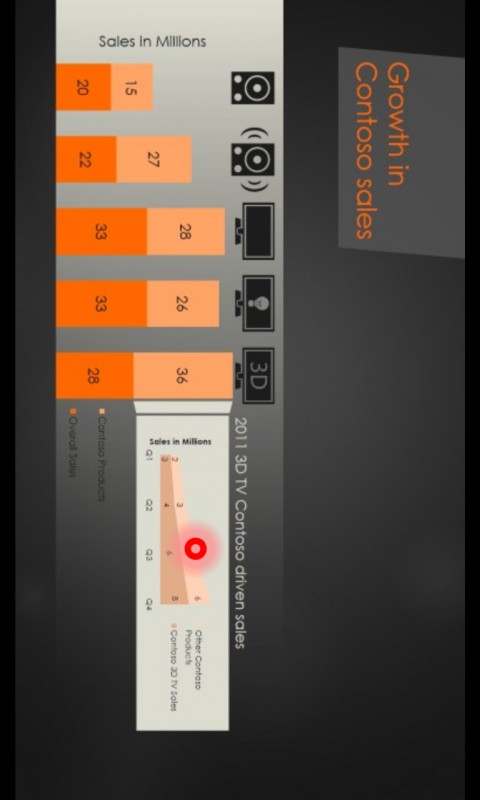 For Excel documents, the features include the ability to move up and down a worksheet (scrolling) and to change the zoom level (e.g. to get a closer look at a particular piece of data). Also included is the ability to shift between different worksheets (swipe gesture), control Slicers, PivotTable and Filters (i.e. change an attribute and watch as the spreadsheet data is updated accordingly), jump to any named object in your workbook (e.g. worksheets, charts, and PivotTables).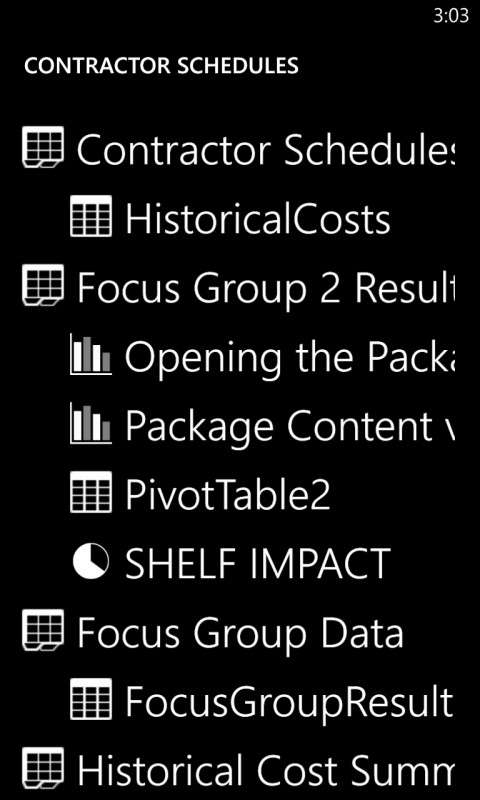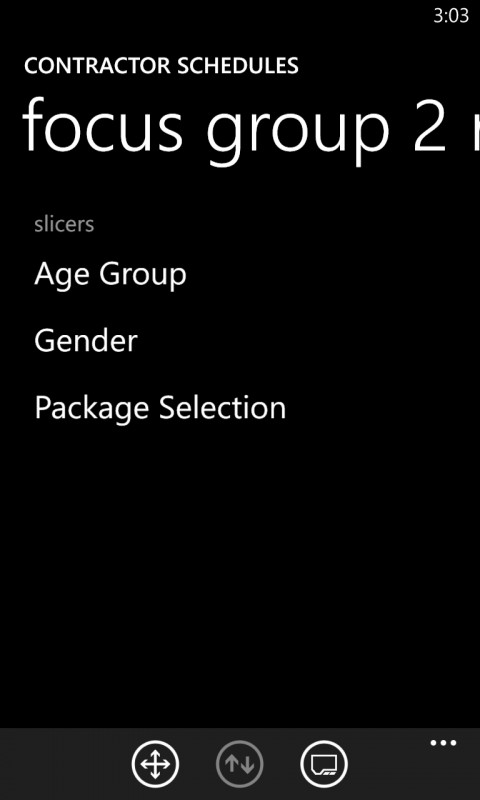 Word documents get the same scrolling and zooming features as Excel, but with a finer level of control on scrolling (screen up/down and line up/down). In addition, it is possible to jump to any of the headings or comments in a document. The latter is particularly useful if you are reviewing a document in a group and want to quickly and easily move between the relevant sections of the document.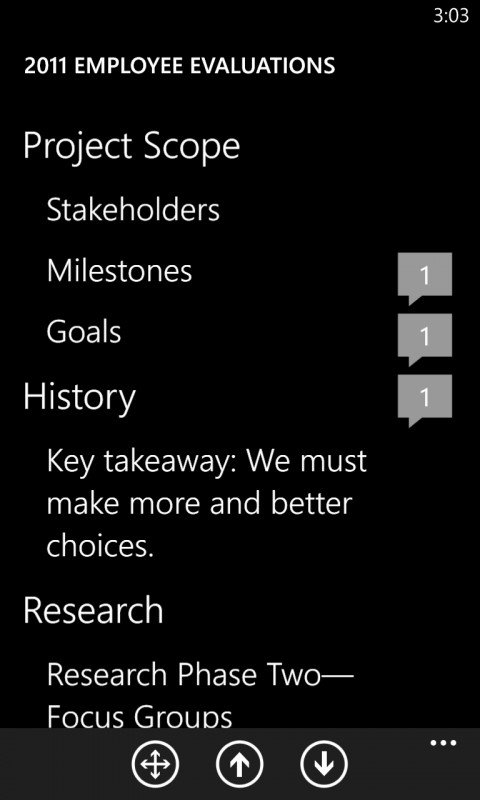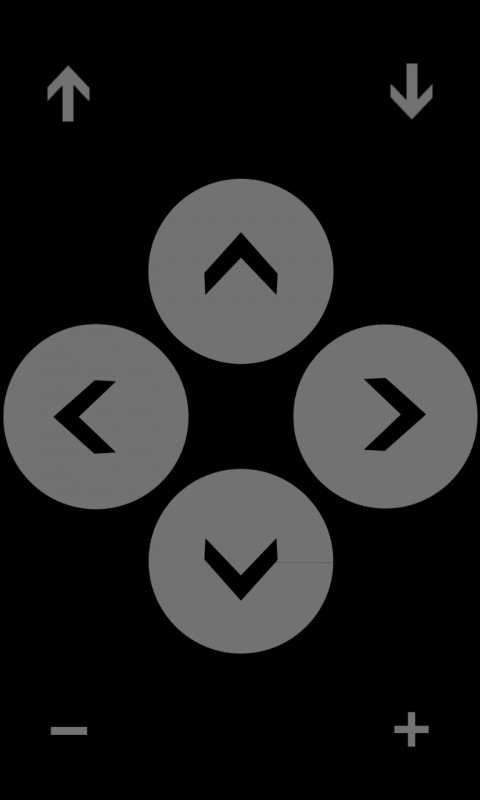 Office Remote is a good example of the way Microsoft could opt to leverage its own ecosystem to provide a reason to choose a Windows Phone experience over competing smartphone platforms. But, as with other mobile companion and multi-screen experiences, there's no guarantee that Office Remote will remain exclusive to Windows Phone. Indeed, a good argument can be made that Microsoft, if it wants to retain Office's dominant market position on the desktop, should create this type of app for all the main smartphone platforms.
As things stand, Office Remote is currently exclusive to Windows Phone, and, as a Microsoft Research product, can be classified as a test case. The team behind Office Remote describes it as a way of helping people to "create and communicate more effectively":
Office Remote is a Microsoft Research application developed in partnership with Microsoft Office. The goal of our ongoing collaboration is to create more natural and seamless interaction across multiple screens and devices, in ways that help people to create and communicate more effectively.

It's certainly one of the most useful companion experiences we've seen from Microsoft, and, if you present Office documents of any kind in group situations, it really is an essential download.
Windows Phone Store description:
Office Remote turns your phone into a smart remote that interacts with Microsoft Office on your PC. The app lets you control Word, Excel, and PowerPoint from across the room, so you can walk around freely during presentations.

With Office Remote, you can start your PowerPoint presentation, advance the slides, see your speaker notes, and control an on-screen laser pointer with a touch of your finger — all from your phone. You can also navigate between Excel worksheets and graphs, and control data slicers from the palm of your hand. And you can scroll through a Word document or quickly jump to specific sections or comments.

Office Remote is a free download from the Windows Phone Store. Do note that it currently only works with Windows Phone 8 and the x86 version of Microsoft Office 2013 (i.e. not Office RT or earlier versions of the productivity suite).
Here a video from Microsoft demonstrating Office Remote in action: