If you have one of the above compatible Windows Phone devices, here's what to do:
Join the Windows Insider Program
Download the Windows Insider app on the sacrificial device and accept the conditions - select 'Insider Fast' if you want more frequent, but less stable, updates
Clear some space on the phone's internal disk (it's not clear yet just how much is needed - watch this space. I'm guessing at least 3GB free)
Go to 'Settings/phone update' and 'check for updates'
From our Lumia 630, which seems to see the update now: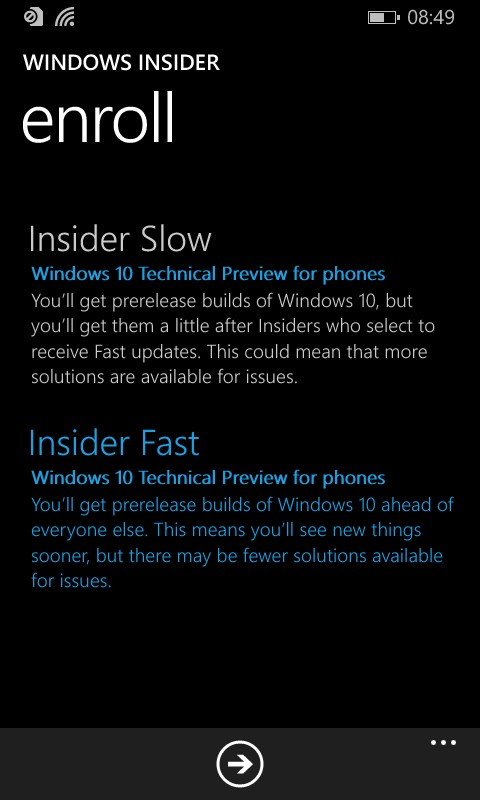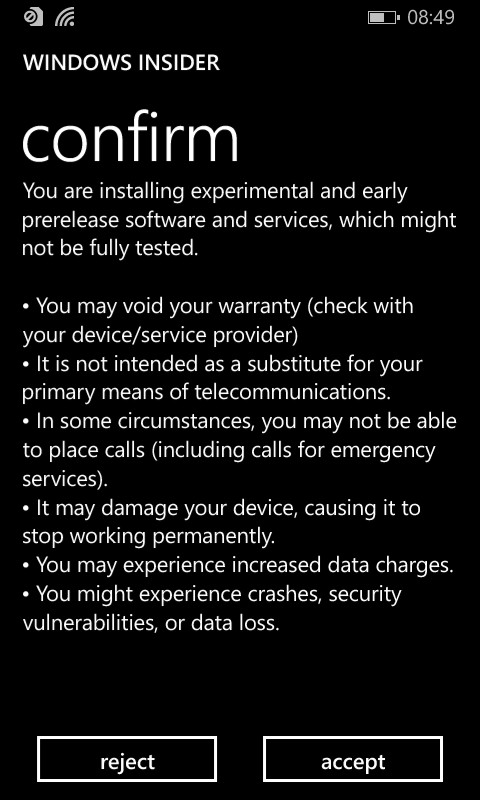 FAQ
From the official Insider FAQ:
Download and install the preview only if you:

Aren't installing it on your primary phone. If you have a backup phone, that's a perfect candidate for Technical Preview.

Want to try out software that's still in development and like sharing your opinion about it.

Don't mind lots of updates or a UI design that might change significantly over time.

Really know your way around Windows Phone and feel comfortable troubleshooting problems, backing up data, or restoring your original operating system if something goes wrong.

We're not kidding about the expert thing. So if you think APN is a cable news network, Technical Preview may not be right for you.

What features are missing in Technical Preview?

Messaging is currently missing a number of features you might use in Windows Phone 8.1, including dual-SIM support, search, message drafts, sharing voice notes and ringtones, Bi-Di language support, international assisted dialing, spam filter, viewing all group recipients, reminders and quiet hours through Cortana, multiple attachments, and GSM support. If you use these features regularly, you'll want to wait to install the preview until we get them into a future build.

Cortana is only available in English (United States) for phones. In other locales, you'll get the standard search experience.

The Rooms feature is not available in the preview. You'll still be able to get to your photo albums, calendars, and notes, either on the web or by using other apps on your phone. You won't be able to see your chat history or send or receive any new chats. If you have important info in your Rooms chats that you want to keep, save a copy to a different device before updating your phone to Technical Preview. For more info, take a look at the Rooms FAQ.

Some text in the preview will not yet have been translated into all available languages and will only appear in English. This text will be translated into all available languages by the time the final product is available.

The Phone app doesn't have Dual SIM support or spam filtering in the preview.

Accessibility features are still being developed for Windows 10, so they aren't fully functional in Technical Preview. If you depend on features like Narrator while browsing the web, you may want to wait to update your phone.
Microsoft also says that unexpected phone crashes could damage or even delete your files, so you should back up everything. Some hardware—like Bluetooth speakers—might not work, and some apps might not install or work correctly. You might also have trouble connecting to home or corporate networks.
Features
In the build that's rolling out today, there are the following major features (quoted from Microsoft):
Full-size Background Image for Start: We believe phones should be intensely personal – so we've added another option to customize the start screen with a full-size background image.
More Quick Actions in Action Center: We've increased the number of quick actions available to you. Windows Phone 8.1 has four programmable quick actions – but with Windows 10 you also get an expanded view that can now have up to three rows.
Interactive Notifications: Notifications are now interactive, allowing you to take action directly like dismissing an alarm, or seeing images for maps. For example, for text messages, when the toast pops, you can quickly reply inline via text or voice.
Significantly enhanced speech-to-text capability: You can talk to virtually any data field you choose. Your words show up as you speak them – and punctuation appears automatically. This feature is smart enough to understand when to use 'two' – the number — instead of 'too' as in 'also'.
More powerful Photos app: From your very first launch, Photos will show the aggregated set of all your local photos and all your OneDrive photos
There's a lot more in the video below and teased elsewhere that's not in this first Insider release, not least the full universal Office suite.
Availability
Comments welcome if you try all this and manage to see updates on a compatible device. It showed up on our Lumia 630, but not on the 830, oddly.
The exclusion of the 930 and 1520 from the compatibility list (so far) is somewhat strange, I suspect that it has a lot to do with the Snapdragon 800 chipsets and/or oversampling camera integration. Also, WMPU has a quote here about tight OS partition sizes (no, I didn't really understand it either), but in the meantime, there's plenty of low end 512MB devices on the list to keep most people going.
Problems
If there's a catastrophic problem with the new preview, it's possible to get back to the previous Windows Phone 8.1 Update 1 using the Microsoft recovery tool here.
Video
There's a video from Joe Belfiore to give an overview of what's new and changed in the new release. With the caveats above, sit back and enjoy: