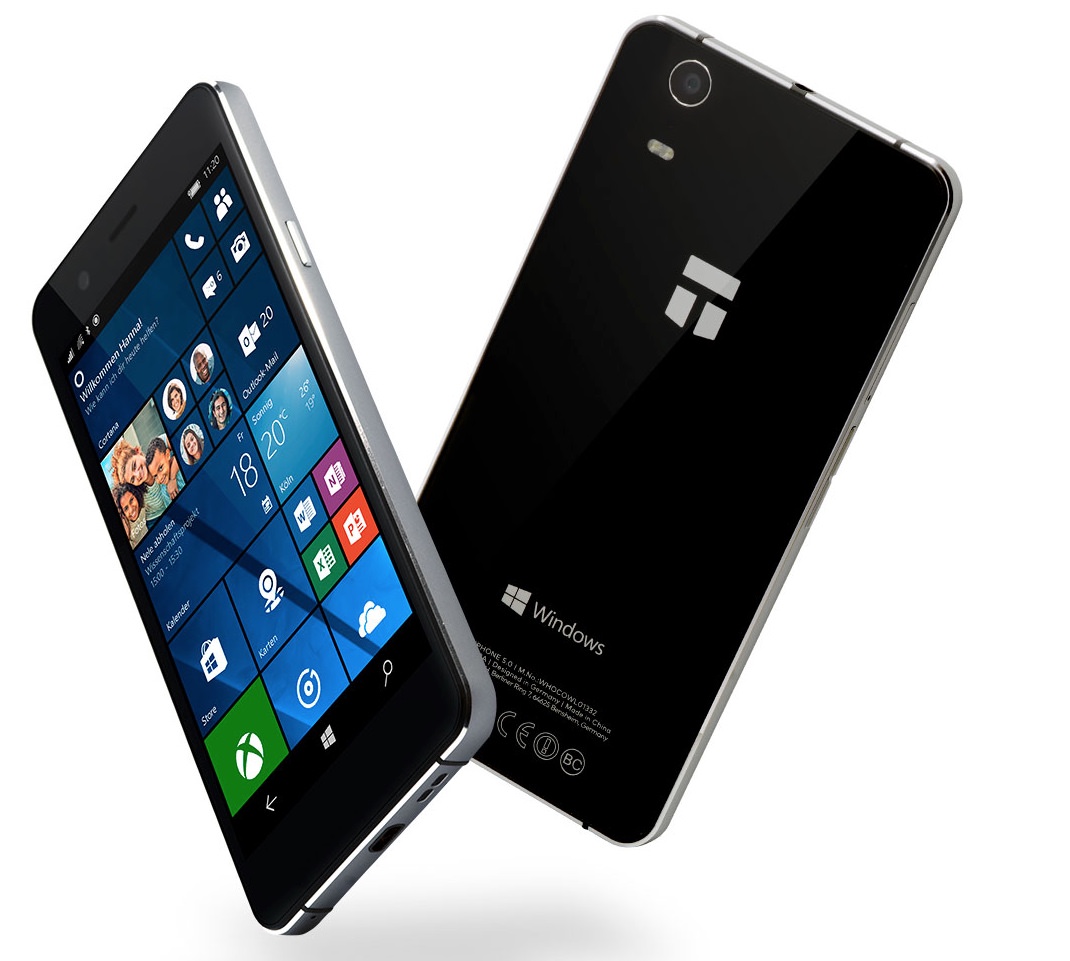 The cheapest Super Early Bird price starts at 209 EUR, the RRP is 249 EUR. Here's the campaign link.
Basic specifications include:
5" IPS LCD 720p screen with Gorilla Glass 3
LTE speeds
Bluetooth 4.0
Dual-band WiFi (802.11a/b/g/n/ac)

Snapdragon 617 chipset with 3GB RAM
32 GB storage plus microSD
13MP main camera and 5MP FFC
Continuum compatible (wireless only)
Glass and metal design
2250mAh battery
3.5mm headphone jack
microUSB data/charging
150g, 142.4 x 71.4 x 7.6 mm
It's tough to be too optimistic though, even with an 'early bird' price of 209 Euros - I'm sure there are some Windows 10 Mobile completists (FX: looks in mirror) out there who will jump on this, but launching a new mid-ranger without a single unique selling point at this stage in Windows phone history seems doomed to disappointment, however worthy the intentions. The saving grace may be the 'replacement' market - see the comments below.
________________________
I've interviewed Simon Wiedemann from Trekstor about the new phone (to be):
How many Super Early Bird purchases at 209 Euros will be allowed?
There will be 50 on offer initially.
Tell us (AAWP) about the overall Kickstarter goal and how you arrived at this figure?
Yes, we calculated the necessary amount to recover our cost for this product, which ended up around 2,000 pieces/users. Given early bird pricing and other variables, we fixed the goal at 500k.
Was there a lower goal that was practical in terms of ordering and tooling? Just curious!
No, this is the lowest feasible number.
What was the thinking behind the WinPhone 5.0 LTE project? Did you have specific business customers in mind?
In your press release, you talk about a Trekstor IoT wearable - tell us about it and why the WinPhone 5.0 LTE is a good fit?
Let me combine the answer to these two questions. We created an IoT Smartagent based on Windows IoT Core. This device has been released and showcased at IFA in Berlin (more info here). Part of this showcase was the Winphone 5.0, which was as a companion device. The Smartagent itself is a primary device, functioning without any partner, but the idea was there anyhow to allow for having a bigger screen for certain functions. So at IFA, having it next to the Smartagent, it attracted some interest and made us start thinking if we should and how we should market the device for the end user, clearly knowing that the Windows Mobile market was on the decline, but also realizing the advantages of our device over other, older Windows Mobile devices.
Why would a customer buy this over an equivalent priced Android handset with similar specifications? Is it all about Continuum?
Continuum surely is a factor, but we also see this as a replacement device for users of other Windows Mobile phones and therefore there is a factor of convenience when switching phones. Same reason why other users stick with their OS even faced with inferiority.
Why did you specify the old micro-USB standard for cabling (rather than Type C) and can this be used for Continuum?
No, it can't be used for Continuum, this will only work wirelessly. micro-USB was chosen over USB-C because the latter requires a different board and ended up creating a lot of heat.
What happens next in terms of production and wider distribution if your goal is met? How high do you aim?
Right now this is a Indiegogo exclusive offer, but let's see. Nothing is off the table.
What version/branch of Windows 10 Mobile will this start with? Fall Creators Update? And have you already put the pieces in place for Device Recovery Tool support and for push updates?
Currently the software is still on RS2 (Creators Update). But we already specified that if the campaign is successful, we will update it to RS3 (Fall Creators Update) and deliver the device with it.
_______________________
Thanks, Simon! The point about replacement devices is a good one, since people with Lumia 650 or even 950 devices, let alone older phones, are having real issues replacing them with new hardware in order to stay within the ecosystem.
Here's the promo video:
In the meantime, Windows United got some hands-on time with a sample (here translated from German by Google):
The Trekstor WinPhone comes over very stylish. With its matt metal edge, whose corners are polished to a high gloss, it looks very noble. Since the corners are chewed properly, it feels a bit "edgy" and not flattering round. This is not unpleasant, it gives a good sensory feedback, as the phone is currently in the hand.

The back is made of glass. Anyone who remembers my review of the Alcatel will also remember that I found the glass back of the Alcatel uncomfortably smooth, it was very slippery. This is different here at the Trekstor, the coating of the glass has to be different, it is not that slippery. But the back is also a bit more sensitive to finger dabs.

As always, I look at the phone in terms of usability for left-handers. The power button is almost opposite the volume buttons (the volume buttons are one idea lower). The result is that you have to grab with the right hand exactly if you do not want to accidentally take a screenshot or land in the feedback hub. In the left hand, the power switch is a bit high for the index finger, the volume keys are a bit too deep for the thumb, you have to embrace something, depending on what you want to achieve.

That Windows Hello is not available here, because no iris scanner and no fingerprint sensor are installed, can be a disadvantage for one or the other. However, what bothers me the most is that the "look" screen is unavailable.

The device is clearly designed as a business phone: No more gimmicks. The mono speaker, which is located on the lower side edge, corresponds in its quality approximately to the Lumia 950xl. However, I find the arrangement of the speaker is very good: For right-handers, the palm is automatically used as a reflector, so you can reduce the volume a bit and listening in the hand is primarily self and then only the environment sonicated.

The Trekstor boots a lot faster than the Lumia. When Trekstor the start screen is already there, when the Lumia the second time the Windows window comes, including Wi-Fi. Also when starting the apps the Trekstor is faster. All apps start at least a tick or a lot faster than on the Lumia. I especially noticed the difference in the OneDrive app.
As with the ill-fated Wharton Brooks campaign earlier this year for a similar mid range Windows 10 Mobile phone, I fear the same will happen again. Mid-range and even budget phones can only ever succeed in the shadow of more premium, unique and exciting offerings. And this isn't really that..
Maybe Trekstor can find business backing and customers, maybe Microsoft can pitch in to help, given that the phone is listed in some official stores - I wish it well. From the sidelines!