[Note: I've rewritten the 'Insiders' parts of this new story in the light of the new (unannounced) Fast ring build appearing about an hour after this production build became available and, and of new information in the comments below from helpful developers....]
To help you visualise where we are in terms of the window for these monthly OS updates, let me lift a graphic from the previous editorial: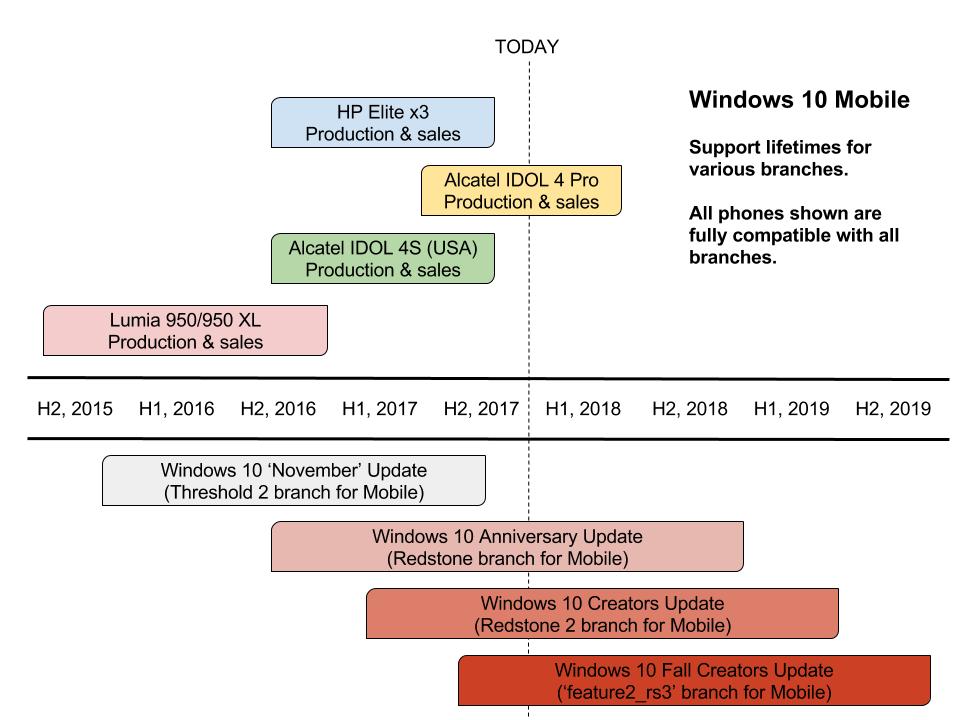 Now that the Fall Creators Update ('rs3', at least in name) is the 'production' branch of Windows 10 Mobile, we are seeing 'Patch Tuesday' fix round-ups for it, with the official list for 15254.124, the 'December 2017' update' mainly composed of minor fixes and security patches, at least in terms of mobile relevance. Again, it's still significant to see this arriving simultaneously for 'mobile' in lock step with 'desktop', in terms of the under the hood modules. And, as usual and as per the graphic above (the rectangles in a shade of red), all other supported Windows 10 Mobile branches are getting updates too, so all those older phones (Lumia 930, 830, 735, 640, etc.) finishing life on the Anniversary or Creators Update (if the user was smart enough to go via the Release Preview Insiders ring!) aren't losing out on the core security fixes, at least.
The official changelog (for Mobile) is trivial:
Addresses additional issues with updated time zone information.
Security updates to the Microsoft Scripting Engine, Microsoft Edge, and Windows Server.
As usual, in today's malware-strewn and fraudulent times, we should never disregard security fixes (e.g. to the Edge browser) though, so update today in all affected mobiles, just in case! And yes, I'll do another update to my various device/branch table in the near future, to make it clear where each phone should sit.
Phones on the Creators Update should advance with this release to build 15063.786, phones on the Anniversary Update should advance to 14393.1944. In each case you get the core security and component updates, though obviously without any subtleties in functionality introduced in later branches.
As ever, with all phones, head into Settings/Update & Security/Phone update in order to get the update immediately.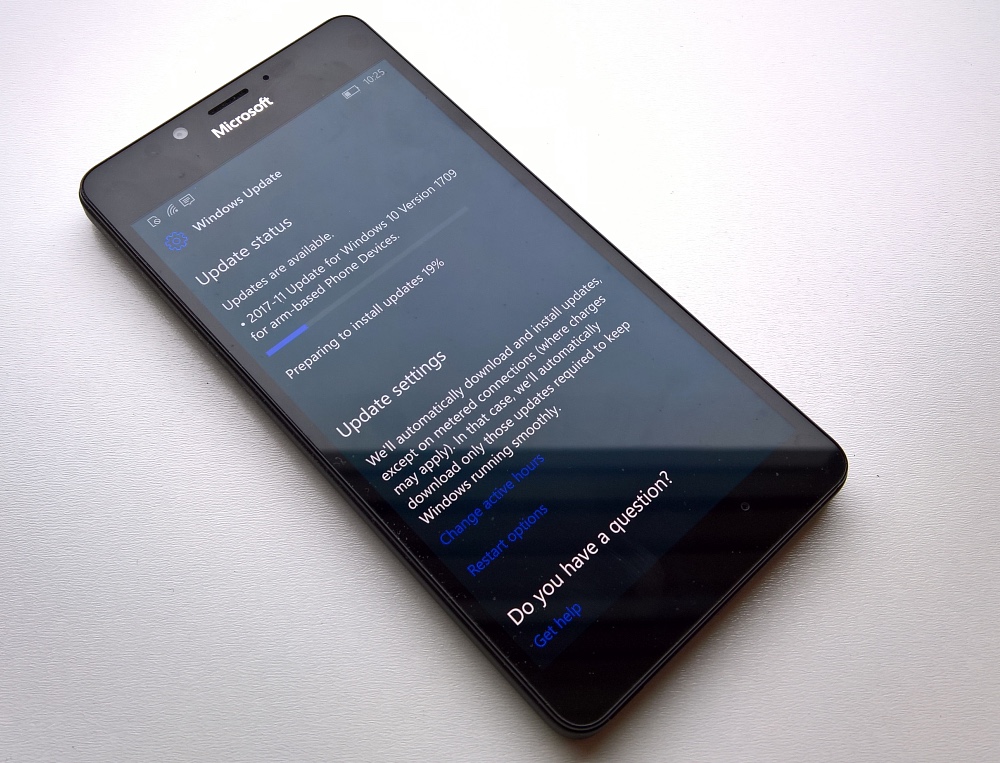 Original text:
The other main observation, as per my headline, is that there have been no significant Insiders programme releases this month (or indeed last month), though as per the comments below it seems that a build is also coming out today for devices on the various rings, probably just mirroring the security fixes.
And Insider builds are probably not worth bothering with for Microsoft, since the changes from month to month are small enough (and common enough to Desktop) to just be tested internally? At which point I'm calling it - the Insiders Programme is now effectively defunct and anybody with a Windows 10 Mobile-running smartphone should now leave the programme (in Settings) and live with the month updates on 'production' status instead.
PS. There's still a possible place for the Insiders Programme for Mobile as a way to jump between branches, but this is all controlled server-side and I'll only test this for specific older phones if there's enough demand, since it's very time intensive.
PPS. There's also a possible place for the programme as a way to roll out earlier versions of core Windows UWPs to enthusiasts first. But I can't see an easy way to reconcile this with also picking up the monthly production updates.
It seems that the Insiders Programme is to continue for Windows 10 Mobile after all, with the Fast ring picking up build 15254.16 and without the '.rs3svc' tag, implying that this branch will go all the way to Redstone 4 in Spring 2018 and then be formalised with a '.rs4svc' tag. This will, impressively, take compatible phones (including the Elite x3, IDOL 4 Pro, Wileyfox Pro and the Lumia 950 range - via Insiders) up to a branch level where they'll be supported with monthly security patches until Autumn 2020.
I wouldn't hold your breath for a fast cadence of Fast ring releases though, once a month at most, and note that no major new features are being added to the OS at this stage, it's just keeping under the hood compatibility with as much of Windows 10 branch (e.g.) '1804' on the Desktop as possible.