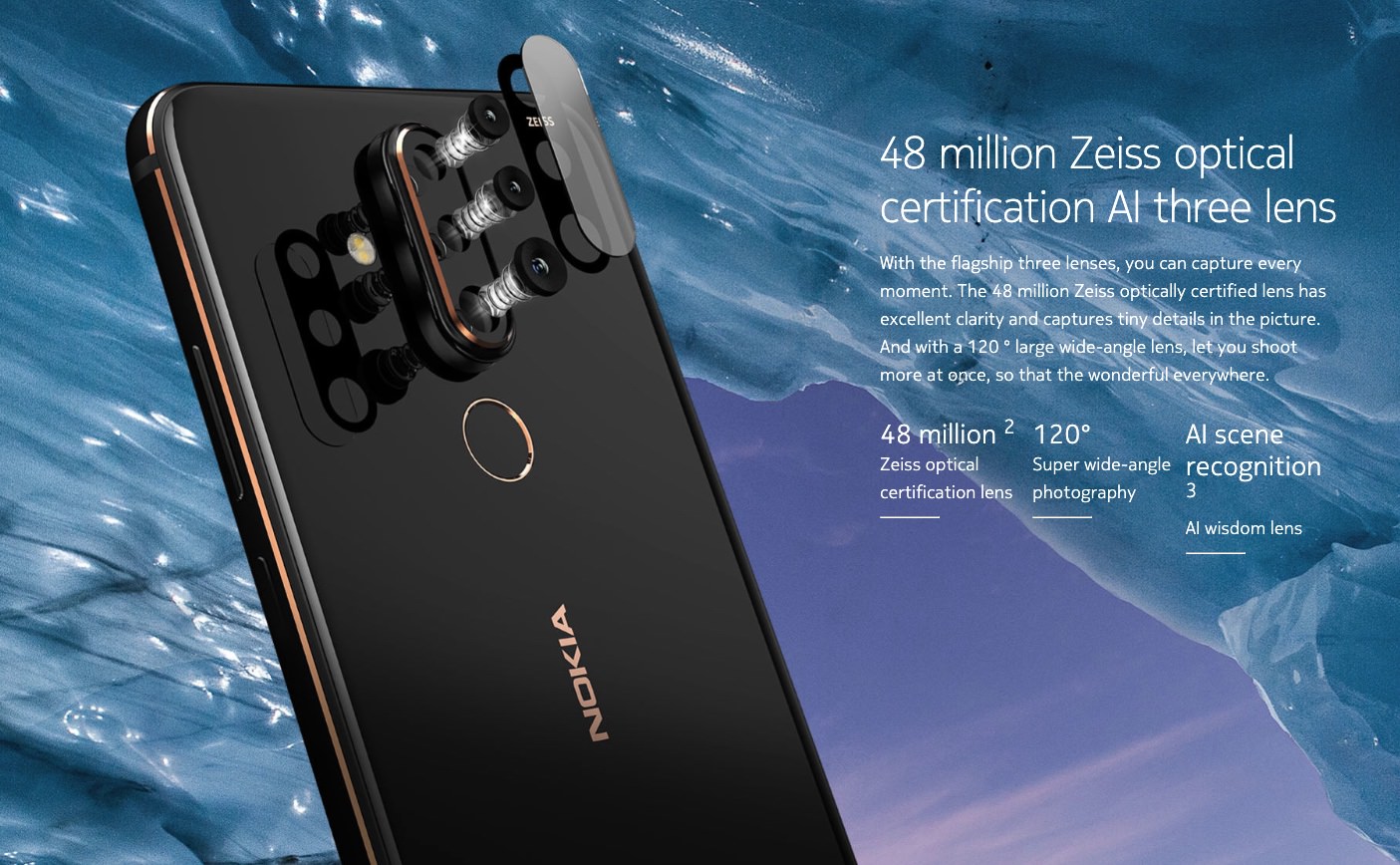 The graphic above is auto-translated from Chinese, and all the other data I have is similarly scraped from the Chinese announcement, so I'll have a go at a parsed, English specs list:
Runs Android 9
6GB RAM
Snapdragon 660 chipset
6.4" 19.3:9 'PureDisplay'
157.19 x 76.45 x 7.98mm
180g
GSM: 850, 900, 1800, 1900; WCDMA: 1, 2, 5, 8; FDD-LTE: 1, 3, 5, 7, 8, 28; FDD-LTE: 38, 40, 41; [this is the Chinese variant, no doubt the European version will have 'our' LTE bands]
WIFI 802.11 a/b/g/n/ac
Bluetooth 5.0
GPS/AGPS + GLONASS + Beidou
128GB storage plus microSD
3.5mm audio jack
'Smart' loudspeaker [whatever the heck that is!]
Nokia Ozo advanced microphones
48MP main camera [probably quad-Bayer outputting purer 12MP shots]
8MP wide angle lens
Depth camera
16MP front camera
USB Type C data/charge, USB on the Go
Capacitive fingerprint sensor
3500mAh battery
Now this is much more like it. Every feature an ex-808 or Lumia flagship user might want, including a decent camera, wrapped up in a tough handset under the Nokia brand. I'll be first in the queue for whatever this becomes in Europe when it's available (I'm guessing June or July) and I'll report back.
On the imaging front, the pixel-binned 12MP output should be close to what we associate with the old 'PureView' oversampled system, and there's also still the 2x lossless zoom, of course (the algorithms get round the Quad Beyer system with clever colour guessing at the pixel level). The only disappointment on the face of it is that there's no mention of OIS on that main camera, Lumia 1020 style, but then modern sensors and chipsets are now fast enough that unless light is very low indeed a large sensor like this may not need stabilising.
So plenty of questions from my end, all of which will be answered in due course. Is it possible that 'optical certification' is a mis-translate from the Chinese for 'optical stabilisation'?
Comments welcome - does this tickle you more than the Nokia 9 PureView, both from an imaging perspective and as a smartphone.