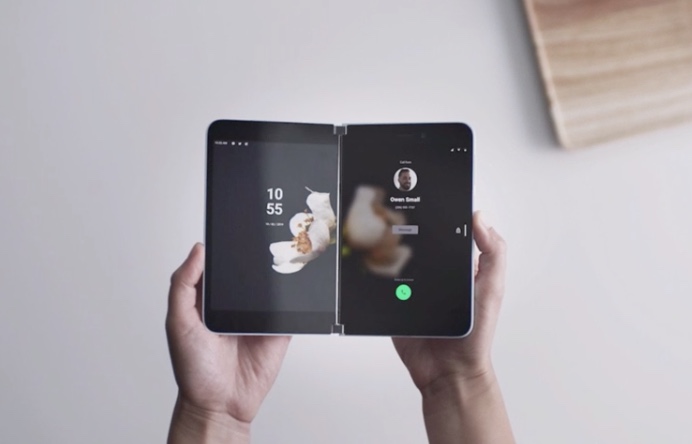 Operating System
Android 10
Display
2x 5.6 inch, 4:3 aspect ratio, 1800x1350 (401 ppi) resolution, AMOLED
Processor
Qualcomm Snapdragon 855
Memory
6GB RAM
Storage
64GB
256GB
Expandable Storage
None
Camera
11MP, ƒ/2.0 1.12um
Security
Fingerprint
Ports
1x USB-C
nanoSIM slot
Battery
3460mAh
Pen
Surface Pen

The device will be launching with Android 10, but I'm told it'll be updated to Android 11 relatively quickly. Microsoft is aiming to finalize the apps that will be preinstalled on Surface Duo by early June, and create a factory OS image that will ship on the hardware out of the box. All of Microsoft's first-party apps that are preinstalled on Surface Duo will support spanning across both displays and have drag and drop capabilities between two different apps where applicable. Not all third-party apps on Android will support this functionality, as it will be up to developers to implement those capabilities.
Helpfully, Zac also includes a section on what we still don't know:
While we now know most of Surface Duo's internal specifications, we still don't know everything. We don't know if Surface Duo is IPXX rated, we don't know anything about its audio setup, or overall device dimensions. And although we know the on-paper specs for the camera, we still don't really know how well it performs in the real world. I'm told not to expect iPhone or Pixel level quality, but it should be good enough for most people.

We also don't know its price, which is going to be the deciding factor for many people. It's likely Surface Duo will be priced comfortably inside the "premium smartphone" segment of the market, but just how premium is something we'll have to wait and see about.

It's important to remember that Surface Duo isn't about raw specs; it's about form factor. Most of the innovation coming out of Surface Duo is in the 360-degree hinge and dual-display setup, which I'm told is unlike any other dual-screen phone we've seen before. That said, Microsoft needs to launch this device as soon as possible, because its use of last year's processor, paired with the large bezels, and lack of NFC or wireless charging, means this device will age faster than others launching in the second half of this year.
All very interesting, and I'd echo the concern about those large bezels in 2020, despite the cleverness of the hinge. Most of all though, I'm concerned about:
Imaging. Although Zac is right in that a good-ish 11MP f/2.0 camera is 'enough' for the target user, I'd also point to Microsoft's Lumia heritage and an expectation of a camera which is capable of at least keeping up with the iPhones and Galaxy Notes of this world. However, the constraints of the super-thin form factor do seem to dictate that a small camera module is needed, with no sign of a fancy two-part camera, as hinted in some patents.
Battery. I've been reviewing 2020 flagship phones and most of them over-deliver in the battery department, with 4000 or even 5000mAh cells inside. Just how is 3460mAh going to power two AMOLED panels for six hours of screen-on time per day? And with no Qi charging to fall back on for top-ups between use?
NFC. Zac writes that current units don't have this. And while Americans may not think it important, they're wrong. For without NFC there's no way to do 'tap to pay', such as with Google Pay. In these COVID-19 times (which will still be around to some degree for years), the more contactless ways to pay for things the better, and in Europe I use my phone to pay for almost everything. No NFC, no sale, Microsoft. At least to me. Is it too late to add this in a late pre-production run? I suspect so, sadly.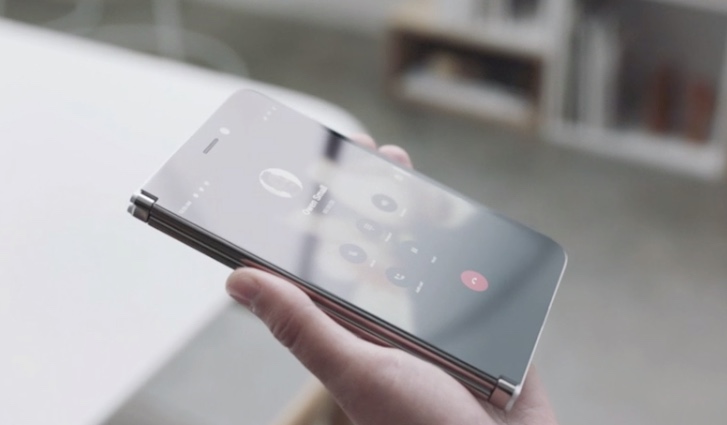 Your comments welcome - is this still on your 'to buy' list or is it slipping? For me it's the latter, but on the bright side I may just have saved myself £1200* or so!
* This is my guess at price. This includes the Microsoft 'Surface tax'! And yes, I think the price would have to be sub-£1000 to even stand a slim chance in the marketplace, but I don't think Microsoft will go there.