Straight from the horse's mouth, here's the 'what's new', curated quite a bit by me to just show expanded detail where it's interesting for consumers, i.e. you and I:
Specialized Displays in Windows 10 Enterprise and Windows 10 Pro for Workstations

Phone calls displayed on a laptop

Bringing your smartphone and Windows PC closer together. The May 2020 Update brings the popular Your Phone app's Calls feature to ARM supported PCs from Microsoft and our OEM partners. You will now be able to place, receive, or text reply to your incoming phone calls directly on your PC without having your Android phone right next to your PC. That's not all, with the Your Phone app, you can stay in your flow by sending or receiving texts, checking notifications and getting instant access to your Android phone's photos and apps via your computer's large screen and keyboard.


Improved disk usage for Windows Search

Quick searches now in Search Home

To help you find the info that matters even faster, we've added four quick web searches to your Search Home:

Weather: Get current conditions and the upcoming forecast
Top news: Read the latest headlines from popular news sites
Today in history: Explore four events that happened on this day
New movies: Find out what's playing in theaters near you
Occasionally, we'll also feature a seasonal topic or interesting quiz.

Note: This is a server-side change that's currently rolling out and will appear for users across builds from version 1809 to 20H1. Currently, quick searches are only available in the US, but will be available soon internationally.


Updated design for web preview in search results

More kaomoji

Preview new DirectX 12 features

See gaming in a whole new light. New DirectX 12 Ultimate features provide smoother graphics with increased detail—all without sacrificing framerate.


Windows Hello PIN in Safe mode

Connecting network cameras to Windows 10 devices

Enabling automatic restart for UWP apps

We already introduced a new separate setting to control if registered desktop apps from your previous sign-in session are restarted when signing back in to Windows. In the latest builds, in addition to registered desktop apps, when you opt into this setting, the majority of open UWP apps are now also automatically restarted as well! To reduce sign-in time, UWP apps are restarted minimized, in a suspended state, giving Windows and other apps more resources to get started. To try it out:
Go to Settings > Accounts > Sign-in options and turn on "Automatically save my restartable apps when I sign out and restart them after I sign in." under "Restart apps".

Xbox Game Bar Updates

Customization and utility at your fingertips. Xbox Game Bar now supports third-party widgets, helping you customize the overlay experience to fit with the way you game.


Improving your Bluetooth pairing experience

For Windows 10, version 1803, we announced a new streamlined experience for pairing supported Bluetooth devices. The idea was simple—if a supported device was nearby and in pairing mode, we'd show a notification that prompted you to go through pairing. This saved you from opening Settings yourself and finding the right place to go. Today, we're rolling out an update with improvements we hope you'll like. Here's what's new:
Pairing is all done in notifications now. You don't need to go to the Settings app anymore to finish pairing.

The new Cortana chat-based experience is here*

Your personal productivity assistant now has an updated chat-based user interface where you can type or speak requests in natural language to save time finding what you need and stay on track. For the best experience, sign in with your work or school account and connect with people, check your schedule, add tasks, set reminders and more. * Starting in the USA with 'American English'


Option to move the Cortana window

Memory improvements in Microsoft Edge

The browser is the most used application and where people spend a large portion of their time on Windows. Segment heap has been the default heap for UWP apps for a while now. Windows is excited to announce that one of the first Win32 applications that will take advantage of segment heap capabilities is Microsoft Edge. The early internal testing results of devices on the May 2020 Update are showing a memory usage reduction of up to 27% when browsing with Microsoft Edge. Individual device performance will vary based upon configuration and usage, but the lower memory usage could provide a better device experience because more memory would be available for apps to use. Microsoft will be opening this capability to more developers very soon with supporting materials. Developers that take advantage of the expanded availability of segment heap memory improvements can also optimize their Win32 app memory utilization on Windows.


Reset your PC from the cloud

Reset this PC provides users a new choice to download Windows or use local reinstall. Previously, Reset this PC was only able to do a local reinstall and would build a new Windows installation from existing Windows files. When this feature was introduced in Windows 10 version 1507, it provided the advantage of enabling Windows to be recoverable without requiring extra disk space to store a compressed, backup copy of Windows in a hidden partition. We've heard feedback that some of you would prefer to use your high-speed internet connection to speed up this process by just downloading Windows.
Note: This is a recovery operation and will remove apps you have installed. Additionally, if the "Remove everything" option is selected, user data will also be deleted. The cloud download option will reinstall the same build, version, and edition, that is currently installed on your device. This new cloud download option is available to all Windows 10 devices and is different from the "Recover from the cloud" feature available on some earlier Windows 10 devices.


Control over restarting apps at sign-in

GPU temperature comes to Task Manager

Renaming your virtual desktops

Now instead of "Desktop 1" or "Desktop 2" you can give your Virtual Desktops more descriptive, clever, or amusing names. Using Virtual Desktop in Windows 10 allows you to expand your desktop beyond the physical limitations of the space, organize groups of related tasks, and easily switch between them. Tackling what you want to—when you want to—just got a whole lot easier.


Adding Mouse Cursor speed to Settings

You can now set your mouse cursor speed from within Settings! This is the latest piece of our larger ongoing effort to converge Settings and Control Panel experiences. You can find the setting under Settings > Devices > Mouse.


Notepad improvements

Notepad has been a well-loved text editor in Windows for over 30 years. Over the last few releases, we've been making a number of small improvements to Notepad based on your feedback including:


Wrap-around find/replace: We've made significant improvement to the find/replace experience in Notepad. We added the option to do wrap-around find/replace to the find dialog and Notepad will now remember previously entered values and the state of checkboxes and automatically populate them the next time you open the find dialog. Additionally, when you have text selected and open the find dialog we will automatically populate the search field with the selected text.
Text zooming: We've added options to make it quick and easy to zoom text in Notepad. There is a new menu option under View > Zoom to change the zoom level and we display the current zoom level in the status bar. You can also use Ctrl + Plus, Ctrl + Minus and Ctrl + MouseWheel to zoom in and out and use Ctrl + 0 to restore the zoom level to the default.
Line numbers with word-wrap: A long outstanding request has been to add the ability to display line and column numbers when word-wrap is enabled. This is now possible in Notepad and we've made the status bar visible by default. You can still turn the status bar off in the View menu.
Modified indicator: Notepad will now show an asterisk (*) in the title bar before the title of a document to indicate that a document has unsaved changes.
UTF-8 Encoding: We've made significant improvements to the way Notepad handles encoding. Starting with this build, we are adding the option to save files in UTF-8 without a Byte Order Mark and making this the default for new files. UTF-8 without a Byte Order Mark is backwards-compatible with ASCII and will provide better interoperability with the web, where UTF-8 has become the default encoding. Additionally, we added a column to the status bar that displays the encoding of the document.

Changes to your account picture in Windows

Changing the picture for the account you use to sign in to Windows is now better than ever! Your updated picture will now show up quickly across Windows, apps, and many of the Microsoft sites you use every day. Previously, you might see as many as three or four different pictures for your account in different apps and sites at one time. Its super easy to try out – just go to Your info in Windows settings and change your picture there!


A redesigned Network Status page in Settings

Based on your feedback, we're revamping the Network & Internet landing page in Settings to provide more information at a glance about your device's connectivity, combining several pages to give you one clear view of how you are connected to the internet.


Go passwordless with Microsoft accounts on your device

For improved security and a more seamless sign-in experience, you can now enable passwordless sign-in for Microsoft accounts on your Windows 10 device by going to Settings > Accounts > Sign-in options, and selecting 'On' under 'Make your device passwordless'. This will strengthen your device sign-in by switching all Microsoft accounts on your device to modern multifactor authentication with Windows Hello Face, Fingerprint, or PIN, and eliminating passwords from Windows.

Lots that's worth having, though the one that stood out for me (being an IT geek) was being able to fully reset a PC without having to worry about current OS state, OS disk images, recovery CDs, hidden partitions, or USB sticks. Get into trouble with Windows that's corrupt and 'foobar' and everything can be fixed with an hour and a fast Internet connection. This catches Windows up to what Apple has been doing with Macs for the last few years.
Also the continuing better integration of the Your Phone system, but I'll cover that in more detail next month.
Now, if I know Microsoft (and I do), this rollout will take months before it's available in your corner of the world, so the big tip here is to download Microsoft's 'Update Assistant'. Type the utility's name from your Start menu and you'll be taken to the download page online. Click on 'Update now':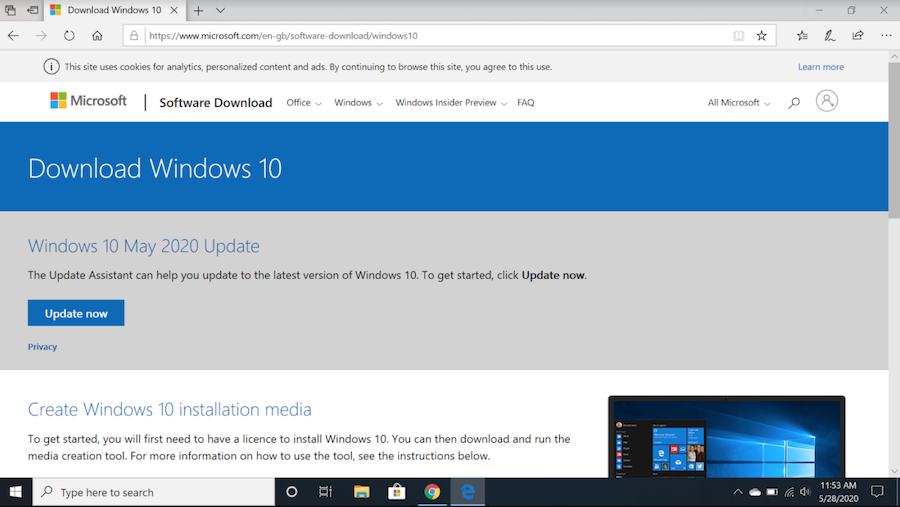 This will download Update Assistant. Run it: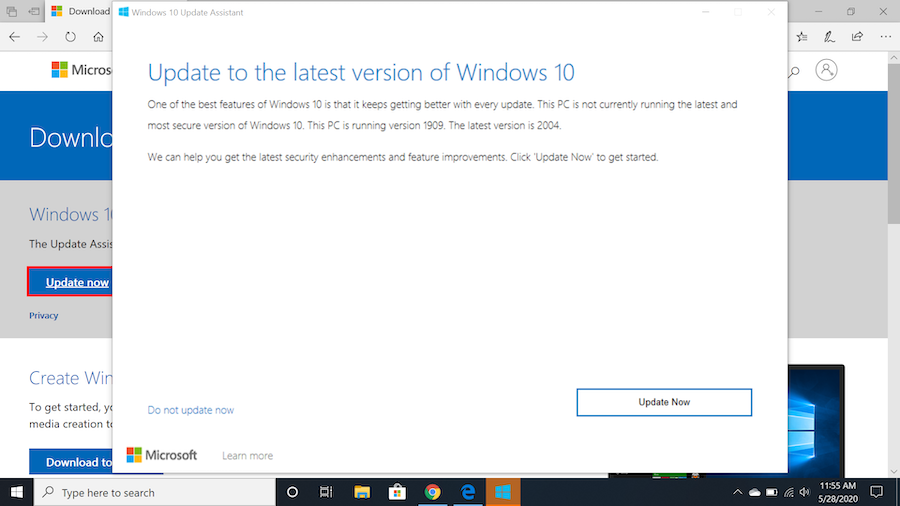 It'll automatically give you the very latest official Windows 10 version for your PC (note '2004' above), regardless of where you are in Microsoft's rollout queue...
Have fun, Windows 10 continues to get better and better. (Even if our phones are long since frozen at version '1709'!)