Review:
Tube Download
Score:
78%
To be specific this app is "YouTube Download", and that title tells you everything you need to know about what the app is for. Does it work? The short answer is yes, but with Windows Phone 7's multitasking and security model, that not the whole answer.
Version Reviewed: 1.8.0.0
Buy Link | Download / Information Link
The debate around streaming your media or having a local copy is as divisive as Bernard Lee vs Judi Dench. Tube Download allows you to pull down YouTube videos to watch offline on your Windows Phone handset. Now there's no need to wait for your download speed to catch up while the cache is empty, and you can happily watch the latest Taylor Swift/Napalm Death mash-up even when you are out of coverage.
The process is a pretty simple one. You search and find your video, you press the download button, choose the quality of the video you are going to download, and Tube Download will do the rest of the work for you.
Once the videos are downloaded, you can build up playlists of the downloaded videos inside the application, or watch single videos on their own. Launch any video and you will be greeted with the built in video player controls familiar to Windows Phone users.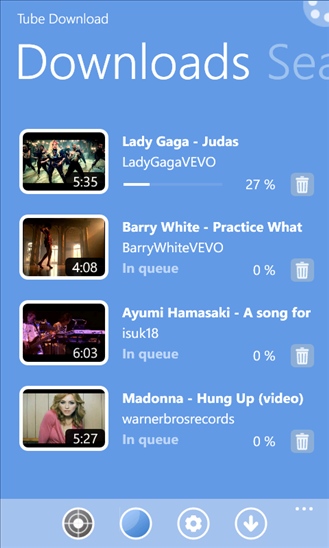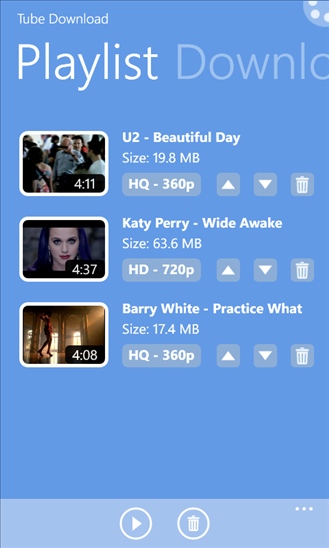 It's important to note that because of the silo'ed nature of Windows Phone applications, these videos are not directly available in the Videos section of the Media Player - they will (forever and a day) only be available through the Tube Download application.
This isn't as painful as it might sound, because media applications are well integrated across Windows Phone. Tube Download appears as a media application in the Music+Video hub, and any videos or playlists that you have watched with Tube Download will show up in the 'new' and 'history' lists (handily with their caption in a blue title strip at the bottom of the tile so it's clear where they came from).
Because of the silo, Tube Download needs to be opened to hand over the video to the built in media player. This means you'll catch sight of a splash screen before the video starts to play, which isn't perfect, but I can live with that for this useful app.
And it is useful for me. One of my loves is the Eurovision Song Contest (really? I hadn't noticed... - Ed), and at this time of year there are hundreds of songs across the continent looking to be their country's Song for Europe. Are these glorious slices of musical misery on Spotify? Xbox Music? Amazon Music? Nope. Are they on YouTube? Quite frankly, the place is swarming with them.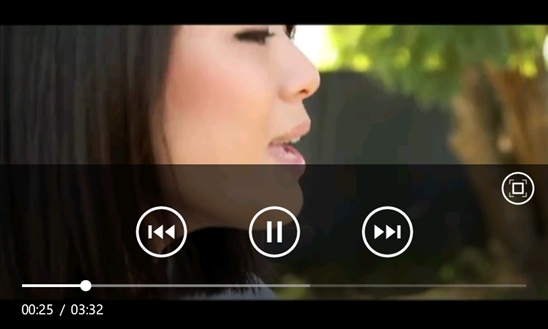 Tube Download is the easiest way to get these onto my phone. When you are looking at cloud music services, YouTube is probably the largest on-demand cloud music service online (and it's free). Though the tools to use it in the same way as Spotify need to be hacks and third party interfaces, like Tube Download.
With the native code access that Windows Phone 8 offers, I suspect Tube Download could integrated completely with the music+video hub. Until then, it does the very best I think you could do with Windows Phone 7. If you grab a lot of video then you are going to use up a fair bit of storage, but this is a useful application that is constantly maintained by the author. It's staying in my app toolbox, and it's one that I think many AAWP readers will want to consider.
Reviewed by Ewan Spence at