Some of the key data points from this month's AdDuplex global report include:
The Nokia Lumia 520 and 521 collectively represent more than a third 38.8% of active Windows Phone devices. An estimate based on these numbers suggest between more than 20 million Nokia Lumia 520/521 devices have been sold.

The Nokia Lumia 620 is now the second most popular active Windows Phone device (6.7%), having displaced the Lumia 920 in the last month. The Nokia Lumia 625 is also a popular device, has moved up a plac to fourth since last month, and should move into third place next month.

Nokia's more recent flagship (high-end) devices are not in the top ten most popular devices: Lumia 1020 is 1th, Lumia 1520 is 20th, Lumia 1320 is 23rd, and Lumia Icon is 38th.


46.8% of devices observed by AdDuplex have been upgraded to Windows Phone Update 3 (GDR3 / Lumia Black)

Globally the Nokia Lumia 520 remains the most popular Windows Phone device by a big margin (35.4% of active Windows Phone device), it is followed by the Nokia Lumia 620 (6.7%), Nokia Lumia 920 (6.5%), Nokia Lumia 625 (5.9%), Nokia Lumia 720 (5.4%), Nokia Lumia 710 (5.2%), Nokia Lumia 820 (4.4%), Nokia Lumia 521 (4.3%), Nokia Lumia 820 (4.0%), Nokia Lumia 800 (3.8%), and the Nokia Lumia 610 (3%). Other Windows Phone devices make up 20.6% of the active Windows Phone device base.
The AdDuplex data allows us to make a rough estimate of the number of active Windows Phone devices. Adding up known shipping totals, while allowing for the fact that some devices are no longer being actively used, we can estimate that there are around 55 million active Windows Phone devices. This would suggest Nokia has sold around 19 million Nokia Lumia 520 handsets in total.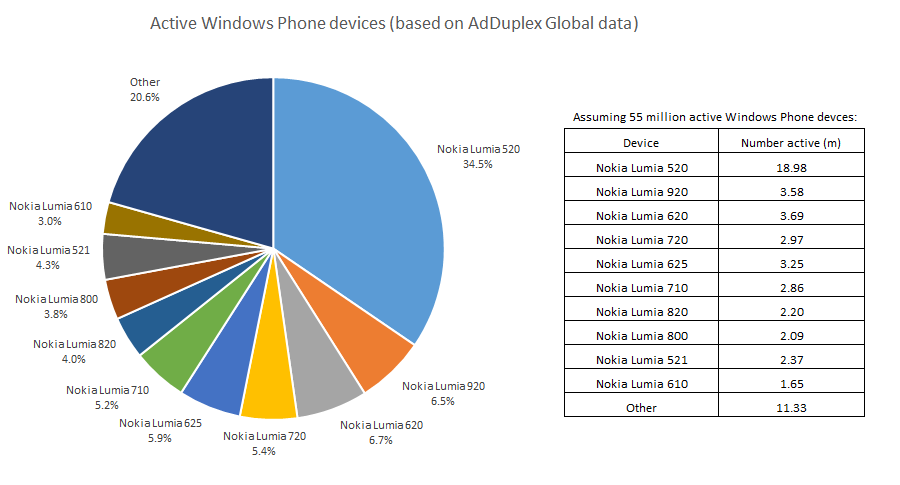 In terms of month to month changes, we are now starting to see the older Windows Phone 8 devices declining in the rankings (e.g. Nokia 920, 820, 720). This is a trend we expect to continue as the next generation of devices comes on stream. The Lumia 625 continues to sell well, primarily a result of its low cost. This would suggest we may see the Lumia 1320 be the first of the generation 3 devices to enter the top ten.
The chart below, which shows a summary of the AdDuplex global device data from the last fifteen months, gives a clear illustration of how the lower specification Windows Phone devices are making up an ever increasing proportion of Windows Phone devices. It is most clearly seen in the rise of the Lumia 520, but a similar pattern can also be seen for the Lumia 620 and 625.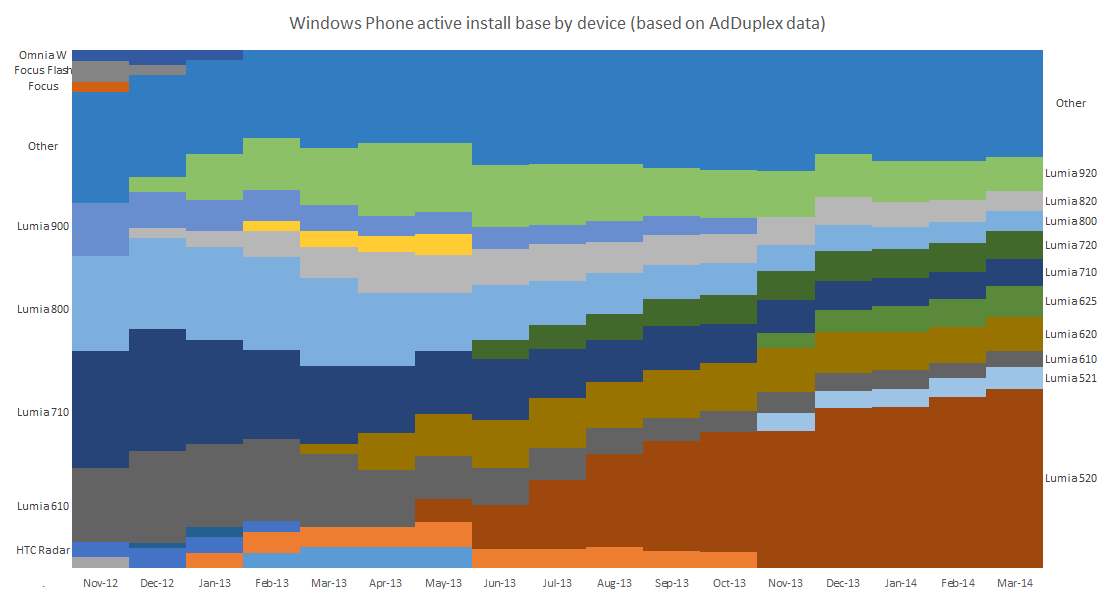 The global figures hide considerable regional variations. The full AdDuplex report has the numbers for the US, Greece, France, Poland, India, Ukraine, and Malaysia. The popularity of the Lumia 520 is apparent in almost all markets, but some countries, such as the Ukraine, show slower adoption of Windows Phone 8.
Nokia remains the leading device manufacturer for Windows Phone devices, and 93.5% of active Windows Phone 8 devices are made by the Finnish manufacturer. HTC remains in second place on 4.3%, Samsung in third with 1.3%, followed by Huawei in fourth place with 0.8%. We expect this to start changing in a few months time as other manufacturers announce and release Windows Phone 8.1 device. Companies like Karbonn and Lava are expected to introduce low cost devices that will compete against the Lumia 520.
Windows Phone 8 devices now represent 80.9% of all active Windows Phones. This number is likely to peak in the next few months, ahead of the arrival of Windows Phone 8.1. We anticipate that April or May will be the peak figure month for a single version of Windows Phone for some time to come.
AdDuplex has also shared data on the number of devices running the different Windows Phone 8 updates. Windows Phone 8 Update 3 is on 46.8% of devices observed by AdDuplex, followed by Windows Phone Update 2 (41%) and Windows Phone Update 1 (12.1%).

Previous reports: July 2013, August 2013, September 2013, October 2013, November 2013, and February 2014.