Non-IFRS results exclude special items for all periods and can be seen as measures of underlying performance. Usually there is only a small difference between the two sets of results (e.g. the two figures for Q1 2011 operating profit for Devices and Services were €690m and €692m). In Q2 2011, these include charges related to restructuring (e.g. €297m in Devices and Services) and a variety of charges related to acquisitions. More details are available in Nokia's detailed report.
A Reuters poll of 27 analysts prior to the release of the results predicted an underlying profit of €103 million, but predictions were wide ranging due to an anticipated payment from Apple for licensing fees from the recently settled patent litigation. The actual figure was €391 million, beating expectations. Sales were also slightly ahead of expectations (9.3 billion versus 9.2 billion), but total devices sales were significantly lower than expected (88.5 million versus 95.5 million). In response to the news, Nokia share price is up approximately 5%.
These results follow Nokia's May announcement that its second quarter results would be "substantially downgraded from its previous outlook".

Stephen Elop said:
"The challenges we are facing during our strategic transformation manifested in a greater than expected way in Q2 2011. However, even within the quarter, I believe our actions to mitigate the impact of these challenges have started to have a positive impact on the underlying health of our business. Most importantly, we are making better-than-expected progress toward our strategic goals..."

"...Thus, while our Q2 results were clearly disappointing, we are executing well on the initiatives that are most important to our longer term competitiveness. Some progress is already evident, and thus we are targeting to end this year with more net cash and liquid assets than at the end of Q2 2011. We firmly believe that our deliberate and unwavering commitment to making the changes necessary at Nokia is the right way to deal with the disruptive forces in our industry and drive value creation for our shareholders."
As a result of the fall in smartphone sales, Nokia's 15 year reign as the number one smartphone manufacturer comes to an end. Its 16.7 million units in Q2 were exceeded by Apple's 20.2 million, reflecting the problems facing Nokia in the smartphone space.
Looking forward, Nokia expects its non-IFRS Devices and Services operating margin in Q3 to be just above break even, with a range of 2% above or below this (Nokia says it is providing a wider than normal range due to limited visibility). This would suggest that Nokia expects Q3 to continue to be challenging. The outlook is based on a number of factors, including competitive industry dynamics, Nokia's actions to intensify sales and marketing to drive net sales, improved competitiveness in Mobile Phones (due to dual SIM products), timing of new product shipments and the macro economic environment.
Nokia is accelerating its plan to reduce Devices and Services operating expenses and now expects to exceed the previous target of €1 billion saving for the full year 2013 (compared to €5.65 billion for 2010).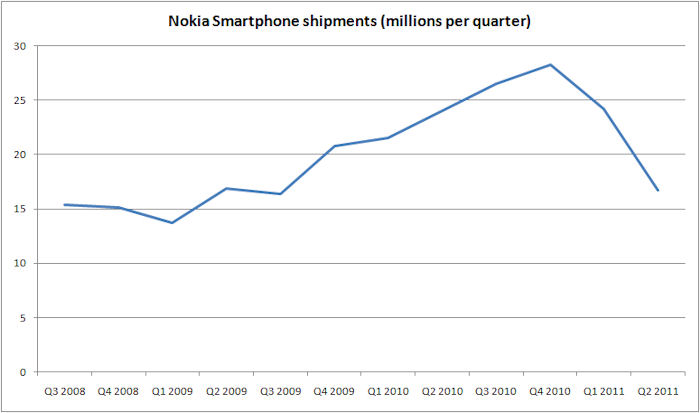 Market context
This charts show the market context from the last few years. The figures for Q2 2011 include some estimates as some manufacturers have not reported their numbers, nor have the numbers been fully normalised between manufacturers. Nonetheless they do give an indicative guideline.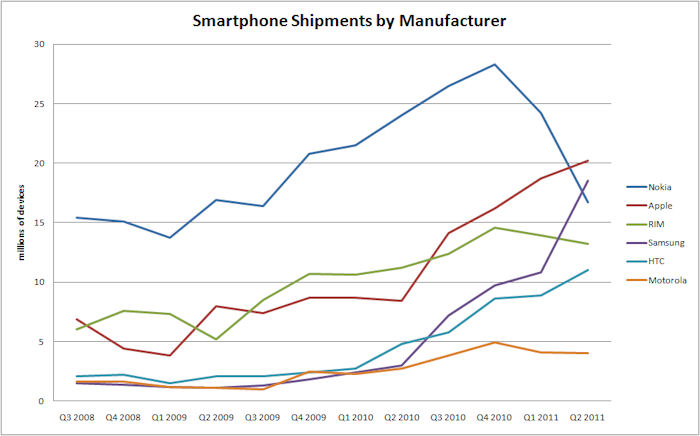 These figures can also be expressed as % market share, which shows comparitive performance over time.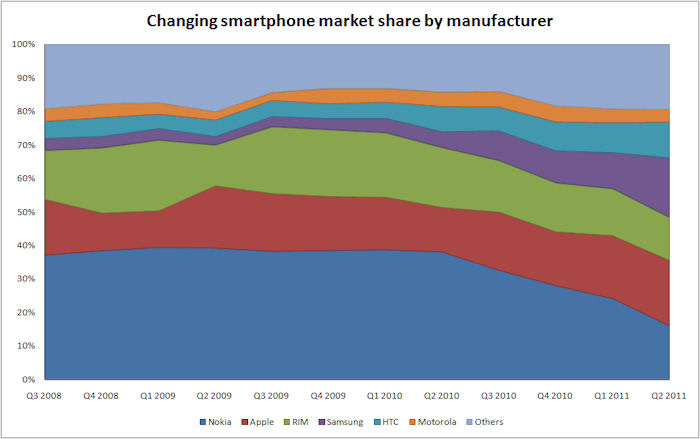 Points of interest
Nokia overall mobile device volumes were 88.5 million units, down 20% year on year and down 18% sequentially.

Average selling price (across all devices) was €62, up from €61 in Q2 2010 and down from €65 in Q1 2011.

The average selling price of Nokia's smartphones was €142, up from €139 in Q2 2010 and down from €146 in Q1 2011.

Smartphone shipments in the quarter were 16.7 million (down from 24.2 million in Q1 2011 and up from 25.2 million in Q2 2010). The year-on-year decrease in smartphone sales was 34% and the quarter on quarter decrease was 31%. Nokia say these changes were driven by the strong momentum of competing platforms relative to Symbian devices, especially in Europe and China. A decrease in sales by distributors and operators due to inventory level management also contributed, especially in China.

Devices and services figures include a €430 million

IPR

royalty income.

Notes from the conference call
Nokia has been making changes to increase levels of accountability and clarity within the company, through changes to business processes and structure. For example, four layers of managers have been removed in certain engineering departments. The split of smartphone and mobile phones in the Devices and Services division has also helped. As a result the time required to bring new products to the market has been reduced.

Early results from Dual-SIM launches in South East Asia have been "very encouraging". Approximately 2.6 million Dual SIM devices were shipped in Q2. There are 168,000 retail stores in India are selling Nokia Dual SIM products.

Nokia are very pleased with the positive response to the N9. The industrial design, user interface and focus on Qt will live on. Some of this will be evident in the first Windows Phone devices.

Elop said he was "pleased to report that he is increasingly confident that Nokia will ship their first Windows Phone based device in 2011 and will ship in volumes in 2012. This is testament to the structural changes that have taken place at Nokia, but also the quality of the early interactions between Nokia, Microsoft and Qualcomm. The teams working in San Diego, Salo, Tampere and Beijing are making tremendous progress on our products".

The teams have prototype devices running version of Windows Phone software. Those who have viewed the early work, including operators, are very optimistic about the devices that Nokia plan to bring to market. The launch sequencing and planning [for Windows Phone devices] is now underway.

6.5 million downloads a day in Ovi Store, representing 300% increase year on year.

The €430 million IPR related payment is a one off, but a small increase in the long term running IPR payments is expected. The payments serve as a strong indicator of the strength of Nokia's IP position.

See also
Earlier results: Q1 2011, Q4 2010, Q3 2010, Q2 2010, Q1 2010, Q4 2009, Q3 2009, Q2 2009, Q1 2009, Q4 2008, Q3 2008, and Q2 2008