Non-IFRS operating profit was €252 million (down 60% YoY and down 36% QoQ), with Devices and Services non-IFRS profit at €22 million, and margins at 4.7%. Non-IFRS results exclude special items for all periods and can be seen as measures of underlying performancee. In Q3 2011, these include charges related to restructuring (e.g. €111m in Devices and Services due to restructuring and associated costs) and a variety of charges related to acquisitions and similar (e.g. €24 million because of Accenture deal).
Nokia's overall mobile device volumes were 106.6 million units, down 3% year on year, but up 20% sequentially. This was led by a strong sales of mobile phones (89.8 million units, up 8% year on year and 25% quarter on quarter) and the halt in the fall of smartphones shipments. However, Nokia is now the number 3 smartphone manufacturer, behind Apple and Samsung, as the small growth in shipment numbers (1%) was significantly behind overall market trends. Nonetheless, the slide in smartphone sales in the last two quarters has been halted, with leaner channel inventory being a key factor this quarter.
The stronger sales have, in part, been driven by lowering the price of devices, as indicated by a fall in the average sale price per device. However, an increase in the devices and services margin suggests an improvement in operational efficiency, which means profits have not been impacted by the price cutting.
While the overall results do remain relatively weak, they do show signs of improvement, suggesting that Nokia is beginning to rebound from the poor performance on the last 12 months. Attention will now turn to the launch of the company's first Windows Phone devices, which are expected next week at the Nokia World conference. However, they may only have a small impact on Q4 results, as the new devices are expected to be available only in a limited number of markets in 2011. A much greater impact is expected in Q1 and Q2 of 2012.
A Reuters poll of analysts prior to the release of the results predicted an underlying loss of €23 million, with smartphone shipments of 15.9 millon. Both the underlying profit and smartphone sales were therefore ahead of expectations. In response to the news, Nokia's share price is up approximately 10%.

Stephen Elop said:
I am encouraged by the progress we made during Q3, while noting that there are still many important steps ahead in our journey of transformation. With each step, you will see us methodically implement our strategy, pursuing steady improvement through a period that has known transition risks, while also dealing with the various unexpected ups and downs that typify the dynamic nature of our industry. During the third quarter, we continued to take the action necessary to drive the structural changes required for Nokia's long-term success.

I am encouraged by our progress around the first Nokia experience with Windows Phone, and we look forward to bringing the experience to consumers in select countries later this quarter. We then intend to systematically increase the number of countries and launch partners during the course of 2012.

In summary, in Q3 we started to see signs of early improvement in many areas, but we must continue to focus on consistent progress so that we can move Nokia through the transformation and deliver superior results to our shareholders.

Looking forward, Nokia expects its non-IFRS Devices and Services operating margin in Q4 to be between 1% and 5%, suggesting Nokia is feeling more positive about Q4. The outlook is based on a number of factors, including competitive industry dynamics, an expected increase in device sales, greater than expected operating expenditure as new products launch (suggesting aggressive marketing ahead) and the macro economic environment.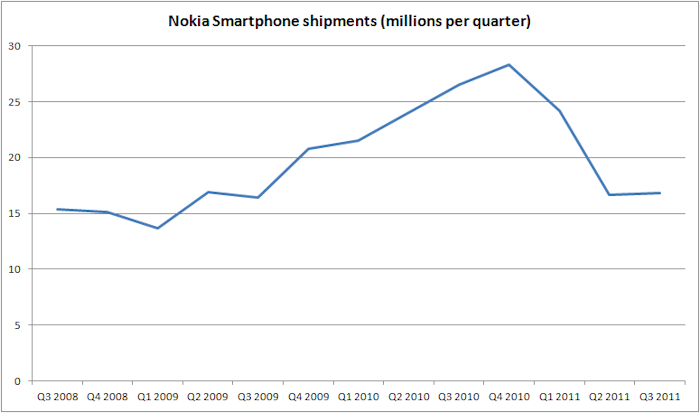 Market context
This chart shows smartphone shipments by manufacturer for the last few years. The figures for Q3 2011 include some estimates as some manufacturers have not reported their numbers, nor have the numbers been fully normalised between manufacturers. In particular, the Samsung numbers are uncertain (indicated by the dotted line), but most estimates suggest it is now the number one smartphone manufacturer. Nonetheless, they do give an indicative guideline.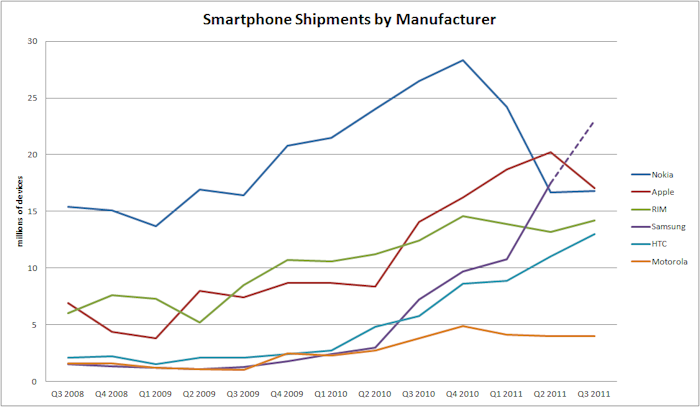 These figures can also be expressed as % market share, which shows comparitive performance over time.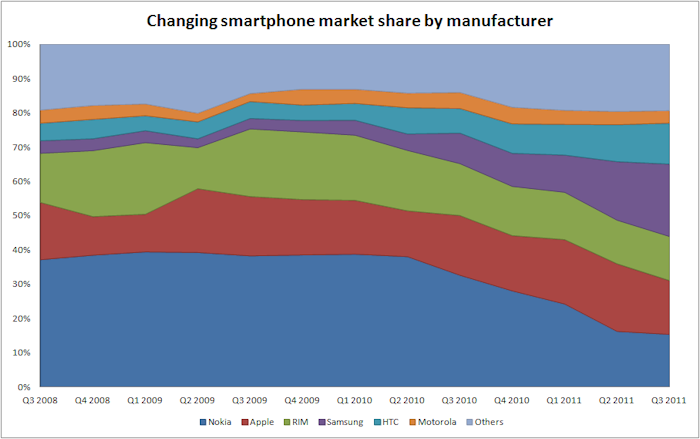 Points of interest
Average selling price (across all devices) was €51, down from €65 in Q3 2010 and down from €62 in Q2 2011, reflecting an increase in the proportion of mobile phone devices (low cost) in sales.

The average selling price of Nokia's smartphones was €131, down from €133 in Q3 2010 and down from €142 in Q2 2011.

Nokia shipped 18 million dual SIM devices.
See also
Earlier results: Q2 2011, Q1 2011, Q4 2010, Q3 2010, Q2 2010, Q1 2010, Q4 2009, Q3 2009, Q2 2009, Q1 2009, Q4 2008, Q3 2008, and Q2 2008