Yes, it's slightly confusing, seeing as we haven't seen Nokia Maps on any Windows Phone devices yet (it's in the Marketplace if you know where to look, it seems), but essentially Nokia Maps is going to replace Bing Maps on the whole Windows Phone platform in due course. In the short term, it'll just be distributed through the Marketplace.
Nokia's differentiating factor is the real time sat-nav aspect, of course, and this forms the separate application Nokia Drive, which ships in just the Nokia branded Windows Phones. Nokia Drive has real time voice guidance, re-routing and more, all on top of the base Nokia Maps data sets.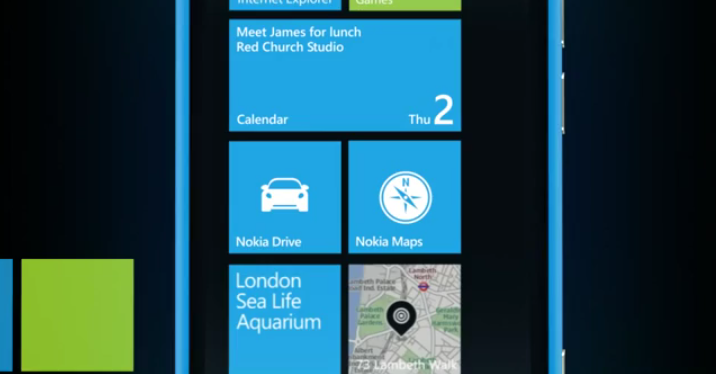 Nokia's navigation assets in two applications. Exclusive to Nokia, Drive has voice navigation, car optimised UI, and dynamic re-routing.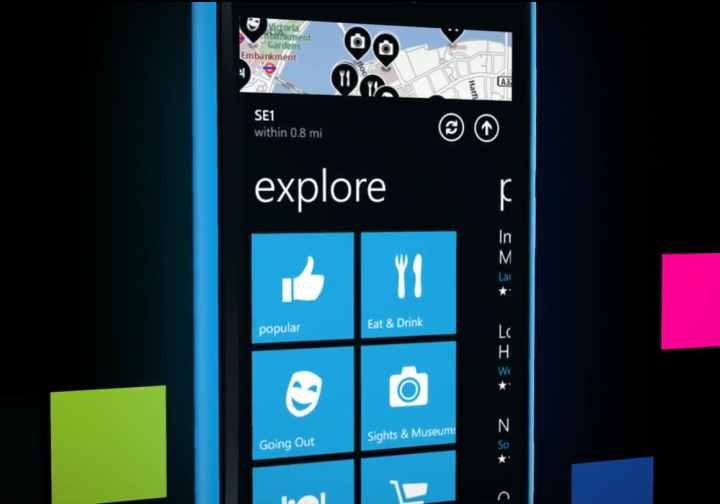 Nokia Maps (to be available in future to all Windows Phones) has an extensive places of interest database.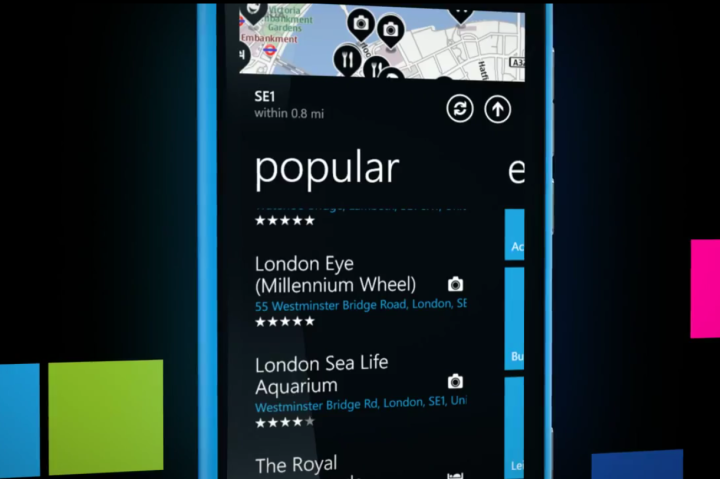 One way in which you can search is by popularity. Can a crowd of people be wrong about a venue?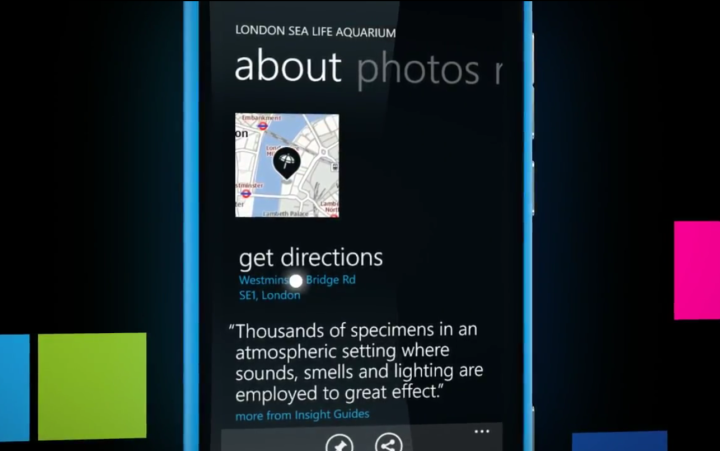 Nokia Maps for Windows Phone will give directions to any point on the map. However, there's no voice guidance or re-routing. That's a Drive exclusive!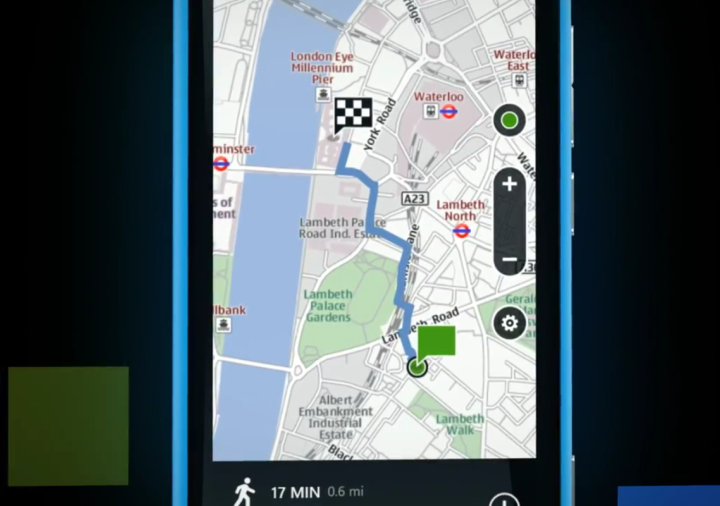 Nokia Map's "Smart Routes" from your current location to the destination.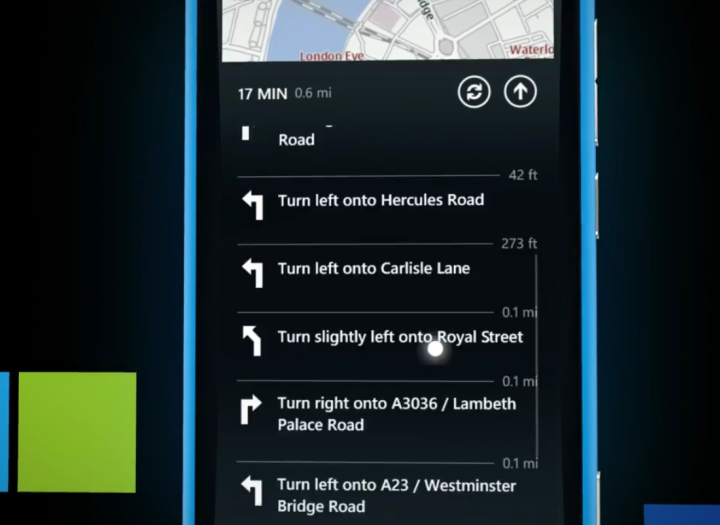 Manually driven turn by turn directions for cars, pedestrians and public transport.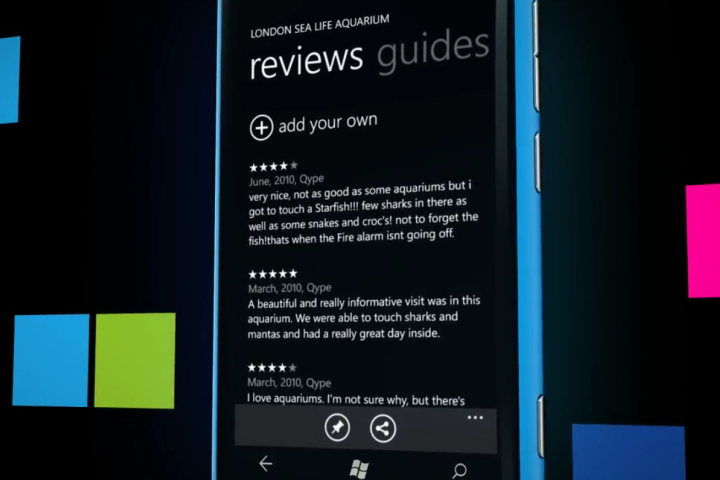 You can look up and submit reviews of places you've visited, which further helps you and others choose where to go.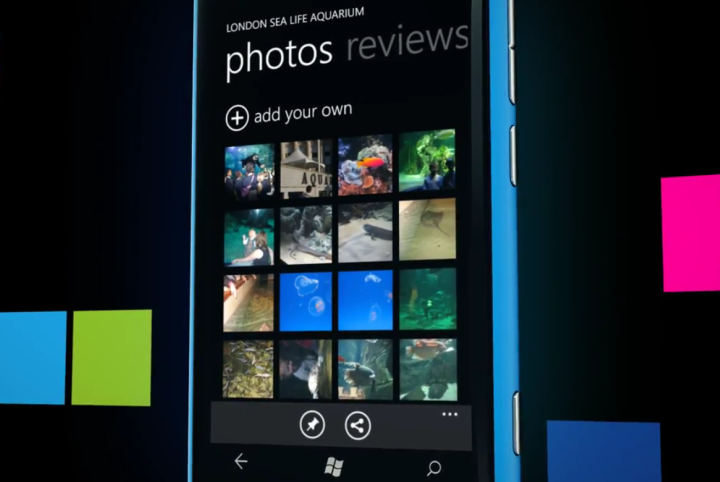 In addition to text reviews, users can browse and submit photosgraphs of venues.
In summary, Nokia Maps, which is not exclusive to Nokia devices, will have driving, walking and public transport guidance, along with the places of interest database. You will still be able to use GPS navigation, in the sense of tapping through calculated instructions (as you do at the moment in Bing Maps) but if you deviate from that route, you will have to recalculate your route. However, Nokia Drive (exclusive to Nokia-branded phones), adds on top of all that: dynamic re-routing, voice guidance, and a user interface better suited for in-car use.
You can watch the video that these captures are from, by clicking this YouTube link.