Nokia's results were slightly ahead of market expectations, with core earnings per share of €0.06, compared to market expectations of €0.04.

The headline loss of €964 million is a big number, but the biggest component of it is a write down in value of goodwill from the Location and Services division of €1,090 billion. This can be seen more clearly in Nokia's non-IFRS figures.
Non-IFRS operating profit was €478 million (down 56% YoY and up 90% QoQ), with Devices and Services non-IFRS profit at €292 million, and margins at 4.9%. Non-IFRS results exclude special items for all periods and can be seen as measures of underlying performance. In Q4 2011 the non-IFRS results exclude €1.432 billion of charges, an unusually high level. This includes charges related to the partial impairment of goodwill in Location & Commerce (€1.090 billion), a number of restructuring charges (€100 million in Devices & Services, €25 million in Location and Commerce) and a variety of charges related to acquisitions and similar (e.g. €24 million because of Accenture deal).
Stephen Elop said:
"The fourth quarter of 2011 marked a significant step in Nokia's transformation. Most notably, in Q4 we introduced new mobile phones and smartphones, which resulted from the strategy shift in our Devices & Services business.

And, while we progressed in the right direction in 2011, we still have a tremendous amount to accomplish in 2012, and thus, it is my assessment that we are in the heart of our transition.

In summary, with a strong balance sheet, our performance in mobile phones and the new excitement around Lumia, we are confident that we are on the right track to build long-term value."
In Q4 2011, Nokia shipped 19.6 million smartphones. Separately, Nokia disclosed that "to date [26th January] we have sold well over 1 million Lumia devices". Allowing for some sales of Lumia devices in January and sales of the Nokia N9, this would suggest Symbian sales were in the region of at least 18.5 million units. This compares well to Symbian device sales of approximately 16.8 million in Q3 2011, but is significantly down from Q4 2010's figure of 28.6 million.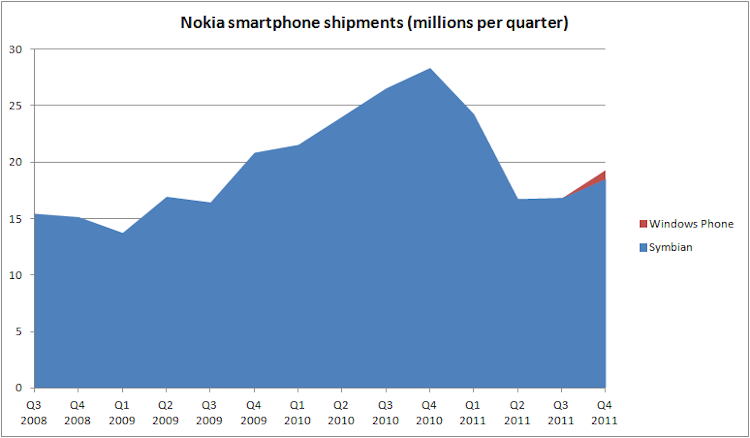 Stephen Elop noted that he was pleased with the progress made with Nokia's Windows Phone devices, following the announcement of the Nokia Lumia 800 and Lumia 710 last October. The two devices were brought to market ahead of schedule, an example of Nokia's "changed clock speed":
"In the war of ecosystems, clearly there are some strong contenders already on the field. And with Lumia, we have demonstrated that we belong on the field. Our specific intent has been to establish a beachhead in this war of ecosystems, and country by country that is what we are now accomplishing. To date we have sold well over 1 million Lumia devices. From this beachhead of more than 1 million Lumia devices, you will see us push forward with the sales, marketing and successive product introductions necessary to be successful. We also plan to bring the Lumia series to additional markets including China and Latin America in the first half of 2012."

However, Nokia's Symbian devices are facing significant pressure:
"In certain markets, there has been an acceleration of the anticipated trend towards lower-priced smartphones with specifications that are different from Symbian's traditional strengths. As a result of the changing market conditions, combined with our increased focus on Lumia, we now believe that we will sell fewer Symbian devices than we previously anticipated."

Nokia's mobile phone business remains strong, with year on year shipment numbers shrinking by just 1%, a good result in the context of the market. This was, in part, driven by Nokia's dual SIM products, which "in Q4 showed sequential double-digit percentage growth".
Looking forward, Nokia expects its non-IFRS Devices and Services operating margin in Q4 to be around break even, suggesting Nokia is facing a tough Q1 as continues the roll out of new products and feels the impact of lower than expected (long term) Symbian sales. The outlook is based on a number of factors, including competitive industry dynamics, a greater than normal seasonal decline in sales, costs associated with new product launches and ramp up, and the macro economic environment.
Nokia did not provide an outlook for 2012 as a whole, noting that 2012 is expected to be a year of transition, during which the "Devices & Services" business will be subject to risks and uncertainties.

Market Context
This chart shows smartphone shipments by manufacturer for the last few years. The figures for Q4 2011 include some estimates as some manufacturers have not reported their numbers, nor have the numbers been fully normalised between manufacturers.
The most notable recent change is the increased sales of Apple and Samsung. Samsung's sales performance was primarily Android based, but also include around 3 million Bada devices and a small portion of Windows Phone devices. Apple's increased sales was largely driven by the release of the new iPhone 4.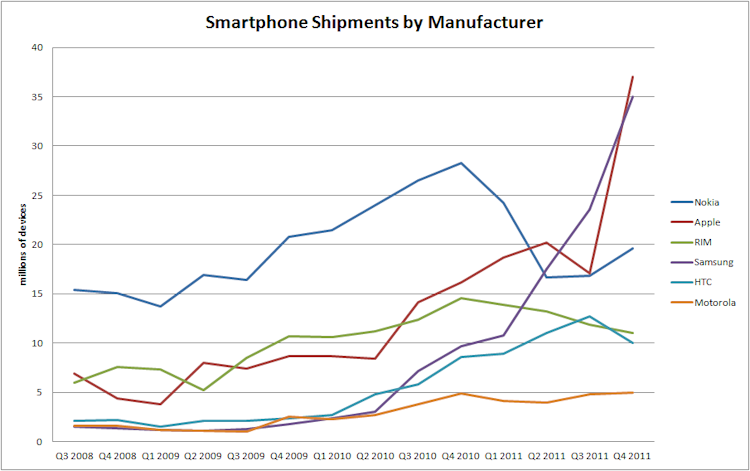 These figures from the chart above can also be expressed as % market share, which shows comparitive performance over time.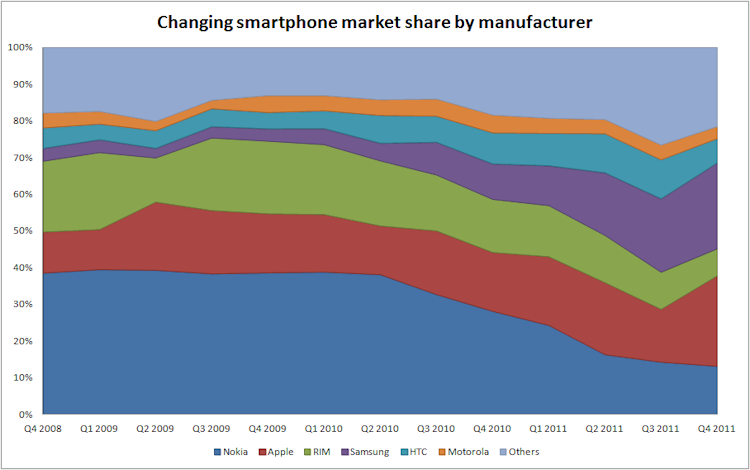 See also
Earlier results: Q3 2011, Q2 2011, Q1 2011, Q4 2010, Q3 2010, Q2 2010, Q1 2010, Q4 2009, Q3 2009, Q2 2009, Q1 2009, Q4 2008, Q3 2008, and Q2 2008