Favourite place synchronisation
Favourite places, which were introduced in the last update for Nokia Maps, are a way of saving specific places or locations for later use, so that you don't have to search for them again. Favourites are displayed on the map with a yellow star.
The latest update of Nokia Maps adds support for the automatic syncing of favourite places to maps.nokia.com. For the sync to work you need to have linked your Lumia device with a Nokia account; the chances are you've already done this, since you are prompted to do when you first set up the phone. By default the sync process happens automatically, but you can also manually initiate a sync.
Once a sync has been completed favourite places can be viewed on the maps.nokia.com website. It's also possible to add new favourite place in the web version of Nokia Maps and these will be copied back to the phone on the next sync.
The introduction of favourites synchronisation to Nokia Maps for Windows Phone also means its now possible to share saved places between a Nokia Windows Phone smartphone and a Nokia Symbian smartphone. That's very handy if you're moving from one to the other, or, like the All About team, keeping both on the go at the same time. And of course the same applies when moving from one Nokia Windows Phone to another, something that will no doubt come in handy when it's time to upgrade.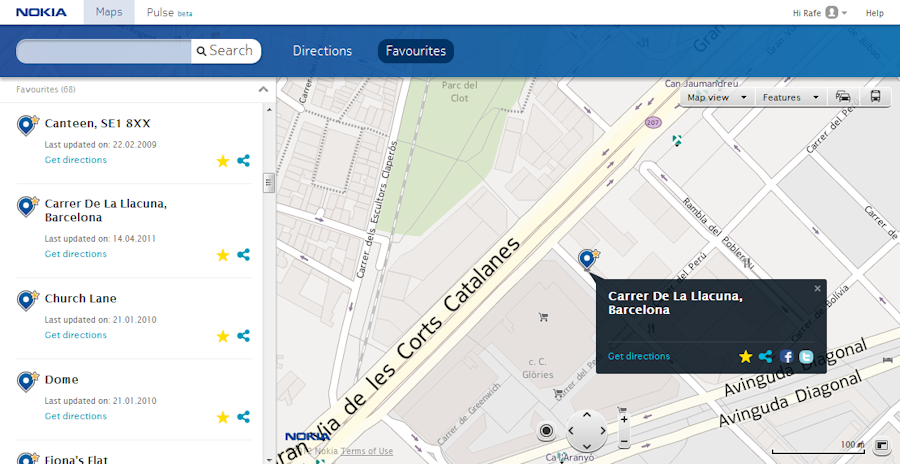 Pinning destinations, submitting reviews and photos
Previous versions of Nokia Maps allowed you to to pin places, and place categories to the start screen. To this version 2.0 adds the ability to pin a a place as a destination (when viewing routing instructions to a place). Tapping on such a tile will open Nokia Maps and plot a route to the destination from your current location. This enables an easy way to get routing instructions with just a single tap and is ideal for places you visit regularly (e.g. work and home).
Every place (point of interest) in Nokia Maps get its own pivot, with an about page page (address, contact number opening hours and so), photos page, reviews page and nearby page. The information for the photos and reviews page are drawn from a number of content partner, but Nokia has also been building up its own collection of photos and reviews. Previously these could only be submitted through the maps.nokia.com site, but with Nokia Maps 2.0 for Windows Phone it is now possible to add a photo or review directly from the app.
In the case of photos you can choose to take a new photo, or choose one from your camera roll. In the case of a review you are asked to provide a short text review and a rating (out of five stars). These photos and reviews will then be shared with other Nokia Maps users (on mobile and on the web).
When I tested this out, by adding a photo and review for the Vista Bar in London, both the photo and review were immediately available to other users (web and mobile), with the author shown as being a "Nokia member". It will be interesting to see how much user generated content Nokia can add to its place geodatabase and how closely content submission will be monitored.
Download
Marketplace description:
Whether you're someplace new or at a favourite haunt, Nokia Maps gives you new ways to discover the world around you, making you feel like a local wherever you go. Get reviews, uncover new places and reach them with smart routing for public transport, walking or driving. It's more than a map; it's the world in your pocket.

Nokia Maps can be downloaded from the Nokia collection in the Windows Phone Marketplace. If you already have Nokia Maps installed you will be prompted to downloaded the new version via the updates feature of the Marketplace app.