Previous versions of Nokia Maps only allowed users to get directions to a place from their current location by tapping "get directions" from a place's page. With the new version it is now possible to plan a route between any two places. To facilitate this a "directions" option has now been added to the main menu, which leads to a page where you can specify both the start point and the finish point of a route. The start and end point are entered by carrying out a search (address fragment, business name, key word, type of business, or post code) and then choosing a the desired result.
An alternative method for entering a start or finish point is via a long tap on the map. This brings up the usual place page, but with options for "directions to here" and "directions from here". This is useful in instances where the search function can not find a specific place, or for those who prefer to use the map to find the place they want to go.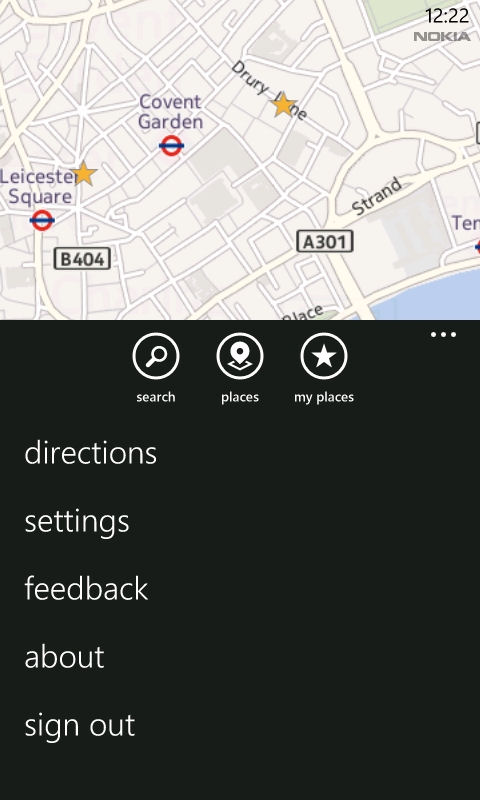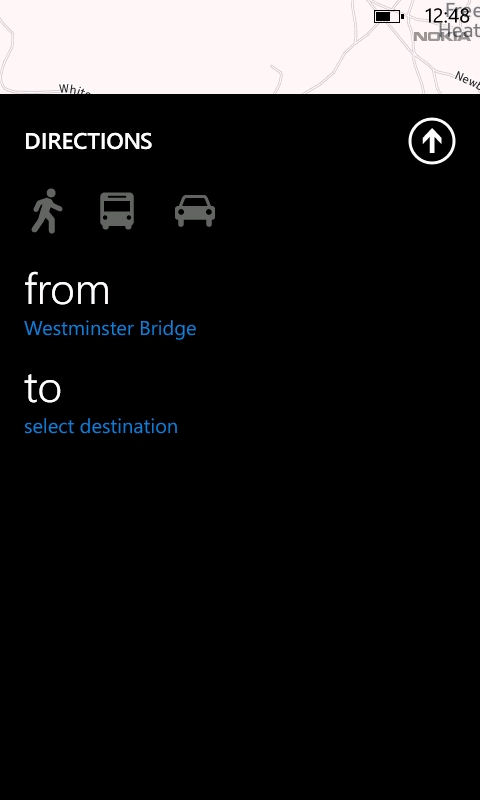 As in earlier versions of Nokia Maps routes can be shared with friends via email, or messaging, and pinned to the Start Screen for quick access. You can switch the routing between vehicle (car icon), pedestrian (walking icons), and, in some areas, public transport (bus icon).
As part of the improved route planning features it is now possible to edit the starting point and finish point by tapping on the appropriate place name in the list of route instructions. This makes it easy to enter changes to a planned route, while following directions, making Nokia Maps' route planning feature much more useful.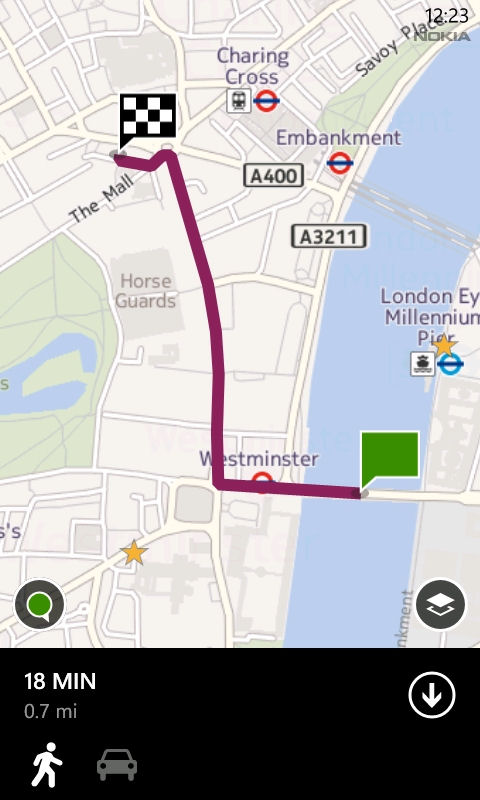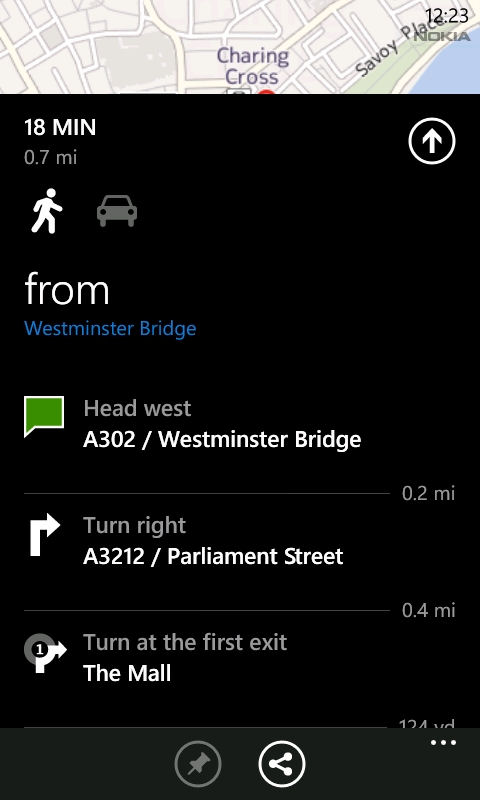 Nokia Maps 2.5 adds support for Groupon integration; when searching, or browsing places, the availability of a Groupon offer is shown by the presence of a green "G" (Groupon) icon, overlaid on the main place icon. Information about the relevant Groupon offer is shown in the place's pivot view (bottom of the about page), with a link to the Groupon mobile site for additional information.
Currently Groupon integration is only available in the US; it is likely to be extended to GroupOn's other markets (Canada, Taiwan, Brazil, Germany, Greece, Finland, France, the Netherlands, Belgium, the United Kingdom, India, Ireland, Israel, Italy, Poland, Portugal, Spain, Puerto Rico, Japan, Turkey, Mexico, Peru, Chile, Colombia, South Korea, Sweden, Argentina, the United Arab Emirates, Norway, Romania, Singapore, Malaysia, Hong Kong, Mainland China, Russia and South Africa) in due course.
The Groupon integration is an important example of Nokia's push to amass and present hyper-local information via its mapping platform. Nokia already partners with a variety of companies to provide access to place and review information, and coupons, special deals and other geographically linked information is an obvious extension of this model. Thus, the Groupon integration should be viewed as the first of many partnerships that will see local information presented on top of Nokia's mapping data.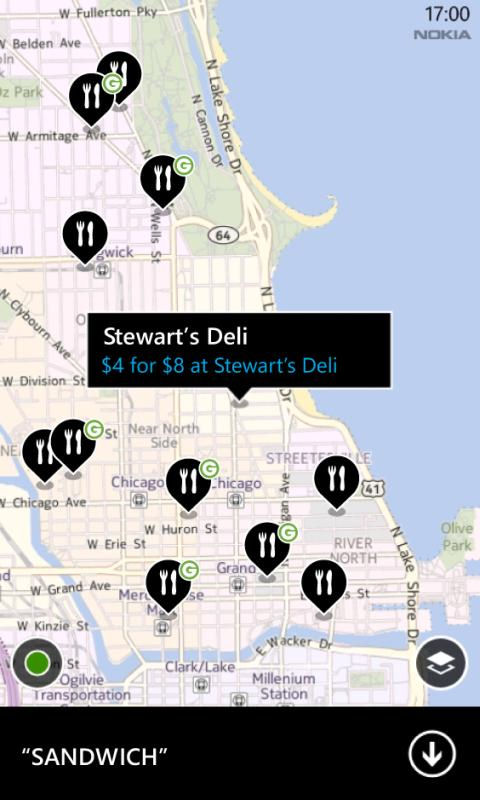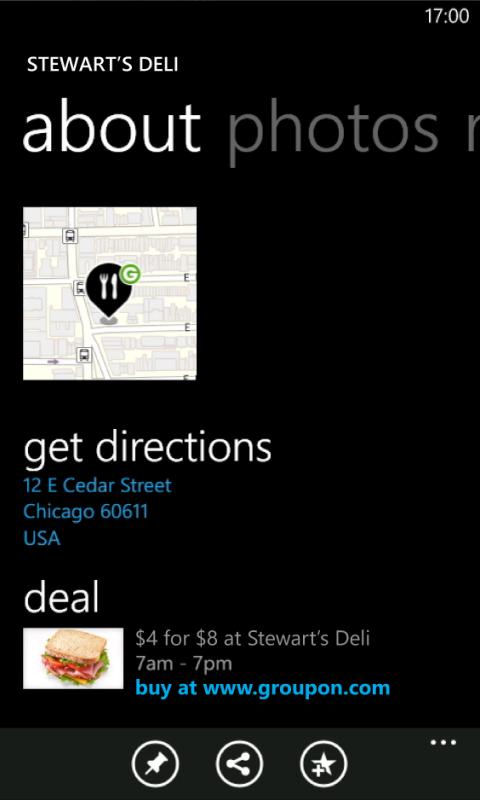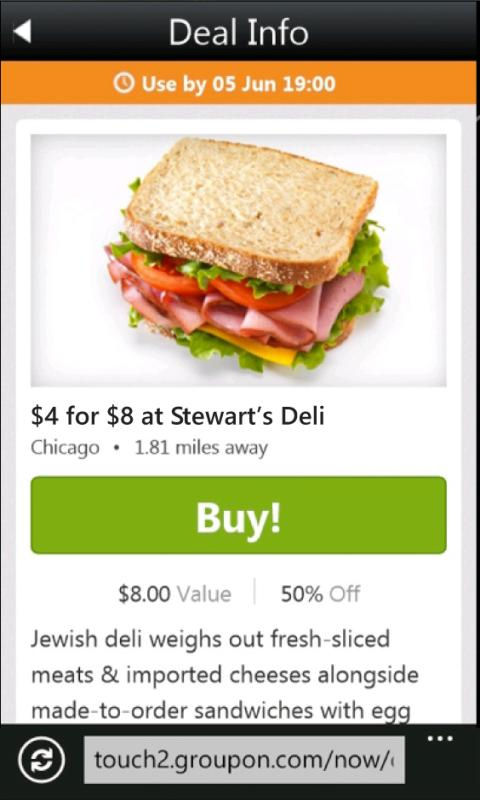 The final update of significance included in Nokia Maps 2.5 is that live traffic information will, in select areas, be shown on the map, with information updated every 3 minutes.
Nokia Maps 2.5 can be downloaded from the Windows Phone Marketplace. If you already have Nokia Maps installed then you should be automatically notified that an update is available (see updates in Marketplace app). However, you can manually update by going to the Nokia Maps entry in the marketplace (search for Nokia Maps). You can also download the update by scanning the QR code on this page, or following the App link from the AAWP app.