When sharing a cinemagraph the animated GIF file is stored on a Nokia server (memories.nokia.com). This is necessary because the animated GIF format is generally not well suported by social networks and email clients (e.g. only show first frame of the animation). What's actually shared, regardless of the sharing medium, is a link to the animated GIF file on the Nokia server.

The added benefit of uploading to Nokia servers is that you only ever need to upload the created cinemagraph once, even if you share in multiple times, to multiple destinations. That's handy when you consider a cinemagraph can be multiple megabytes in size. Using Nokia's servers does mean you'll need a Nokia account, but if you've already set this up of your phone (e.g. when using Nokia Maps), you will not be prompted for it again.
To share a cinemagraph you tap the share entry in the menu when viewing a cinemagraph in the Cinemagraph app (note that this is not the same as tapping Share when in the Photos hub).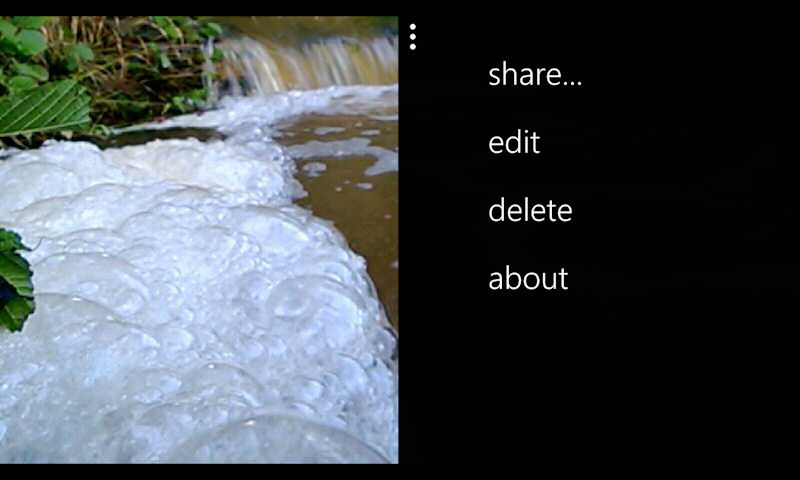 You'll be asked how you want to share the cinemagraph (social media, email, messaging), after which it will start uploading. If you've already uploaded the cinemagraph previously it will jump straight to the next step (i.e. the upload will not be repeated).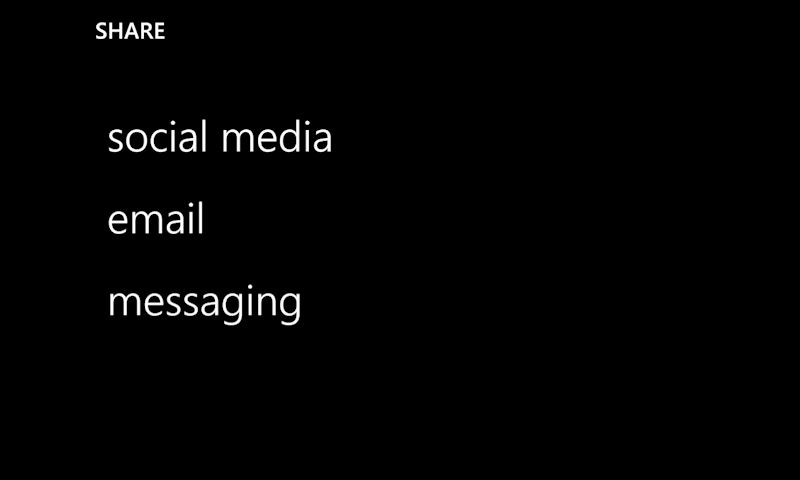 Once a cinemagraph has been uploaded you're taken to the standard platform screens for posting to social media, email or messaging. Here's an example of a cinemagraph uploaded to the Nokia server. You can see the tweet associated with the animation here. Here's another example, and the associated Facebook status update.
We noted in our recent Lumia 820 review that cinemagraphs were perfect for the social sharing age, but noted the absence of easy sharing:
The end results are both quirky and fun; surely a perfect fit for the social sharing age? Sadly, the animated gif format isn't well supported by sharing services, so, currently you're limited to uploading your creation to SkyDrive. Nokia say they're working to improve this, so it may not be too long before we see a dedicated Facebook Cinemagraph app, or something similar.
The new version of Cinemagraph fills this hole, has the added benefit of allowing a full range of sharing use cases, and has arrived much sooner than we expected. Being able to share cinemagraphs easily really add to the value of the app, and we expect usage to shoot up as a result. Look for even more animated cats on Facebook in the months ahead!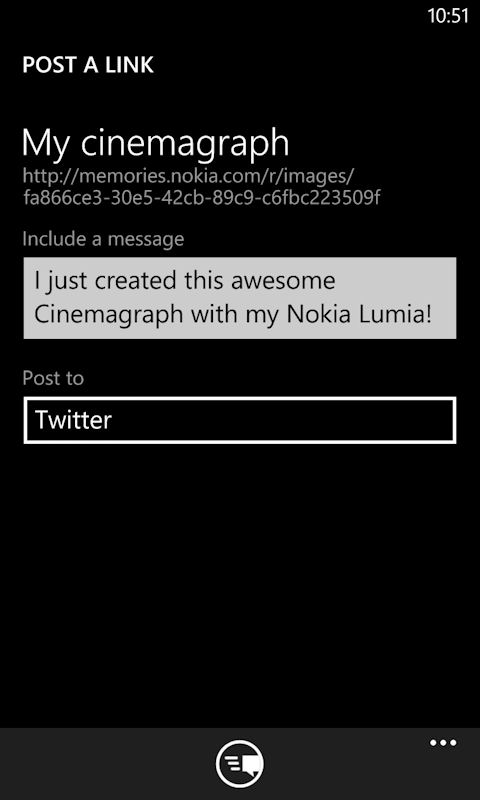 The updated app also makes it easy to view and manage both locally and server stored cinemagraphs. When opening the Cinemagraph app from the app list (i.e. not via the Lens feature in th Camera app). You'll be shown a list of cinemagraphs currently stored on your phone, swipe over to the right and you'll see a list on cinemagraphs that you've shared (i.e. stored online). For locally stored cinemagraphs you can view the animation and start the uploading and sharing process. For cinemagraphs that you've already shared you can view the animation in the browser, share it again, or delete it from the Nokia server.
While the extra management functions are not core to the sharing functionality, it's really good to see that Nokia has considered that people may want to subsequently delete shared cinemagraphs. In addition having all your cinemagraphs listed in one place makes them a lot easy to find that hunting through the Photos hub, especially in you're a frequent camera user.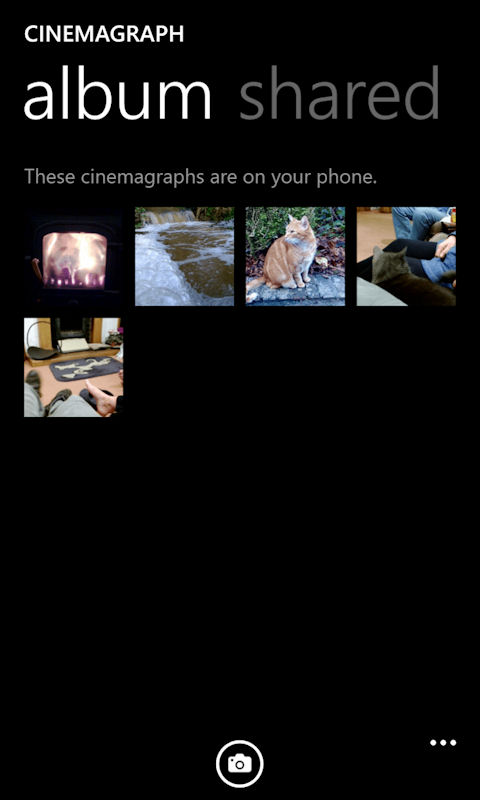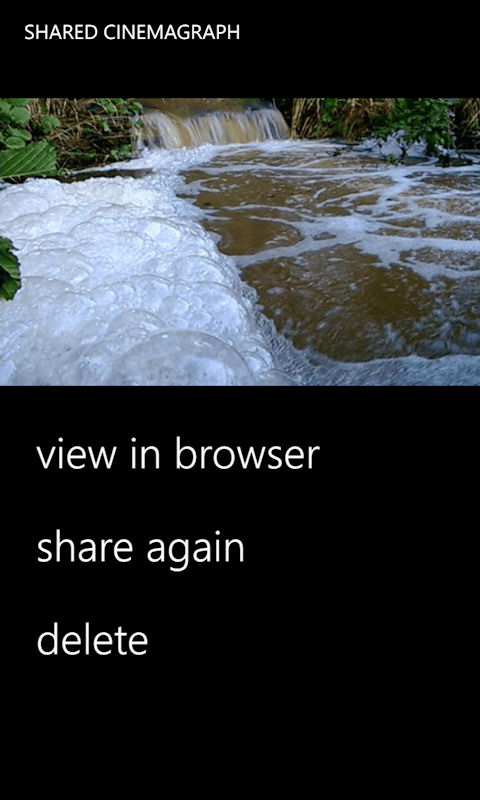 Cinemagraph's new sharing featuring is the result of a collaboration between Nokia's imaging app team (in large part out of the acquisition of Scalado) and the service team based in Bristol (also responsible for Nokia Music). It bears the hallmarks of both: easy to use, no unnecessary registration required, and well thought out in execution.
Windows Phone Store description:
Cinemagraph is a magical blend of photo and movie-like animation, creating pictures that seem almost alive. Helpful on-screen assistance lets you select the animated area of your picture and easily create a cinemagraph. The end result is enchanting.You can share your cinemagraph with friends via social media, email and messaging. All you need is a Nokia account and a data connection. You simply upload your cinemagraph to a Nokia server and share the link. Share over WiFi or your mobile data connection, and be sure to check your network operator's data charges first.
The updated version of Cinemagraph can be downloaded from the Nokia collection in the Windows Phone Store.