The existing free version of Nokia Music remains in place and will continued to be shipped with all Lumia devices in supported markets. Nokia Music+ will be available as an "upgrade" within the Nokia Music app. By paying the monthly subscription fee (via credit card or operator billing), which is linked to an individual Nokia Account (ID), users will gain access to the additional features. They will also be able to use a web-app (HTML 5) based version of Nokia Music on other devices.
For Nokia the provision of Nokia Music+ is, theoretically, a revenue generating opportunity, but far more importantly it provides its Windows Phone Lumia products with additional differentiation from their competition. Nokia Music and Nokia Music+, on their own, may not make a critical difference for the majority of consumers when deciding which smartphone to buy. However, when combined with other elements of Nokia offerings, such as the company's location apps (Maps, Drive, Transport, City Lens), a more compelling reason to choose a Nokia device begins to emerges.

Nokia Music+ will be competing against other subscription music services. Theoretically these include "full" music services, such as Microsoft's own Xbox Music Pass ($9.99 / £8.99 per month) and Spotify (£9.99). However, these "full" services provide track specific options (i.e. the ability to choose specific tracks, rather than a play list / Mix). A more apt comparison is Pandora One, which provides a similar service (though not identical, as some limits on skips remain) on the desktop and other mobile platforms (Windows Phone soon) for $36 a year ($3 per month).
In its announcement of the new service tier Nokia make it clear that they believe there's gap between the free streaming offerings (like Nokia Music) and the full music service (like Xbox Music Pass). That seems a reasonable assumption, given the breakdown of existing music subscription services, but it does beg the question whether Nokia will add a third tier to Nokia Music (Premium+), so that all levels of music users are catered for.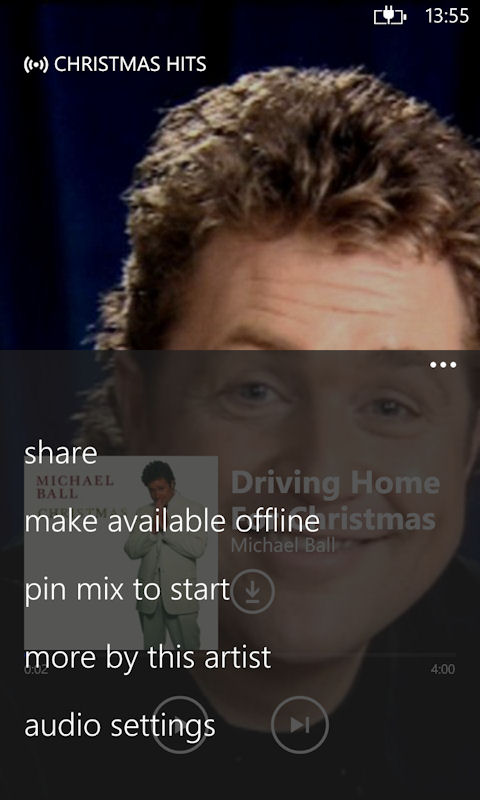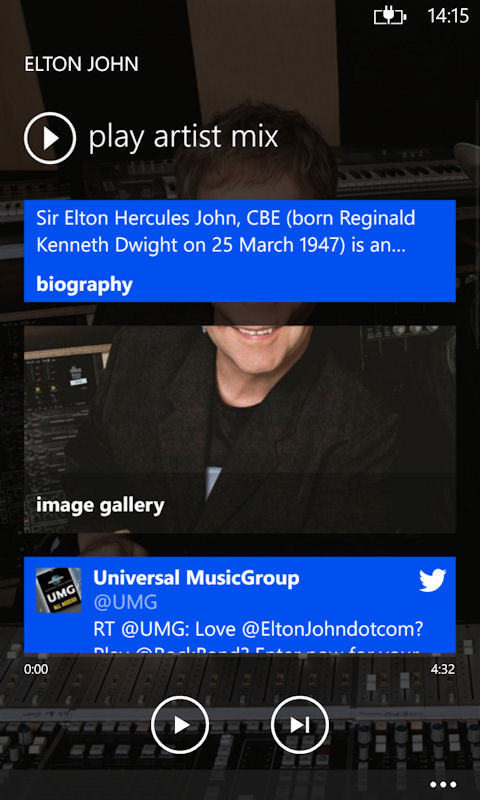 Nokia Conversations is providing additional details on the premium features available through Nokia Music+:
Unlimited skips within a Mix. The free version of Nokia Music limits the number of skips (exact amount varies by market, usually six per hour).

Unlimited downloads of Mixes. The free version of Nokia Music limites the number of Mixes downloaded at any one time to four.

Higher quality. Nokia Music+ will allow users to download music at eight times the existing quality (plus will allow quality to be dictated by connection type - e.g. WiFi).

Lyrics. Nokia Music+ will provide the words to the songs you are listening to in a scrolling list ("Karaoke-style") or in a static list.

Desktop / web-app. A Nokia Music+ subscription will give access to a web-app version of the service. This allows users to play Mixes on their computer, smart TV, and other Internet connected devices.

Supporting quotes
Jyri Rosenbery, VP of Entertainment at Nokia, said:
"People love Nokia Mix Radio – in fact, many people are amazed that we can offer it for free. It's the only smartphone music service out there offering access to millions of songs out of the box without the need to sign up, sign in, or suffer adverts in between enjoying the music. When you add in the ability to skip songs and save playlists for offline uses like the tube, you have something unique.

We spend a lot of time listening to how people use the service and have even managed to half the amount of skips per songs played, which is a combination of our systems and musicologists understanding and shaping Nokia Music around the users.

Nokia Music is great for discovering new music, and we've found that there's a core of users that want even more of it. This is how Nokia Music+ came about. By introducing features like infinite skips and unlimited downloads, we're opening the doors for unlimited music discovery at only €3.99 per month.

This is for people who care enough about music to pay something for more quality and choice, but don't want to pay €9.99 monthly."
Stephen Bryan, Executive Vice President, Digital Strategy and Business Development, Warner Music Group said:
"We know that many music fans enjoy a curated, radio-style experience that mixes their favourite tracks with new discoveries. By bringing a well-designed digital radio service to its massive distribution footprint, Nokia is catering to a global audience of under-served, casual music fans. Not only that, Nokia Music+ will help introduce mobile subscribers to the benefits of cloud-based music streaming, while creating exciting opportunities for artists and songwriters."
Rob Wells, President, Global Digital Business, Universal Music said:
"Nokia have been in music for longer than most device manufacturers. Their commitment to music is genuine and their music products are really working for consumers. I'm very excited by the new functionality and curation offered in their service upgrades, these new elements really help them differentiate from their competition."
Availability
The Nokia Music app and service is currently available in Australia, Austria, Brazil, China, Finland, France, Germany, India, Indonesia, Ireland, Italy, Mexico, Netherlands, Norway, Poland, Portugal, Russia, Singapore, South Africa, Spain, Sweden, Switzerland, UK, and USA.
The majority of these countries are expected to get access to Nokia Music+ in the first quarter of 2013. Additional markets for both Nokia Music and Nokia Music+ will follow throughout the year.