The CoPilot GPS app was made available on Android and iOS last year and has since been downloaded more than 4.5 million times, making it one of the most popular third party mapping solutions available for mobile. The freemium approach (base functionality for free, in-app purchase for premium functionality) is a departure from CoPilot's origins, but makes a lot of sense in the increasingly competitive mapping and navigation space.
CoPilot's strong reputation is based on a user interface that has been carefully optimised and adjusted over many years of development. This does means there's little connection to Windows Phone's native look and feel, which is a little jarring at first, but navigation is one of those areas where a takeover of the UI feels like the correct decision if implemented with forethought. That's not to say there aren't a number of quirks, but they are relatively few in number compared to the moments of appreciation for a well crafted experience.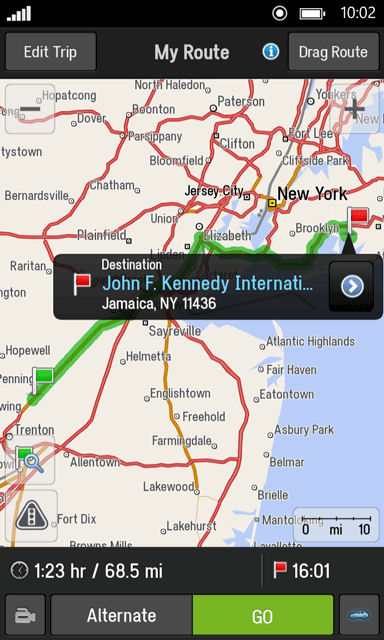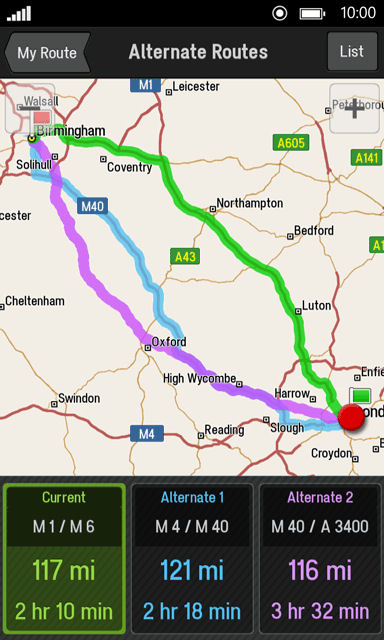 CoPiilot's high quality street-level maps are stored on your device so as to enable a full offline solution. After installing the app, you are able to download one map region for free, with additional regions available via in-app purchase. A region is usually a collection of countries (e.g. UK and Ireland; US and Canada: Norway, Sweden, Denmark and Finland; Germany, Austria and Switzerland; Spain and Portugal; Belgium, Netherlands, and Luxembourg), but is also sometimes a single country (e.g. Russia, Poland, Italy, France, Romania, Turkey, Ukraine, Southern Africa).
The maps are sourced from Nokia, but have been processed by ALK, which means that, although the roads will be the same as in HERE Drive (and other Nokia powered solutions), the look and feel is very different. For example, CoPilot's maps use a different colour palette than HERE Maps, but also typically include richer point of information data. Another example of this is the way ALK, in navigation mode, uses the underlying data to create realistic visualisations of road signs at key junctions and also the integration of traffic and speed camera data into the maps and directions views.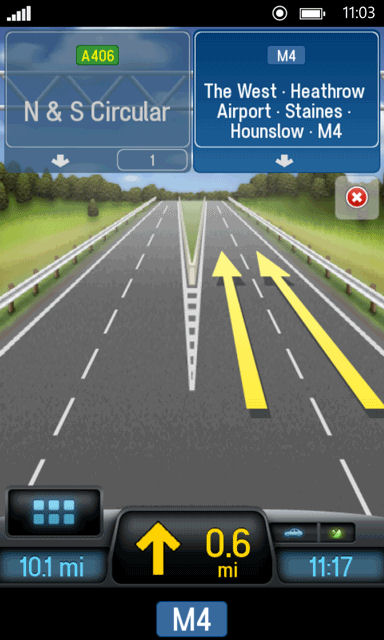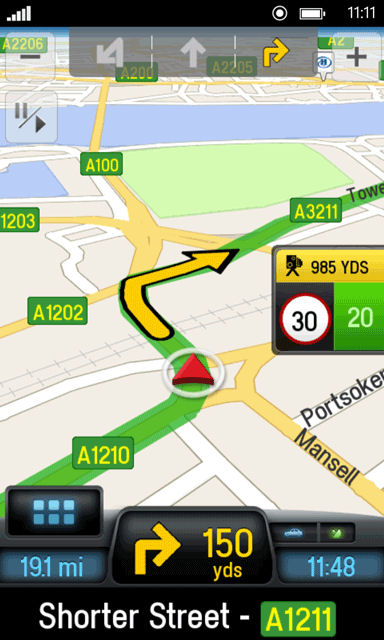 CoPilot GPS offers a number of powerful trip planning tools, adding a level of functionality that goes beyond anything else available for Windows Phone. Some of the highlights include alternate routes, drag-and-drop route editing (allowing you to correct the app when you know a better route), multiple stop routes (including an itinerary optimiser that finds the best way between multiple stops), and the ability to set a destination from multiple sources (address, saved places, points of interest, contacts, map point, photo EXIF data, and coordinates).
Also notable is the strong points of information database. While CoPilot does has its own database with million of entries, it also integrates with Google and Wikipedia, making it easier to locate those hard-to-find places. Other features worth highlighting are travel mode options (set to walking, cycling, motorcycles, RVs, and car), and personal routing profiles (set preferred road types).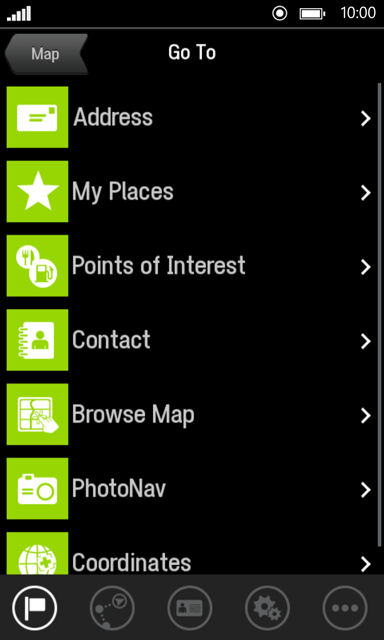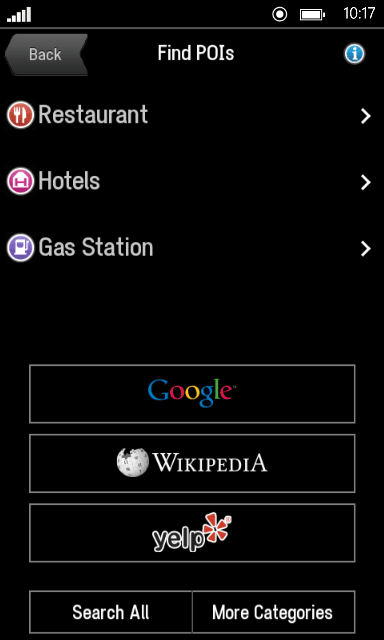 The premium navigation offering operates much as you would expect, with clear turn-by-turn voice instructions (including street names), and a choice between an on-screen 2D/3D map view or a directions view. In the directions view, you can also opt to display a map on the approach to a turn, giving you the best of both worlds.
As with the routing functionality, there are a number of powerful options, including the ability to customise the bottom information bar, lane assist arrows, sign post visualisations, speed limit alerts, a detour mode (get an alternative route at the touch of a button), and powerful traffic functionality. The last of these, referred to as Active Traffic in the app, is available as an optional extra subscription, and will intelligently navigate around congestion. It will also alert you in real-time to congestion that may impact your journey and offer a quicker alternative route (if available).
The voice guided and 3D navigation upgrade costs £17.99. Buying map data for the whole of Europe costs £22.99, while map data for North America (one region) costs £6.99. These prices are competitive with similar premium solutions and, if you drive regularly, represent excellent value for money.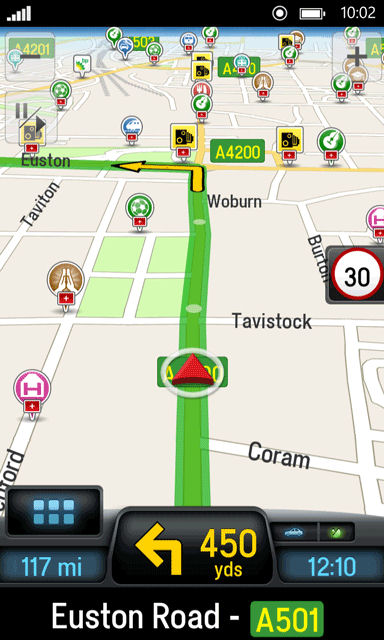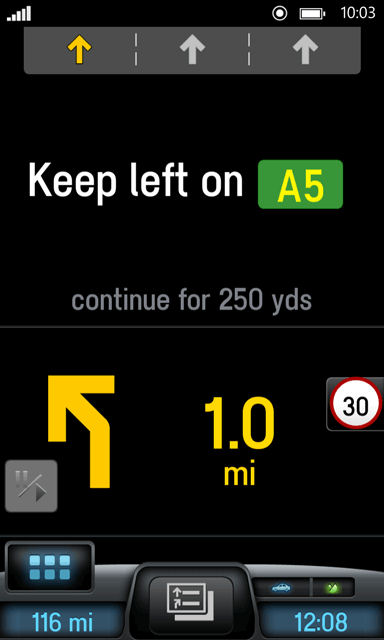 On Windows Phone devices, CoPilot is competing against Nokia Drive and a number of third party solutions (e.g. Navigon and Navitel). Nokia Drive is provided free with all Lumia devices, and is also available for non-Nokia devices in select markets. That makes for a tough competitive environment, especially in the consumer market.
However, CoPilot offers an experience that has been refined over many years, one that has more in common with the typical in-vehicle navigation device than most smartphone solutions, but also has the advantages inherent in residing on a connected smartphone (address book data, easy data connection, Internet sharing, and more). CoPilot should be seen as a professional level product, one that has additional features and offers a different take on mapping and GPS navigation functionality, more suited to the regular driver, when compared to the more mass market Nokia Drive.
Whether you're willing to pay for a professional navigation product will depend on your typical usage. The majority of users are likely going to be happy with the free Nokia Drive, but for those looking for something more, then CoPilot is an alluring option.
Even if you don't intend to buy a voice navigation license, CoPilot GPS is still very much worth downloading. The free mapping, route planning and points of information features are powerful in their own right, providing an excellent alternative to Windows Phone's built in Maps application.
For those that want to avoid multiple in-app upgrades for the navigation and traffic licenses, ALK will shortly be launching CoPilot Live Premium, a premium app that includes full navigation and 12 months of traffic information. As with CoPilot GPS, CoPilot Live Premium will offer in-app map upgrades.