Bluetooth Low Energy, which is usually branded as Bluetooth SMART in consumer products, is a computer networking technology commonly used to link accessories with mobile phones and computers. Compared to "classic" Bluetooth it provides lower power consumption making it more suitable for small devices or those device that work best with longer period between recharge cycles (e.g. activity trackers and smart watches).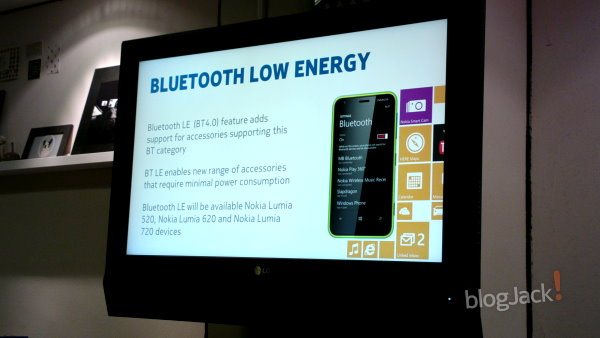 Image source: Blogjackphone.com
For consumers there is little visible difference between Bluetooth Low Energy and "classic" Bluetooth. On the software user interface side Bluetooth Low Energy devices are usually connected and managed in the same way as "classic" Bluetooth devices. We would expect Windows Phone to follow the same pattern with such devices handles in the Bluetooth module of the standard Settings app.
Mobile phones and computers that support Bluetooth Low Energy are described as being Bluetooth SMART Ready and accessories using Bluetooth Low Energy are branded as using Bluetooth SMART. Bluetooth SMART accessories will not work with device that only support "classic" Bluetooth.
The importance of Bluetooth Low Energy support in Windows Phone is that there are an increasing number of accessories that support the technology (e.g. Fitbit Ultra, Nike Fuelband) and many more are likely to come on to the market in the next year. In many cases an additional app may be required in order for the Windows Phone device to take advantage of the accessory (e.g. a Fitbit Ultra would need an app that supported connecting to and receiving data from the device by Bluetooth SMART).

Supported devices and Bluetooth chipsets
We've previously reported that the Nokia Lumia 820 and 920 were certified as Bluetooth 4.0 devices (including support for Bluetooth Low Energy), but the both the launch and current software for these devices only support Bluetooth 3.0. This suggest the limitation for support is not hardware, but software based, likely an indication that the Windows Phone platform was not ready for Bluetooth Low Energy.
All of Nokia's Lumia Windows Phone 8 devices use the WCN 3660/80 "Combo Chip", which in addition to Bluetooth, also provides WiFi and FM radio functionality. This would suggest Nokia's other Windows Phone 8 devices will also support Bluetooth Low Power, but it is still possible that small specification differences mean that only a sub-set of devices will be supported.
We tested the Nokia Lumia 925 with a Fitbit One. While there is no official Fitbit app and the existing third party apps only support sync via the web, the Fitbit One did appear to show up as "My Radio" in the Bluetooth module of the Settings app, indicating that the Lumia 925 could "see" Bluetooth Low Power devices. It was not possible to successfully connect to / pair with the "My Radio" device, but as noted above a specific FitBit app is likely to be required. Other Bluetooth SMART devices may operate without the need for additional software.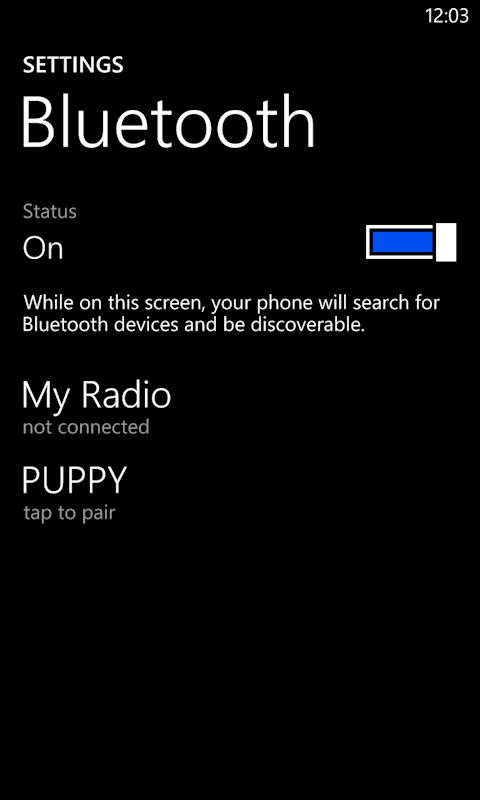 Fitbit One showing up as "My Radio"
On the software side, in order for a device to be Bluetooth SMART Ready, support is needed at both the platform level (i.e. added in Windows Phone GDR2) and at the driver level (i.e. a Nokia specific update - part of the Lumia Amber software update). While Nokia is the first Windows Phone manufacturer to add support for Bluetooth Low Power, other manufacturers could also opt to do so (similar chipsets are used in all Windows Phone product cs, but each manufacturer tends to write their own Bluetooth software engine).

Bluetooth 4.0 and Bluetooth Low Energy
Bluetooth 4.0 includes a number of improvements (e.g. support for faster speeds), but the most significant is support for Bluetooth low energy (BLE) devices.While Bluetooth Low Energy is a part of the Bluetooth 4.0 standard. However, it is not a mandatory part, which means not all Bluetooth 4.0 devices implement Bluetooth Low Energy (although most do).
Bluetooth low energy originated as a project in the Nokia Research Center, and was released to the public in October 2006 with the brand name WiBree, but in June 2007 an agreement was reached to incorporate it into the Bluetooth specification, and in 2009 it became the lead feature in Bluetooth 4.0, which was formally released in 2010.

Via: WMPowerUser