The increased availability of HERE Drive for non-Nokia devices does erode some of the differentiation advantages that Lumia devices enjoy over their Windows Phone competitors, but Nokia clearly sees it as more important to get more people using the Nokia location platform and to strengthen Windows Phone.
Thom Brenner, vice president, Windows Phone applications, HERE, said:

"With the global release of HERE Drive+ for all Windows Phone 8 devices we will further extend our HERE business and deliver on our promise of making HERE experiences available for as many people as possible. The more people are using our location offering the better it will get for everyone. At the same time this release also demonstrates our commitment to further strengthen the Windows Phone ecosystem with our maps assets."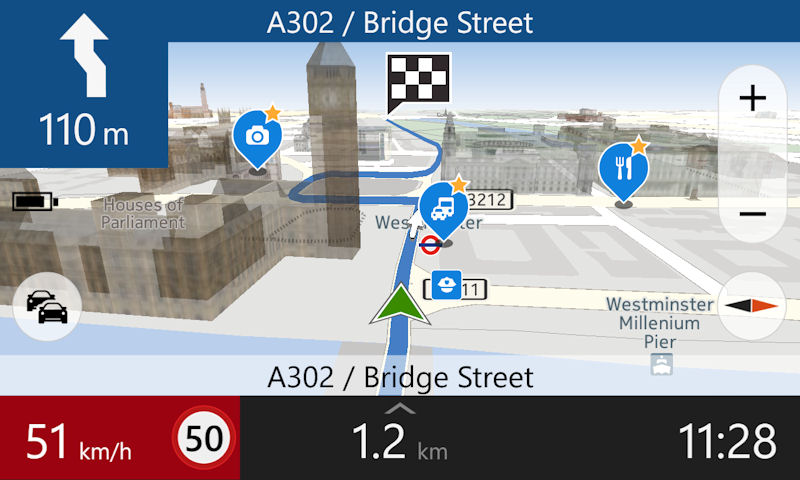 The most notable updates in the new version of HERE Drive / Drive+ are focused around the use and presentation of traffic information. Previously, using the HERE apps on Windows Phone 8, traffic information could only be viewed using HERE Maps. The general overview layer for traffic found in HERE Maps is now available in HERE Drive. It shows colour-coded traffic conditions on major routes (green for clear, yellow for moderate delays, red for severe delays), allowing you to get an at-a-glance view of traffic conditions.
More impressive is the My Commute feature, available in 26 countries, which actively monitors traffic conditions along routes you regularly take and automatically offers information about traffic conditions, driving times, and routing options. Nokia has previously offered the My Commute functionality on Nokia Drive on Windows Phone 7.5 devices, but the Windows Phone 8 version is more refined and offers support for multiple commutes (e.g. school run and work commute).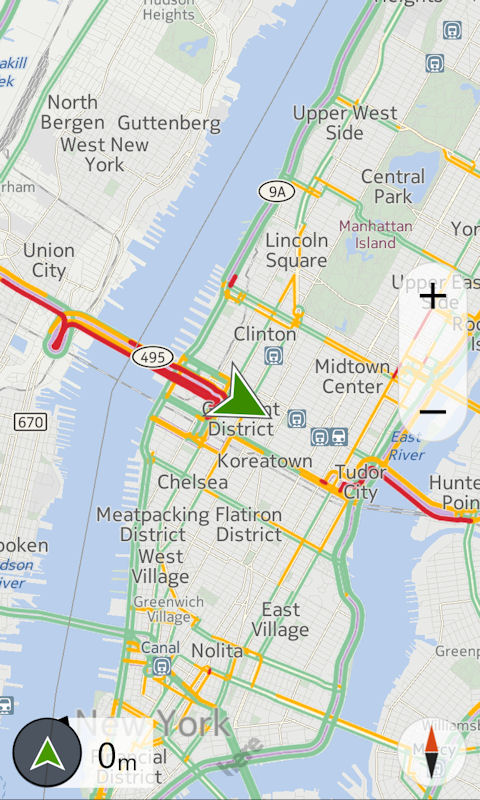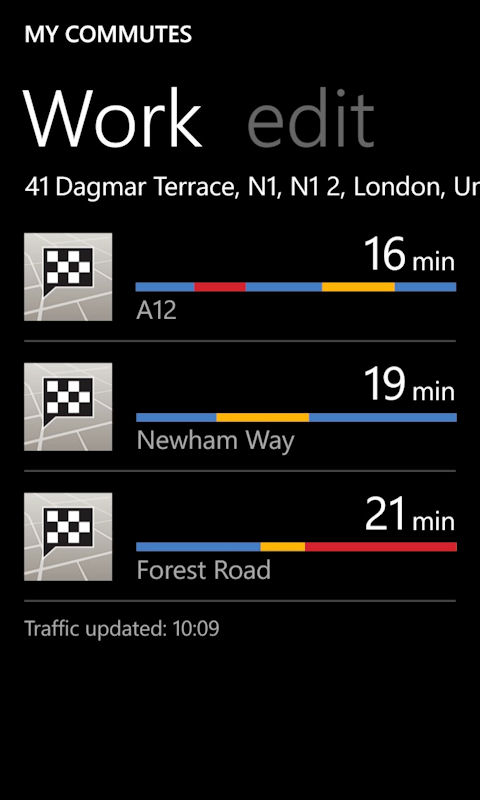 The HERE Drive Live Tile integrates with the My Commute functionality, showing information on the commute time, the commute destination, and a summary of traffic conditions. A brief look at your phone's Start Screen will offer a visual indication of how long your commute is likely to take, while a tap on the Live Tile will show the routing options available and a quick way into the My Commute functionality of HERE Drive.
The estimated commute time is based on a combination the length of the recommended route and the projected traffic conditions during your usual commute time. This look ahead aspect of the My Commute feature uses a combination of current traffic data and historical data and reflects the increasing sophistication and quality of Nokia's traffic service and associated geo-databases.
The My Commute feature will also monitor traffic conditions when you're driving its recommended route. It will automatically notify of any unexpected delays, and, if possible, offer an alternative route. This traffic aware re-routing functionality is not currently available in the standard navigation mode, but, as a relatively common feature of standalone satnav devices, it is something that we think Nokia should add in a future version of HERE Drive.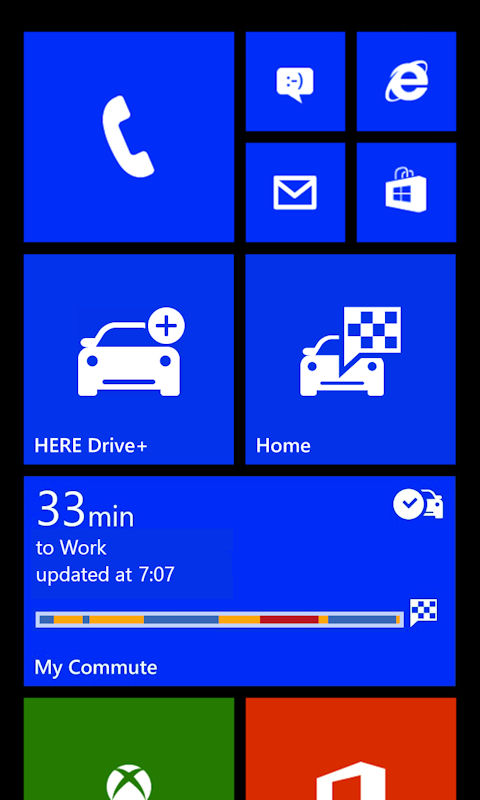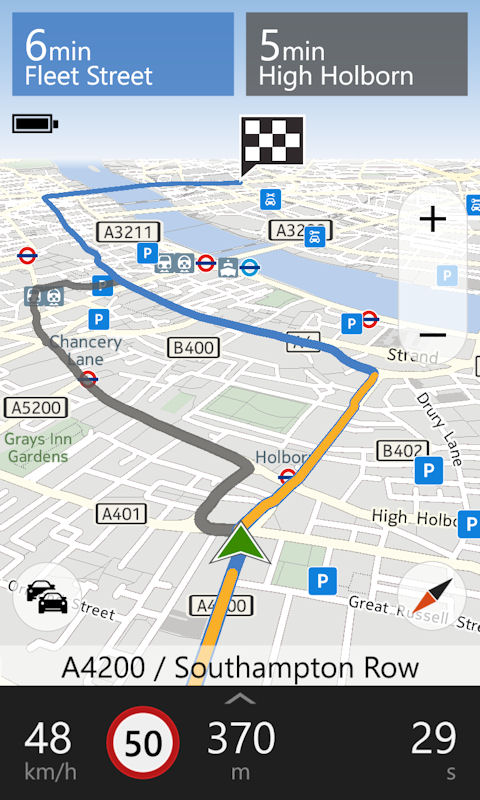 One of the key ideas behind My Commute is to encourage the use of the app even on regularly driven routes (for which you might not otherwise bother using a sat-nav app). This creates a degree of app lock-in, but just as importantly it allows Nokia to get an even deeper understanding of how people move around and use a digital map, something that could become an important factor as it looks to build its location assets beyond the traditional map-based experiences and services.

Availability and navigation license upgrades
HERE Drive+ is pre-installed globally on the Nokia Lumia 928, 925, 920, 822, 820, 810, and 620. HERE Drive+ includes a frree global navigation license.
HERE Drive is pre-installed globally on the Nokia Lumia 720, 521, and 520. HERE Drive includes a navigation license for a single market or region (e.g. UK and Ireland, USA, or Spain and Portugal).
The license selection in HERE Drive is done automatically and is based on the SIM card in the phone and is done when you start up the app (i.e. it will not matter where you buy the phone). Incidentally, this means you must have a SIM card in your phone to use HERE Drive. The regional limitations of HERE Drive do not apply to any of the other apps in the Nokia Location suite. For example, you can still download and use maps for any country in HERE Maps (including directions), HERE Transit, and HERE City Lens apps.
HERE Drive is already available for free for non-Nokia devices in the US, Canada, Mexico, UK, France, Italy, Germany, and Spain. This initial availability of HERE DRIVE for non-Nokia Windows Phone devices, dating from earlier this year, was the result of a Microsoft specific offer (with Microsoft presumably picking up the bill).
When the new version is released, HERE Drive+ will be made available for non-Nokia devices in Australia, China, Denmark, Finland, Hungary, Netherlands, New Zealand, Norway, Russia, and UAE. However, in these markets, on non-Nokia devices, it will be a paid for app costing €34.99 (or local currency equivalent). This is similar pricing to other third party satnav apps for Windows Phone (e.g. CoPilot, Navigon, Garmin).
For both Nokia and non-Nokia Windows Phone devices, it is possible to essentially upgrade HERE Drive to HERE Drive+ by buying a global navigation license (though the app name will remain the same). As noted above, the upgrade will cost €15.49 (or local currency equivalent). The purchase is done through the Windows Phone Store, which means it is linked to your Microsoft Account and can therefore easily be restored and/or used on another device.
Nokia says that 90% of use cases are met with a regional license, but it seems likely that more than 10% of users may be tempted to upgrade, given the competitive pricing of the upgrade.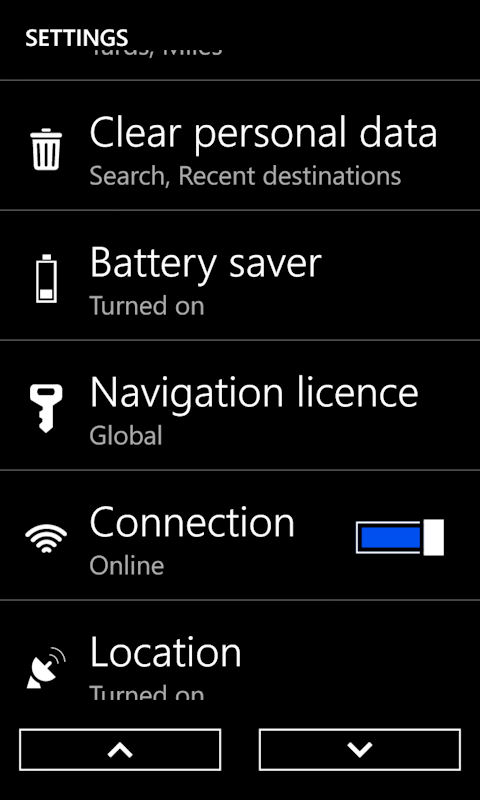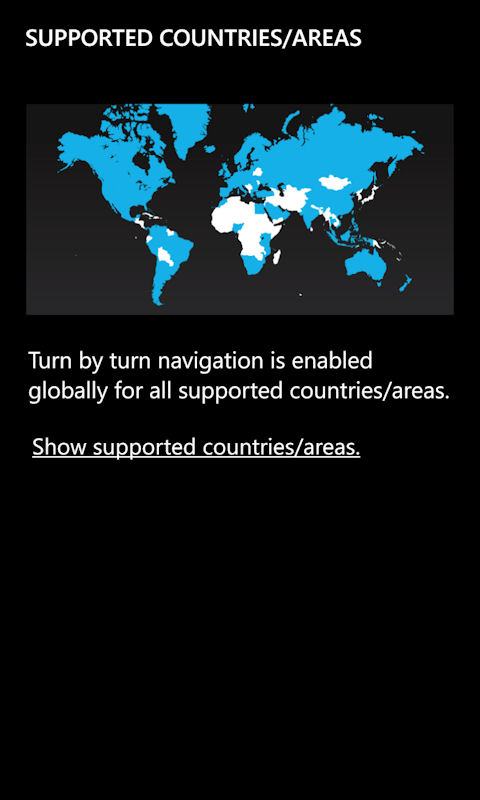 Windows Phone Store description:
Nokia Drive+ is now HERE Drive+, your car navigation app with turn-by-turn voice guidance in 94 countries and true offline support. Offline means no more roaming charges and you won't lose your way even if you lose your signal. What's more, HERE Drive+ is optimised for behind the wheel, with features like Day/Night modes and voice guidance, to help you get where you're going safely.

HERE Drive / HERE Drive+ can be downloaded from the Windows Phone Store for Nokia devices here and for non-Nokia devices here (note different download links).
This useful Nokia table provides a breakdown of the versions and availablility of HERE apps for Windows Phone devices: