As with the figures for May, the June figures shows a small month-on-month decline for a number of markets (e.g. US down from 4.6% in May to 4% in June). These figures are more than offset by some substantial monthly increases in other markets, the biggest of which is France, where Windows Phone devices have grown from 7.4% of unit sales to 9% of units sales.
Consequently the overall trend for Windows Phone is continued growth, with Windows Phone now responsible for 6.9% of smartphone device sales by volume in the EU5 (Germany, UK, France, Italy, and Spain combined), up 2.2% on last year and 0.1% on last month. There is some evidence that the rate of growth has slowed slightly from earlier in the year; specifically the increase in sales unit share in the EU5 for Windows Phone was 0.9% in the first quarter versus 0.4% in the second quarter.
Windows Phone is still a small player compared to iOS and Android (18.5%, 69.8% and 6.8% in the EU5 respectively), but with BlackBerry continuing to fade (falling from 2.5% to 2.2%) its place as the third ecosystem must now be considered secure.


France (9%) replaces Italy (7.8%) as the strongest market for Windows Phone, with the UK close behind (8.6%). All three of these markets are notably ahead of the US (4%), which has now seen a full quarter of falling sales volume share. However, this trend may change in the months ahead, as the wider availability of the Lumia 520, and the introduction of the Lumia 925, 928 and 1020 start to have an impact on Windows Phone sales in Microsoft's home market.
In general the growth of Windows Phone has been driven by lower cost devices, such as the Lumia 520/521, 620 and 720. The recent introduction of the Lumia 925, 928 and 1020 should drive further growth, but their impact is unlikely to be fully felt until the data for October is available (three months of sales for the twelve week moving average). Moreover, it's worth remembering that by their very nature high-end devices sell in smaller number than low-end devices, and, in the case of Windows Phone, arguably, face a more competitive environment at the higher end of the market.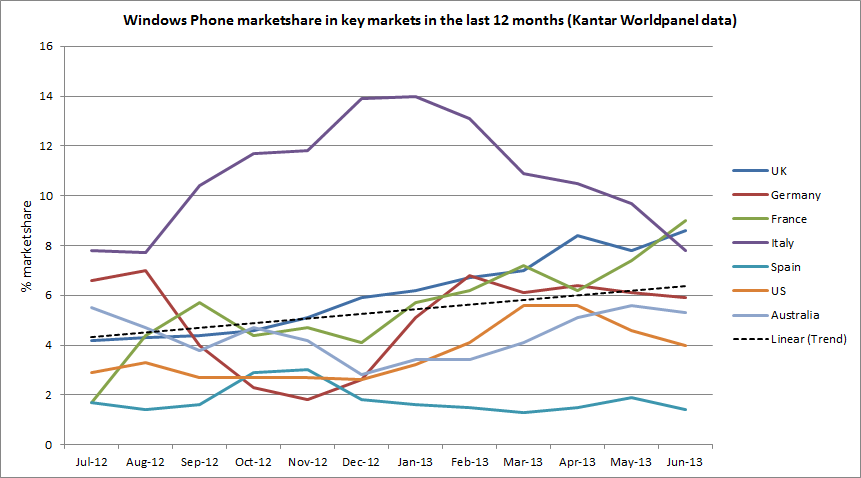 In its press release, Kantar says that Windows Phone notes that much of Windows Phone's recent growth has been driven by mid tier device, such as the Lumia 520 and 620:
Windows Phone continues to consolidate its position as the third OS globally, with strong performances in Britain and France where it has 8.6% and 9.0% of the market respectively. However, its share in the important US market has dipped slightly from 4.6% in the three months to May to 4% now.

Sunnebo continues, "While flagship Windows handsets such as the Nokia 925 and HTC 8X grab the headlines, it is the low and mid-range models, such as the Nokia Lumia 520 and 620, which are quietly driving its momentum. It is vital for Windows to be seen as a mainstream alternative to Android and iOS rather than a niche platform. Selling large volumes of lower end smartphones is a good way of getting Windows seen in the hands of potential customers' friends and family, convincing them there isn't a risk in choosing the operating system. The majority of people are trend followers, not trend setters, so Windows needs to get as many smartphones to market as quickly as possible."
While France and the UK are two of Windows Phones most successful markets, the level of success is still relative. Put more simply, in the last 12 weeks, seven Android and two iPhone handsets were sold for ever Windows Phone device sold in France. This scale difference is, perhaps, best illustrated in the charts below, which show Kantar Worldpanel data, from the last 20 months, for both the UK and France.