The figures also show a small month-on-month decline for a number of markets (e.g. UK down to 7.8% in May, from 8.4% in April). However, such monthly fluctuations are not unusual and generally fit in with marketing or launch activities. As a relatively small player in the smartphone market, with fewer devices and supporting manufacturers, Windows Phone is more susceptible to these effects. In this case the drop may, in part, be explained by the time period between the Lumia 620 launch (driving sales in February and March) and the launches of the Lumia 520 and 720 (full impact unlikely to be seen until July report).
Windows Phone is still a small player compared to iOS and Android (17.8%, 70.4% and 6.8% in the EU5 respectively), with the growth largely coming at the expense of BlackBerry and Symbian. Windows Phone's place as the third ecosystem does not appear to have been seriously threatened by the launch of BlackBerry 10 devices.
Kantar Worldpanel reports its data as a percentage market share of sales in the preceding 12 weeks (i.e. a three month moving average). The data is drawn from a continuous survey methodology, where consumers are interviewed and consumer behaviour recorded.


According to the latest set of Kantar Worldpanel data, Italy remains the strongest market for Windows Phone out of the EU5 with market share for the 12 weeks ending May 2013 at 9.7%. Italy is followed by the UK (7.8%), and France (7.4%). The average for the EU 5 is 6.8%, up 0.1% from last month.
The growth of Windows Phone device sales in 2013 has primarily been driven by the availability of lower cost Windows Phone devices, most notably in the form of the Nokia Lumia 620. The Lumia 520 and 720 have yet to have a major impact on the numbers as they only started shipping in may / June.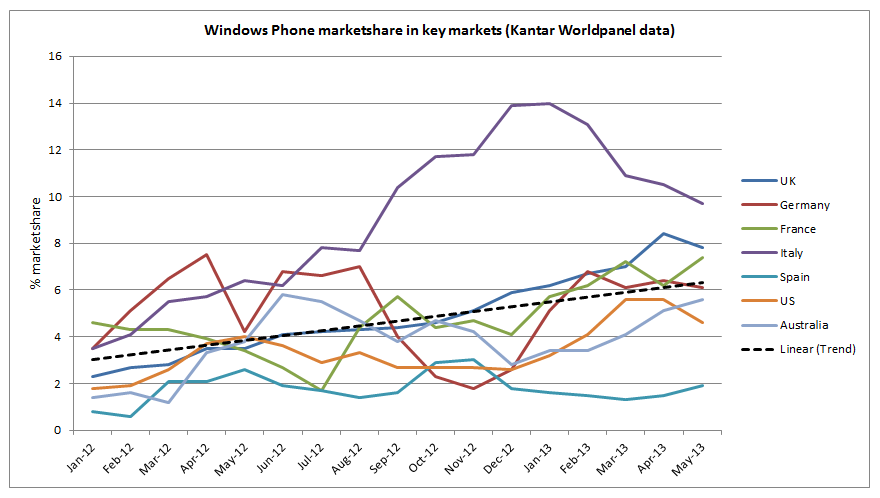 In its press release, Kantar notes that Windows Phone is selling well in emerging markets, something which suggests it can be a viable replacement for Symbian:

Meanwhile, in developing markets like Mexico, Windows Phone is starting to prove it can be a worthy successor to the hugely popular Symbian-based devices. Entry level smartphones are selling well, for instance the Nokia Lumia 505 was the fifth bestselling smartphone in Mexico in the past three months.
Mexico has seen Windows Phone grow from 2.2% market share (May 2012) to 6.6% market share (May 2013). Nokia has generally delivered its Windows Phone device to emerging markets later than European markets (with exceptions made for the bigger markets like India and China).
As we have previously commented, in the context of the overall smartphone market, Windows Phone remains a relatively small player, eclipsed by both Android and iOS, as the charts below show.
The UK is now one of Windows Phone's strongest markets, as are Italy and France. It's no accident that these markets have received significant attention from Nokia, both in terms of handset launches, but also in marketing campaigns.
By comparison, market share is lower in the USA, but that may reflect device availability on different carriers (e.g. Lumia 928 only just becoming available on Verizon, Windows Phone 8 launching on Sprint later this summer), and the relatively recent introduction of the lower end devices (e.g. Nokia Lumia 521).