For Nokia Lumia 920 users the availability of Pro Camera, together with improvements to the image processing algorithms are, in our opinion, the most important benefits of the Nokia Lumia Amber update.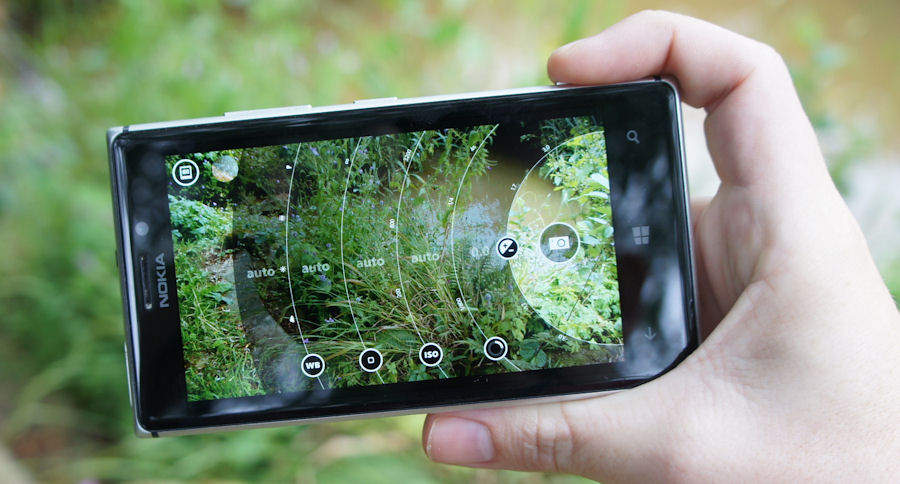 Easier access to settings
The key feature of Nokia Pro Camera is that it simplifies the changing of camera capture settings. Rather than having to dive through menus and screens, all the key settings can be adjusted from an interface that is overlaid on the viewfinder. This interface comprises a series of slider controls that allow you to adjust:
Shutter speed (1/16000 to 4 seconds)
EV (exposure) value, ISO (100 to 4,000)
White balance
Manual focus
In addition to easier access, Nokia pro Camera extends the range of some of these settings. For example, the Lumia 920 ISO range was previously limited to 100-800 and the manual focus settings were not available.

The controls can be shown one at a time (by selecting the appropriate setting from the horizontal array of icons at the top of the screen), or together as a group (by sliding the on-screen capture button to the left). An approximate preview of the effect that any change in settings will have is shown live in the viewfinder.

Additional controls
In addition to the above mentioned slider based controls, Pro Camera also adds a number of other camera settings and adjustments. In addition to the pinch-to-zoom gesture used in the standard Windows Phone camera app, you can now zoom in and out by sliding a finger up or down the screen (though in still photo mode we would recommend avoiding using much digital zoom, since you gain little or no detail - unlike on the Lumia 1020 with the much higher resolution sensor).
The process of tap-to-focus-and capture is also refined. Tapping on the screen will now focus on that area, but, unlike the standard Camera app, will not capture a photo. This makes it possible to set a focus point / distance and then change the framing of an image.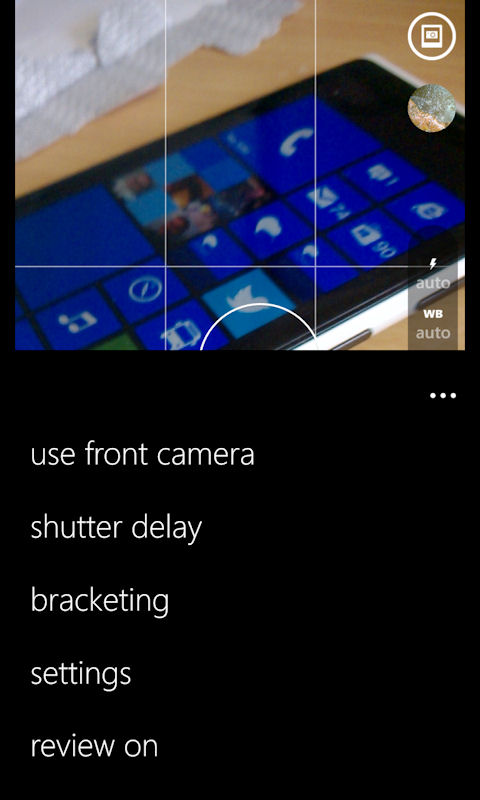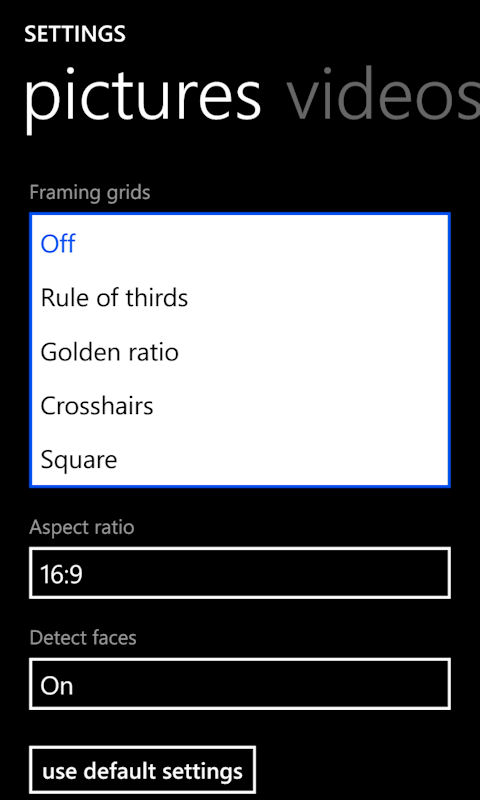 In Pro Camera's menu there are a number of additional settings. A shutter delay mode allows you to delay photo capture, after pressing the camera capture button, by two seconds. A bracketing mode allows you to take a sequence of between three and five pictures at different exposures, which is useful if you want to capture images for processing into an HDR photo. A settings menu entry leads to a screen that lets you define whether to show a grid on the viewfinder (rule of thirds, golden ratio, crosshairs, square), what aspect ratio to capture in (16:9 or 4:3), whether to turn face detection on, and a shortcut to the standard Windows Phone Camera+photo settings (whether to tag location information, set default camera app, and more).

Reframing mode
When you capture a photo with the Pro Camera app, a small thumbnail icon appears in the lop left hand corner of the screen, next to a shortcut to the Photo+videos hub. This gives access to Pro Camera's reframing functionality, which we talked about in detail in our Lumia 1020 camera capture review. It's effectively a smart crop function that allows you to pick out a portion of the image (i.e. reframe the original photo).
The reframing functionality can also be access from the Photo+Video hub. When viewing a picture captured using Pro Camera, a tap on "captured by Nokia pro Cam" beneath the photo, or choose "open in Nokia Pro Cam" from the menu and the photo currently being viewed will open in the Pro Camera app, ready for reframing.


As on the Lumia 1020, this reframing process is non-destructive (i.e. the original image is still available). It's notable that since we first wrote about reframing, a revert option has been added to the menu (useful if you have inadvertently rotated an image while reframing).
Reframing photos captured using the smaller resolution cameras found in the Nokia 920, 925, and 928 is not nearly as useful as on the Lumia 1020 because there are fewer pixels to work with and therefore no oversampling advantages, but it's still a nice extra, and the slickness and speed of the cropping/reframing process remains a real highlight.
The utility of this reframing experience, together with zoom and dual capture, are the only significant differences in the operation of Nokia Pro Camera on the Lumia 920/925/928, when compared to the Lumia 1020.

Improved video recording
Pro Camera brings the ability to record stereo audio in video to the Lumia 920, 925 and 928 for the first time. Previously, while multiple microphones were used to capture sound, the audio track was encoded in a single (mono) channel. Given the quality of Nokia's HAAC microphones, this always felt like a missed opportunity.
Furthermore, the video settings now offer the ability to set the audio bass filter to off, default (100Hz), or strong (200Hz). The first of these essentially allows the capturing of raw audio (i.e. no automatic cancellation), while the new strong option is useful in certain environments (e.g. high wind speeds).
In addition to the improved audio settings, the focus options in video recording mode are now more flexible, with the manual focus mode available for photo capture also available in video capture mode, potentially allowing for more creative video capture.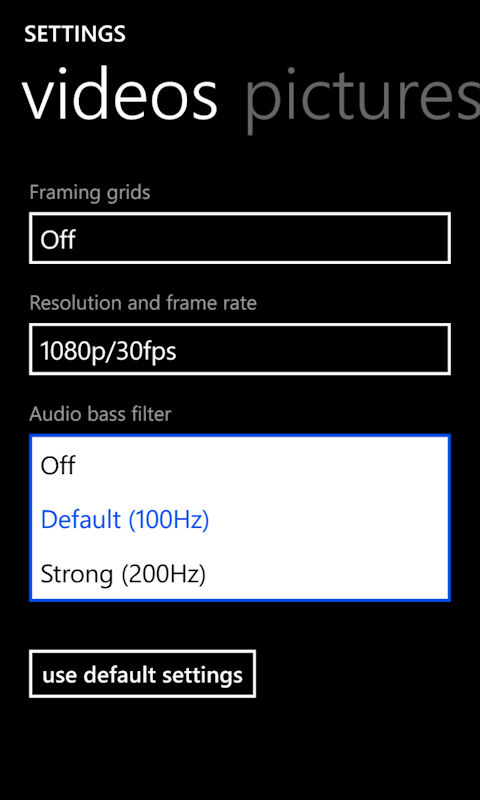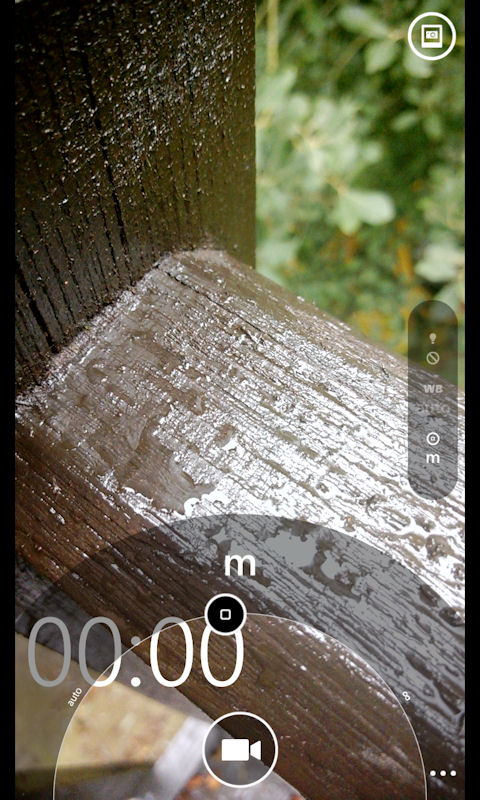 Replacing the standard Camera app
Nokia Pro Camera can be used to replace the standard Windows Phone Camera app. From Windows Phone 8 GDR2 onwards, it is possible to set a default camera app in the camera+photos section of the Settings app. Changing the default to Nokia Pro Camera will mean it will open when you press and hold down on the camera capture key.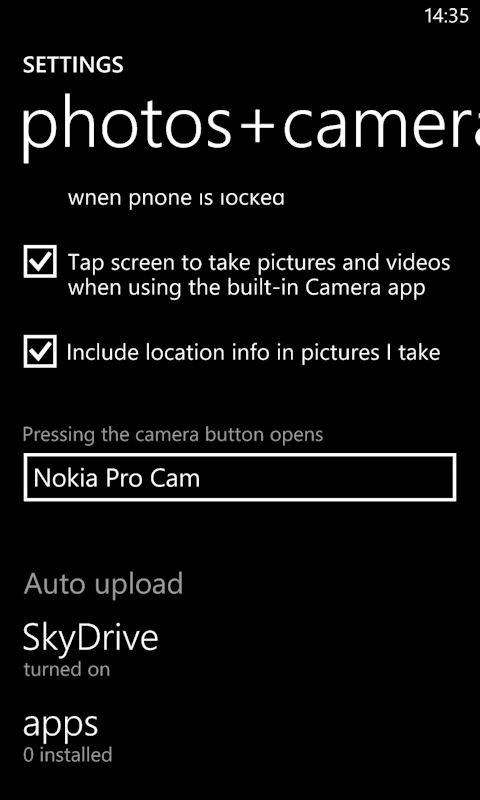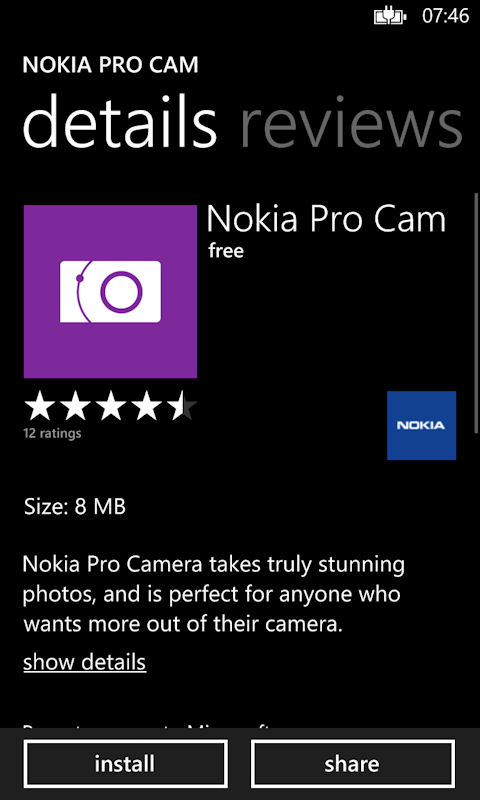 Download and availability
Windows Phone Store description:
Nokia Pro Camera takes truly stunning photos, and is perfect for anyone who wants more out of their camera.

The camera works great in auto-mode, yet has easy access to reframing where you can rotate, scale and change the aspect ratio of your pictures. And when you want to create that perfect composition, go to the manual controls to change exposure, shutter speed, ISO, white balance and focus. Current camera settings are clearly displayed on screen so you can see if you need to make any adjustments. The framing grids help you line up your shot. Plus, for the first time ever for Nokia Lumia, we've included HD video that records high-quality stereo sound.
Nokia Pro Camera is available for free from the Windows Phone Store. It is exclusive to Nokia and is currently only available for the Nokia Lumia 1020, 928, 925, and 920. It requires the device to be running Windows Phone GDR2 or later.
We'll be taking a more detailed look at Nokia Pro Camera and how to get the best out of it in due course, but in the meantime read our review of the Nokia Lumia 1020 camera capture capabilities, which includes a section on Nokia Pro Camera.
Here's a promotional video from Nokia that explains the story behind Nokia Pro Camera.