Microsoft's GDR2 update also provides a number of enhancements, including the return of FM Radio (all devices except the Lumia 620), wider (but not complete) availability for Data Sense, support for CalDAV and CardDAV for Google Sync, improvements for XBox Music (pinning of songs and better metadata), greater stability for VoIP functionality, improved HTML5 compliance and performance in Internet Explorer, and numerous minor bug fixes.
Update: We now have a full run down of the additions, updates, and improvements in the software update in this feature article: What's new in the GDR2 and Lumia Amber Windows Phone update?
Current availability
Nokia is providing a full availability list for Lumia Amber here, which will be updated as the software becomes available for more devices. The list is divided into countries and sub divided into device and operator variants. The country variant is the generic (SIM-free) product for the country in question (i.e. devices without operator lock and/or branding).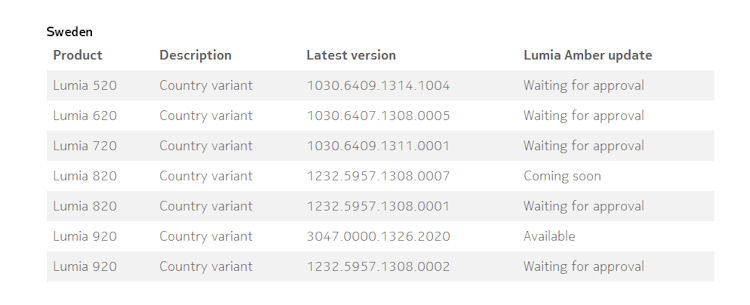 The list will show three possible status messages: "Waiting for approval", "Coming soon", and "Available". The first means the update is still in testing, the second means the update has been approved and will shortly be available, and the third means the update is ready to download. Once a device is marked as available you should, within a few days, be prompted to download the update, but you can manually check for an update by going to the phone update module of the Settings app.
At the time of writing the device variants for which the Lumia Amber update are available include:
Lumia 920: Cyprus (Country), Denmark (Country), France (Country), France (O2), Ireland (Vodafone), Netherlands (KPN), Netherlands (Vodafone), Norway (Country), Norway (Telenor), Portugal (Country), Spain (Country), Spain (Vodafone), Sweden (Country), United Kingdom (Vodafone), Australia (Telstra), India (Country), Thailand (Country), Vietnam (Country), Bahrain (Country), Jordan (Country), Kuwait (Country), Oman (Country), Qatar (Country), Saudi Arabia (Country), United Arab Emirates (Country), Yemen (Country)

Lumia 820: Australia (Boost), China (Country)

Lumia 521: United States (T-Mobile)

Lumia 810: United States (T-Mobile)

Lumia 928: United States (Verizon)
Planned availability
Nokia says that the Lumia Amber roll out is starting with the Lumia 920 and 820 in select countries, together with the Lumia 521, 810 and 928 in the US, but expects the updates to be available for all devices by the end of September.
The roll out starts now first for the Lumia 920 and Lumia 820 in selected countries as well as the Lumia 521, Lumia 810, and Lumia 928 in the US. Exact delivery timings will vary by region, phone and operator, but we expect the update to reach your Lumia 520, Lumia 620, Lumia 720, Lumia 820 or Lumia 920 by the end of September.
We'll keep you updated as notable additions and changes happen to the availability list.

How to update your phone
Your phone will automatically notify you when an update is available. You can choose to install an update immediately, or postpone it to a more convenient time. The automatic notification process will generally inform you that an update is available within 24-48 hours of it becoming available, but, if you wish, you can manually check for an update by going to the phone update module of the Settings app.
The update will take between 20 and 30 minutes to install. Some operators require that updates are downloaded over WiFi. All data on the phone (settings, apps, photo, messages, etc.) remains untouched and will be available once the update has completed.
Here's a video from Nokia that demonstrates the update process: