In the UK and France, Windows Phone significantly increased its sales market share over the same period last year (4.2% to 11.2% and 5.2% to 10.7% respectively). Together with strong results from Germany (8.5%) and the record result from Italy (13.7%), these figures saw Windows Phone's overall smartphone sales share increase in the five leading European markets from 4.6%, in the same period last year, to 9.8% this year.
As we noted last month:
Windows Phone is now very close to the 10% barrier - a psychological important milestone. Although it is an arbitrary point, we've heard a number of companies express the opinion that a smartphone platform is "not worth addressing until it reaches 10%". However, that 10% level is generally a reference to the active install base. This is not the same as KantarWorldpanel numbers (sales in the last three months). Based on a 24 month smartphone ownership cycle, the KantarWorldpanel data suggests Windows Phone's active install base share in the UK is around 5%, compared to 55% for Android, 28% for iOS, 10% for BlackBerry and 1.5% for Symbian.
Kantar Worldpanel reports its data as a percentage market share of sales in the preceding 12 weeks (i.e. a three month moving average). The data is drawn from a continuous survey methodology, where consumers are interviewed and consumer behaviour recorded. This means it is generally more up to date that the quarterly figures released by other market research companies.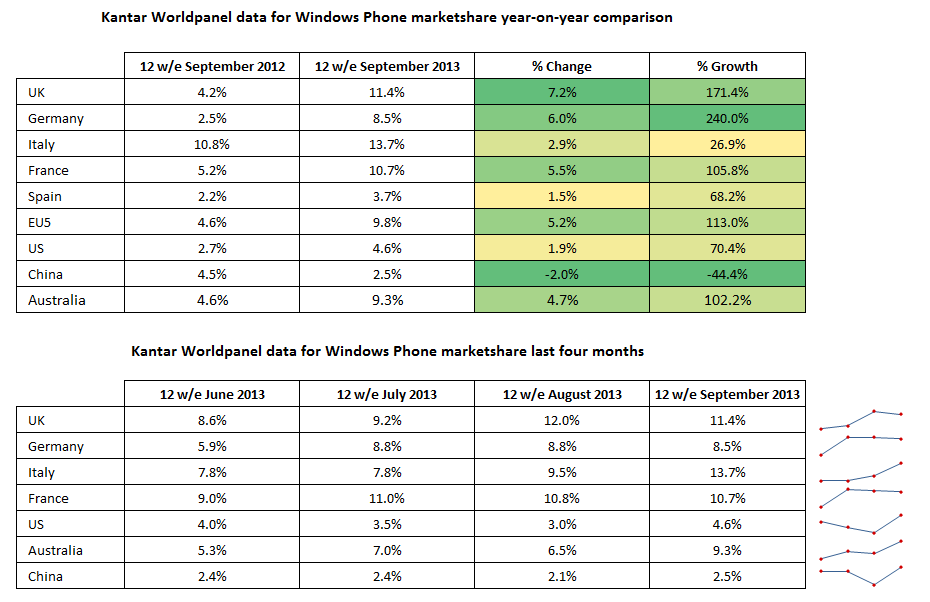 The market share level in Italy is notable for giving Windows Phone second place in the platform ranking, behind Android, but ahead of iOS. This is the first time this has occurred in one of the EU5 markets during the time that Windows Phone 8 devices have been on sale.
Windows Phone is also close to iOS in Germany (8.5% versus 10.7%), France (10.7% versus 15%), and Spain (3.7% versus 4.8%). However, it should be noted that iOS devices are predominantly found at the higher end of the market, whereas the majority of Windows Phone devices come from the lower end of the market, and thus might be considered to not be directly comparable (e.g. is a high end device worth "more" to an ecosystem than a low end device).
In the US there has been a small improvement in Windows Phone's market share from the summer months, a result of wider availability of the Nokia Lumia 520/521 and the launch of the Nokia Lumia 1020. Also notable is an increase in market share in Australia, from 5.3% in June to 9.3% in September, again the result of wider availability of Nokia's Lumia portfolio.
Windows Phone device sales continue to be weak in China, with market share down on the same period last year (4.5% versus 2.5%), although Kantar notes that this is part of a wider pattern of traditional manufacturers struggling against domestic manufacturers (mainly producing Android devices).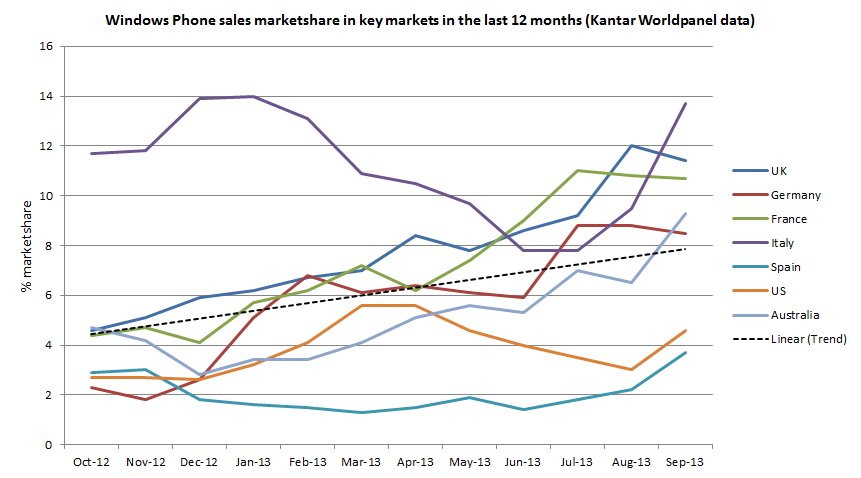 In its press release, Kantar says that Windows Phone growth is almost entirely driven by sales of Nokia devices and, after a sustained period of growth in Europe, the platform is now showing signs of growth in emerging markets.
Windows Phone, driven almost entirely by Nokia sales, continues to make rapid progress in Europe and has also shown signs of growth in emerging markets such as Latin America.

Dominic Sunnebo, strategic insight director at Kantar Worldpanel ComTech, comments: "With the smartphone market in developed countries so congested, it is emerging economies that now present manufacturers with the best opportunity for growth.

"Nokia dominated in Latin America for many years, and while its popularity declined with the fortunes of Symbian it now has an opportunity to regain the top-spot. The majority of consumers in Latin America still own a Nokia featurephone and upgrading to an entry level Lumia is a logical next step. Price is the main barrier in developing markets and the budget Lumia 520 opens the door to smartphone ownership for many."

In Britain, Windows accounts for 11.4% of the market. Android is still the number one operating system with 58.4% while BlackBerry now only has 3.1%. Apple's iOS has dipped by 1.0 percentage point to 27.0%, although it is expected to strengthen at Christmas.
Nokia has already enjoyed some success in Latin American markets. For example, sales of the Nokia Lumia 505 were strong after a major operator partnership. Strong sales in other Latin American markets are the result of Nokia starting to push its lower end Windows Phone 8 products into these markets (e.g. Lumia 520 and 620). While these handsets have been available in some market for six months, they are newly launched in many emerging markets, a deliberate result of Nokia's strategy of prioritising some (time-sensitive and high volume) markets over others.
In the overall market context, Windows Phone has a relatively small market share compared to Android. For example, for every Windows Phone device sold in the UK, five Android devices are sold. The level of Android dominance in the overall smartphone market is worth remembering when assessing or measuring the relative success enjoyed by Windows Phone.
The is perhaps best illustrated in the charts below, showing Kantar Worldpanel data, from the last 23 months, for both the UK, Italy, and the USA.