As with other SDK leaks the presence of a given feature, or MUI string, in the SDK preview does not guarantee its presence in the consumer release of the platform.
The new features listed below are drawn from the bullet list posted to Sinclairnat0r.com (in bold), which was put together by @jessenic. Where possible, we have added our own commentary and additional detail.
Sharing secure WI-Fi Networks with contacts if they have Wi-Fi Sense. This represents an evolution of the current Data Sense functionality. Originally this was going to be included with an earlier update, but was dropped due to time constraints. It was inteded to complement the "find nearby WiFi" Data Sense feature in the WiFi's settings screen.

Social notifications will now show up in action center by swiping from the top of the screen. Action Center was detailed in an earlier Windows Phone 8.1, but is not included in the current version of the emulator. It will be used to collate all notification, not just those relating to social notifications.

Operators can now control data sense limits remotely. As with a sharing of secure WiFi networks this is an evolution of the current Data Sense feature and requires specific operator support. It is also linked with an operators ability to compress data that is also part of the full Data Sense implementation.

Operators can also install certain applications once a SIM card is detected. This is a reference to improved SIM card interaction support in Windows Phone. It is likely to be used in conjunction with features requiring identity security management (e.g. payments).

Along with normal updates, there are now "important" updates. This two tier status updates reflects the same pattern that is used in Windows. "Important updates" are usually related to security and critical bug fixes and are intended as must install items, rather than optional installs.

Options to always download emails and pictures within them. This is an optional change from the current behaviour where only the first 20kb (exact figure varies) of an email is downloaded automatically (the rest of the email can be downloaded manually), which is intended as a way of limiting data use. The current behaviour means many HTML based emails are only partially downloaded.

Encrypted and signed e-mail support. This is a feature designed to appeal to enterprise users. In some business cases there is a legal requirement to have email signed and/or encrypted.

Change default SMS app. You can also change which SMS app will show notifications. This was shown in a screenshot in the earlier SDK leak. It means it will be possible for another applications (e.g. Skype or WhatsApp) to take over SMS functionality. The idea and motivation behind this is the make it possible for users to only have to deal with one messaging app (i.e. unified messaging).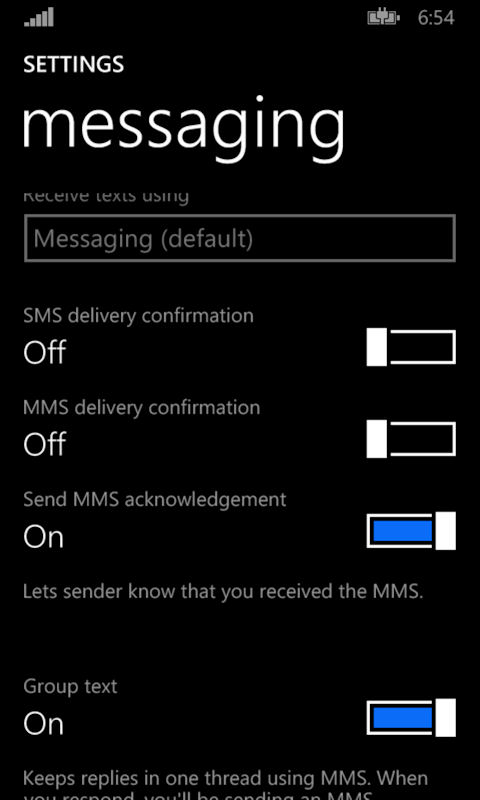 Enterprise enrolled phones can have their passwords changed and remotely locked. This is a reference to the new device management features that are expected to arrive with Windows Phone 8.1, which is primarily improved through better support for policy download and enactment.

"Type as I swipe through letters". This means we will be seeing Swype-like functionality. This is likely to be implemented as a keyboard option, making it possible to enter text by moving a finger across and around the keyboard in a single sliding gesture. Some people find this method of text entry easier / faster / more convenient.

Geofence monitoring support. This is implemented as a new background task, with a third party app able to request that the system notifies it when the phone enters or exits a predefined (fenced) area. It can be used for something as simple as a location based notification (e.g. you're about to arrive at your station), or more complex location tracking (e.g. delivery logistics).

Office Lens support. This is an add-on to Office that aims to make it easier to get content into Office. A device's camera is used to cpature content (e.g. from a printed document of a white board) and then converted into text using optical character recognition. It is based on the same technology currently available in Windows Phone's Bing Vision feature, but offers better integration with the built in Office app.

The phone will have to update to the latest version before you can restore it to factory settings

Option to update store apps automatically. A similar feature was added to Windows 8.1 last year. It is designed to avoid the problem of apps getting too far out of date. It's not uncommon to see a phone showing tens of waiting updates on the Windows Phone Store Live Tile.

Option to update store apps when only on Wi-Fi. This is designed to minimise cellular data usage, something that is important when the user is on a limited data tariff.

App Suggestions by location. A tweak for the Windows Phone Store. It is based on anonymised data from existing consumer download behaviour. What it means it that you're more likely to see recommendations for locally relevant apps when in a given area (e.g. London Underground app when in London).

Manual App Update checks. A tweak for the Windows Phone Store. It is currently possible to do an analog for this on the current version of Windows Phone by checking the app page directly, but it appears it will now be possible to force a manual check (i.e. essentially automating the individual app check process).

Video Calling Support. It's currently unclear whether this will be for operator based video calls (unlikely), or better integration for third party app video calling (more likely) from the likes of Skype and other providers.

Password protected Office document support.

Trusted app list for NFC. This will mean for certain types of NFC interaction it will no longer be necessary to confirm via a dialog box that you want a certain app to open in response to an NFC interaction (e.g. Nokia Desktop Wireless Charging accessory mini app).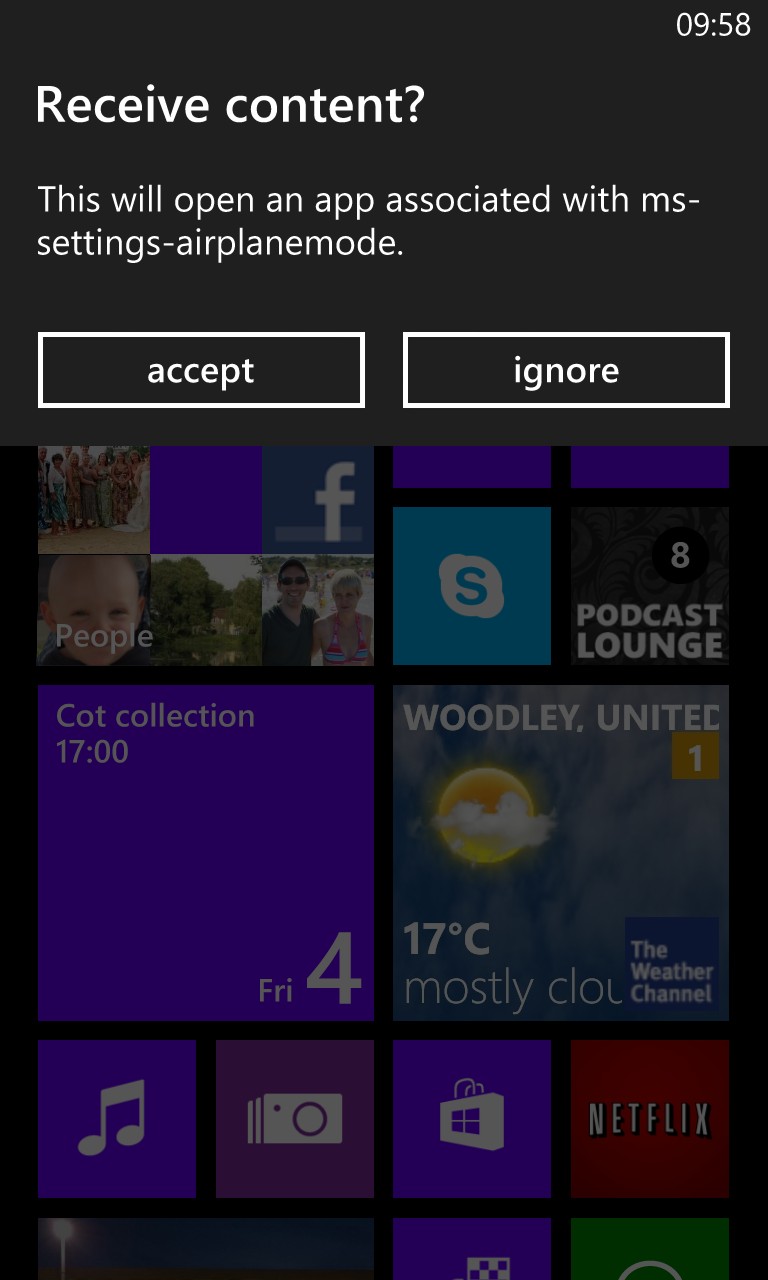 In-call speech commands. This is important as legal requirement in some countries (i.e. allows for entirely hands-free usage).

Double-Tap to unlock your phone. This features is currently available on most Nokia devices running the Lumia Amber or Black update, but will now be available as part of the platform. Because the feature is hardware dependent not all new and esixting phones will get this feature.
Quiet Hours. This feature allows you to specify a period of time when the phone does not play a sound for incoming calls, messages, or new notification events (i.e. makes the phone quiet). There are likely to be some additional options within this feature, allowing for finer control over what is "quiet" and what is not.

Double Tap to Power Off. We assume this will apply only after holding down the power button on the phone and that it is an alternative to the current slide gesture.

Notification if charger isn't of adequate power. This has been seen in the screenshots from the previous SDK leaks and reflects both Qualcomm's Quick Charge technology and the fact that USB chargers have widely varying output (even when from the manufacturer).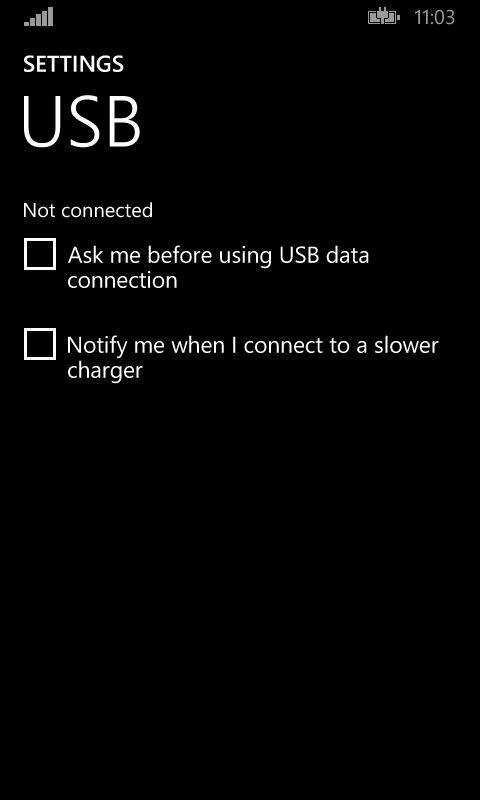 Screenshot button combination is now Power + Volume Up. This is a necessary change since the Windows buttons will now be on-screen, as part of the navigation bar, for some devices and may not always be present in full screen apps.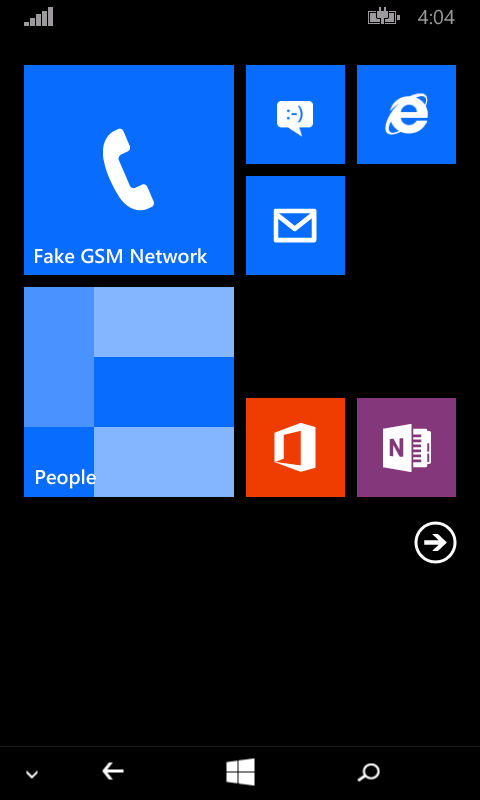 Chkdsk for SD Cards essentially. Providing a way to check data integrity of an SD card.

Apps on SD Cards are only allowed from ONE originating phone. With Windows Phone 8.1 expected to add the option to install (third) party apps to the SD card this is a necessary meaure to safeguard the platform's security model. Without this, it would be possible to install an app using one phone, swap the SD cards, and then run the app on another phone (i.e. without having to grant permission again, gain access to user data).

Voice Narrator for Accessibility. Intended as a way of improving Windows Phone's currently weak accessibility features.

The Search button will be the new way to open Speech instead of the Start button. On current Windows Phone devices Speech is accessed by holding down the Windows Phone button for two seconds. It suggests a long hold on the Windows button may also get a new use in Windows Phone 8.1.

New Email sync options with accordance to usage patterns (i.e. If you get a lot of mail on particular days and if you don't check mail every day).

Change the size and amount of tiles on your start screen. This may not be a user accessible option.

Wallet supports tickets and membership cards. An evolution of the current Wallet app (essentially providing more templates of things that can be stored in the Wallet app).

App Syncing.

Backups now include application data. Current Windows Phone devices only back up the app list and settings data. This feature, which will likely require developer opt in, could be used to ensure game save data could be backed up (and potentially transferred to another phone).

Screen Reader functionality (Maybe Text-To-Speech for apps?). An evolution, or at least better integration, of Windows Phone current text-to-speech functionality. Intended as a way of improving Windows Phone's currently weak accessibility features.

Screen Recording functionality. This is the first we've heard of this feature and may be emulator and or debug specific. It seems likely that it will not be available as a consumer feature.

Inner Circle of contacts. Up to 40 contacts can be in the inner circle. This is the first we've heard of this features, but appears to be a way of setting a set of favourite contacts. This makes sense as most people only call (regularly) a relatively small set of contacts, but thanks to integration with LinkedIn, Facebook, and corporate address books, may have many hundreds, or even thousands of contacts in the People Hub.

You can favorite photos by tapping a heart icon. Currently favourites can only be set via the standard menu. The intention here is to make it easier to favourite photos (and therefore make it more likely that users do it).

Virtual SmartCard support. This is likely to be a reference to HCE

(Host Card Emulation) that allows third party apps to create entirely software based SmartCards. Theoretically, this would allow for (semi-)secure NFC based SmartCards for a variety of use cases, including mobile ticketing, door entry, and loyalty cards.