With the introduction of the X range, Nokia is adding a fourth product tier to its portfolio of mobile devices, complementing the existing mobile phone, Asha, and Lumia categories. The Windows Phone-powered Lumia range remains Nokia's "primary platform" and "is where we introduce the greatest innovation and provide full compatibility with the Microsoft experience".
Stephen Elop noted that while there would be some overlap, the Nokia X products would generally be priced below the lowest cost Lumia product (currently the Lumia 520) and that the price points of both the Asha and X portfolio would be pushed downwards as Windows Phone devices moved to lower price points in the future.
The X family runs a Nokia customised UI, dubbed the 'Nokia X platform', that draws on elements of both Windows Phone and the Series 40-based Asha software platform. The homescreen, a true mix of Asha and Lumia, has a set of customisable and re-sizable (app) tiles, some of which show "live information". The Fast Lane screen, drawn directly from Asha, shows a list of recent activities (tasks), allowing users to quickly switch between their most commonly used apps and services.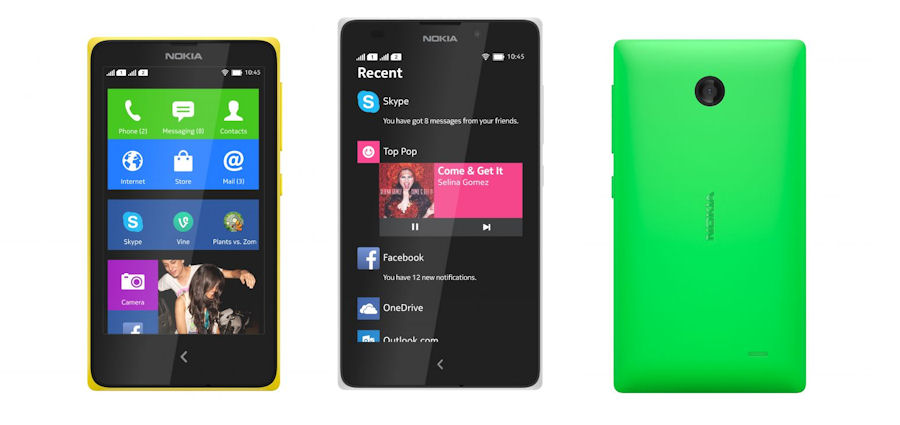 Stephen Elop, executive vice president of Nokia's Devices & Services, said:
"Nokia has connected billions of people around the world, and today we demonstrated how our portfolio is designed to connect the next billion people to great experiences."

"Our deliberate approach is to offer four tiers of products including our affordable entry-level devices like the new Nokia 220; our entry-level Asha touch phones like the new Nokia Asha 230; our new Nokia X, Nokia X+ and Nokia XL smartphones primarily for growth economies; and our Lumia portfolio, which is where we introduce the greatest innovation and provide full compatibility with the Microsoft experience."
Nokia X, Nokia X+, and Nokia XL
The Nokia X is the entry level product in the X portfolio and is priced at €89 (before taxes and subsidies), with immediate availability in select markets in Asia-Pacific, Europe, India, Latin America, the Middle East and Africa. It has a 4" IPS capacitive display (WVGA), 3G connectivity, 1GHz dual core processor, 512MB RAM, 4GB eMMC internal storage, and a 3MP fixed focus camera.
The Nokia X+ is a specification-bumped version of the Nokia X, optimised for "multimedia enthusiasts". It has the same core specifications, but has additional RAM (768MB) and a 4GB microSD card (replaceable, obviously) is included for additional external storage. It is priced at €99 and will be available in select markets in Q2. Both the X and X+ will be available in bright green, bright red, cyan, yellow, black and white.
The Nokia XL sits at the upper end of the X portfolio. It has a 5" display, 5MP autofocus (with flash) rear-facing camera, 2MP front-facing camera (ideal for Skype video calls). The Nokia XL has a price point of €109 and will be available from Q2 in bright green, orange, cyan, yellow, black and white.
All three Nokia X devices are powered by a Qualcomm Snapdragon processor (1 GHz dual-core) and support Dual SIM, letting people switch SIM cards to get better tariffs.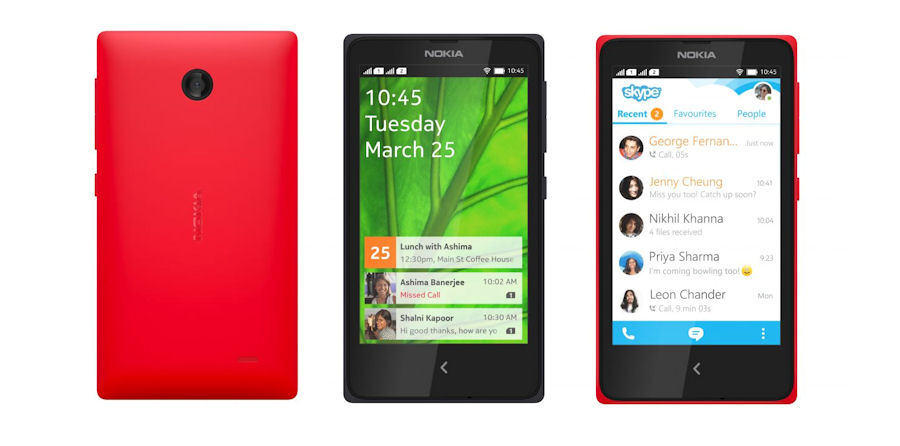 Android app compatible, but with a range of Nokia and Microsoft services
Nokia describes the X as being "compatible with Android apps". Apps can be installed on to the device using the Nokia Store, but third party app stores (e.g. Yandex) are also supported, and it is also possible to side load apps using a file manager. Around a dozen third party apps will be preloaded on the X devices. Many apps will run unmodified on the Nokia X, but some may need to be recompiled. In most cases Nokia says that developers will be able to bring their apps to the Nokia Store "in just a few hours".
As an AOSP device, Google services are not available on the Nokia X family. Instead, Nokia has "very deliberately" provided Nokia and Microsoft services instead. The Nokia X family was described in the press conference as "taking users to the Microsoft cloud".
Key services on the X family from Nokia will be HERE Maps and Nokia Mix Radio. The first of these comes in the form of a single app, but includes walk, car, and transit navigation. Each X device will come with a navigation licence for a single country, reflecting the low price point of the product (there is, currently no way to add a license for another country). Nokia Mix Radio, as on Nokia's Lumia devices, provides free streaming music across multiple mixes and includes the personalised "Play Me" feature.
Microsoft services available out of the box include Skype and OneDrive. Other services will also be available via the Nokia Store (e.g. Outlook) and it was made clear that additional services will be delivered in the future. In select markets, the X devices will come with 1 month of free Skype calling and 10GB of OneDrive cloud storage space.
Stephen Elop described the X family as a "feeder system for Lumia" and as a "gateway to Microsoft services". He finished the press conference by saying that Nokia will enable Microsoft to "connect and empower a mobile and cloud-first world", echoing a statement recently made by Microsoft's new CEO Satya Nadella.
We'll have more (on AAWP) on the Nokia X and some of the strategic implications for Nokia and Windows Phone in due course.