A key feature of Office Lens is that it is quite forgiving about the type of photo scenarios it will accept (i.e. you don't to think too much about getting a good shot). That's because the app will automatically trim, rotate, and enhance captured photos. For example, if you take a photo of whiteboard at an angle, the app automatically straightens things out and tries to make the text as easy to read as possible.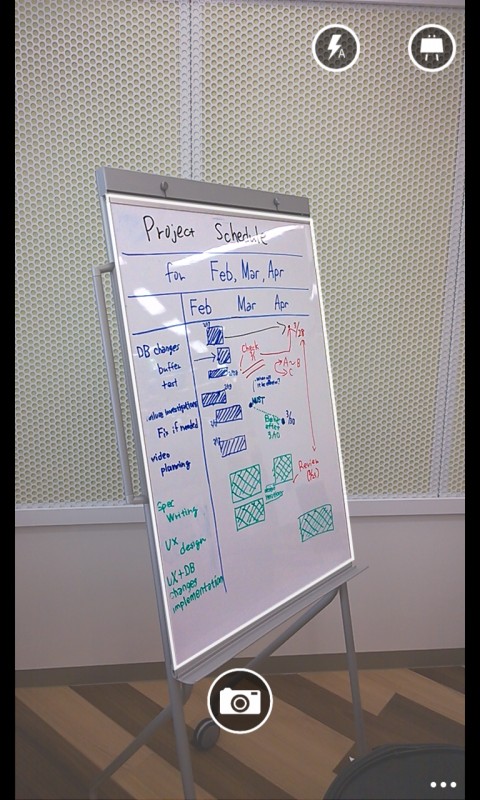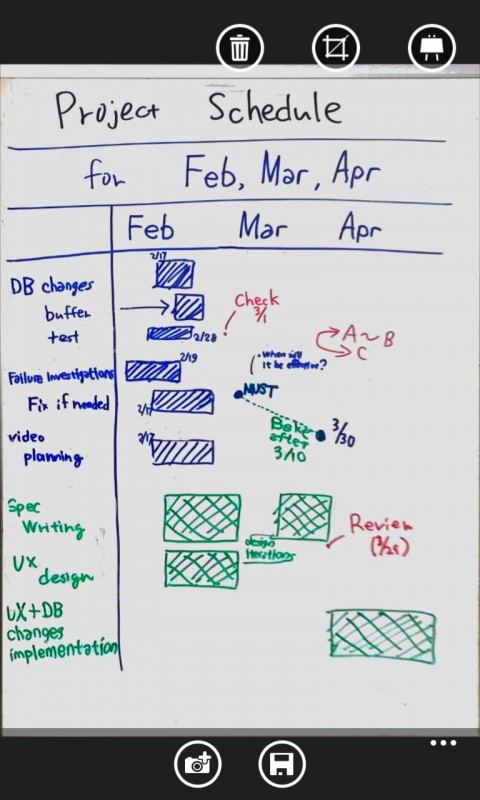 Captured photos are synchronised to OneNote (Personal Notebook - Unfiled Notes), which means they are automatically available on all your devices. Moreover, as with other image based OneNote content, OneNote on a PC can recognise text with optical character recognition, thus allowing you search for words in the image and copy and paste the text into other locations.
It's a relatively simple idea, but one that plays to the strengths of both OneNote itself and the smartphone in general as an always-with-you mobile device. The Office Lens app has been well executed, with things kept relatively simple, but with a distinction made between three different type of captures (modes), each optimised to a certain scenario:
With Whiteboard mode, glare and shadows disappear.
With Document mode, text is clear and easy to read.
With Photo mode, you can take pictures of people and scenery.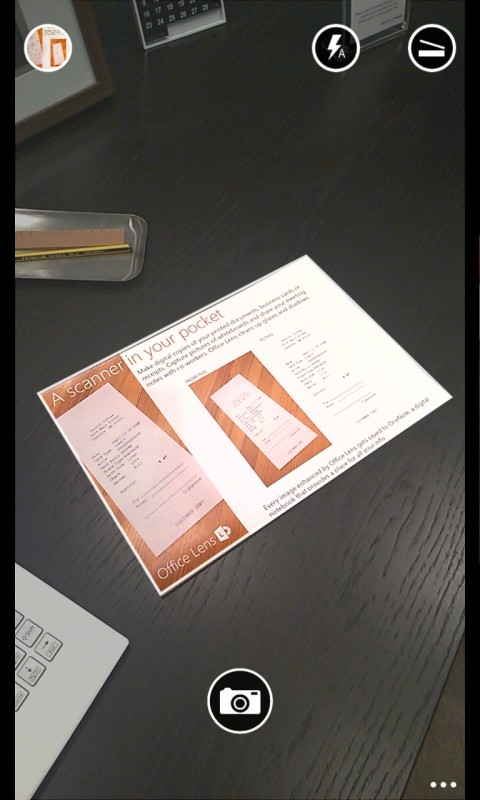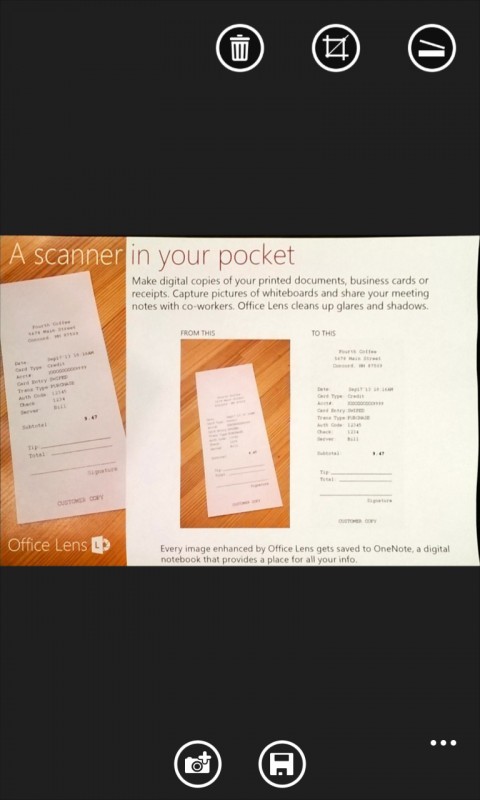 A nice extra touch in Office Lens is that there's an import option, which means you can use already captured photos with the app. Clearly, this is helpful for older photos, but it also gets round the issue of having to remember to use Office Lens when you want to capture / scan data (or don't have time to go through the full capture and upload process).
Office Lens is a great addition to OneNote toolset, making it easier to get data into the service using a Windows Phone device. Being able to use a camera to quickly grab notes, whiteboard discussions, business cards, and even documents, certainly beats typing in that information in by hand, but just as importantly it also preserves the originally formatting / view, which, in some cases, can be just as valuable at the text that makes it up.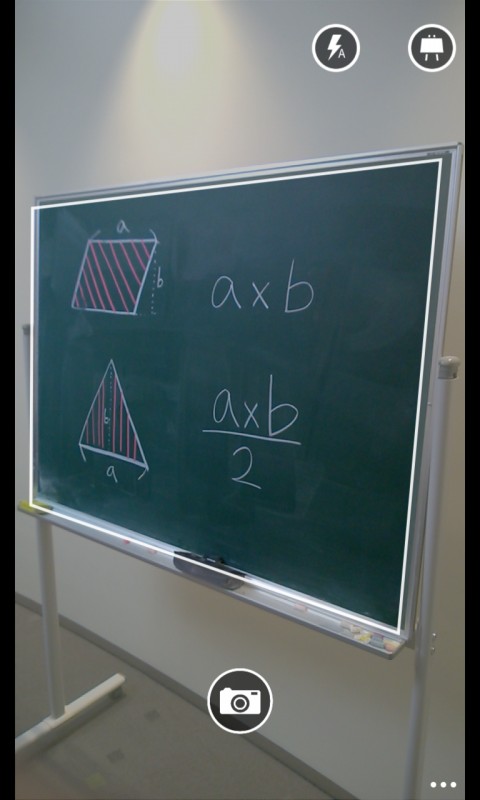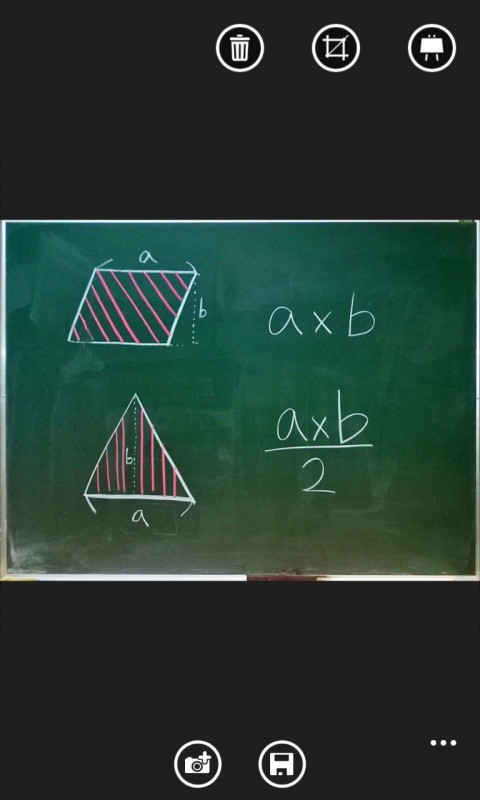 We've always regarded OneNote as something of a hidden gem on the Windows (Phone) platform. As we noted in a recent editorial, it's a great example of a truly cloud enabled Microsoft service:
For those of you who haven't explored OneNote on your smartphone, it is a structured notebook. You can create major sections in the notebook, and each section can have as many pages as you want. These pages can carry text, audio, images, bullet point lists, and checkbox to-do lists. You also have the ability to alter font sizes, formats, and weights. You have more options than a simple text editor, but not as many as a good word-processor. It's enough to take notes and focus on layouts in note-taking form.


The important thing is that OneNote is a cloud service that works. I never feel that I am working on files in a solitary device, I am working on 'my' notebooks. Pick up the phone, it's there. Pick up the laptop, it's there. Heck, pick up my iPad or the Sony Android tablet, and the OneNote client gives me 'my' notebooks.
The news of Office Lens for Windows Phone is one of four major OneNote related announcements made by Microsoft today. In addition to the companion Windows Phone app, Microsoft has announced the availability of a Mac version, the introduction of a OneNote service cloud API allowing third party apps and services to send data to OneNote, and that OneNote is now free everywhere. This is in addition to recent revamp of the OneNote.com website, and now means Microsoft is providing a completely free note taking tool across mobile, PC, and web.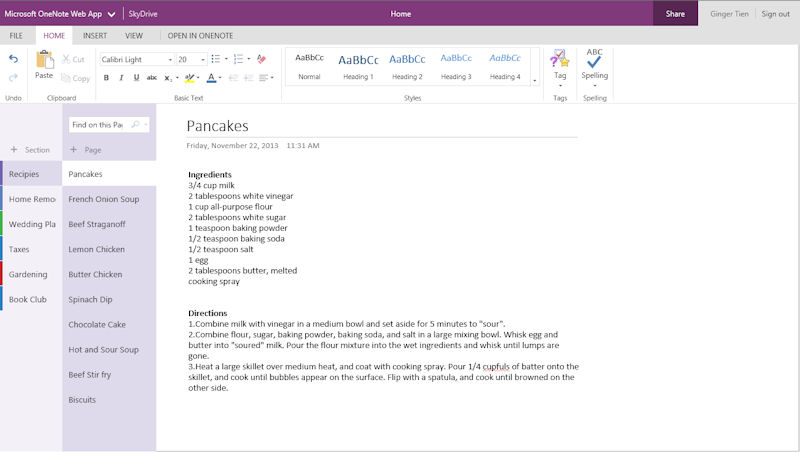 Windows Phone Store description:
Office Lens trims, enhances and makes pictures of whiteboards and docs readable, and saves them to OneNote.

Office Lens is like having a scanner in your pocket. Never miss notes on whiteboards or blackboards. Always find important documents or business cards. Don't lose receipts or stray sticky notes again!

Office Lens is a free download from the Windows Phone Store.
Here's a video from Microsoft that offers an overview of the Office Lens app: